ISL- Indian Super League
Indian Super League 2021-22 Team Profile: Bengaluru FC
By
Ujyant Ramesh
The Blues are now a revamped side and will look to reorganize themselves under head coach Marco Pezzaiuoli.
After a forgetful 2020-21 season, Bengaluru FC head into the upcoming Indian Super League (ISL) season with a new head coach, Marco Pezzaiuoli. Even though he makes his domestic debut when the ISL begins in November, the 52-year-old has already coached the club in other games in the calendar year. Currently, he is training the side in Goa where the ISL will take place once again.
Bengaluru FC went through a major overhaul in the summer which saw departures of many veterans and debuts of youngsters and reserve players in the senior team. Subsequently, they also participated in the 2021 AFC Cup, displaying what could be expected of them in the upcoming season.
The Blues also took part in the 130th edition of the prestigious Durand Cup under assistant coach Naushad Moosa. They reached the tournament's semi-final but lost to league rivals FC Goa. Their performance earned them nationwide plaudits despite fielding a side largely comprising youth, reserve and other inexperienced players.
As a result, the club is approaching this ISL campaign with the burden of high expectations. Under such pressure, the Blues will be aiming for nothing short of the playoffs this season.
Last Season's Performance: Seventh
The 2020-21 season for Bengaluru FC was a forgettable one, to say the least. They finished at the seventh spot of the standings, ending their record of reaching the playoffs in every season since 2018-19. The club managed only five wins out of 20 games while registering seven draws and eight losses. Throughout the season, injuries and inconsistent performances continued to plague them. This was followed by head coach Carles Cuadrat's sacking later, which sent them into a downward spiral of just two wins in eleven games. This derailed their playoffs journey, signalling the need for change in philosophy.
The club has since done so with changes both at managerial and squad levels; effects of which were evident during their AFC Cup and Durand Cup campaign earlier this year.
Pre-Season
Bengaluru FC will play two pre-season friendlies against Chennaiyin FC and Jamshedpur FC in Goa. These fixtures are scheduled for October 21 and October 30 respectively. They will be crucial for the Blues as they have been experimenting and rotating players quite a lot since the last few months. Considering their squad depth, this will be the club's ideal time to combine and try out the optimal playing XI, if not finalize them.
Coaching Staff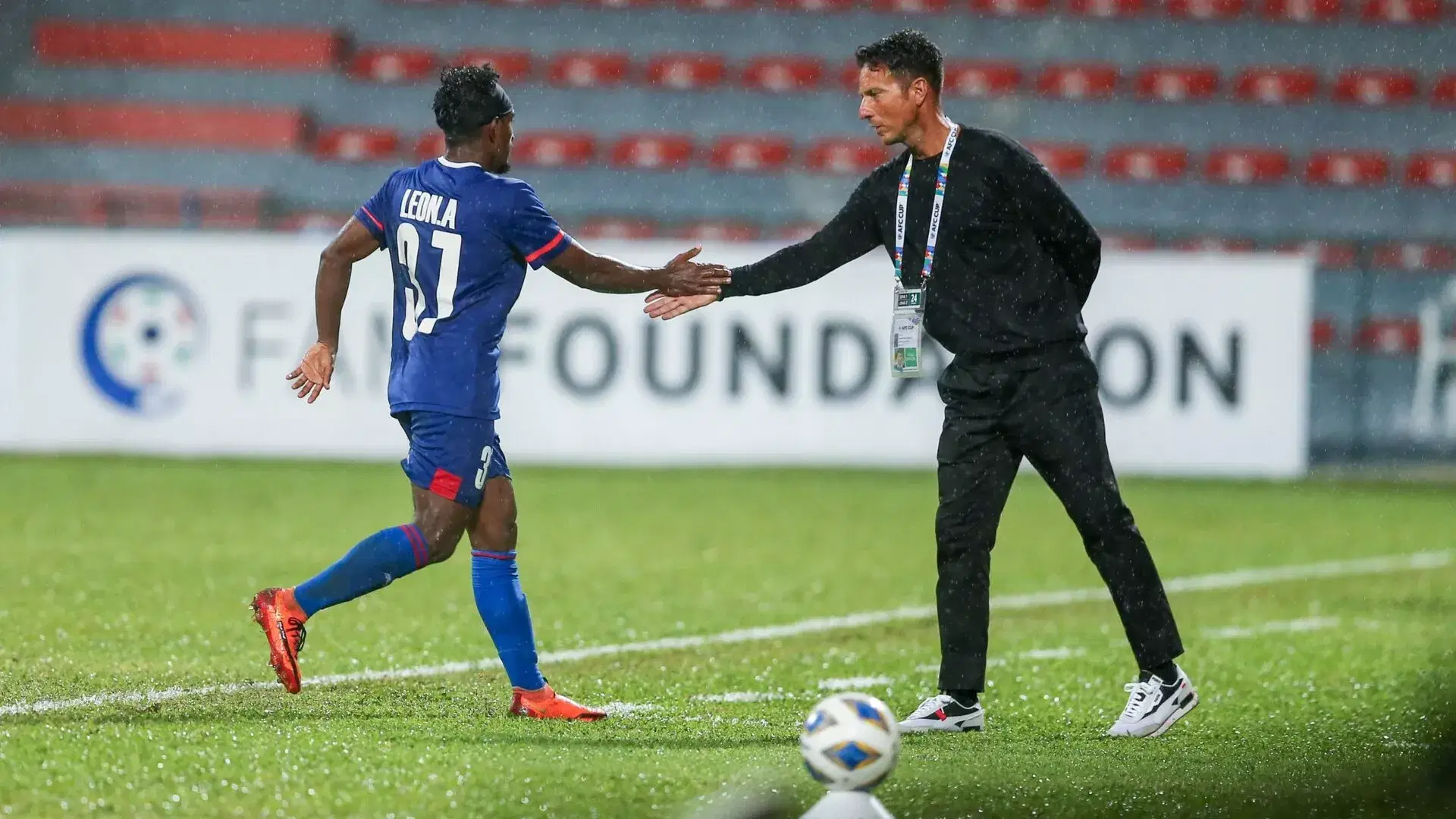 Marco Pezzaiuoli will make his Indian Super League debut this season, assisted by Naushad Moosa and Javier Pinillos. Pezzaiuoli was appointed head coach in February 2021. However, his first game in charge was an unofficial one against FC Goa in April; after the competition of the ISL season. Since then, the German has managed five other games for the Blues in the preliminary rounds, qualifiers and group stage of the 2021 AFC Cup.
He began with a 5-0 victory in the unofficial FC Goa clash followed by another 5-0 and 1-0 win over Nepal's Tribhuwan Army and the Maldives' Club Eagles respectively. Then came the AFC group stages where Bengaluru FC were knocked out after two draws and a loss. Nonetheless, he boasts of tremendous European and Asian experience; which along with Naushad Moosa's Durand Cup journey should help the Blues recover from their disastrous seventh-place finish in the previous season.
Pezzaiuoli believes in offensive 'active' football. In other words, a sort of pressing and possession football, contrary to Carles Cuadrat's cautious approach, for which the Spaniard was often criticized. All in all, Pezziauoli along with Moosa are expected to combine youth and experience as per the club's continuous player development philosophy; glimpses of which were noticeable in the latter's Durand Cup campaign.
Transfer Dealings
Bengaluru FC have gone through a major squad revamp in this summer's transfer window. From parting ways with veterans like Erik Paartalu and Juanan to signing a combination of ace foreign and Indian outfield players, they have been extremely active in the transfer window.
Ins
After their worst ever ISL finish last season, the Blues made 10 signings in the transfer market. They strengthened vital positions, particularly in the flanks and defence that had cost them their previous season. For instance, the Blues brought in Harmanpreet Singh, Prince Ibara and I-League top scorer Bidyashagar Singh to strengthen an attack highly dependent on Sunil Chhetri, Cleiton Silva and an out of form Udanta Singh.
Defensively, they roped in right back Sarthak Golui and centre back Alan Costa to reinforce a backline that saw severe rotations under Cuadrat. In the midfield, they added around six players including two foreigners in Bruno Ramires and Iman Basafa. The Indians here include Jayesh Rane, Danish Farooq and Rohit Kumar.
The Blues signed three new defensive midfielders, one full back and one wingback; thus highlighting the significance of their veteran departures.
Outs
Speaking of veteran departures, the Blues parted ways with Erik Paartalu, Juanan and Rahul Bheke. All of these three played vital roles during the club's glorious era under Carles Cuadrat. Apart from them, six others departed the club including Harmanjot Khabra and Semboi Haokip who switched allegiances to Kerala Blasters and SC East Bengal respectively.
Squad
Goalkeepers: Gurpreet Singh Sandhu, Lara Sharma, Sharon P.
Defenders: Alan Costa, Yrondu Musavu-King, Pratik Chaudhari, Wungngayam Muirang, Ajith Kumar, Parag Shrivas, Naorem Roshan Singh, Sarthak Golui.
Midfielders: Biswa Darjee, Muhammed Inayath, Akashdeep Singh, Iman Basafa, Suresh Singh Wangjam, Jayesh Rane, Ajay Chhetri, Rohit Kumar, Amay Morajkar, Bruno Ramires, Namgyal Bhutia, Leon Augustine, Danish Farooq.
Forwards: Thoi Singh, Sivasakthi Narayanan, Damaitphang Lyngdoh, Ashique Kuruniyan, Udanta Singh, Cleiton Silva, Prince Ibara, Sunil Chhetri, Bidyashagar Singh, Harmanpreet Singh, Edmund Larindika.
Possible Formations
4-3-3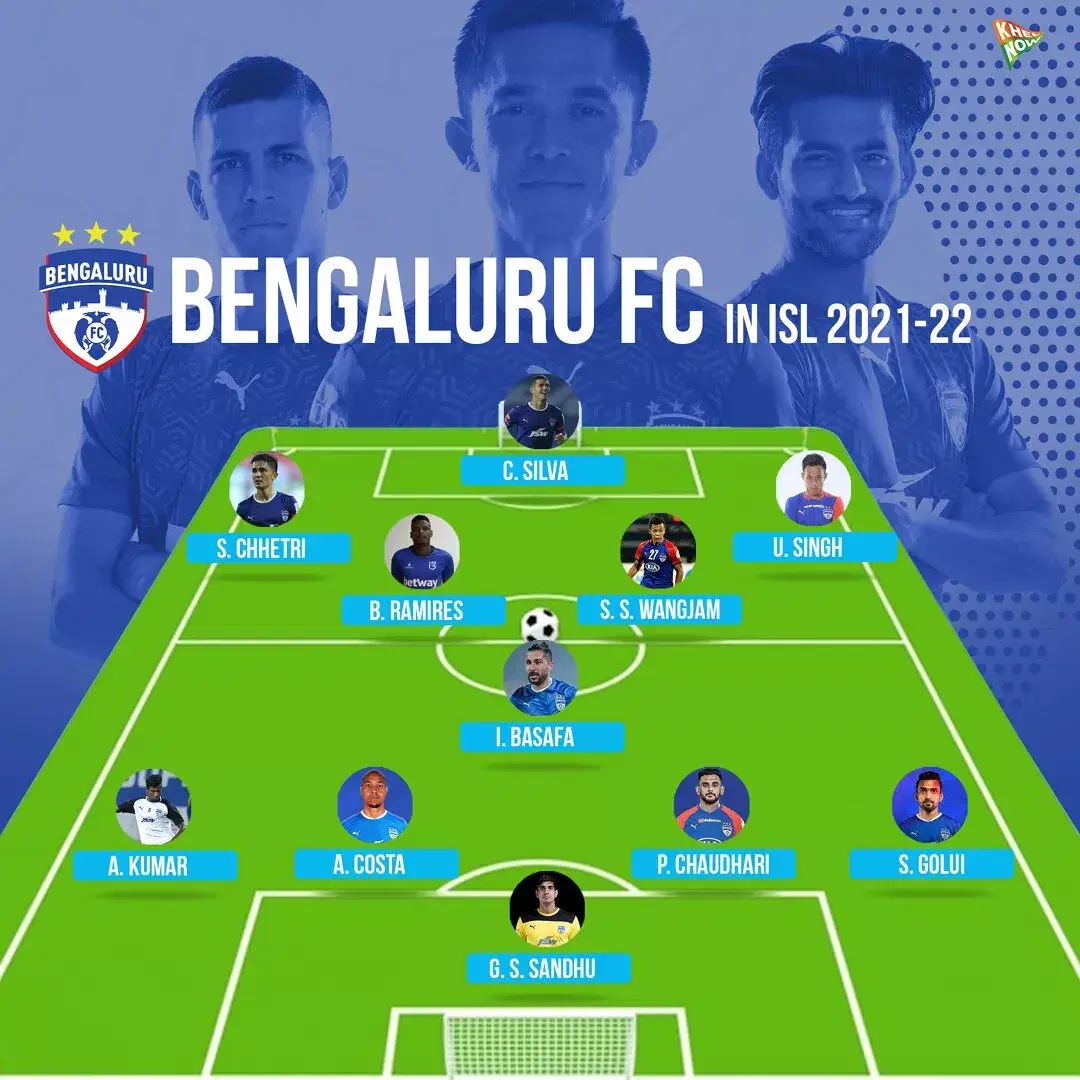 Marco Pezzaiuoli pretty much stuck with this formation in the AFC Cup Group stages. In defence, Ajith Kumar and Sarthak Golui on the flanks followed by Alan Costa as a centre back will be the go-to players. However, the fourth is still uncertain with Pratik Chaudhari and Yrondu Musavu-King being potential contenders. If Musavu-King is preferred over Pratik, chances are Jayesh Rane will be brought in to replace Bruno Ramires in the lineup.
In midfield, it is most likely the trio of Suresh Wangjam, Bruno Ramires and Iman Basafa. In the case of forwards, however, they boast of plentiful options apart from the standard trio of Sunil Chhetri, Cleiton Silva and Udanta Singh.
Considering Udanta's shaky form last season and at the recent SAFF Championship, some major rotations could be a possibility. For instance, Leon Augustine and Bidyashagar Singh could also be handed starts considering their Durand Cup campaigns and the latter's goalscoring capabilities as seen in the 2020-21 I-League season.
4-4-2 (Diamond)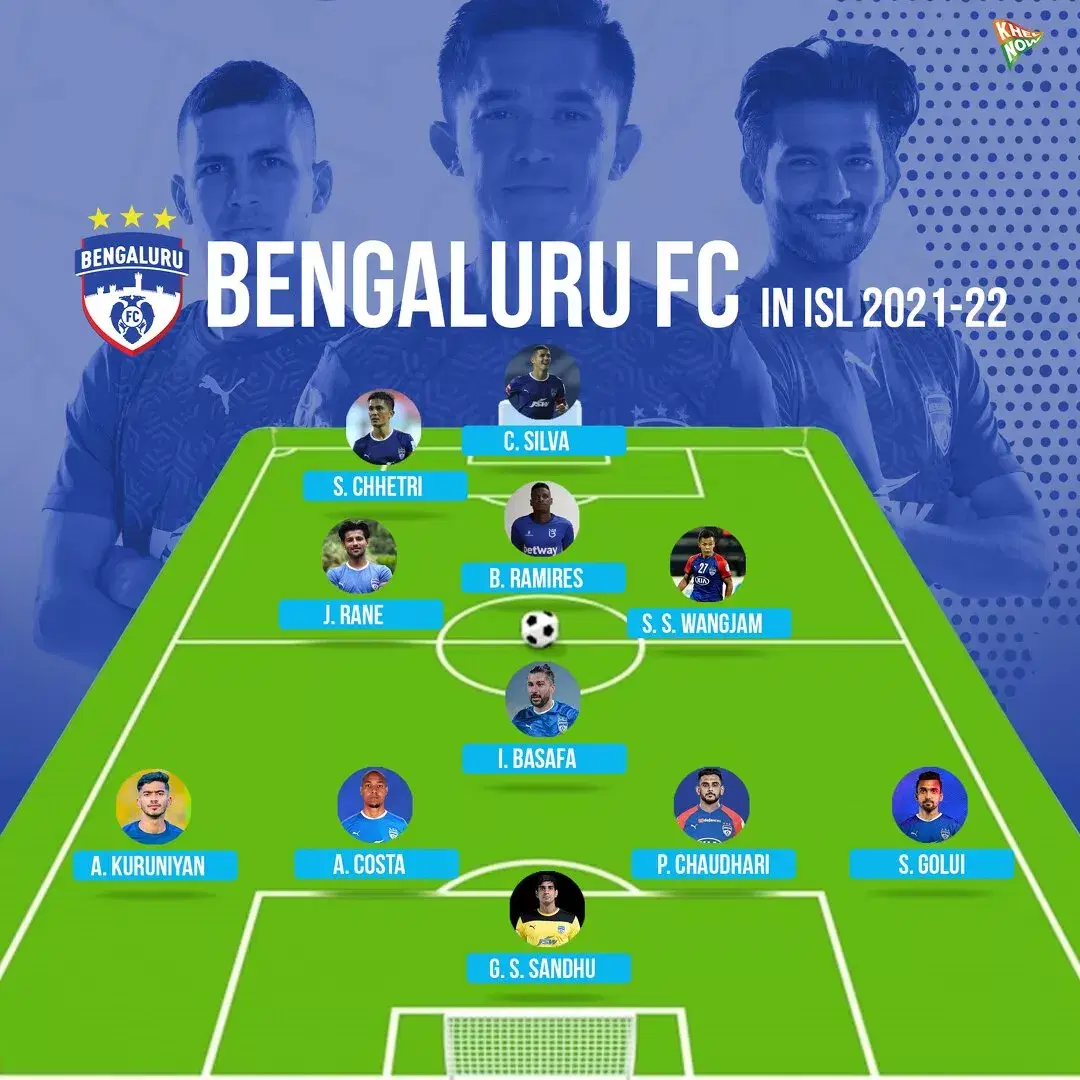 This allows Pezzaiuoli to accommodate strikers Cleiton Silva and Sunil Chhetri alongside Iman Basafa as the pivotal defensive midfielder. While Jayesh Rane, Bruno Ramires and Suresh Wangjam might take up the attacking workload supplying balls to the striking duo.
At the same time, it could lead to some isolation of Ashique Kuruniyan and Sarthak Golui on the flanks due to the formation's central focus being on the midfield. Even if they do contribute, it'll mostly have to be via crosses to the duo of Silva and Chhetri; not one-twos as we see in regular 4-3-3s today. Subsequently, center backs Alan Costa and Pratik Chaudhari might also have to take up some offensive responsibilities in this formation.
In short, this formation seems ideal for the Blues considering their midfield options. However, it isn't that regular in modern day football. So whether this is utilised or not is only a matter of time before we find out.
Strengths
Squad depth, promotion and the utilization of youth and reserve players are currently their key strengths. In other words, based on their flexibility, adaptability and rotation in the AFC Cup and Durand Cup, the Blues are certainly better off this season. That is, at least on paper when compared to 20-21 when they severely lacked options in times of crisis such as injuries and form. This alongside youth-oriented coaches in Pezzaiuoli and Moosa, the general squad revamp and an in-form Sunil Chhetri brings a ray of hope for their title race.
Weaknesses
A major weakness is the abrupt departures of three key players in Erik Paartalu, Juanan and Rahul Bheke. While replacement signings such as Bruno Ramires, Iman Basafa and Alan Costa are certainly options, their lack of familiarity with Indian football might pose other issues.
Similarly, despite commendable performances from youngsters such as Naorem Roshan Singh, Sivasakthi Narayanan and the likes. their integration into the first team would be a challenging task for the Blues. In short, youth, squad depth and replacements as strengths could also potentially turn into weaknesses in the form of inexperience.
Players to Watch
Leon Augustine
The midfielder was one of the standout players for Bengaluru FC in the Durand Cup. He is a crucial attacking option and could play that vital replacement role for Harmanjot Khabra following his departure from the club. Augustine featured quite regularly in the Blues' 20-21 campaign. As a result, he could get a first-team slot based on his performances and synergy with the current team. So, keep an eye on the 23-year-old!
Sarthak Golui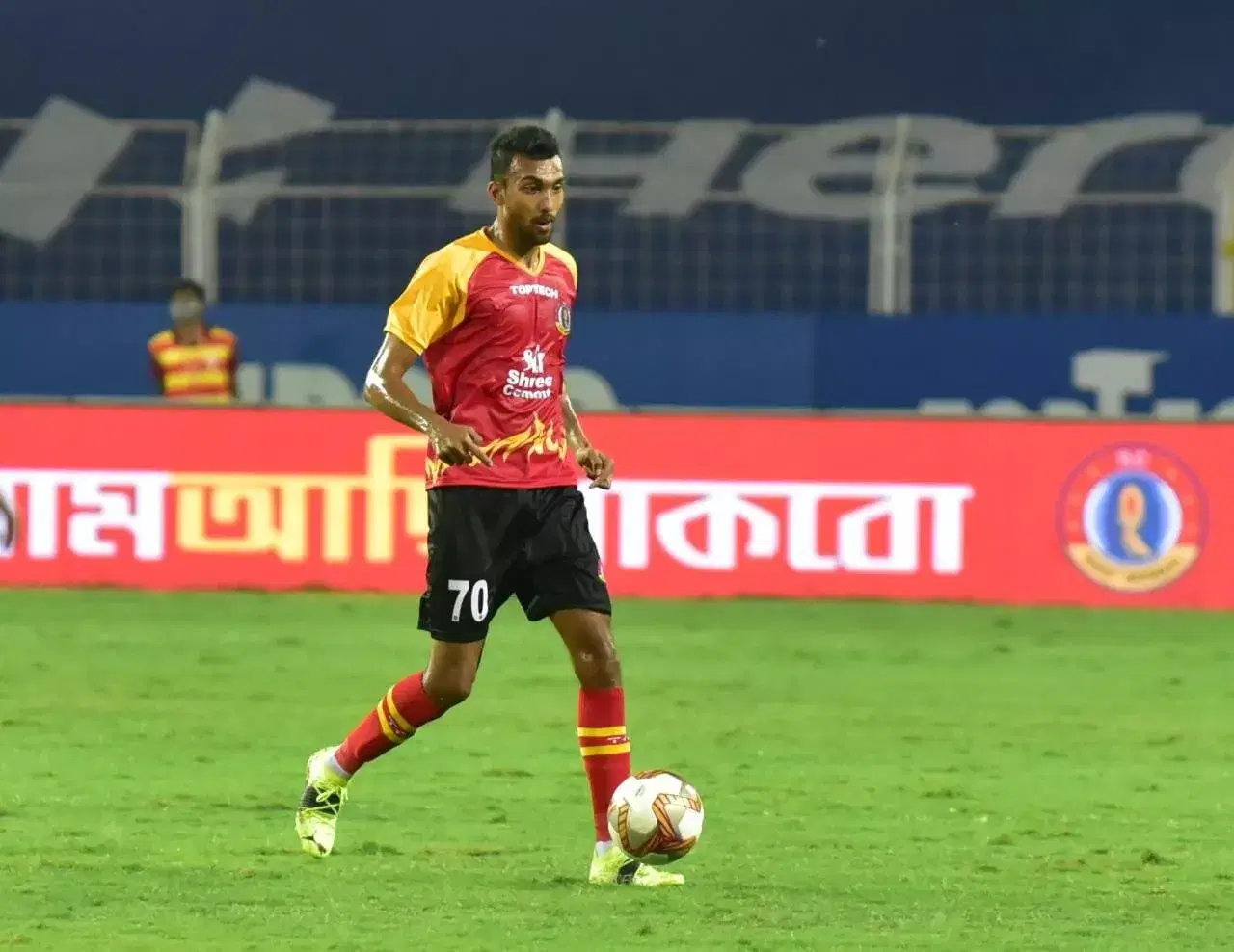 Another important figure is Sarthak Golui who can play both as a right-back and centre back. Golui's major traits include pace and crossing abilities; qualities that he's shown time and again during his stints with FC Pune City and Mumbai City. He is a direct replacement for Rahul Bheke and his vast Indian experience could also come in handy for the Blues.
However, Golui has not yet had as many major appearances except against Maziya S&RC in the final AFC group stage game. He provided an assist that day and was the most agile player on the flank. In short, he gave glimpses of the crucial defensive role that he could offer after Bheke's departure to Mumbai City FC.
Naorem Roshan Singh
The left flank was quite a problematic zone for Bengaluru FC in the 2020-21 season, Especially considering Ashique Kuruniyan's injury which saw some major mismatches and rotations in that area. However, Roshan possesses the capacity to strengthen that very region; something that he's constantly been displaying right from the 2021 AFC Cup campaign to the Durand Cup. His versatile nature to play pretty much anywhere on the left side along with his agility and ball control could help the Blues solve or at least improvise their performance in the area.
Fixtures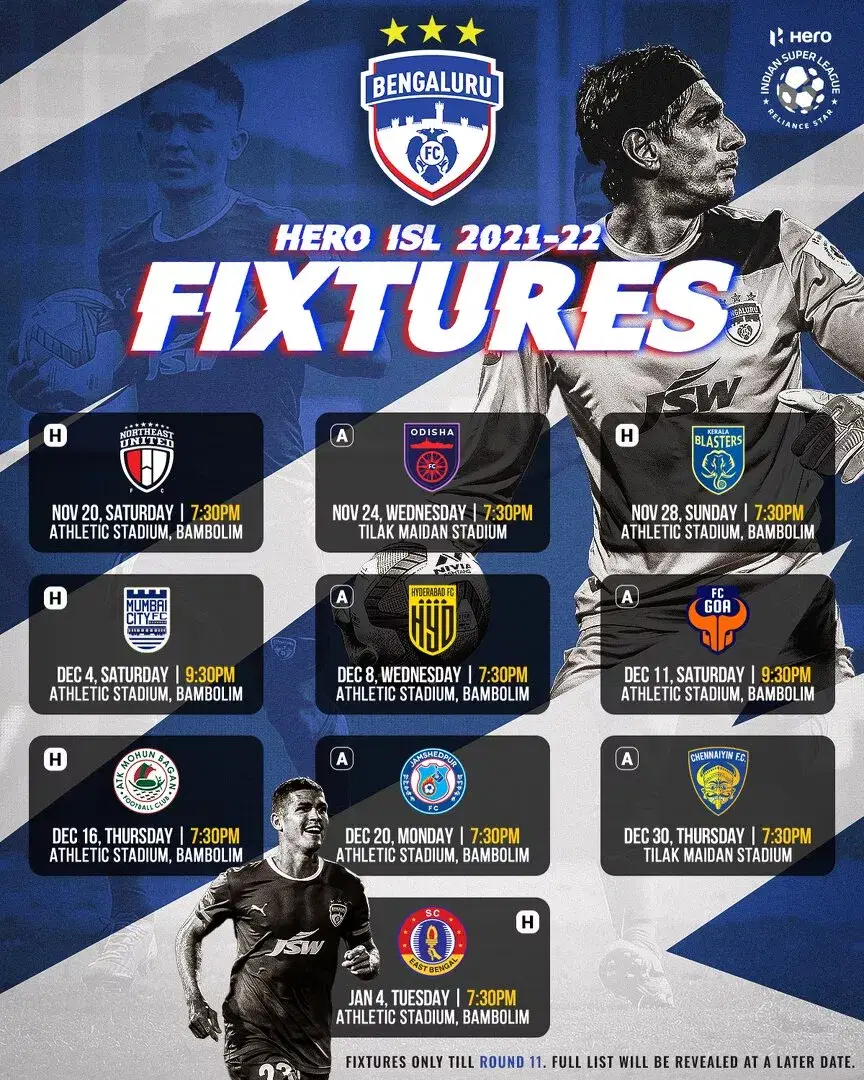 What to Expect
Despite the restructuring, this is the tricky part. Bengaluru FC are one of the few Indian sides to have experienced quick success since their formation. As a result, they have set their own standards so high that anything short of the playoffs would be a failure. After last season's seventh-place finish, this makes it the club's top priority.
Subsequently, considering their Durand Cup and AFC campaigns earlier in 2021, the Blues are fan favourites alongside FC Goa. Especially for their youth setup which could benefit them and certainly the Indian football ecosystem.
However, do not be surprised with bumpy rides and inconsistencies, at least in the initial few fixtures. This is only natural in football when revamped sides try to figure out their best players. In other words, fielding the right mix of youth and experience to cater to their philosophy and rightly replace veteran departures is their biggest challenge. This could either go smooth or turn into a prolonged process. Keep an eye on the pre-season friendlies which can testify the same and potentially highlight their direction in ISL 21-22.
For more football updates, follow Khel Now on Twitter, Instagram and join our community on Telegram.