Following Miku's departure the Blues have tried several options but none have worked so far.
The idiom 'How the tables have turned' could not have a better use! The floodgates were left open by a certain Miku Fedor, who in his own right had won over India as a premier No. 9 for the country's best club back then. Bengaluru FC had dominated the 2017-18 season, with no team coming close to the JSW Steel-owned outfit. With Edu Garcia, Antonio Dovale and Sunil Chhetri forming the core of creativity, goals were never a problem for the Blues, but always for the opposition.
They reached the final of the Indian Super League (ISL) and won the Super Cup. Next campaign, Miku won the ISL title with Bengaluru FC, leaving the club at the end of the season. Since the departure of the Venezuelan sharp-shooter, the Blues' attacking problems have gone from bad to worse. There seems to be something wrong in the machinery of one of India's best-oiled clubs, more than what meets the eye.
In a heavily-loaded interview, former Bengaluru FC man who came to Indian shores in January last year, Deshorn Brown has spoken out about the same. He is one of the quartet of four – Manuel Onwu, Cleiton Silva, Kristian Opseth and Brown – to have failed to make a mark at the Kanteerava as a No. 9.
Make no mistake – these strikers are no pushovers! Jamaican forward Brown scored 16 times in 34 games for Oklahoma City Energy in the USL Championship and was lapped up by Bengaluru FC at a salary of ₹43 lakhs approximately. Silva, 33, scored 11 times in 30 games for Suphanburi in the Thai League and was expected to take the Indian top flight by storm due to his familiarity with conditions in Asia. Although he has registered four goals and three assists in 14 games so far, the jury is still out on him. Interestingly, Silva is the costliest of the quartet, with his salary costing the club nearly ₹1.15 crore.
Silva is followed by Onwu on the list of high salaries the Blues paid for their failed strikers, as the Spaniard accumulated approximately ₹1.2 crore in salary. Onwu, however, went to Odisha FC on loan mid-season last term and scored seven goals in four games before getting injured. What's more baffling is that the same player had failed to open his account at Bengaluru in six games! Coaching issues? System issues? Something else?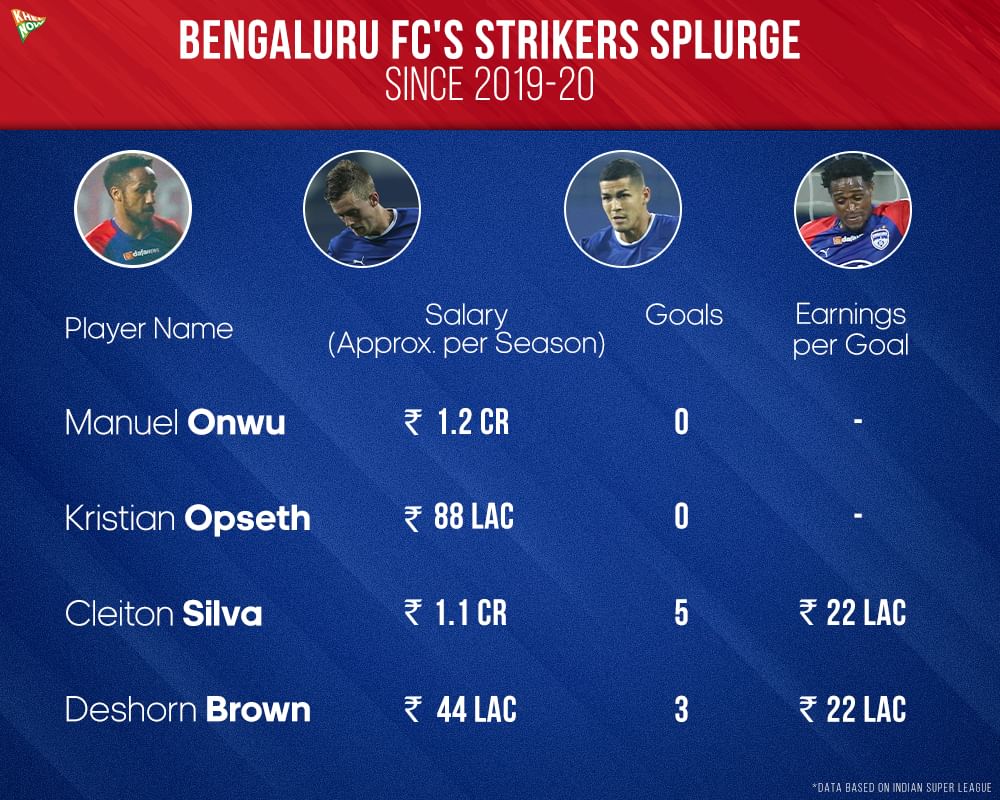 Brown said about his former employers, "There is so much stuff I didn't like (at Bengaluru FC). A great club, but the organization and people around it, the way they do things is not fair. Once you are around bad energy and things are not going right, you are not going to be happy within yourself and you are not going to enjoy the moments like I am here at NorthEast (his current club)."
"I am always enjoying training here. Even in the games, the coach (Khalid Jamil) is always telling me, 'Play your game, I have seen you play before, you are a great player.' He has always told me that and this gave me confidence."
A lot of what he has spoken makes sense. Since the departure of Miku, four talented strikers who had proven their mettle before joining the club hit a rough patch. Has it got to do with the 'negativity' at the club? Brown has already scored thrice in the last two games for NorthEast United, even helping them to a handsome win over league leaders Mumbai City FC.
"I don't have restrictions on me because it is a thing I don't like. I know how to play, I have played all over the world and executed in games wherever I have played. So, to come down here in India, just let me play and enjoy the game too," Brown continued.
Not just foreign strikers, this 'restrictive approach' highlighted by the 30-year-old has also pegged back the attacking instincts of two of India's best wingers – Udanta Singh and Ashique Kuruniyan. After plying his trade as a wing-back last season, Udanta has finally retired to the bench. Ashique, too, is no longer a starter and has been turned into a full-back. Is it safe to say that the pair might lose their national team spots to other youngsters?
Now, that we know a problem exists, let us try and fathom what it could be. Is it a rigid style of football that is forcing players to play a definitive way? Is it poor coaching? Or is it some issue off the field? It looks like it is an overly conservative style of football that is being inculcated at the club, but seems to have been found out by other teams.
RELATED: What we can learn from the foreign strikers signed by Bengaluru FC
In many ways this conservative approach and an over-reliance on set-pieces to scoe goals is ultimately what let to tne sacking of the club's long-time head coach Carles Cuadrat. Following the Spaniard's dismissal earlier this season, the club's Co-Owner Parth Jindal had said, "While we enjoyed success with Carles in the past, we felt there was a departure from the philosophy that we hold true this season, which prompted us to arrive at this decision."
It must be highlighted that Cuadrat was sacked close to the halfway point of the season and at the time the plaoffs were still very much in play for Bengaluru FC. Interim coach has since managed five games and failed to win any. As such, given Jindal's comments one has to question the logic of placing the inexperienced tactician at the help of one of the country's biggest clubs. Were there better options available? Certainly.
Speaking of the current setup on the pitch, the central midfielders are always looking at Dimas Delgado to create something for the over-loaded box, with Sunil Chhetri omnipresent with any of the two foreign strikers.
Suresh Singh Wangjam, a powerhouse in midfield with running batteries that could make N'Golo Kante proud, is not shooting enough either. In the game that Bengaluru FC lost 1-0 to Jamshedpur FC, there were two instances when Suresh had carried the ball into the opponent's box, but did not shoot. Instead, he turned around towards his own goalkeeper and passed the ball to Dimas. This attitude of trying to break defences with individual brilliance is not going to help Bengaluru FC in the long run.
With Jindal raising issues of annual losses to FSDL Chairperson Nita Ambani, he should also reflect on why the club are still struggling to find a proven goalscorer after having spent ₹4 crore approx on four different strikers. When one reflects on the situation, the club's problems appear to have nothing to do with personnel. Indeed, they seem to come down to a lack of direction and leadership, both on and off the pitch.
Will Miku come back and win this musical chair?
For more updates, follow Khel Now on Twitter, Instagram and join our community on Telegram.