For all latest news,photos, video highlights,reviews , editorial , tactical analysis from Indian Super League 2016 and Indian Football Sign up for Khel Now
0-1
Full Time : India U-17 Football Team 0-1 Orlando City FC U-17
Defeat for Nicolai Adam boys in the first match of the tournament and coach will be disappointed with the result as his team dominated the majority part of the match .Tomorrow Blue colts will be playing against host Atletico Paranaense . Do join us for the game at same time .
Do leave us feedback in the comment section . Good Night to all Khel Now fans .
You guys can know future World Cup star of india by playing small trivia here – India U-17 World Cup Players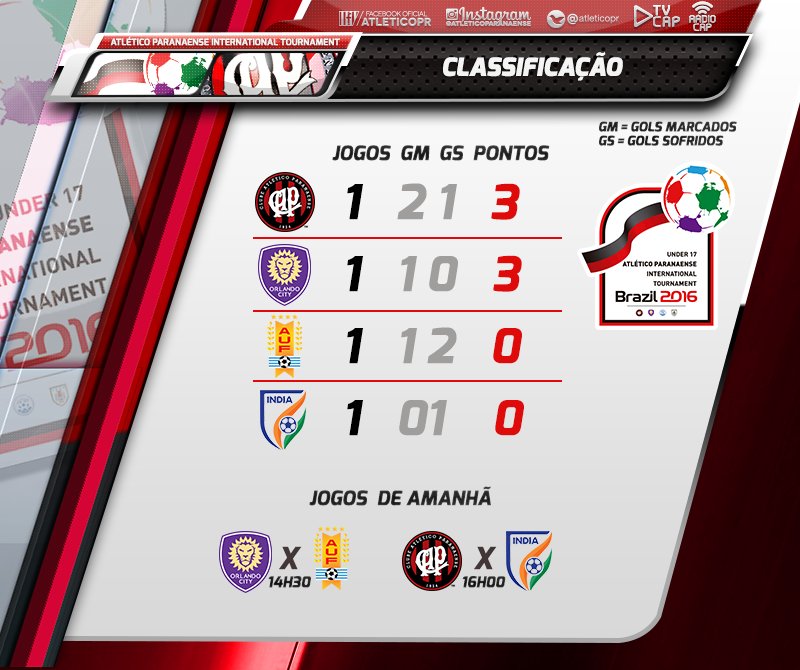 Standing after first match day.
70+1 ' Shubham Sarangi comes on for Komal Thatal. Komal is first Indian to score goal against Brazil at any level .Watch his thundering strike below .
69′ India has switched to 4-3-3 formation . Abhijit, Joysana, Aniket are 3 forwards .
68′ Chances after chances for Indian boys in the final phase of the game. Consecutive 4 corners for them
63′ Can Blue colts find equalizer in the last 7 minutes plus stoppage time of the game? Tell us in the comment section
62′ CLOSE ! Nearly equalizer for India! Super Sub Abhijit shot just goes wide of the goal.
57′ Adam make couple of changes as Joysana & Abhijit comes on .
53′ Chance for City but Jitendra Singh with last ditch tackle to keep scoreline 0-1 .
47′ Blue colts needs to show some character to make comeback in this match as they struggling to keep ball right now.
41′ Dheeraj seems to be injured and down. Adam brings on Mohammed Nawaz to replace injured Dheeraj .
41′ Dheeraj seems to be injured and down. Adam brings on Mohammed Nawaz to replace injured Dheeraj .
38′ Nicolai Adam will not happy with his midfielders as they did not close down for that goal.
37′ GOOALL!! Alejandro Pereira Scored against the run of play .
36′ We are underaway in the second half.
India dominated first half against Kaka's Orlando City U-17 Squad in Americo Guimaraes Stadium . Ninthoi with couple of good chances in the first ten minutes of the match, his one shot came out of the woodwork . Coach Nicolai Adam will be hoping for better job from his forward line in the second half.
National anthem before kick off .
During half time break you guys can know future World Cup star of india by playing small trivia here – India U-17 World Cup Players
35+1′ Referee whistle for half time.
35′ 1 minute of added time .
30′ Suresh , Ninthoi with best chances of the matches till now .Dominating start from India .
22′ Another chance for India to take lead but captain Suresh final shot straight to city goalkeeper!
20′ India with majority of the possession and chances in the first quarter of the match.
17′ This is the reason India head coach Adam is really impressed with training Facilities in Brazil .Check out the CAP training facilities below.
15′ Alejandro Pereira with danger cross from right side but Indian defense clear it with ease.
8′ Ninthoi once again in the action as his shot from top of the box is saved by City GK Carlos.
5′ India dominated possession in the first five minutes of the match .
4′ First corner of the match for City but Ninthoi tackled it away . Lad is in the action on both side of the half .
3′ First shot of the match from Ninthoi which comes out from woodwork . Aniket played brilliant cross to Ninthoi for that shot ,Unlucky
2′ Dheeraj collects early cross from Ryan before Allen Seals could head it in .
1′ We are underaway in Americo Guimaraes Stadium for second match of the day.
11:45 pm All the matches in this tournament will be of 70 minutes and irrespective of the results all 4 teams will play semi finals .
11:44 pm India Starting XI against Orlando City SC : Dheeraj (GK), Boris, Jitendra, Sanjeev, Suresh (C), Ninthoi, Amarjit, Aman, Komal, Aniket, Rakip.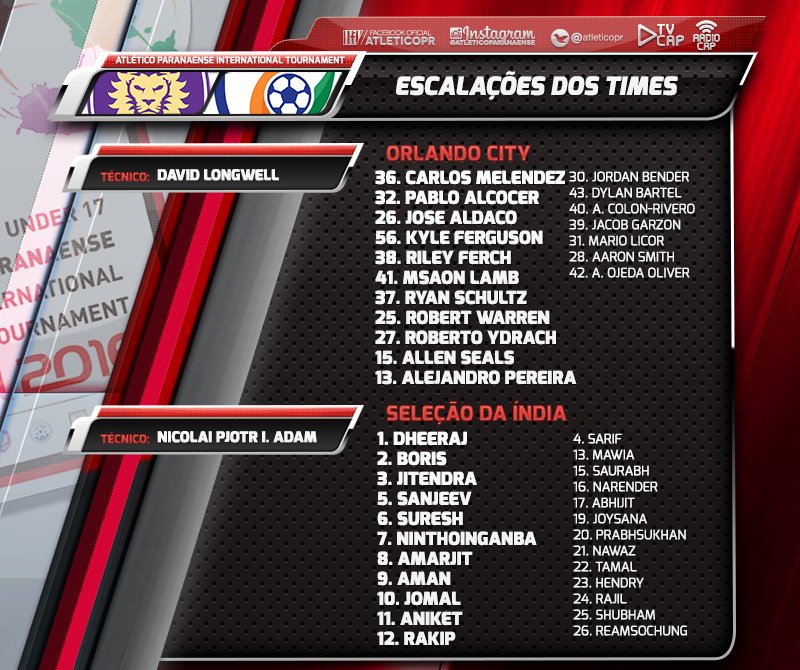 Line ups.
11:43 pm Minutes away from Kick off .
11:42 pm In the last exposure tour Blue Colts played 17 games against European side winning nine of them while there were four draws and four losses. Importantly, there were seven clean sheets. Some of the more impressive wins included the 1-0 victory over Luxemburg, the 7-0 thrashing of Strommen, the 2-1 success over TSG Hoffenheim and the 5-0 dismantling of Sportfreunde Siegen. Draws against Stabaek and Koln were also commendable.
11:40 pm We have been told by our CAP friends from Brazil that both the semi finals and final will be live stream on Youtube .
11:39 pm Bruno Leites brace helped host Atletico Paranaense to defeat Uruguay U-17 by 2-1 in the opening fixtures .
11:37 pm In BRICS Cup Blue colts played 4 matches against Brazil , China , South Africa ,Russia U-17 . India U-17 World Cup Squad lost all matches in home soil but impressed all home with their fighting performance.
11:33 pm Talking about facilities in Brazil Adam said "It's a beautiful structure, nothing is missing here. It's all like Germany: same weather, beautiful countryside and infrastructure. I'm really impressed and it will be great to be here, "
11:31 pm After playing AFC U-16 Championship and BRICS cup in Goa Blue colts landed Brazil last week to play in Atletico Paranaense International Tournament against Orlando City FC , Atletico Paranaense and Uruguay U-17 team for the preparation of 2017 FIFA U-17 World .
11:22 pm As we wait for Blue colts match in Joaquim Americo Guimaraes Stadium currently Atletico Paranaense U-17 is leading by 2-1 against Uruguay U-17 in the opening fixture .
11:17 pm Hello and welcome everyone to the Atletico Paranaense International Tournament live blog from Brazil. .