For all latest news,photos, video highlights,reviews , editorial , tactical analysis from Indian Super League 2016 and Indian Football Sign up for Khel Now
4-0
Atletico PAranaense remains on top of the table with 6 points followed by Uruguay with 3 points , Orlando City with 3 points and india with 0 points .
Tomorrow India will take on Uruguay in the important fixture at 9:30 PM IST before semi finals.Do Join us for the tomorrow game.Watch this space for Match report and highlights. Good Night to all our fans.
70′ Referee whistle for the full time.
68′ Corner for India in the last minutes of the match.
57′ We are now into last 13 minutes of the match , Can Blue colts scored one goal here ?
48′ Another change for India as Sarif comes in place of Sanjeev Stalin .
47′ First shot from India in second half as Komal tries his luck from distance but his shot easily collected by Allan.
45′ First change of the match from India as Shubham Sarangi comes in and Aniket Jadhav comes off.
42′ GOOALLL!!! Cross from right Jitendra puts ball into own goal.
36′ We are underaway in second half.
During half time break you guys can know future World Cup star of india by playing small trivia here – India U-17 World Cup Players
Exclusive images from Brazil: Aniket in action during first half .
35′ Referee whistle for half time . Danilo Brace is the highlight in the first half .
33′ 2 Minutes to go for half time , Coach Adam might need to bring some fresh legs from the bench to stay competitive in this match .
32′ GOOALL!! Danilo again, another header to make 3-0 for the host.
32′ Indian boys needs to keep more ball in the midfield as currently its all about CAP attackers and Indian defenders .
18′ GOOALL!! Danilo this time with fine header from corner.
17′ Earlier today Orlando City lost by 1-3 against Uruguay .
16′ Atletico Paranaense defeated Uruguay by 3-1 last night where as India lost by 0-1 against Orlando City .
14′ GOOALL!! Joedson Scored for the host .
11′ Battle of the midfielders as both sides struggling to keep the possession .
9′ CAP looking like better side in the first few minutes of the game .
5′ First Dangerous attack of the match , CAP Danilo shot just goes wide after initial save from Mohammed Nawaz .
3′ All the matches in this tournament are of 70 minutes . It'll be 2 halves of 35 mins each with a 15-minute break.
1′ Kick off ! We are underway in Ateltico Paranaense Arena.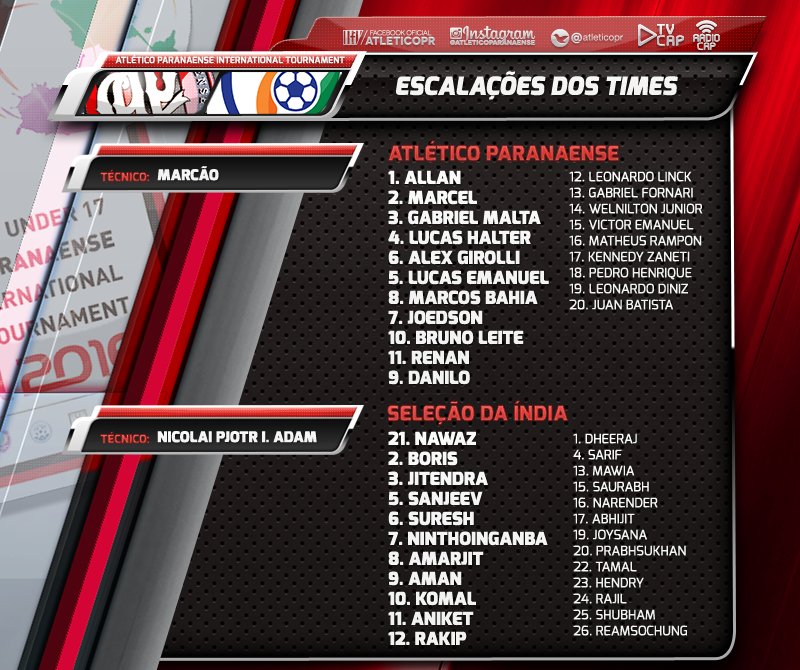 Line ups.
12:01 pm India starting XI: Nawaz (GK), Boris, Jitendra, Sanjeev, Suresh (C), Ninthoi, Amarjit, Aman, Komal, Aniket, Rakip
11:57 pm Nicolai Adam is planning for another exposure tour to Europe which will be followed by tours to Africa , Australia before big 2017 U-17 World Cup. Do you guys think India will take giant step towards becoming footballing nation next year ? Let us know your views in the comment section below .
11:50 pm As Kick off is delayed , You guys can have some snack before ultimate kick off .
11:47 pm Warm up is done and we are just 15 minutes away from Kick off .
Highlights of Yesterday game between India and Orlando City .
You guys can know future World Cup star of india by playing small trivia here – India U-17 World Cup Players
11:36 pm Just Now : Uruguay defeated Orlando City by 3-1 in the first game of the day .
11:30 pm Facundo Torres scored again for Uruguay to restore two goals lead against orlando City .
11:28 pm Indian Players are warming up in the sideline and waiting for the first match to get over.
11:27 pm A. Oliver scored from Spot for Orlando City to make 1-2 against Uruguay .
11:14 pm Facundo Torres scored to make 2-0 for Uruguay against Orlando City .
11:10 pm Yesterday India U-17 went down fighting against Orlando City by one goal.Adam will be hoping for better performance against host Atletico Paranaense.
11:05 pm Orlando City is trailing by one goal against Uruguay in the first game of the day .
11:00 pm Hello and welcome everyone to the Atletico Paranaense International Tournament live blog from Brazil.