Is he becoming an example of a player who got too much too soon? Or still a superstar in the making?

Back in February of 2016, Manchester United were forced to include Marcus Rashford, an up and coming academy talent in the starting lineup due to injuries to the senior players. The mere 19-year-old was handed a chance to fulfil his dream to represent his boyhood club.
After having scored in each of his debuts in the UEFA Europa League and particularly the Premier League against Arsenal, the fans and the club staff believed that a generational talent had been found.
Rashford was here to stay, not make a fringe appearance and fade out.
The youngster soon found himself to be a regular in the starting lineup, playing alongside the likes of Zlatan Ibrahimovic and Wayne Rooney. He was the centre of attention and owing to his potential, was regarded as one of the best budding talents in Europe, let alone England.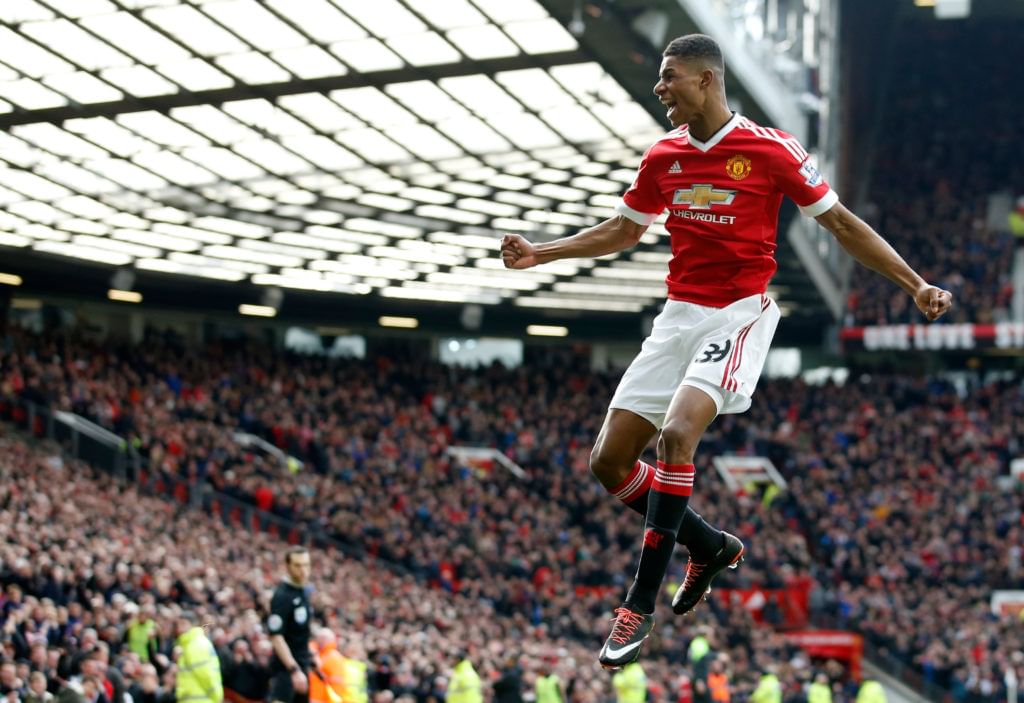 Marcus Rashford after scoring on his Premier League debut against Arsenal
Fast forward to the present day, that potential sometimes looks to have hit a massive decline, similar to the decline the club has been going through. He is nearing 200 appearances for United at the age of 22, a feat that is quite rare and exceptional in itself.
However, for a player that features so heavily week in week out, his goal-scoring stats are not pretty reading. To summarise, Rashford has scored in double figures only once in the domestic league, which was last season after he scored 10 goals. But not all is gloomy in his MUFC career, his recent rise in form has seen the Englishman notch up 10 goal contributions (seven goals and three assists) in 14 overall appearances.
Although, the recent spurt in form cannot hide the fact that as a player who needs to be delivering 20+ goals for the team, he needs to be more consistent. His lack of scoring can be attributed to his position but in no terms can it be used as an excuse.
He broke through the ranks as an energetic centre forward but then was employed extensively on the wings due to his speed and movement behind the defenders. However, that has created a sort of a dilemma within the player. It is still unclear where Rashford is most comfortable, whether it is leading the forward line or playing as an attacking winger.
A lot is expected from Marcus Rashford but can he go on to become one of the United's greatest?
Currently, Ole Gunnar Solskjaer trusts Anthony Martial in the striker's role and Rashford on the wing. However, injury problems to the Frenchman meant Rashford was the backup striking option, where he clearly struggled. He has lost the edge and anticipation of a striker and the lack of quality delivery has not helped his case.
Rashford scored two clinical goals against Liverpool and Norwich after being served up delicious long balls by Daniel James, which goes to show how he possesses the natural scoring ability but is desperate for quality service.
Of late, the 22-year-old has cut a dejected and a disconsolate figure, his free-kick abilities at times dwindled, barring the mammoth 40-yard free-kick goal against Chelsea most recently in the Carabao Cup.
The MUFC academy product simply looks like lacking in confidence. It could be argued that Rashford is a case where the player has got too much too soon but looks determined to right his wrongs.
He signed a lucrative contract recently with a weekly wage in the region of £200,000 per week – a figure many fans argue is unjustified. In comparison, that is more than what Sadio Mane is earning at Liverpool, in fact double.
However, that argument becomes moot as long as Rashford keeps netting in crucial goals. Martial and him playing together are a force to reckon with, as was seen in the sublime third goal against Norwich in the 3-1 away victory.
Marcus Rashford: The strikers seem to enjoy their chemistry on the field
Rashford's talent needs to be better applied and the first step should be to sort out his role in the squad. As a solitary striker, he fails to impact a game or get involved in the build-up play, while as a winger, he sees more of the ball and is able to stamp his authority on the games.
While playing alongside Martial allows both of the players to seamlessly switch places and cause trouble to the opposition defenders.
Perhaps recruiting another striker in addition to Martial and someone like Jadon Sancho (who is heavily linked with a move back to England) on the right-wing could narrow down Rashford on a more focused role on the left-wing, where he has excelled the most in the past.
However, the question still remains to be answered for now, whether Rashford is best suited as a striker or an attacking winger?
He could follow in the footsteps of players like Mohamed Salah and Raheem Sterling, players who have tormented defenders from the wing and bagged buckets of goals. But one thing is for certain, Marcus Rashford as a player is indispensable for United, committed to the club, an exceptional talent for his age, can fill the gap left by Wayne Rooney and be a part of United's plans for the next decade or more.