The 27-year-old talked about his journey so far, experience in the ISL, Indian football team and ambitions for the future.
Role of Tata Football Academy, Pailan Arrows and Dempo in his development.

Teams he has represented in the ISL and what he has learnt.

Indian football team and the target under Igor Stimac.
Amid the persistent debate over lack of quality strikers in the Indian football team, one often overlooks the country's continued production of goalscoring midfielders. Over the years, a horde of technically sound midfielders have come forth, both – attacking and defensive. As we discuss about these players, one of the very first names to surface is Pronay Halder.
While most fans recall his sublime strike against Chinese Taipei in the Intercontinental Cup in 2018, not many know the back story of 'the tank' of the national team. In an exclusive chat with Khel Now, the midfielder opened up on his journey so far and his ambitions going forward.
Following in the footsteps of his father, who was the coach of the then Calcutta Football League Premier Division club West Bengal Police, Pronay Halder was introduced to the game.
Taking a step further, he then joined the prestigious Tata Football Academy (TFA). However, only a year after joining the academy, he was released on account of below-par performances. That was, thus, a setback at the very start of his career. Nonetheless, he went on to spend a year and a half at the Mohun Bagan academy and again appeared for trials at the TFA.
This time, he managed to impress the then coaches at the setup, including the likes of Ranjan Choudhary, Vijay Kumar and so on. One could mark this as a defining moment in his career. "It was always my dream to play and graduate from the Tata Football Academy," he recalled. Thereafter, Halder also featured for the India U-19 team, before eventually joining the then Pailan Arrows project for a brief stint.
"Pailan Arrows was a very good platform that we as players received," Pronay Halder said before adding, "Having represented the U-19 national team, it was always a better option to gain more experience on the field rather than directly joining the then big clubs like Mohun Bagan, East Bengal and Dempo."
"It was at the time I was still at the TFA when a batch of 18 players from the U-18 age-group was brought in for the Arrows project by the AIFF. Players like Robin Singh, Raju Gaikwad, Gurpreet Singh Sandhu were all there," quoted Halder.
His first year with the young team was tough, especially with injuries marring his season. However, he explained how playing under former coaches Sukhwinder Singh and Arthur Papas in the I-League helped him develop a competitive spirit and more so as a footballer as he received plenty of game-time in his second year.
Subsequently, Pronay Halder, along with few others from the Arrows, joined one of the renowned clubs in the country, Dempo SC on loan. "Before joining Dempo, I also had an offer from Mohun Bagan. But, my father advised me to join the former, saying it would be better for my development as a player," revealed the midfielder. "At Dempo, there were several players like Clifford bhai (Miranda), Sameer Naik, Beto, who all supported us a lot," he added.
Playing alongside the likes of Mandar Rao Dessai, Romeo Fernandes among others, Pronay Halder explained how he learned a lot from the senior players in the team. "There never came a situation where we were neglected just because we were junior players," he quoted.
Ever since, Pronay Halder has gone on to represent several Indian Super League clubs including FC Goa, Mumbai City FC and ATK. When asked which team he enjoyed playing for the most, Halder was undecided. "There's no one team in particular. I have learned things at every club I've played for. Having shared the pitch with marquee players like Lucio, Leo Moura, Diego Forlan at Mumbai City, I learned a lot as a player."
Furthermore, he went on to describe the title-winning campaign with ATK in the 2019-20 season. "It was one of the best moments in my life. In 2015, I had lost the final against Chennaiyin FC. Therefore, defeating them at the same stadium was, I think, the best revenge for me," he laughed.
Moving on, Halder spoke about the key differences he finds between the styles of play of Stephen Constantine and Igor Stimac. He pointed out how the former focused on defensive play and counter-attacks, while the latter focuses on a passing game and playing with the ball.
"Every coach comes with different playing style. We as professional players should adapt to the styles of every coach," Pronay Halder opined.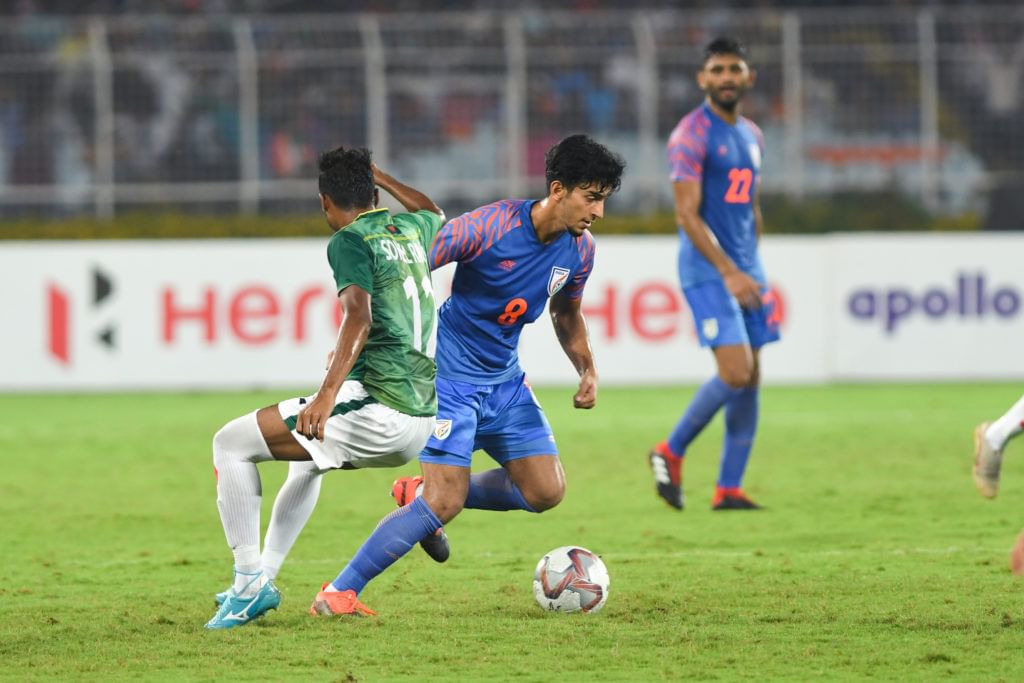 Speaking about a tough FIFA World Cup qualifying campaign so far, he went on to explain how the coach needs to be given some more time. The midfielder pointed out how the team had produced a string of negative results when Constantine had first arrived. But eventually, their performances improved and so did the results. "It's a process and the coach should be given time," he reiterated. "We have our targets set for the AFC Asian Cup 2023, so let's see how it all unfolds in the future."
Further, Pronay Halder spoke about the young players that have impressed him the most, especially those playing in the same position as him. Citing the examples of Anirudh Thapa, Edwin Vanspaul, Jeakson Singh and Sahal Abdul Samad, he talked about how there are lots of players doing very well in that position.
As the conversation reached a conclusion, Pronay Halder described how it is working under a coach like Antonio Habas. "I have learned from every coach that I've played under so far. As for Habas, everyone calls him strict and disciplined, but I think that is necessary. Moreover, even if he looks more aggressive, from the inside he is quite soft as a person."
"But yes, while on the pitch, he requires a 100% effort from each player, for every drill, every game. There are little things that matter a lot like the bond between the players, in the dressing room. It helped us during last season and the results are there for everyone to see."
Finally, expressing his opinion on the merger of ATK and Mohun Bagan, Pronay Halder sounded a happy man. "It is a historic thing. In these six years, I have always wanted East Bengal and Mohun Bagan to play in the ISL. I am very happy that the merger took place and I feel lucky to be part of the team. I am very excited for the upcoming seasons," he concluded.
For more updates, follow Khel Now on Twitter and join our community on Telegram.