The 26-year-old recalled the days when he was still recuperating from an ACL injury and the support he received throughout from the senior players.
Prabir Das played an important part last season in ATK's title win — their third victory in six years. He deservedly gained plenty of plaudits for his marauding runs on the right flank that made him an integral member of the winning side. His dangerous crosses, tenacity and boundless energy were some of the noticeable qualities that he displayed on a regular basis on the field.
The 26-year-old played 20 games for the outfit and provided five assists, including two decisive deliveries in the second leg of the semi-final against Bengaluru FC in the previous campaign when his team was in desperate need of that sort of quality and inspiration.
However, things weren't always this good for the defender as he battled through a lot of difficulties early on and had his fair share of struggles during the course of his footballing journey. In the first couple of editions of the Indian Super League, Prabir Das went through unsuccessful stints at FC Goa and Delhi Dynamos respectively.
Despite making just one appearance over the course of the two seasons, he got the opportunity to share a dressing room with some of the most esteemed names in world football, which remains an invaluable experience for him.
Speaking to host Anant Tyagi in a live chat on ISL's Instagram handle, Das recalled, "It was a dream for us to have top players at the club. No one had thought, at least I didn't, that we will have a top league someday that will have such iconic players. It felt good seeing them and I got to learn a lot of new things."
"To this date, if I message Robert Pires, he replies, which feels nice. He is a very good person. When I started performing well with ATK, Zico sir told me, 'I am very happy with you.' Day by day, I improved and got a lot of experience playing with them and I still do."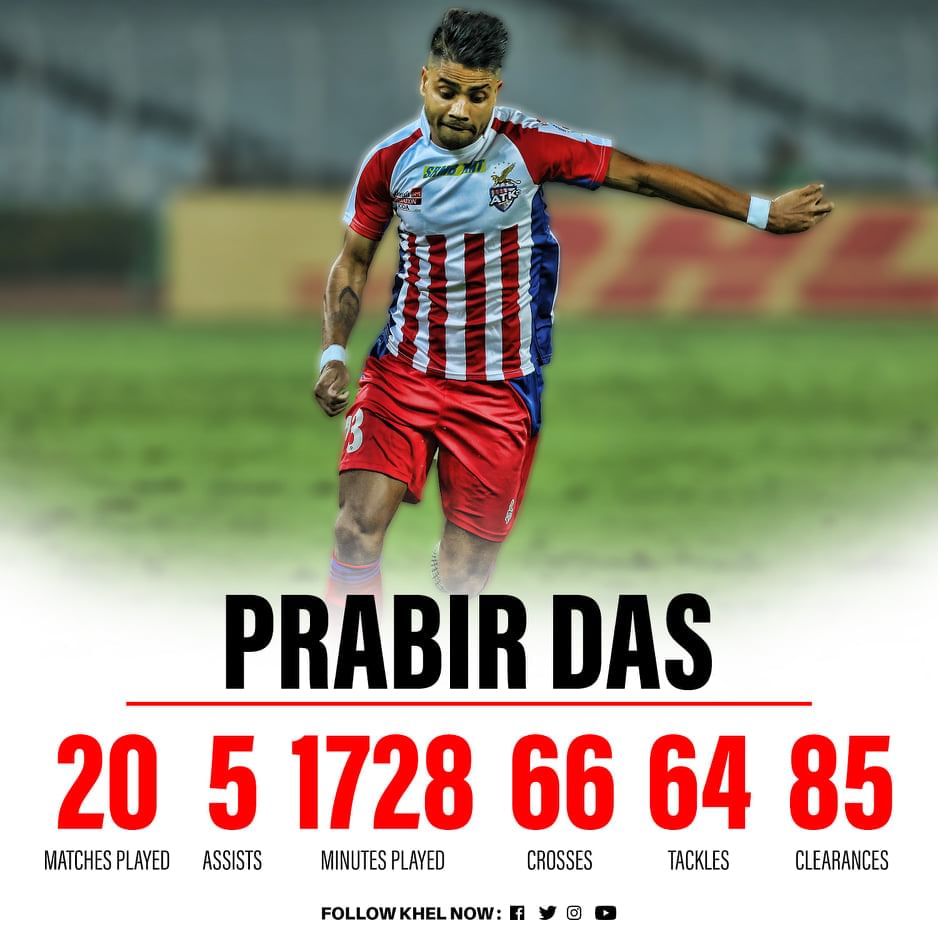 Additionally, Das admitted that he takes the blame for getting a lack of playing time during his days at Goa and Delhi. He revealed that he hadn't ever played in front of such a large crowd and couldn't even sleep the night before his first game. The resultant pressure and nerves ended up affecting his performance.
His fortunes, however, changed when he moved to ATK in 2016. The adventurous full-back played 12 games for the Kolkata outfit in his debut term that finished with him lifting the ISL trophy.
"It is a big achievement. It was my first trophy in my football career. The players were very good in both campaigns (2016 & 2019-20) but all were team players, they were always positive and there were no fights regardless of who the coach decided to play. Borja (Fernandez) was a leader, (Iain) Hume used to speak positively. I still speak to them – Borja and Hume. They always talk positively. When I had an operation, Hume always used to message me — these things feel nice. So I have learned a lot, there is still time to learn and I will learn plenty from the seniors."
In the past, Prabir Das has had his injury issues, even to the extent of missing the entire 2018-19 campaign due to an ACL injury. Although the rehabilitation process can be excruciatingly arduous, the two-time ISL champion revealed that he remained motivated by reminding himself that his family depends on him and that injuries are a part and parcel of the game before adding that the key is to always work hard and remain confident in one's abilities.
Another interesting revelation that he made was that he focused on maintaining his speed during the rehabilitation process and believes it is his best asset.
ALSO READ: Prabir Das: Missing out on ACL motivated us to win ISL title
"I have only one quality and that is speed. I don't have any other individual qualities. I told them (doctors) that whatever I have to do to recover, ask me to do, but my speed should remain the same or should increase. So whatever I had to do to maintain my speed, I followed everything because speed is my everything. If you want to play on the right wing, you need speed to cover ground. I did everything they asked me to do and by God's grace, it is still the same and has even increased after my operation."
Lastly, the former Mohun Bagan defender was full of praise for the support that the team receives from the ATK fans. He even spoke of his admiration for the Kerala supporters and admitted that he is close to them due to the love they have shown him over the years.
"It feels great when we go play away games and receive such support. Now, we will get more support because of the ATK Mohun Bagan merger as Mohun Bagan supporters are present everywhere. This year mostly we won't get it. But the year after that, we will get a lot of support, which gives plenty of motivation. But whenever we go to Kerala, you see yellow everywhere. Even if your supporters are there, they are not visible because the entire stadium is full."
"Another thing is that all supporters are great, but I am close to Kerala supporters because when I step outside, they show me a lot of love, ask for pictures and even their comments are good. So I love Kerala supporters and they are the best supporters, after ATK Mohun Bagan," Prabir Das signed off.
For more updates, follow Khel Now on Twitter, and Instagram and join our community on Telegram.