The 39-year-old recently passed away due to a cardiac arrest while playing in a Sevens match.
Sunday's I-League fixture between Gokulam Kerala and Churchill Brothers was a sombre occasion as the local community along with the most prominent figures in Indian football came together, in remembrance of Radhakrishnan Dhanarajan. The 39-year-old player passed away on December 29, 2019 tragically while playing in a seven-a-side game for FC Perintalmanna in Perintalmanna, Kerala; reportedly due to a cardiac arrest.
He was a well-known figure in Kerala's football community and had also featured for teams like Viva Kerala, Chirag United, Mohun Bagan, Mohammedan SC and East Bengal, along with representing Kerala and West Bengal in the Santosh Trophy. Radhakrishnan Dhanarajan, along with his friend and teammate from Kerala, Denson Devadas, was part of the West Bengal team that won the Santosh Trophy back in 2010.
Radhakrishnan Dhanarajan played as a defender back in the days and also captained Mohammedan SC to a Durand Cup triumph in 2013.
Their friendship was not bound there, the duo played together for Viva Kerala, United SC and Mohun Bagan. Talking about his deceased friend, Denson Devadas spoke to Telegraph and said, "I can't believe Dhanarajan is no more. Somebody so full of life can't just pass away like this. Once I heard the news, my hands were trembling and my blood pressure shot up. I just do not know how to react,"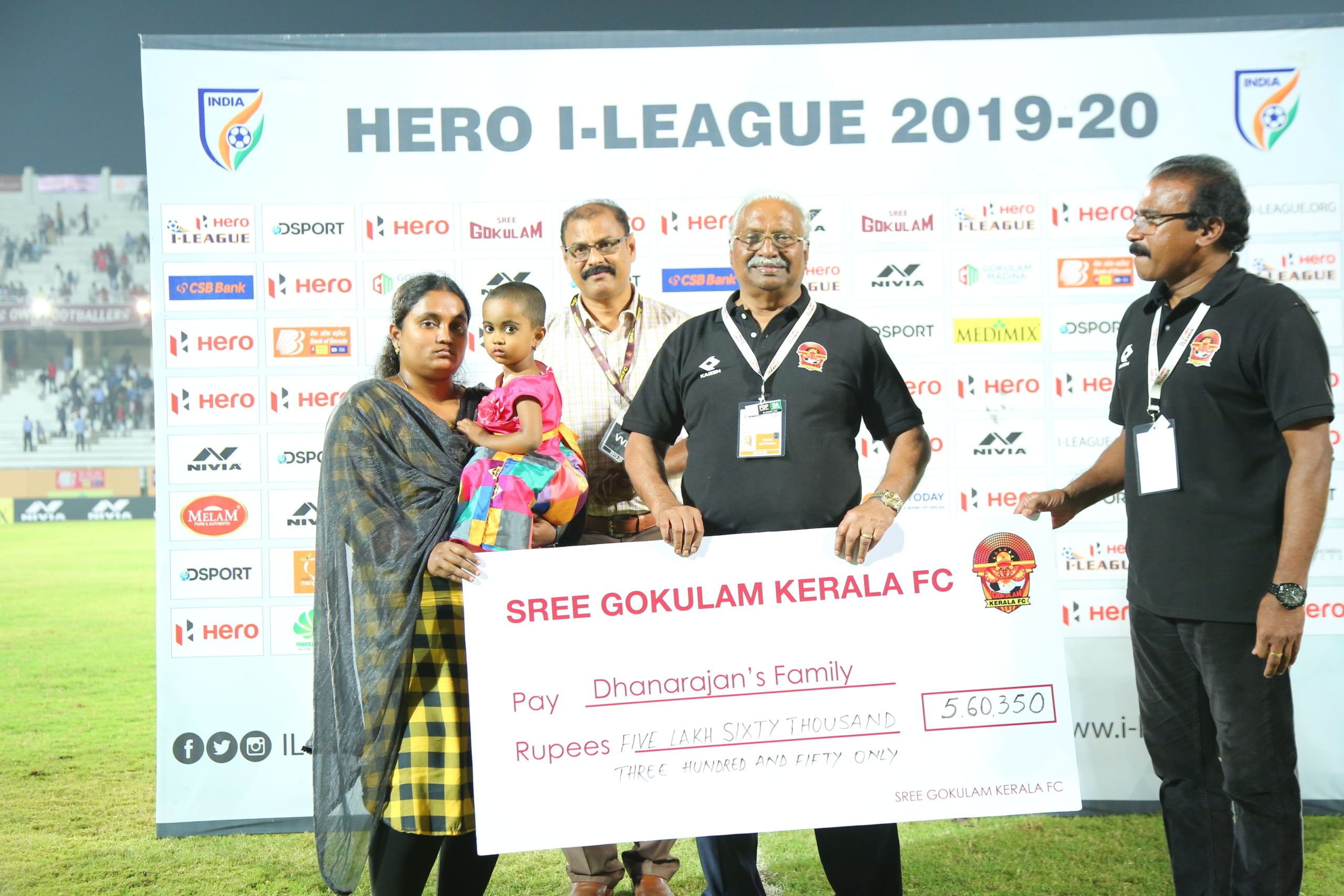 Cheque being handed over to Radhakrishnan Dhanarajan's family
Denson Devadas also mentioned how Radhakrishnan's financial situation was not good and he was supposed to join a new job in January. Survived by his wife and daughter, the loss comes with even  greater complications for his family. In order to support them, the established footballing figures came together to lend a hand.
Gokulam Kerala had announced before the game that the ticket revenues will be handed over to the player's family and had invited his wife, Archana and daughter, Shivani to attend the game. Several important figures bought tickets in abundance and handed them over to the locals in order to raise as much money as possible. Players like Sunil Chhettri (220 tickets), IM Vijayan (250 tickets) and Sandesh Jhingan (1000 tickets) made their contribution.
Furthermore, IM Vijayan helped organize benefit matches for the late Keralite player in Pallakad and Vaniambalam in order to raise more funds for his family.
Indian Super League club Chennaiyin FC and their midfielder Dhanpal Ganesh have also come forward to help along with Mumbai City FC's Amrinder Singh. Ranjit Bajaj, Punjab FC co-owner and East Bengal's Kassim Aidara have also provided support as a tribute to the deceased player.
Five lakhs sixty thousand three hundred and fifty rupees (₹5,60,350) was the total amount which was collected and handed over to Radhakrishnan's family. Gokulam Kerala's owner V.C. Praveen told Sportstar, "When I formed the I-League team, then Viva Kerala's coach, T. K. Chathunni had asked me to take Dhanarajan in the team. But, my budget was limited after the bidding process and he was also past his prime. The Sevens players want to play there as well as in the I-League, but I wasn't able to facilitate that for him then. I knew that he had some debt. So, when the news came, I wanted to do something for him now."
Seeing the Indian football community come together as a unit in order to lend a helping hand to a revered figure is a brilliant gesture. It showcases the togetherness of the clubs, players and all the stakeholders involved, who have set aside their vested interests to unite for a noble cause.