The Norwegian has been on top form since joining the Cityzens
Since joining Manchester City, Erling Braut Haaland has been a 'one-man' wrecking ball, demolishing every opponent standing in his path while smashing and creating new records along the way.
It might sound surprising, but many sides were reluctant to trust the 22-year-old Norwegian this summer as his injury record had tainted his reputation in Germany. Haaland had missed 28 games during the seasons he played at Borussia Dortmund. However, Premier League champions Manchester City headed by their manager Pep Guardiola ignored the possibility of a failure and got the striker for a bargain, activating his £51.2 million release clause.
Here are the several records that Erling Haaland has already broken (and made) since coming to the Premier League.
The already established ones before the Derby day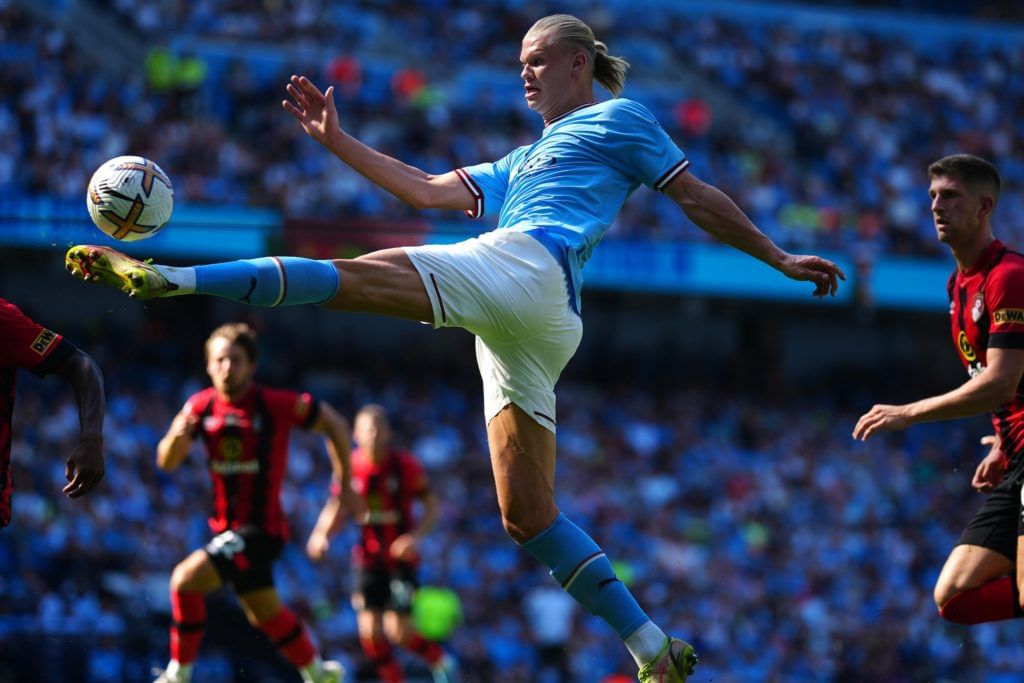 After just 11 games in the sky blue shirt, the Norway international has smashed record after record, creating a never-before glimpsed dominance. Haaland has found the back of the net 17 times this season, averaging a goal every 48 minutes in the Premier League and every 54 minutes in the UEFA Champions League.
By now, it's a simple equation – Haaland breaks records every time he steps on the pitch. Ahead of Sunday's very-anticipated Manchester Derby he was already sitting on top of quite a few newly established records. He scored 11 goals in his first seven Premier League appearances, a record untouched since December 1992. His nine goals in his first five games was another record making him the top scorer in August of any Premier League season.
First player to score in his first four away Premier League games
Haaland was the first player to score in his first four away games in the Premier League. He also broke a few records on his Champions League debut for City, scoring a brace. Haaland became the first player to score numerous times on his Champions League debut for three separate clubs. It took him to 25 Champions League goals in 20 games – smashing the old records of Ruud van Nistelrooy and Roberto Soldado, who had scored 16 in their first 20 games.
He also became the youngest player to score 25 goals in Europe's top competition. He has already equaled the record for most goals scored in his first 30 Champions League games – with nine games left. Haaland has the record for the fewest Champions League games needed to tally 10, 15, and 20 goals.
No one else has scored multiple goals in four successive appearances in the competition. Despite multiple prolific talents joining Manchester City's ranks, he remains the first City player to score on both his Premier League debut and Champions League debut.
Manchester is painted Blue after a 6-3 victory in the Manchester Derby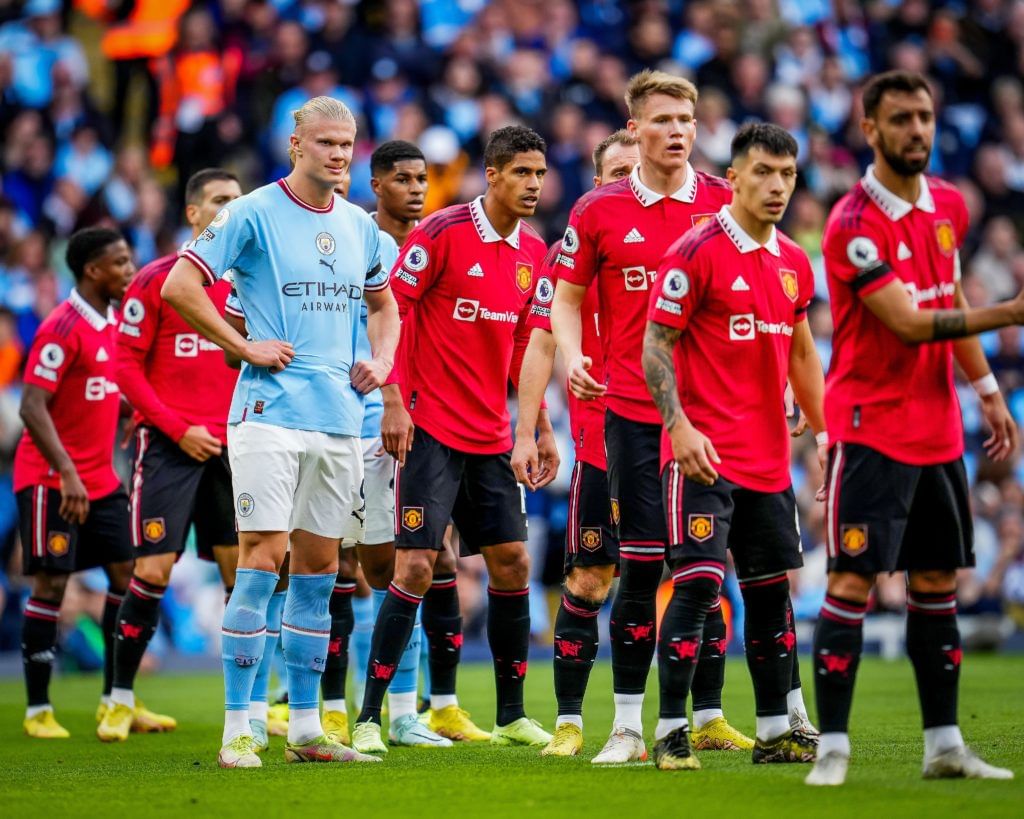 As is the norm, it was only a matter of time before he got the opportunity to face City's bitterest rivals Manchester United for the bragging rights and break a few more records. It may not look like it, but this encounter was personal for the youngster. His father Alfie Haaland was taken out by the-then United captain Roy Keane during a derby. Keane later stated that the tackle was a pre-meditated, deliberate act of vengeance against Haaland for the on-field criticism he received three and a half years ago.
Pep Guardiola did not even start the game with his best defensive options as Nathan Aké and Manuel Akanji started, while defensive midfielder Rodri was omitted altogether. It didn't take long for City to start penetrating a reinforced United backline. By the first half, away supporters were escaping the Etihad as their team was 4-0 down.
The humiliation continued – as both Haaland and Phil Foden secured hattricks. Though consolation, United did manage to salvage three goals, ending the one-sided affair on a better-looking metric as a 6-3 loss. Erik ten Hag's Red Devils proved to be no match for their cross-city rivals.
New series of records for Erling Haaland
Numerous new records were written beside the Norweigian – he became the first player in Premier League history to score hat-tricks in three consecutive home matches. Furthermore, his three on Sunday took him to 14 goals in eight league appearances, making him the highest scorer in Europe's top five leagues by a hefty margin.
Haaland also became the first City player to score a hattrick against United since 1970, when Francis Lee hit three goals in a 4-1 win at Old Trafford. Haaland contributed to five City goals – no player has ever made more goal involvements in a single Premier League Manchester derby. His first-half header was enough to see him become the second-youngest City player to score in a PL Manchester derby. The youngest remains Kelechi Iheanacho, who scored at Old Trafford in September 2016.
One can only wonder what's next in line for this clinical finisher. The million-dollar question still looms at large, will anyone be able to stop Haaland on European soil?
For more updates, follow Khel Now on Facebook, Twitter, and Instagram and join our community on Telegram.