These players stood out in the tournament with spectacular performances.
The Santosh Trophy 2022 was one of the finest events of this Indian football calendar year. From a total of 245 goals including games with 10 goal scorelines such as Kerala and Karnataka's 7-3 to record attendances of sold-out stadiums, it was a memorable one.
Each team had their share of iconic moments with star players coming out from all possible nooks and corners. However, Kerala had the last laugh as they won the tournament defeating rivals West Bengals on penalties in the final. On that note, here's Khel Now's pick for the team of the tournament:
Goalkeeper: Priyant Singh (Bengal)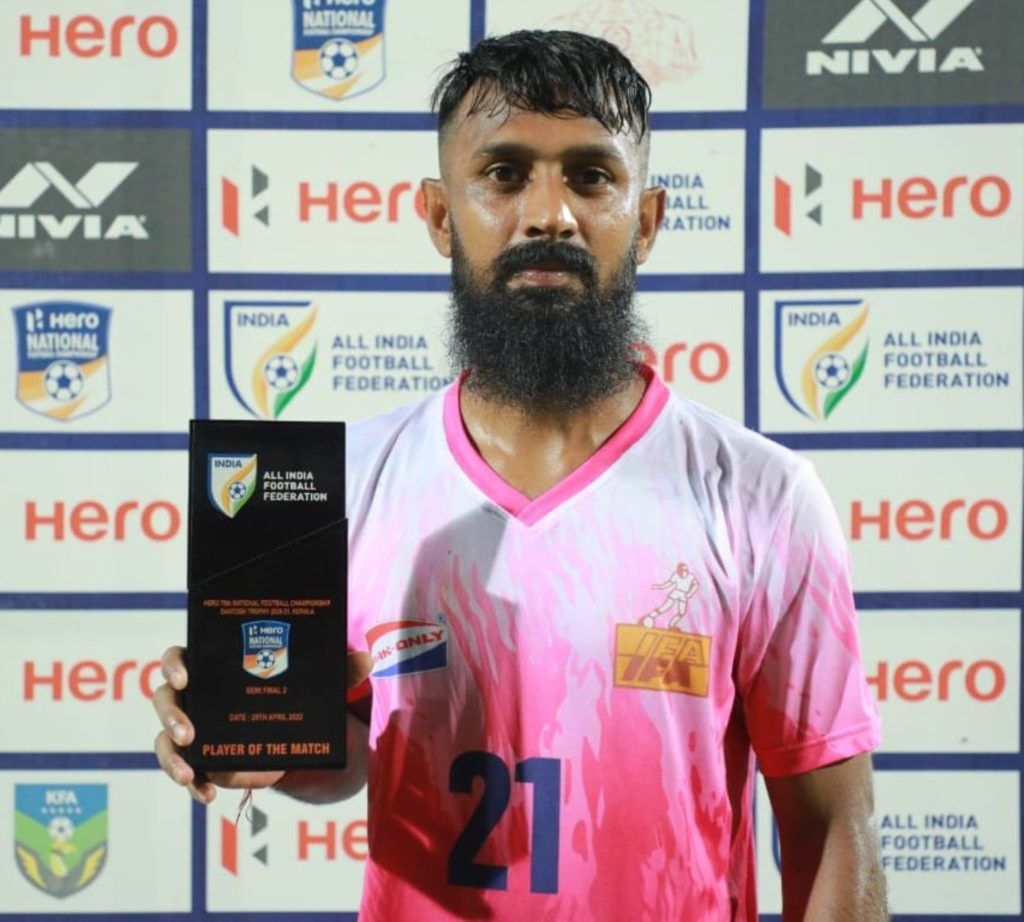 Singh won the Best Goalkeeper of the Championship award. Speaking of his performances, in the finals, it was courtesy of a valiant display under the bar by him that kept Bengal's hopes alive of bringing the Santosh Trophy back home. His best save came in the 33rd minute when he parried away a superb strike by Viknesh M to hold on to the clean slate.
Two minutes later, he was again in the thick of the action, this time denying Sanju G. Similarly he had an outstanding performance in the second semi-finals against Manipur as well. A great display by him throughout particularly in the knockouts earns him his place here.
Right-back: Jay Baz (Bengal)
The right wing-back earned tremendous praise for his performances throughout the tournament. Particularly in the finals, he left his mark with delicious crosses and balls into the box on multiple occasions. One such cross in the 15th minute should have been the opener, but went just wide after Mahitosh's volley went off target. Thus, he ended up as an impressive asset to West Bengal's squad.
Centre-back: Monotosh Chakladar (Bengal)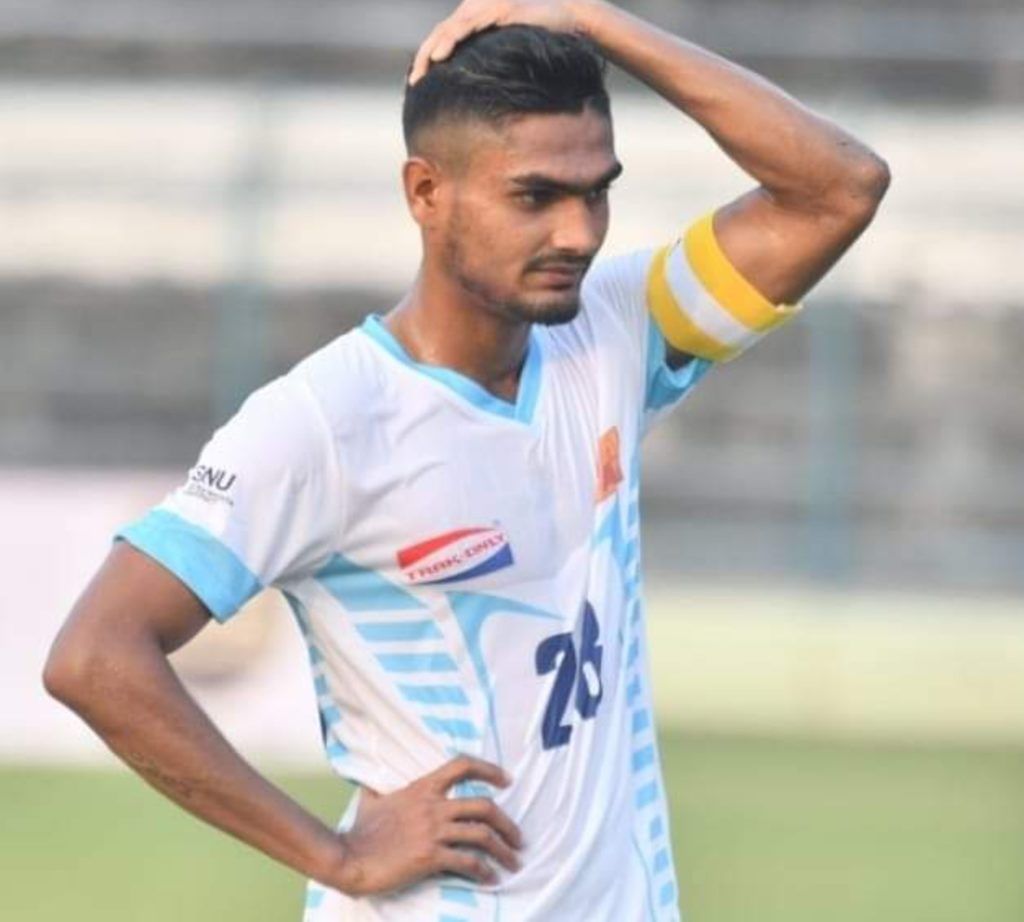 As the skipper of West Bengal, Monotosh was the team's stronghold at the back. His performance once again as a wing-back particularly in the final against Kerala was brilliant — as he was always engaged with all possible forms of neutralizing Kerala's efforts along with his own offensive efforts at times.
Centre-back: Ajay Alex (Kerala)
Alongside Monotosh, he was one of the finest defenders of the tournament. From winning the KPL with Golden Threads FC and now Santosh Trophy with his state, his career has come a long way — now resulting in ISL clubs such as Bengaluru FC showing interest in him.
Left-back: Soyal Joshy (Kerala)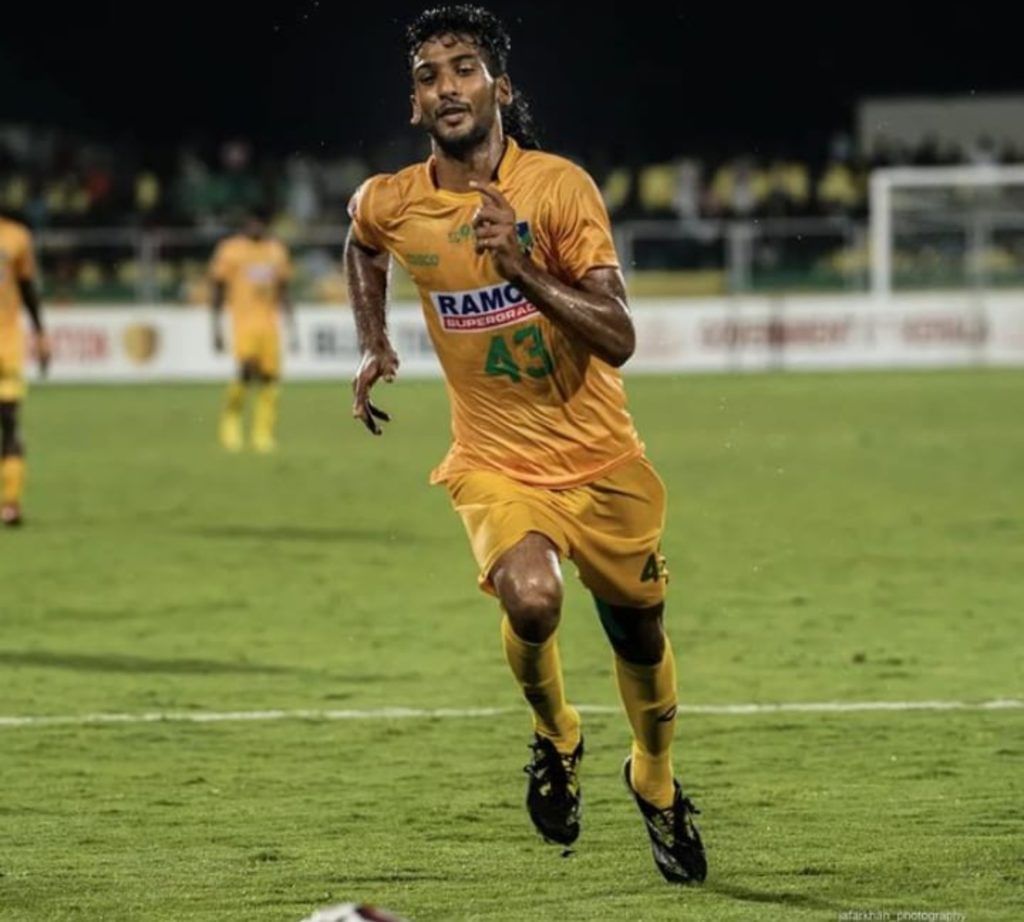 Joshy's performance as a full-back was remarkable, making some vital interceptions and clearances throughout the tournament. As a result of the same and his performance with Golden Threads FC earlier as well, he's now been roped in by Hyderabad FC on a three-year deal.
Right-midfield: Noufal PN (Kerala)
Labelled the Ousmane Dembele of India by some, he was sensational in attack. Statistically speaking, the 21-year-old scored a crucial goal against West Bengal in the group stage and assisted Kerala's equalizer in the final which forced the penalty shootout. As a result, ISL clubs such as SC East Bengal and Hyderabad FC have shown interest in signing him.
Central Midfield: Jijo Joseph (Kerala)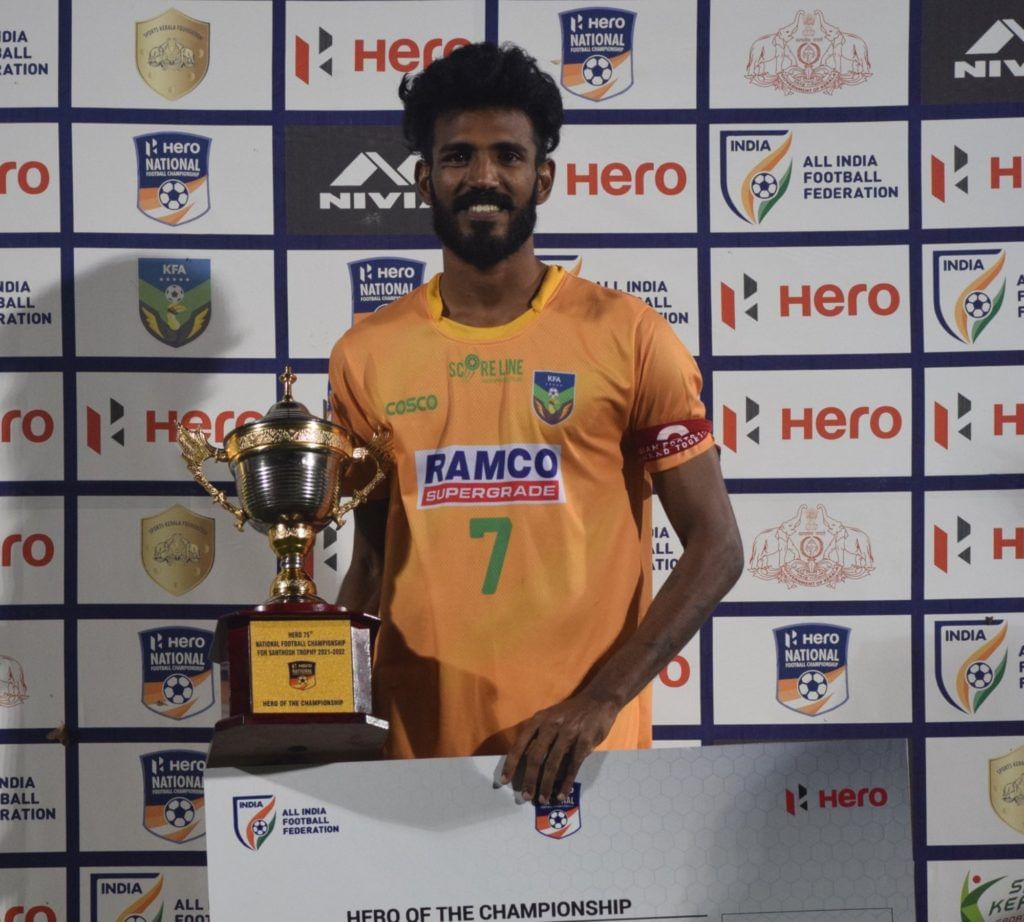 The Kerala captain was awarded the Player of the tournament award for the 75th edition of the Santosh Trophy. He spearheaded Kerala offensively and delivered a hat-trick against Rajasthan as well as two goals against Punjab in what were his standout shows of disposal in the competition.
Central Midfield: Mahitosh (Bengal)
Mahitosh played a crucial role in West Bengal's midfield and had a match-winning performance against Meghalaya. Alongside, he was brilliant in the Calcutta Football League prior as well and could potentially be in the eyes of scouts for the I-League or the ISL soon.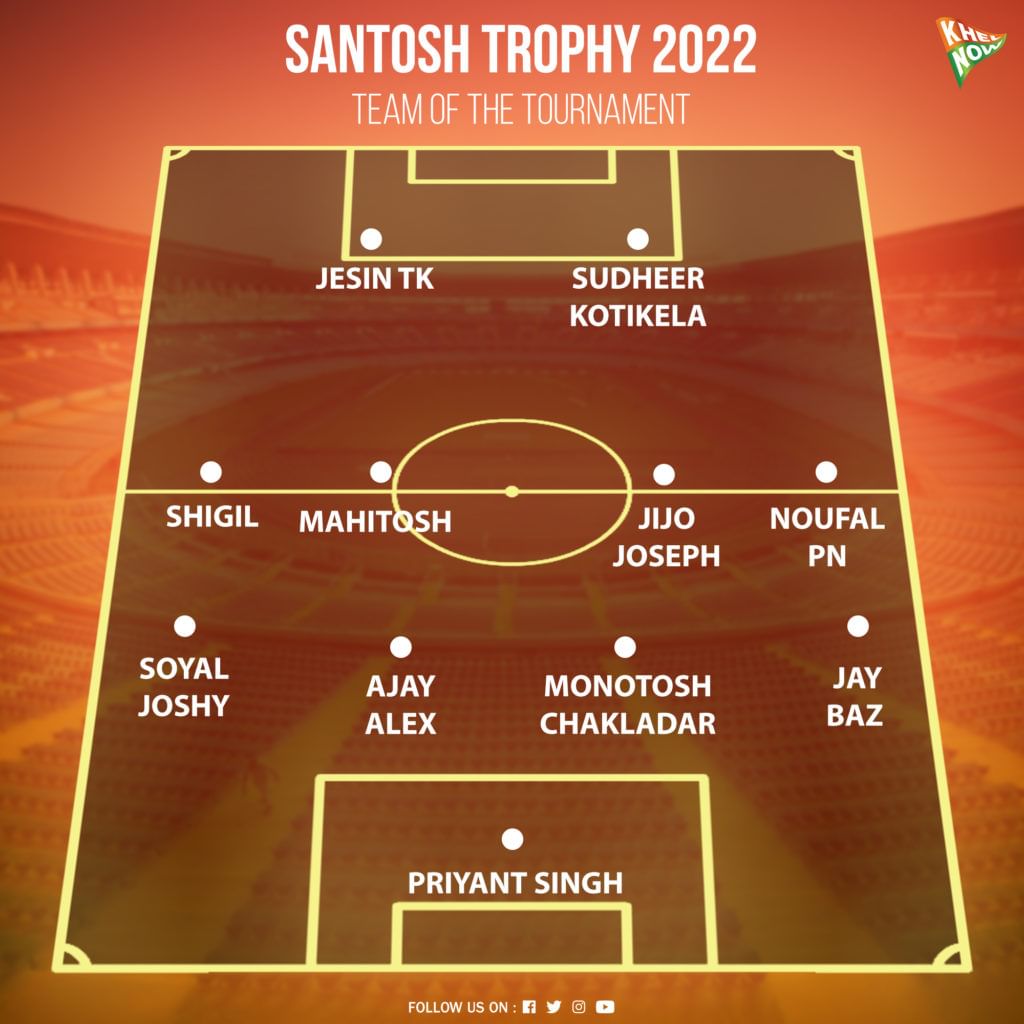 Left-midfield: Shighil (Kerala)
He scored the fourth goal in Kerala's massive 7-3 win in the semi-final against Karnataka. Shighil started almost all games, including in the final against West Bengal. He showed glimpses of the brilliant tournament he enjoyed, like most of his teammates, in the final. His best outing though came against Karnataka and Punjab. In the semis against Karnataka, he was Kerala's biggest threat until Jesin TK was substituted in.
In the final, he played 102 minutes during which he laid off some wonderful crosses into the Bengal box, which were unfortunately not converted. He also almost won Kerala the match in regulation injury-time, but was denied by Bengal goalkeeper Priyant Singh, who pulled off a brilliant save to keep his team in the game.
Striker: Jesin TK (Kerala)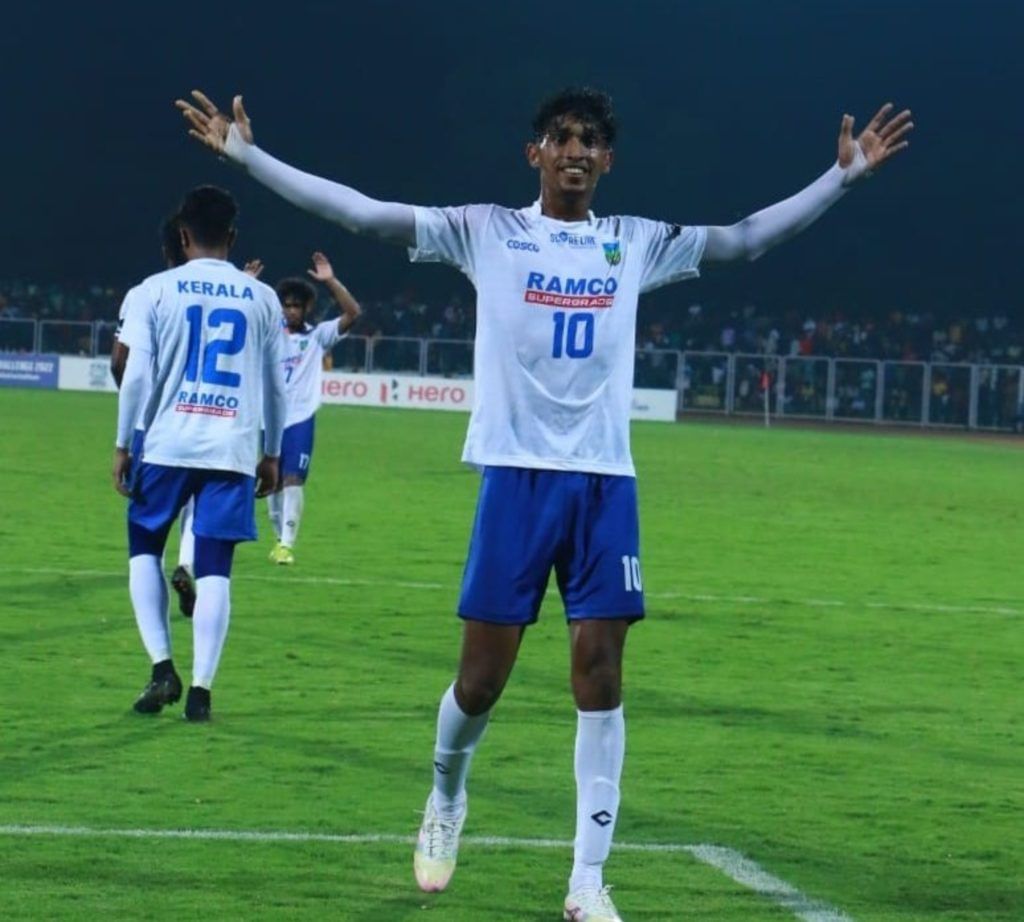 Jesin finished as the tournament's top scorer with nine goals. Essentially, he's the man of the moment in Indian football, particularly amongst Kerala fans especially since he scored five goals to script their 7-3 win against Karnataka in the semi-final match on April 28.
In fact, he came on as a substitute in the 30th minute that day and was yet able to achieve such a feat — therefore becoming a household name and a local hero since then.
Striker: Sudheer Kotikela (Karnataka)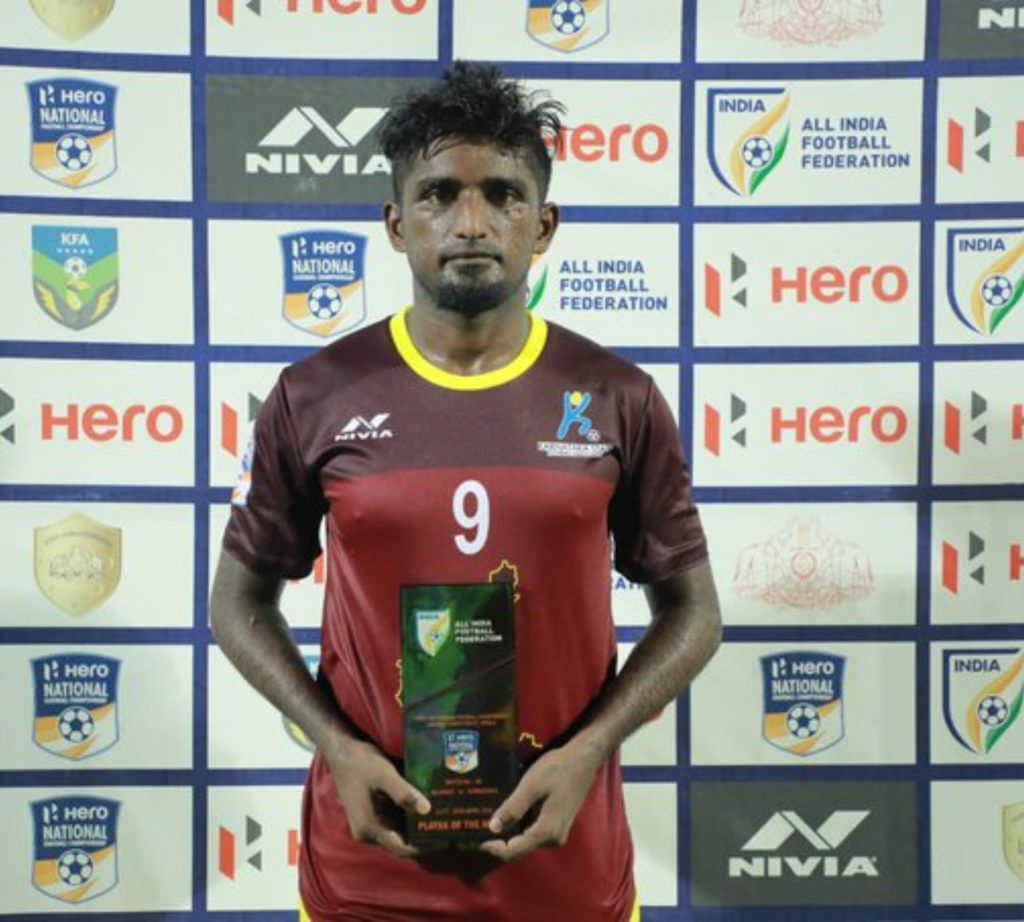 Kotikela finished as Karnataka's top scorer and a tournament overall second with eight goals. Speaking of his journey statistically in the tournament, he scored two braces against Odisha and Gujarat in the group stages and had offensive involvements throughout the competition in one way or the other for Karnataka thereby earning his slot in our Team of the Tournament for Santosh Trophy 2022.
For more football updates, follow Khel Now on Twitter, Instagram and join our community on Telegram.