The national competition has been a major hit in Kerala.
The Santosh Trophy 2022 edition has proven to be a diamond in the rough for Indian football. It is a competition stripped of its former glory and reduced to the lower depths of the Indian football fraternity. And so, had to come out fighting in valiant fashion.
But that's not just because of the action on the pitch (which has been riveting). It's because of the sheer support shown by the fans. Kerala is hosting the Santosh Trophy, and the tournament has seen huge support from the local fans. The major games have seen stadiums packed to the rafters in Malappuram. If not anything else, it has shown that football in India – but only if promoted the right way.
Take the sport to places with genuine interest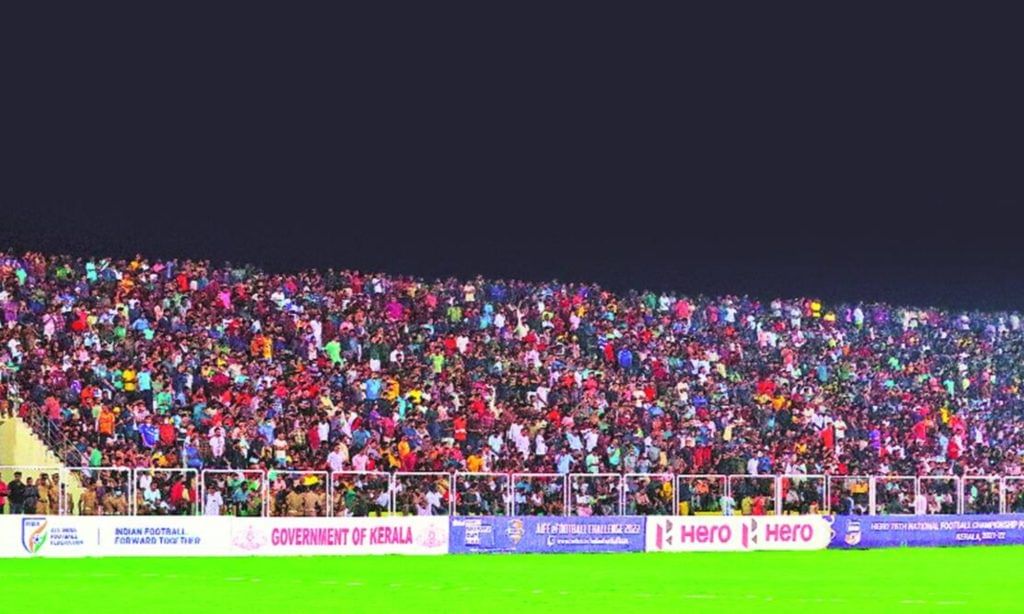 The reason why the Santosh Trophy 2022 edition proved to be an overwhelming success was that it took place somewhere with genuine interest. The Kerala faithful proved their love for the beautiful game by attending matches where the quality of talent was at a lower level. This only proves one thing. For football in India to prosper, the promotions should happen in places which can buy into it.
Promoting it somewhere like Mumbai, which boasts a greater Cricket faithful audience, wouldn't work. Even in Maharashtra, places like Nasik have a prominent football fandom that isn't tapped into. Even the outskirts of West Bengal have a potential and a great following. A place like Uttarakhand has a fandom to delve into.
As long as games are held in places which has an audience with a genuine love for football, irrespective of whichever level of quality, it will prosper and also help Indian football excel.
Quality of competition
The quality of the Santosh Trophy isn't as high as the Indian Super League (ISL) and I-League. Yet, it paved to be entertaining enough for the Kerala faithful to lap it up. For example, the two semi-finals produced 13 goals! If there is entertainment in football, the eyes will follow. As long as reputed tournaments take place in places with a genuine love for Indian football, the sport will slowly, but surely gain a foothold in the country.
The I-League, for one, probably needs to raise the quality of its games and players involved to gain the attention of the faithful. As long as the quality of games is high and entertaining enough, they should excel in places with fandom and eventually help the game grow in India.
Fostering rivalries
Any league in any sport fires up by one thing – rivalries. In Indian football, the only genuine 'rivalry' right now is that between ATK Mohun Bagan and East Bengal. That is because the two entities have been rivals for nearly a century. Right now, there are no existing rivalries in Indian football. Rivalries foster only between colliding personalities or communities in a city.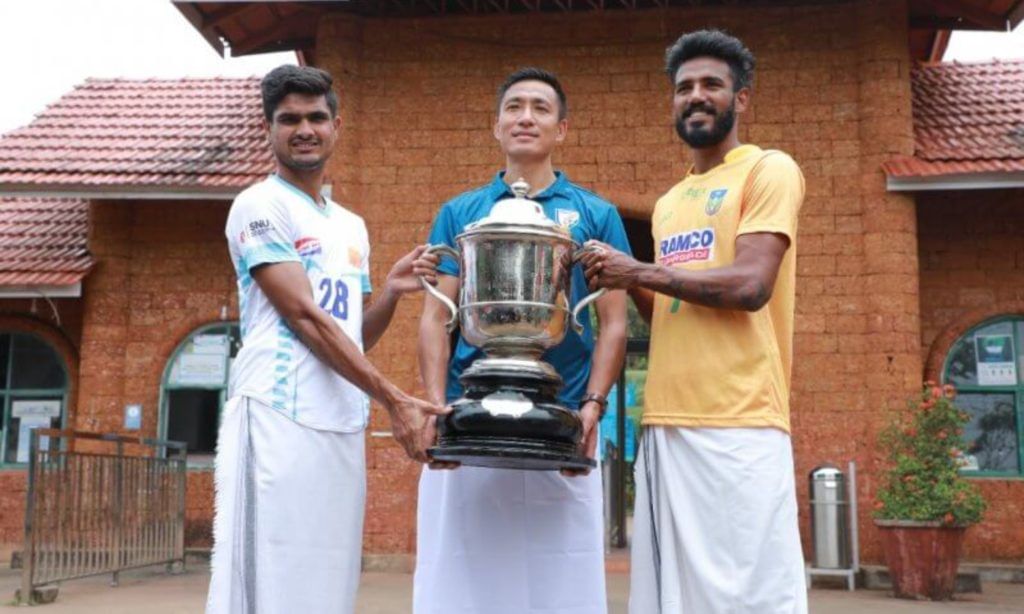 To do so, more clubs from cities or towns with a genuine passion for football have to be encouraged. In football-crazy states like West Bengal or Kerala, even local league games can get feisty because of the local rivalry. As a result, rivalries must be fostered at a local level before being elevated to the national level – which could slowly allow the beautiful game to gain a more passionate following in the near future.
Broadcasting through new media tools
The factor of broadcasting has become a big thing seemingly holding back Indian football. Unlike the ISL, which is widely broadcasted on Star's channels and Hotstar, not every Indian tournament gets the same luxury. The Santosh Trophy had some games streamed on Facebook, as are the I-League matches. The telecast of these games, even if not on the television, is a big improvement. Social media is a huge marketing tool right now, with billions on it.
Football available to a wider audience in a convenient fashion is important to raise the popularity of the sport. Broadcasting on social media channels, on Youtube or even developing dedicated applications by clubs or the All India Football Federation (AIFF) is the way to go. Doing so will help more and more games get broadcasted and for more fans to buy into football, eventually helping raise the fandom around the country.
Infrastructure through public and private partnership
A big drawback point in Indian football is the lack of infrastructure. Apart from a few cities, there is a serious lack of infrastructure – which eventually holds back potential talents from emerging from certain areas. As clubs gain footing in India, they need to build their own infrastructure.
Now, realistically, there aren't any clubs that can develop their own stadiums without enduring tremendous losses. Rather than looking to do that, they can partner up with the government or private enterprises. In Europe, the prominent clubs partner up with prominent financial backers when building their stadiums.
In doing so, it ensures the stadiums are used for public events or other things when games are not taking place. Building new stadiums where public events can take place in the off-season, can be the way to go in India.
Moreover, if able to build a shopping mall or recreational parks nearby a stadium can attract more people into the area – and eventually more fans into the stands. Doing so can not only improve infrastructure in India but also build a healthy fan following.
For more football updates, follow Khel Now on Twitter, and Instagram and join our community on Telegram.