PSG/Marca/Manchester United
All these clubs are valued in excess of €580 million.
Valuation of most valuable football clubs has always been an interesting stat to watch out for. It highlights how the club is doing and what kind of players they are signing. It also gives people an idea about whether the club is performing as per its valuation or is it just on-paper. Let's take a look at the most valuable clubs as of today (March 2022).
Note: All the valuation figures are from Transfermarkt
10. Tottenham Hotspur (€580.25m)
North London's Tottenham Hotspur are one Premier League team with excellent potential. With the likes of Harry Kane and Son Heung-min firing this season and the arrival of the proven Antonio Conte, they would want to change their fortunes. These two players also stand as Tottenham's most valuable, having a valuation of €100m and €80m respectively.
They have also made some interesting signings in Cristian Romero, Dejan Kulusevski, Rodrigo Bentancur, Emerson Royal and Bryan Gil for a combined fee of close to €79m. AIA is their global principal partner since 2014 in a deal that was extended in 2017 to run till 2022.
9. Atletico de Madrid (€646.50m)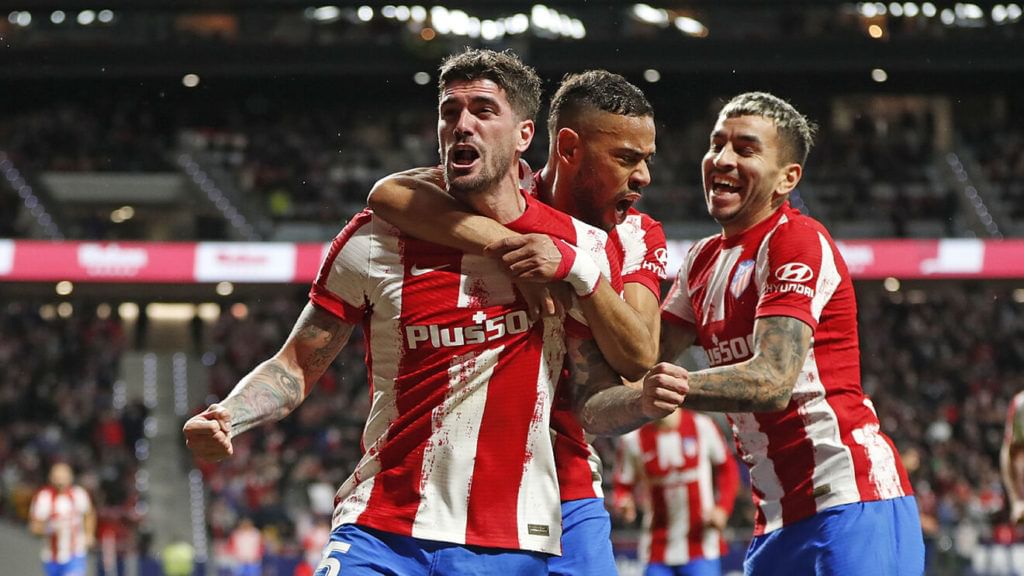 As per Statista, Atletico de Madrid's revenue stands at €331.8m for the year 2019/20. This is divided as- matchday, commercial and broadcast revenue. Broadcasting contributes the maximum with €198.5m. which includes both domestic and European competitions. This is followed by commercial with €82.9m, which includes sponsorships and merchandising and lastly matchday revenues worth €50.4m.
They made three significant signings this season in Antoine Griezmann (loan), Matheus Cunha (€26m) and Rodrigo de Paul (€35m). Their most valuable players are Joao Felix, Marcos Llorente and goalkeeper Jan Oblak- each valued at €60m. Their main sponsors are Plus 500, a global fintech company and Nike.
8. FC Barcelona (€652m)
As per Forbes, FC Barcelona was regarded as one of the most valuable clubs in world football on April 12 2021. For the first time, they were placed ahead of Real Madrid and Manchester United. They took TV rights, player contracts and costs into consideration as well. Their shirt sponsor Rakuten, a Japanese e-commerce and online retailing company contributes €292m over a five-year period ending in 2022.
Their valuation has certainly taken a serious dip after the departure of Lionel Messi. FC Barcelona have developed a high wage bill after that.
7. Real Madrid (€780m)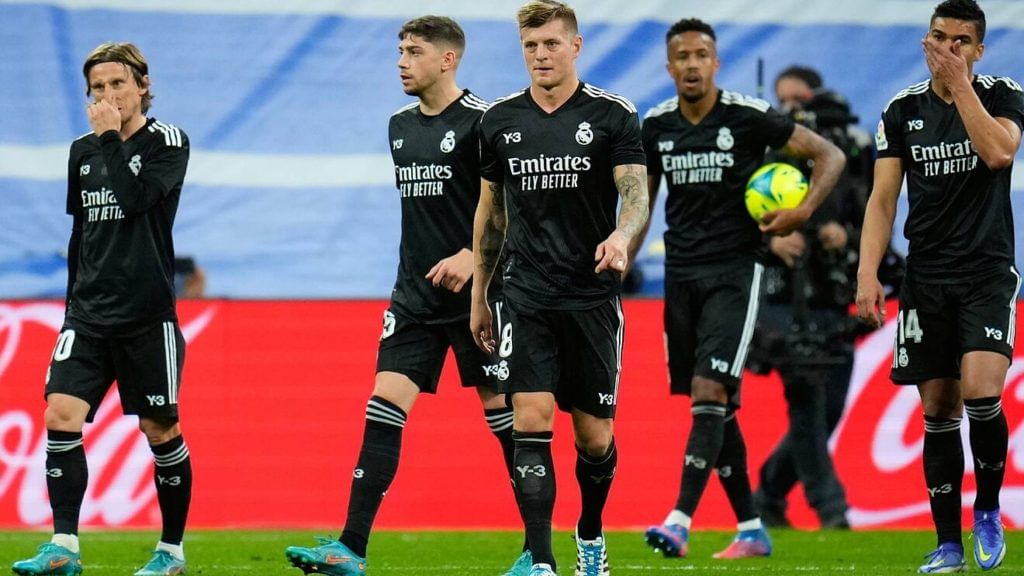 Real Madrid have had multiple developments this season. With manager Zinedine Zidane leaving along with the likes of veterans such as Sergio Ramos and Raphael Varane, the club's valuation took a hit. The club then appointed Carlo Ancelotti as their next manager. Players such as David Alaba and Eduardo Camavinga have graced the club.
Real Madrid look strong with a six-point gap at the top of the table with 60 points. Real Madrid have the most expensive contract with their shirt sponsor Emirates, a five-year deal that brings them almost €372m. The in-form winger Vinicius Junior is their most valuable player at €100m.
6. Manchester United (€790.25m)
Cristiano Ronaldo's signing has certainly done good for Manchester United. For a superstar of his stature, he brings in not only the goals and experience but also helps the club financially. United have priced his jersey at €28 approx and his total shirt sales within a month's time contributed a staggering €233m to their revenue.
Apart from Cristiano, they have also signed Jadon Sancho and Varane to their ranks. Bruno Fernandes is their most valued player as of now.
5. Bayern Munich (€817.75m)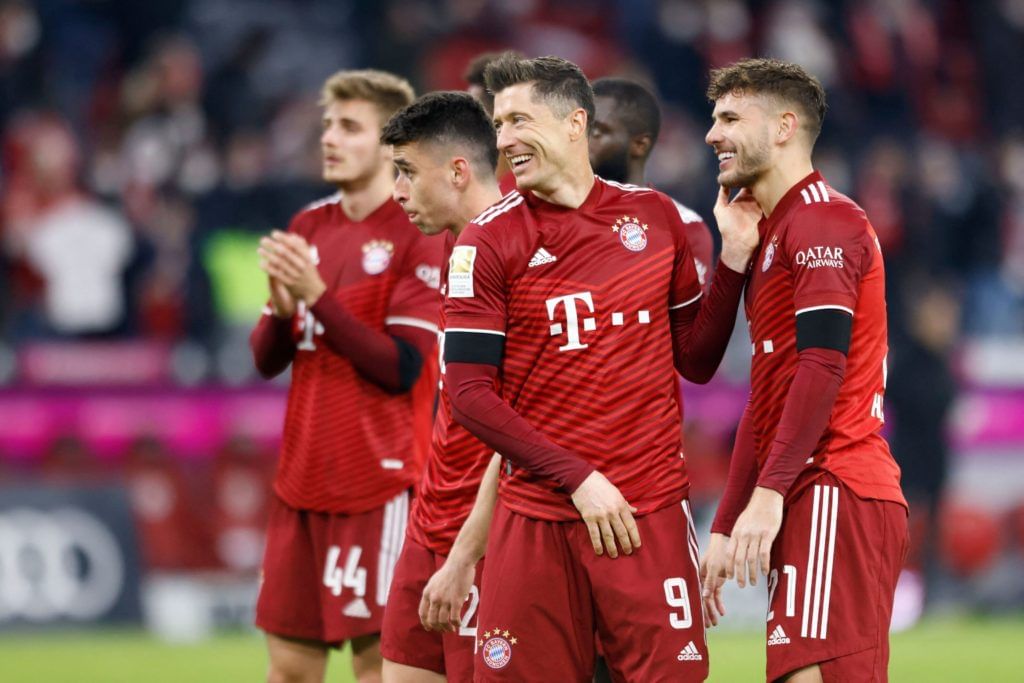 The German giants are the only team from the Bundesliga to feature in this list. Their jersey sponsor is T-Mobile. They have a deal of eight years, amassing a value of approx €255m.
Joshua Kimmich, now playing as a defensive midfielder is their most valuable player at €76.50m followed by the likes of Alphonso Davis, Leroy Sane, Leon Goretzka and Serge Gnabry- all valued at €63m each. They have signed Dayot Upamecano and Marcel Sabitzer this season from RB Leipzig at a combined fee of €51.75m.
4. Chelsea FC (€883m)
The biggest club in London, Chelsea FC make it in the top four of this list. This season they made an expensive signing in Romelu Lukaku, spending €101.70m on the Belgian. With the likes of Kai Havertz, Timo Werner and Lukaku's arrivals at the club, their valuation took a significant rise, but with the owner Roman Abramovich making a statement of leaving the outfit, the club's valuation is expected to fall.
The likes of Loufty Mansour (Chief Executive of Man Capital), Jim Ratcliffe (British billionaire) and Hansjorg Wyss (Swiss billionaire) are expected to buy Chelsea. The Russian expects the club to be sold at €3.60b.
3. Liverpool FC (€889m)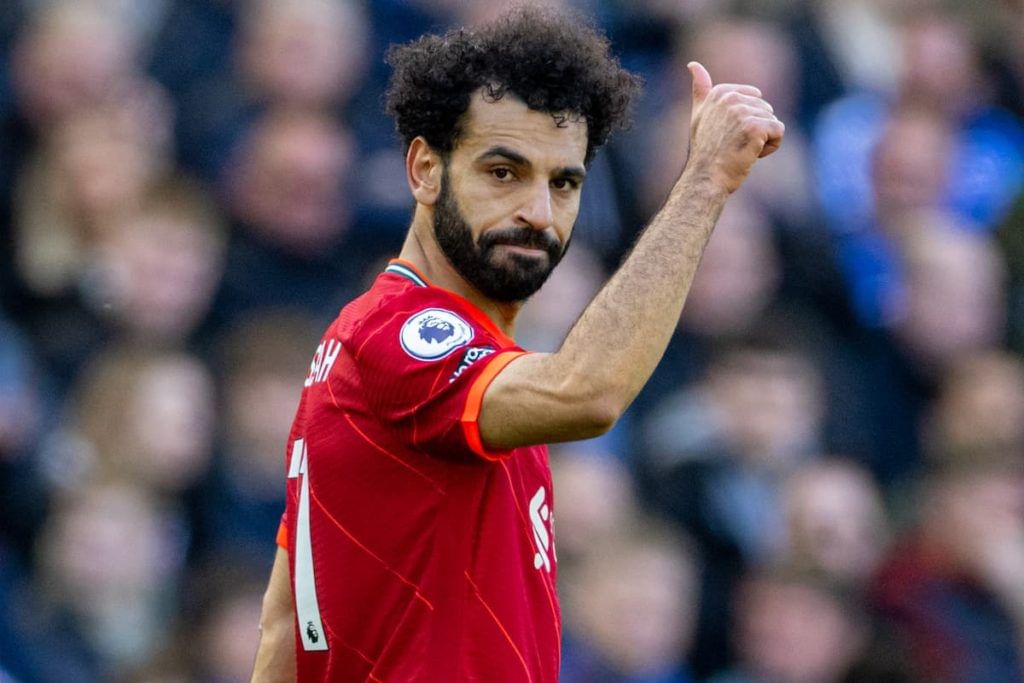 Since the arrival of Jurgen Klopp, Liverpool have brought back their glory days. Players such as Mohamed Salah, Sadio Mane, Alisson, Virgil van Dijk and so on have been instrumental in their success. It has also uplifted the market value of the club, making it one of the most valuable football clubs in the world.
Unsurprisingly Salah stands as their most valuable player at €90m. The Egyptian is followed by Sadio Mane and Trent Alexander-Arnold, who are valued at €72m each. The Reds have made two important additions to their squad this season. Luis Diaz and Ibrahima Konate have signed for €45m and €40m respectively. Standard Chartered is their main shirt sponsor.
2. Paris Saint-Germain (€909.55m)
The only club to feature from Ligue 1 are French giants Paris Saint-Germain. Kylian Mbappe and Neymar top their chart for the most valuable players, having values of €160m and €90m respectively. This season PSG have made impactful signings such as Messi, Ramos, Gianluigi Donnarumma and Georginio Wijnaldum.
All of them have come on a free transfer. Right-back Achraf Hakimi's transfer from Inter cost €66.5m. With such a brilliant squad and an equally brilliant manager in Mauricio Pochettino, the French club will be looking to break their jinx and finally clinch the Champions League in the coming years.
1. Manchester City (€991.30m)
Manchester City are on a roll this season as well. They have a six-point gap at the top of the table with modern rivals Liverpool in the Premier League. This season they made a prominent addition in Jack Grealish. The Englishman cost them €117.5m.
Along with him, they have also signed Julian Alvarez for €17m. He will play for them from next season. Pep Guardiola has been known for making expensive but proven signings since his arrival in Manchester. This is a strong reason for this team to be valued as the most valuable football club.
For more updates, follow Khel Now on Twitter, Instagram and Facebook.