Footy Renders/wheecorea.com/mbpschool/Khel Now
Estimated reading time: 8 minutes
The Argentine superstar won 34 trophies in a 21-year association with the club.
For branding, the concept of association is one that plays a huge part in consumers recalling the brand in almost any situation. Associations are usually a way to relate perceived qualities that a brand has to an entity. For instance, Germans have been associated with quality and efficiency. Oil wealth would immediately bring the Middle East into the minds of a person.
Football clubs and players are no strangers to this concept. Club colours, styles of play, fan chants and banners, nicknames and of course players are strong assets that a club uses to drive recall in the minds of fans. For 26 years, Sir Alex Ferguson cultivated a culture of fast, attacking football with wing-play and last-minute goals, which formed the association of 'The United Way' with Manchester United.
Let me give you a quick task. Pick anyone on the road. Ask them what comes to mind when you say Barcelona and nearly everyone would utter the words, Lionel Messi, without blinking an eye. That is how strongly Messi has been associated with the club. Fans across age groups have hailed him as the best player to ever grace the football pitch. His rivalry with Cristiano Ronaldo was the reason that fans thronged to see La Liga matches despite the duopoly that Real Madrid and Barcelona held.
Lionel Messi pushes to leave Barcelona
In August 2020, when the world was still coming to terms with a pandemic and football came to a standstill, clubs across the globe had to rethink on commercial partnerships, salaries and expenses given that gate revenue would no longer be a source of income. La Liga's strict financial regulations which were in place since 2013 ensured that clubs in Spain reduced their debt to Spain's coffers by almost 92% as of 2020. It also stipulated that clubs would be allowed to spend only up to 25% of their annual income.
In these turbulent times, when Lionel Messi expressed his desire to leave Barcelona a year before his contract was due to run out, shocked the very foundations of football across the globe.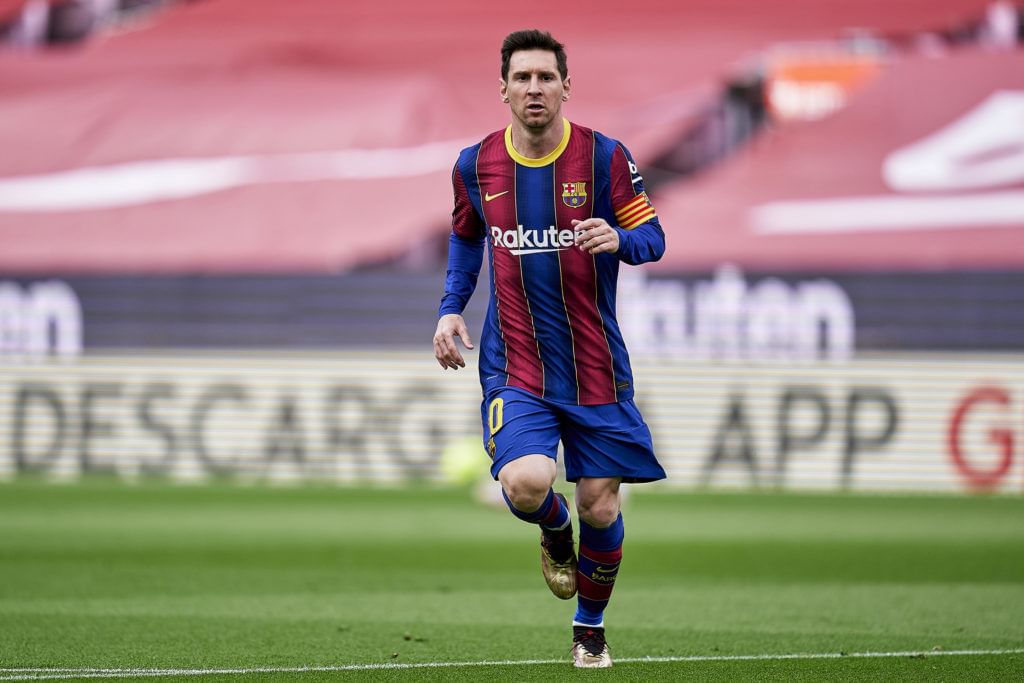 Messi's contract had a special clause inserted which allowed him to request for a free transfer away from Barcelona in the penultimate year of his contract provided he communicated it to the club before May 31st, 2020. Otherwise, any club would have to fork up his release clause of €700m to whisk Lionel Messi away from Barcelona.
Due to the delayed nature of a pandemic-affected season, Barcelona claimed that Messi's request was past this deadline and hence that clause would not be applicable. Messi's camp, on the other hand, claimed that given the delay in the season, this clause was still in effect till the end of August. In the end, a compromise was reached, and Lionel Messi was set to stay at Barcelona for another year.
There was a collective sigh of relief across the world. A new club president arrived. A young team was being built around possibly the world's best player. A failed attempt at the breakaway European Super League only hurt the club brand. Eventually, Barcelona's shoddy financial planning over the years and La Liga's strict regulations caught up with the club. Messi agreed huge pay-cut to continue at Barcelona.
Lionel Messi agrees for pay cut, but leaves eventually
Fast forward a tense couple of weeks and news reports indicated that talks had progressed well between Messi and the club. It was reported that Messi had agreed to take a 50% cut on his current wages as part of a five-year contract, which would be compensated for when the club's finances would recover from the pandemic.
However, before the world had time to rejoice, the club made an official announcement that Messi would leave Barcelona as factors outside the club prevented them from powering the deal through. This was a direct indication that La Liga had not budged even for a player of Messi's calibre. Messi leaves as the highest scorer and assists maker in the club's history.
A new €2.7 billion TV rights deal that would provide some much-needed cash injection into the league was also vetoed by Barcelona and Real Madrid. La Liga chief Javier Tebas had arranged for this deal to quash any lingering European Super League plans the two clubs may have had in mind.
Suddenly, it led to a scramble across Europe's big wigs to try to get the world's best player for free, a thought that would never ever feature in their wildest dreams. News leaked out that Lionel Messi had reached out to Mauricio Pochettino at PSG and expressed an interest. But it did not sit well with fans.
How could Messi ever play for a club that is not Barcelona? How could the Camp Nou exist without fans not chanting his name whenever they saw the familiar shuffling inward and an arrowed left-footer into the top corner of the net? What would this mean for the league's brand and viewership?
The Effects of Lionel Messi's departure
For starters, viewership of the league would see a drop. The league banked on the Messi-Ronaldo rivalry for years before the Portuguese forward left for Juventus in 2018. This period also saw a golden era for the Spanish national side that conquered all before them. A further sign of the Spanish league's power in Europe was evident when you notice that the last 10 winners of the Ballon d'Or were from La Liga.
In addition, the winners of the Champions League between 2014-2018 were all from La Liga. Ronaldo and Messi were prime reasons for viewership and fan attendance at La Liga matches were nearly always at record highs. Such numbers cannot be replicated as the last remaining superstar in the league, leaves Spain.
Even clubs across Spain have called for a middle ground to be reached to ensure that Messi stays in the country.
"La Liga can't afford to lose Messi," admitted Angel Torres, the Getafe president who is also a 'socio' (member) of Real Madrid. "We would be making a mistake that we would all regret. The best player in the world has to retire in Spain."
Barcelona president Joan Laporta, who was appointed, mainly because of his good relations with Lionel Messi, revealed that the club was expected to suffer losses of upto €500m after the 2020-21 season. Messi's then current contract was worth 555 million Euros spread over 4 years. Even a reduced deal would have not eased the club's finances.
However, estimations by economists in Spain indicated that for the €383m that Messi cost Barcelona over the final three years of his contract, he was responsible for generation of around €620m in revenue for the club in the same period.
Effects on La Liga and Spain economy
The effects of his departure extend beyond the club and into Spain's economy as well. Rodriguez Guerrero, a professor of economics at the University of Oviedo and a Director at the Sports Economic Observatory in Spain highlighted that the repercussions would be multi-fold.
"There are the shirts that will no longer be sold, the goals that will not be scored, and there is the impact on sponsors too."
Author Jimmy Burns, who wrote the book 'Barca, A People's Passion' was also quoted saying that Brits come to Barcelona to see the Sagrada Familia cathedral and Lionel Messi.
Barcelona jerseys with Messi's name accounted for over half the sales for the club in the last 15 years as per an article on Vogue magazine.
There are indirect hits that the league will take in the form of losses to brand value in the short term unless a big name is signed by a Spanish club.
On the other hand, Barcelona and La Liga could also be forgiven if it was found out that they were secretly glad to see the back of Messi.
The league was heavily dependent on the presence of Ronaldo and Messi in the league to drive commercial partnerships, viewership, and further investments. Barcelona have been guilty of squandering the €222m that they received from PSG for Neymar on signings with inflated transfer fees and wages, something that has come back to bite them now.
This and the pandemic forced Barcelona to resort to free transfers at the end of the 2020-21 season to refresh the squad. What was seen as bargain buys in the form of Sergio Aguero, Memphis Depay and Eric Garcia suddenly became about how Barcelona needed to re-organize their team and books to register all of them for the new season and get Messi to sign a new contract.
The way ahead for Barcelona
Messi's exit now potentially solves that problem for them. They would be able to register all their new signings and operate within La Liga's financial regulations. It would give the club a chance to adopt a more collaborative style of play, one which would not see opposition teams double-teaming Messi and in turn stifle Barca in the game.
Memphis Depay, Antoine Griezmann, Ousmane Dembele and Sergio Aguero are all stellar talents. It would finally give them the chance to function in a system that had to be altered to allow Messi to thrive. Barcelona could use this opportunity to reorganize their finances and give more of their famed academy graduates a clearer pathway to the first team, something that has not happened since the departures of Andres Iniesta, Xavi and Pedro.
Messi's departure from Barcelona could be severe for the club and league on several fronts, but it would also give them the opportunity to reinvent, reboot and prove to Europe that its quality will not diminish as a result of this.
For more updates, follow Khel Now on Twitter, Instagram and Facebook.