While some dream of playing for either one of these managers and then here are the players who have done it for both.
Speaking about rivalries in football, we often speak about clubs and players but one such rivalry among mangers is of Pep Guardiola and Jose Mourinho. Both are the revolutionaries in this modern era as both of them have led their sides to achieve astronomical feats in their years of managerial experience.
Playing under both these managers is an exceptional and rare opportunity and some of the below-mentioned players have been lucky to feature for both of them.
Among a pool of players, here are the top five players to have played under both Pep Guardiola and Jose Mourinho.
Xabi Alonso
Former Spain international was one of the best midfield maestros during his era. Alonso has played for top teams like Liverpool, Real Madrid and FC Bayern Munich and has won the league title multiple times for the latter two. The Spanish midfielder in that era also played under top coaches likes Rafa Benitez, Jose Mourinho and Pep Guardiola.
Alonso will always be in the footballing folklore when one speaks about midfielders and their long-range passing capability. The Spanish maestro would have got more notice had he not been in the same era with Andreas Iniesta and Xavi Hernandez. But his ability to control the tempo of the game and orchestrating play was exquisite.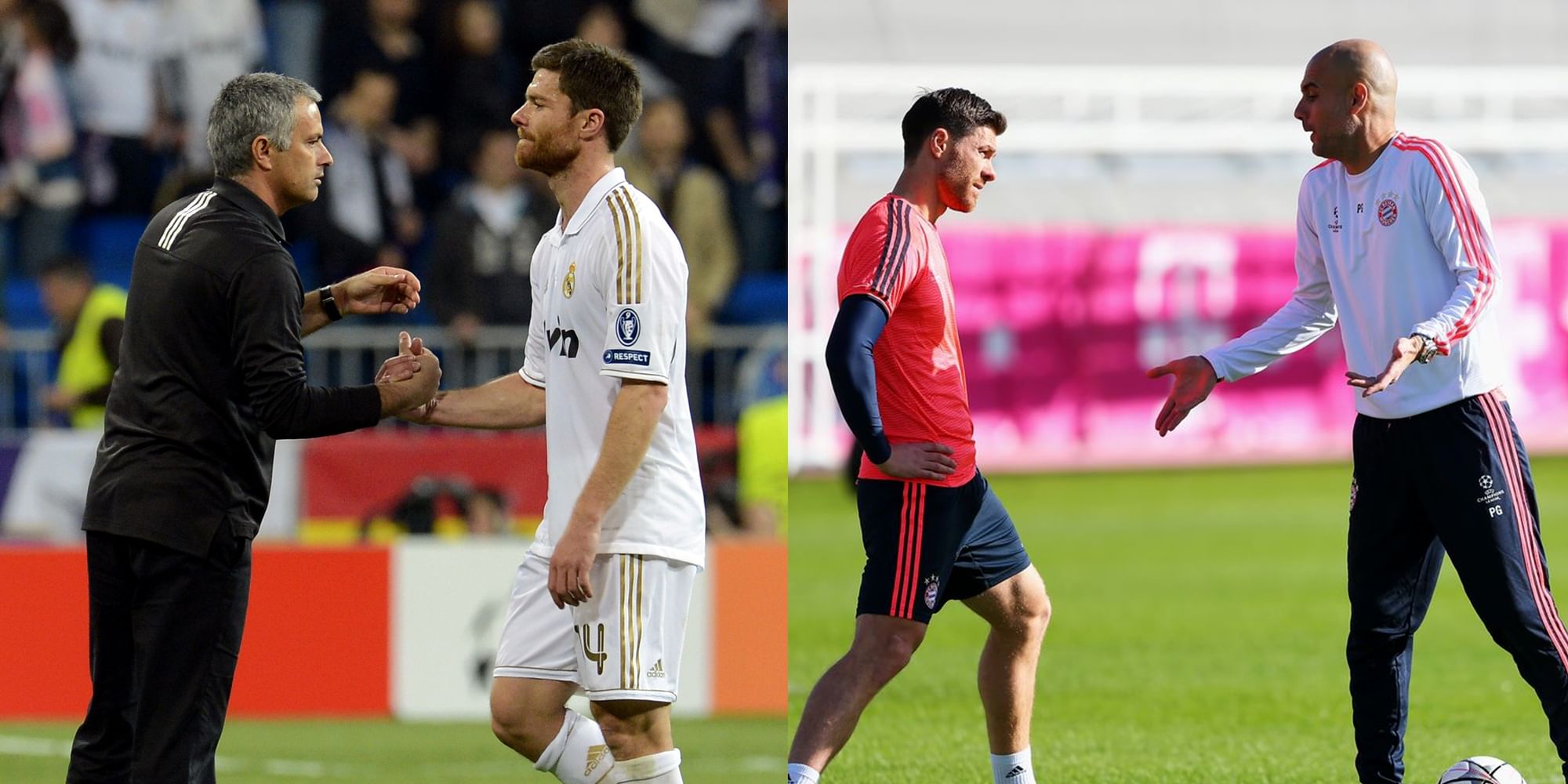 Jose Mourinho: Real Madrid(2010-13) / Pep Guardiola: FC Bayern Munich(2014-16)
Alonso featured for Real Madrid under Jose Mourinho for three years with him being the orchestrator in midfield. However, in that period, Los Blancos only managed to win the La Liga once in 2012, mostly because of Pep Guardiola's indomitable FC Barcelona side.
He also enjoyed a good short period under Pep at FC Bayern, bossing the midfield, scoring from setpieces and dictating play in their multiple Bundesliga triumphs.
Zlatan Ibrahimovic
Zlatan Ibrahimovic can be termed as a globe trotter for the clubs as he has played in top European countries and the Swedish forward was successful in most of the stints. Renowned for his confidence and ability to stay in controversies, the former LA Galaxy man is also known for his world-class goals.
Ibrahimovic's time under Pep Guardiola was not his best period in his career as he was brought in exchange for Samuel Eto'o from Inter Milan. However, the Swede struggled to get going on and off the field and developed a fractious relationship with Guardiola resulting him in joining AC Milan just a season later.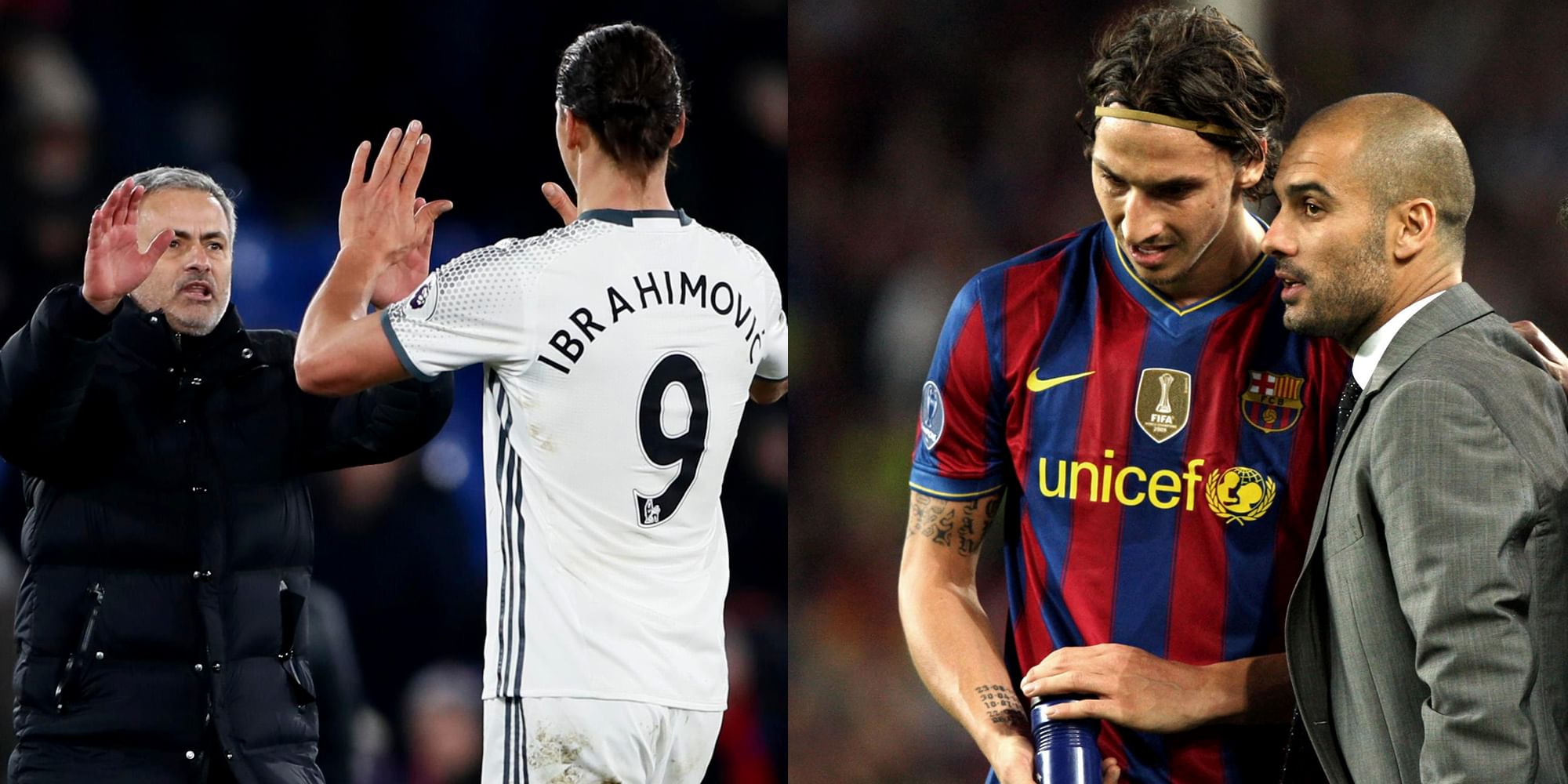 Jose Mourinho: Inter Milan(2008-09), Manchester United(2016-18) / Pep Guardiola: FC Barcelona(2009-10)
Under Jose Mourinho things were drastically different for Ibrahimovic, he enjoyed some of his best days under the Portuguese tactician as the duo developed a great bonding. Former Sweden international was instrumental in Inter Milan's Serie A win and Manchester United's Europa League triumph in the 2016-17 season.
Kevin De Bruyne
Currently one of the best midfielders in the blocks, Kevin De Bruyne has been a metronome in Manchester City's ascendancy under Pep Guardiola. From being an exciting prospect in Wolfsburg to becoming one of the pillars for the Cityzens. De Bruyne is mainly known for his vision and ability to split open defences in the Premier League.
The Belgium international has been very instrumental in Manchester City's dominance in England. De Bruyne also featured for Chelsea under the tutelage of Jose Mourinho and will remain higher in the list of stars the Portuguese tactician failed to notice.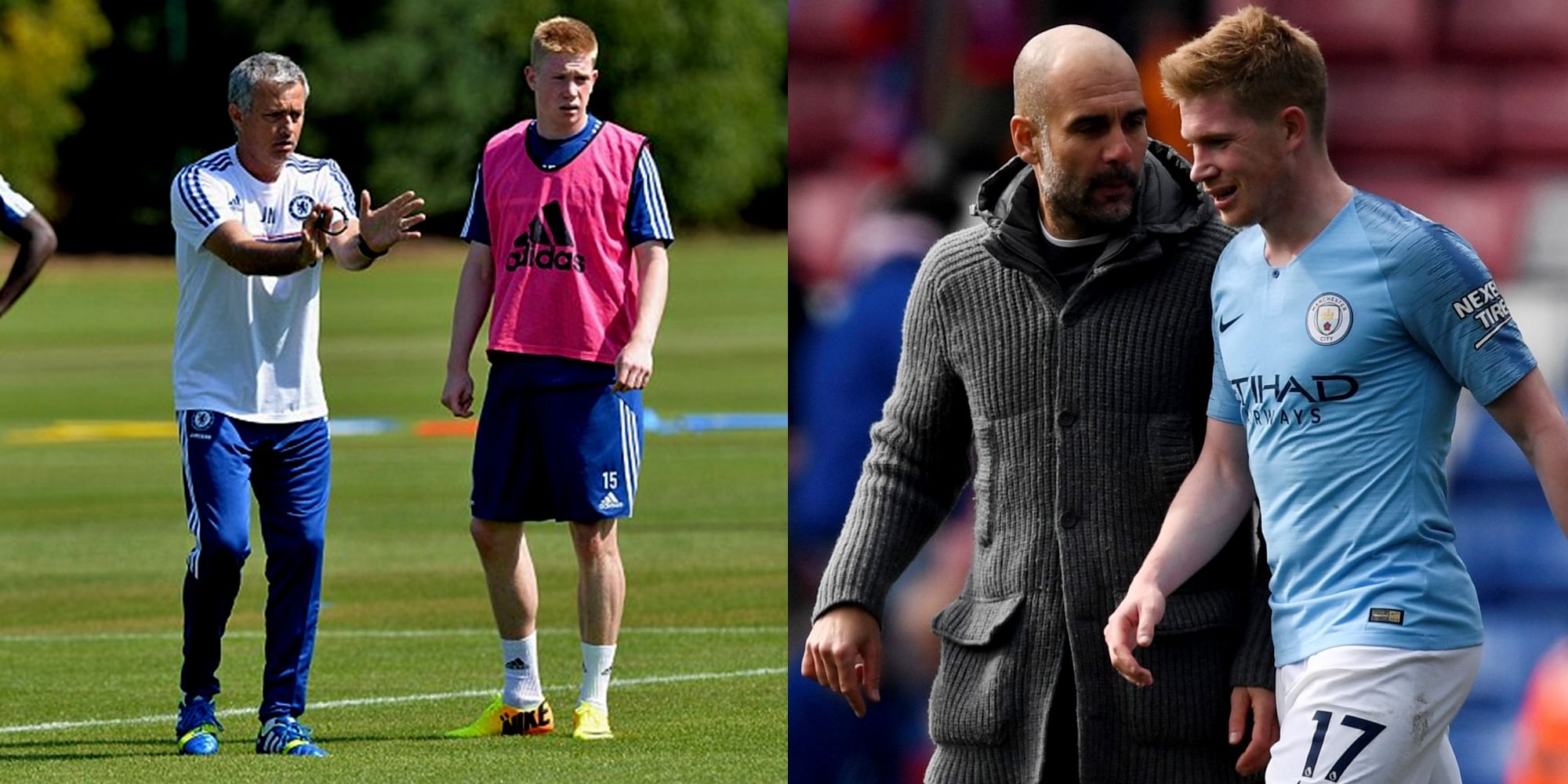 Jose Mourinho: Chelsea(2013-14) / Pep Guardiola: Manchester City(2016-)
The midfielder struggled for game time at the Stamford Bridge making only nine appearances before he was allowed to join Wolfsburg and saw his career take off. Looking back, De Bruyne is still considered as one of the biggest mistakes made by Mourinho in his managerial career.
Arjen Robben
The Dutchman is considered as one of the best wingers of this era as he revolutionised his style of cutting in and testing the goalkeeper with his curling shots. Robben has had an illustrious career playing for top clubs like Chelsea, Real Madrid, FC Bayern and more. Therefore he has featured under both Pep Guardiola and Jose Mourinho in different times of his career.
During his time at Chelsea, he played under Jose Mourinho was one of the first signings made by the Portuguese tactician. Robben's youthful exuberance and speed lead Chelsea to successive Premier League titles as he ran riot in the Premier League during that time.
However, with incessant injuries, the Dutchman had to leave Stamford Bridge for Real Madrid.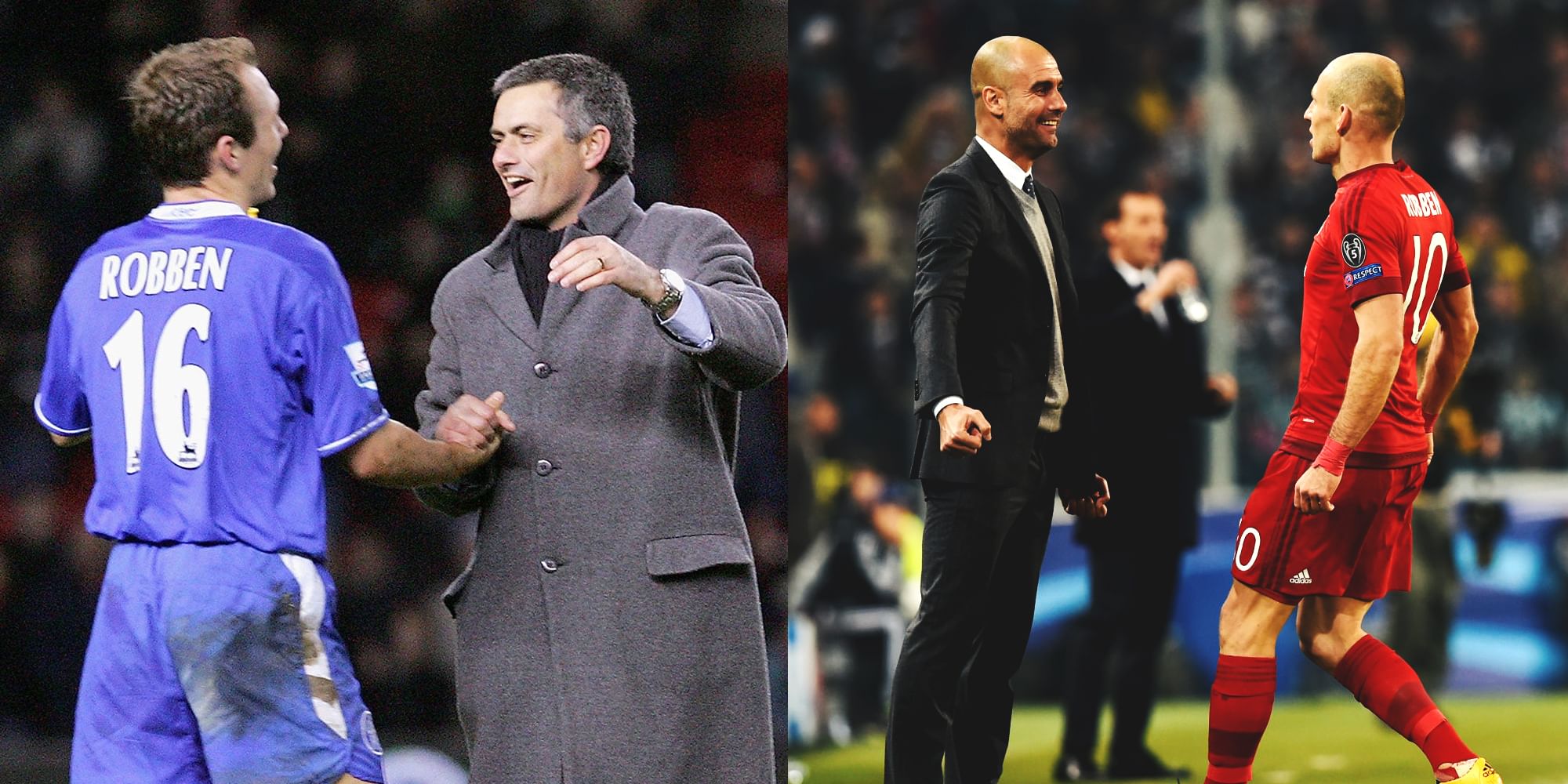 Jose Mourinho: Chelsea(2004-07) / Pep Guardiola: FC Bayern Munich(2013-16)
Robben rejuvenated his career in Germany for FC Bayern winning the Champions League and multiple Bundesliga and German Cup titles in his decade long stay in Bavaria.
During that time, he also had a good spell under Pep Guardiola who improved him as the Dutchman found more variations to his play and was more dimensional than just being a one-trick pony. However, the cut-ins were always his main selling point.
Samuel Eto'o
The Cameroonian football legend was one of the imminent forwards in the world during his time. Having plied his trade for clubs like FC Barcelona, Chelsea and Inter Milan proves his worth as a striker. In his glorious career filled with trophies, the Cameroonian had played for both Mourinho and Guardiola in that period.
Eto'o like Ibrahimovic had drastic experiences with both managers. He enjoyed a great spell for FC Barcelona under Pep Guardiola but only on the field. His off-field relationship with Pep became sour and was swapped to Inter Milan for Zlatan.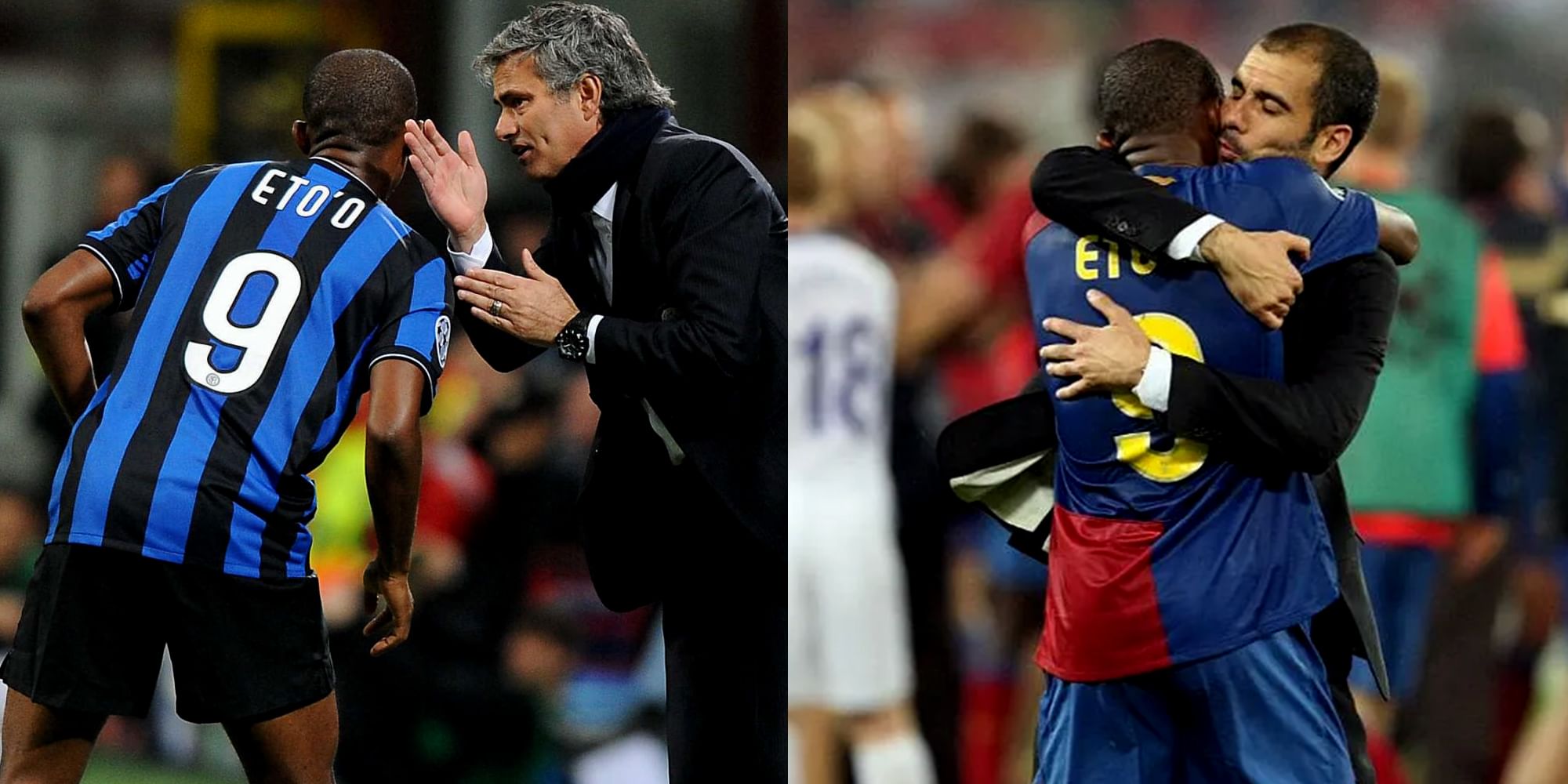 Jose Mourinho: Inter Milan(2009-10), Chelsea(2013-14) / Pep Guardiola: FC Barcelona(2008-09)
Eto'o continued his great form at Inter and was one of the prime reasons why the Nerazzurri bagged the Champions League in their 2010 treble-winning season. In his second spell under Mourinho at Chelsea, Eto'o was way past his prime but still, he scored nine goals in his only season at the Premier League.
The honourable mentions also include metronomic players like Maxwell, Claudio Pizzaro, Pedro, Cesc Fabregas, Eidur Gudjohnsen and Alexis Sanchez  – who have had the opportunity to work with these terrific tactical maestros.
For more updates, follow Khel Now on Twitter and join our community on Telegram.