Hockey
India register first win in Men's Junior Hockey World Cup 2021
By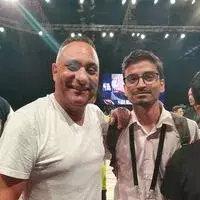 Gaurav Singh
(Courtesy : HockeyIndia )
Sanjay scored a second hat-trick in the tournament.
India bounced back from their loss at the hands of France to defeat Canada 13-1 in a strong display of attacking play and clinical finishing in the FIH Men's Junior Hockey World Cup 2021. Despite Canada's best efforts, India pushed and probed and then exploited the gaps that they created in the Canadian defence.
The scoring opened with a goal from Uttam Singh, who later limped off with an ankle injury. The goals then came in a steady flow, with India keeping the pressure high until the final whistle. Both Sanjay and 'Player of the Match' Hundal Singh scored hat-tricks. Canada did rally on the stroke of half-time through a well-taken penalty corner from Chris Tardif but they were chasing shadows for much of the 60 minutes.
Struggling to make himself heard over the excitement following their win, Hundal remarked, "We knew we had to come back and have a good performance today. For the next match [against Poland] it is all about building on this performance."
Canada's captain Manveer Jhamat said, "It was an amazing game, unfortunately, it was not the result we were after. It was a hard-fought game and the guys worked right until the end. We were just unfortunate in the D at either end. For the next game, we will compete in the same way and we will move on from this. For every single game, we prepare and we will be fully ready for the next game."
Big wins for Argentina and Spain
Earlier, Argentina got their Junior Hockey World Cup campaign off to a flying start when they netted 14 times against a determined but error-prone Egypt and didn't concede a single goal. On the other hand, the Netherlands defeated South Korea 12-5 to continue their good run in the tournament.
Argentina may well have thought they had posted the top score of the day, but Spain had other ideas. The USA held the European side at bay for seven minutes but then the floodgates opened. Spain defeated their opponents 17-0 the highest scoring match of the Men's Junior Hockey World Cup 2021.
France continued their sparkling start to the Junior Hockey World Cup with another energetic performance that put them firmly at the top of Pool B. They defeated Poland 7-1 in a one-sided encounter.
For more updates, follow Khel Now on Twitter, Instagram and join our community on Telegram.