Hockey
We have to play as a team in FIH Hockey Pro League, says Savita Punia
By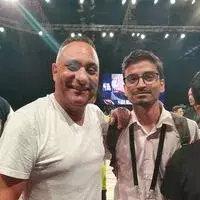 Gaurav Singh
The Indian captain spoke ahead of an exciting clash against Spain.
India will look to register two big wins in their next two games against Spain on the 26th and 27th of February in the FIH Hockey Pro League. The Indian women's hockey team, who have already won their first two matches against China, will look to carry the momentum from their victories into the upcoming games. Having won both of their matches, the Indian team are currently sitting on the third spot in the points table.
On the other hand, Spain haven't yet seen the face of victory, despite playing competitive games against a top team like the Netherlands. They lost the first match against the Dutch by one goal. The second match, however, was a draw with both teams scoring a brace to tie things up.
So, quite a lot is at stake in the upcoming fixture. Ahead of the matches, India's captain Savita Punia and experienced defender Deep Grace Ekka shared their views on their preparations.
Addition of forward Sangita Kumari
The Indian hockey team have added a new member to the squad ahead of their crucial game against Spain. Forward Sangita Kumar will be seen in action alongside experienced strikers like Vandana Katariya, Lalremsiami and Sharmila Devi among others. Speaking about her possibilities of starting against Spain, captain Punia stated, "Whether she will start in the next game or not is not my call. She might start in the next game or the match after, but that is solely the coach's decision."
She added, "Whether it's an experienced player or young player, the team always look to have a balance which is important. Sangita has a lot of skill and speed, she trains with us and we have seen that. If she plays with us, I am sure that she will contribute to the team in a positive manner".
India's performance in the FIH Hockey Pro League has been flawless so far. When asked if the team need to work on some areas, Deep Grace Ekka didn't want to single out one aspect. She remarked, "It won't be fair to mark out one position. Mistakes can happen in any position and we have to be mindful of that. Like for instance, if you are a defender, communication is important to tackle and slow down a skilfull attacker".
Prediction for the game
Both Savita and Grace refrained from making a final prediction for the game. Savita said, "All the good teams are playing in the tournament. We plan accordingly and make preparations for the same. Each team will be looking to give their best and so will we. Our team has learned that we have to play as a total unit and not as individuals. It's a great opportunity for us to qualify for the FIH Hockey Pro League and we plan to make the most of it."
Spanish women's hockey coach Adrian Lock also spoke about their gameplan. "We trained hard for our matches back home in Spain. Playing against the Netherlands definitely helped, as we got to check our level against a top team. But now, India knows how we play. They are going to study us and the matches will get more difficult from now on. However, what we achieved against the Dutch surely gives us confidence," she concluded.
For more updates, follow Khel Now on Twitter, Instagram and join our community on Telegram.