The incident occurred during the last moments of the match.
The International Hockey Federation (FIH) have launched an investigation after Japan ended up playing with 12 players on the pitch during a penalty corner set-piece in the dying moments of Pool B match against South Korea in Men's Hockey World Cup 2023.
Korea went on to win the game 2-1 but the incident left a bitter taste. If Japan had managed to score from that particular penalty corner, Korea could have been denied all three points due to a glaring error.
While Japan failed to gain any unfair advantage from the extra player on the pitch, the FIH in its statement said they are "currently investigating" the incident.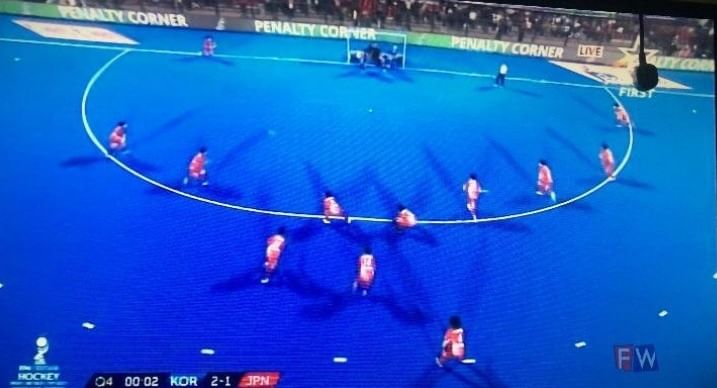 The incident occurred before the last penalty corner in the dying moments of the match. Chasing the game, Japan had withdrawn their goalkeeper for an extra outfield player with a couple of minutes remaining. However, the number of Japanese players on the field still exceeded the number of players allowed (11) for each side.
In its statement, FIH said, "After the match, the FIH Officials have spoken to the Japanese team who have explained that they hadn't realised this at all and expressed their most sincere apologies," the FIH was quoted as saying by TOI.
"The FIH Officials have also explained the matter to the Korean team." The federation is "currently investigating the issue to establish how it happened."
Indian Sports Live Coverage on Khel Now
With this win over Japan, Korea have registered their first win of the FIH Men's Hockey World Cup 2023. Japan, on the other hand, are winless after the first two round of matches. The other two teams in Pool B, Belgium and Germany played a 2-2 draw in the other match on Tuesday.
As it stands, Belgium lead Pool B while Germany and Korea follow in at second and third respectively. Both Belgium and Germany have four points each, but the Red Lions are on top due to a superior goal difference.
For more updates, follow Khel Now on Facebook, Twitter, and Instagram and join our community on Telegram.