The hosts will have to go through a stern test in the group stages.
Teams are all set to take on each other in FIH Men's Hockey World Cup 2023. This is for the first time a country is hosting World Cup twice in a row. The previous edition in 2018 was also held in India, where Belgium became the champion for the first time. India has not won this tournament for a long time. India won the championship only once in the year 1975.
After a great Olympic performance, India is expected to have a good run in this edition. India is placed in Pool D with teams like England, Spain and Wales. India and England in this group look strong contenders to qualify for the Next round, yet Spain may create few surprises in this pool. Wales has qualified for the World Cup tournament for the first time. Wales will look to enjoy their historical moment.
Fact Sheet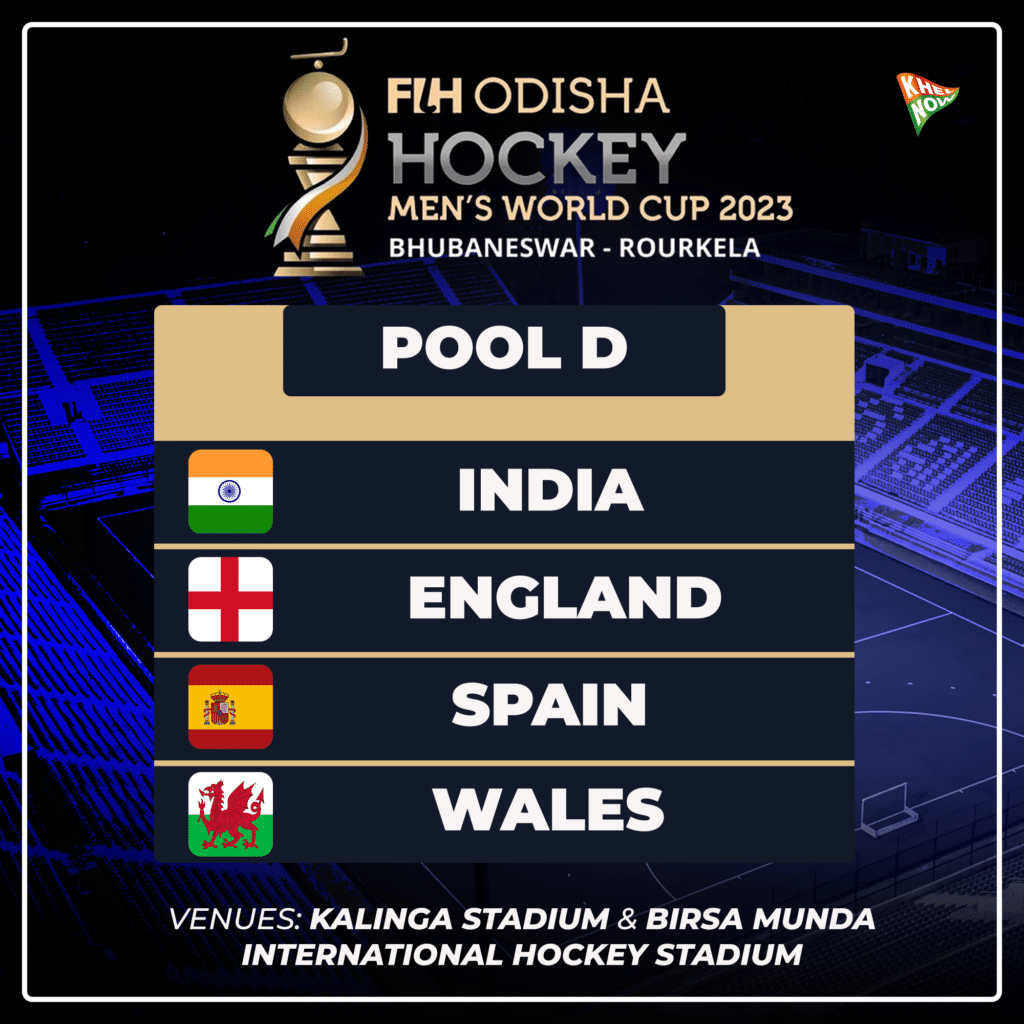 Teams
India
History at World Cup
India had glorious years till the 80s. They won the World Cup once in 1975, and since then they have failed to qualify for the semifinals. In the previous edition which was held in India, they did go past the group round but failed to win a quarterfinal game against the Netherlands. In the last 14 World Cups India played in 2 finals (1973, 75), once in the semi-final in 1971 and from 1978 to 2014 they could not go past the group stage.
Coach & Key Players
Since Graham Reid took over the position of Indian Hockey team coach they have grown brilliantly. Under his guidance, India won a Bronze medal in the Olympics after a long gap of 40 years. Players like Mandeep Singh, PR Sreejesh, Harmanpreet Singh, Amit Rohidas, and Manpreet Singh hold the key to success for this team.
Strength & Weakness
Indian team's recent performance in Summer Olympic and Commonwealth Games gave a good boost to their confidence.  Winning a medal in the Olympics will surely make the payers confident about the World Cup. India will be playing at home, and the crowd and conditions will be useful for the team India. India's performance in World Cup is a big worry. This may prove critical for the team in their campaign.
Expectation
India has been considered among the top favourite in Hockey World Cup this edition. India's recent confident game had given the fans a ray of hope for this big event. For the last 2-3 years Indian team has been in good form.
England
History at World Cup
In the last three editions, semi-finalists England are yet to win Hockey's most prestigious award till now. They played in World Cup final only once in 1986. That tournament was held in England. In the previous three editions in 2010, 14 and 18 England played in the semifinals and ended up in 4th  place.
Coach and Key Players
England announced Paul Revington as their head coach last year in 2022. Since his appointment, England has had an average performance in the games they played. England under Revington has picked a young squad for the tournament. Experience of Condon David, Martin Harry and Roper Phill will come in use for England.
Strength and Weakness
England has played in the semifinals of the last three editions of the Hockey World Cup. Under a new coach, England will surely look to gain from their past performances in this event. While a young squad and 10 players with zero experience in this event will be critical for England.
Expectations
England is a dark horse for this tournament and they will be a tough challenge for the teams they play against. England and India are among the top pick in Pool D for crossovers and quarterfinals. If they gain momentum they will be a tough team to beat with a young squad.
Spain
History at World Cup
Spain hosted the first-ever FIH Hockey World Cup in 1971. So far in Hockey's most prestigious event, Spain had failed to get the glory. Yet, they have played in Finals twice in 1971 and 1998. While once they ended up in third place in 2006. In 2018 Spain was out of the group round and ended up in 13th position.
Coach and Key Players
Spain's coach Maximiliano Caldas has a new assignment as a Coach. Having a good reputation as a coach Cadas is yet to prove himself in bigger events. For Spain Alvaro Iglesias, Ricardo Sanchez and Enrique Gonzalez hold the key to success in Playmaking and defence.
Strength and Weakness
With no big expectations Spain will be a team to watch out for in Pool D. Spain's no baggage will help them in this tournament. Spain is a dark horse in Pool D. Recent wins against teams like India and New Zealand will surely make them believe yet a young squad and recent overall performance will cause them a little worry.
Expectations
If Spain managed to win one of the games against England or India, they could qualify for the next round. Spain as a unit and their fans will expect few good results in their campaign. Yet their path beyond Group Round will not be an easy one.
Indian Sports Live Coverage on Khel Now
Wales
History at World Cup
When Wales enters the Birsa Munda International Hockey Stadium in Rourkela on 13th January against England, they will enter in history books. FIH Hockey World Cup 2023 is their debut in Hockey's biggest event. Wales a 15th-ranked team will be playing in their first-ever World Cup tournament.
Coach and Key Players
Wales brought their coach Danny Newcombe just two years back and this appointment changed the fate of Wales's team. Wales under his guidance qualified for the Hockey World Cup for the first ever time. Lewis Prosses, Daniel Kyriakides and Naughalty will be players to watch out for.
Strength and Weakness
Wales's strengths and weaknesses are the same. No experience in a big event sometimes gives you free movements in the game. Where you go out there and let yourself enjoy the game. While in some cases this no baggage at all put you in trouble in crucial situations. Wales will surely look to go out there and enjoy their first-ever World Cup event.
Expectations
 With teams like Spain, England and India in Pool D, Wales will find it tough to secure their wins in the tournament. Though Wales's unknown squad may challenge big-ranked teams and if they managed to create a few surprise performances in the tournament this will be counted as a big achievement for them.
Pool D Schedule
. 13th January 2023: England vs Wales, Birsa Munda International Hockey Stadium, Rourkela, 5 PM IST
. 13th January 2023: India vs Spain, Birsa Munda International Hockey Stadium, Rourkela, 7 PM IST
. 15th January 2023: Spain vs Wales, Birsa Munda International Hockey Stadium, Rourkela, 5 PM IST
.15th January 2023: India vs England, Birsa Munda International Hockey Stadium, Rourkela, 7 PM IST
. 19th January 2023: Spain vs England, Kalinga Stadium, Bhubaneswar, 5 PM IST
. 19th January 2023: India vs Wales, Kalinga Stadium, Bhubaneswar, 7 PM IST
For more updates, follow Khel Now on Facebook, Twitter, and Instagram and join our community on Telegram.