The Men in Blue had beaten their arch-rivals in a group game earlier in the tournament.
India were the favourites heading into the Asian Champions Trophy 2021. However, their run came to a screeching halt when they were shocked by Japan in the semi-finals, as they lost the game 3-5. This means that India will now square off against arch-rivals Pakistan in the bronze medal clash on Wednesday.
Pakistan too lost their semi-final against South Korea in a thrilling match which ended 6-5. A goal by South Korea in the final seconds of the match sealed the fate of the Green Machines.
If India want to salvage their tournament, they must win this game.
What happened in previous encounter?
The Indian men's hockey team registered a thrilling 3-1 victory against nemesis Pakistan in the much-awaited encounter between the continental heavyweights earlier in the group stage.
Early into the match, both teams lived up to the billing, as they kept up the tempo from hooter-to-hooter. While it was India who drew first blood through a penalty-corner perfectly converted by vice-captain Harmanpreet Singh to gain 1-0 lead in the ninth minute of the match, Pakistan denied any big opportunity for India in the following minutes to keep the scoreline in check.
After a goalless second quarter, the match took a thrilling turn in the third and fourth quarter respectively, with both teams upping the ante. Shilanand Lakra broke the gridlock in the 42nd minute when he made a fine tackle to enter the attacking circle from the left flank.
He teamed up with Sumit to assist Akashdeep Singh, who was poised in front of the goal-mouth to deflect the ball into the post, thus fetching India's second goal of the match. Soon after, Pakistan scored in the 45th minute when they beat India's defence which had done well so far to restrict them to just three shots on goal. It was Junaid who successfully put the ball past India's goalie Krishan Pathak to narrow the deficit to 1-2.
The final quarter remained tense with both teams increasing the tempo in their attempt to score. It was Lalit Upadhyay who worked a good attack to earn India a PC in the 53rd minute. To convert India's second penalty-corner of the match, Akashdeep ensured a perfect injection, which was stopped on point by Sumit as Harmanpreet took a fierce drag-flick to score.
Team India
India created history by winning the bronze medal at the 2020 Tokyo Olympics. Graham Reid's men were very impressive in the tournament and were one of the favourites coming into the Asian Champions Trophy as a result. However, the first match against South Korea was a disappointment as it ended in a 2-2 draw. The Indian men gave up a two-goal lead to draw the game, putting pressure on themselves.
In contrast, the performance against Bangladesh was a brilliant reply. India defeated the hosts by a 9-0 scoreline, with Dilpreet scoring a hat-trick. This win gives India momentum ahead of the crucial clash against their neighbouring rivals. This was followed by the 3-1 win over Pakistan. In the final group game, India decimated Japan 6-0 to go unbeaten in the semi-final. Thus they finished on top after the group stage, after they went unbeaten.
However, Japan decimated India 5-3 and ended their unbeaten run, thus ending their hopes of a gold or silver medal.
Team Pakistan
Pakistan were not able to secure an Olympic berth. Their performances in the last few years have been very inconsistent. The outfit also missed out on the 2016 Olympics in Rio after being unable to secure a qualifying spot. The team looks like a shadow of its former self.
Their appearance in the 2021 Asian Champions Trophy is the first in two years for the team at any international tournament. Pakistan's opening match against Japan ended in a goalless draw. It was followed by the 1-3 defeat of Pakistan to India, where even though they lost, they put up a decent performance. Against South Korea, Pakistan was their attacking best as they came from behind to draw 3-3. They put up another attacking masterclass against Bangladesh when they put six goals past them. They thus ended the group in third place, ahead of Asian champions Japan.
Pakistan even put up a great fight against South Korea in the semi-final, as they lost 5-6 courtesy a last-secnd goal from their opponents
Key Players
Harmanpreet Singh (India)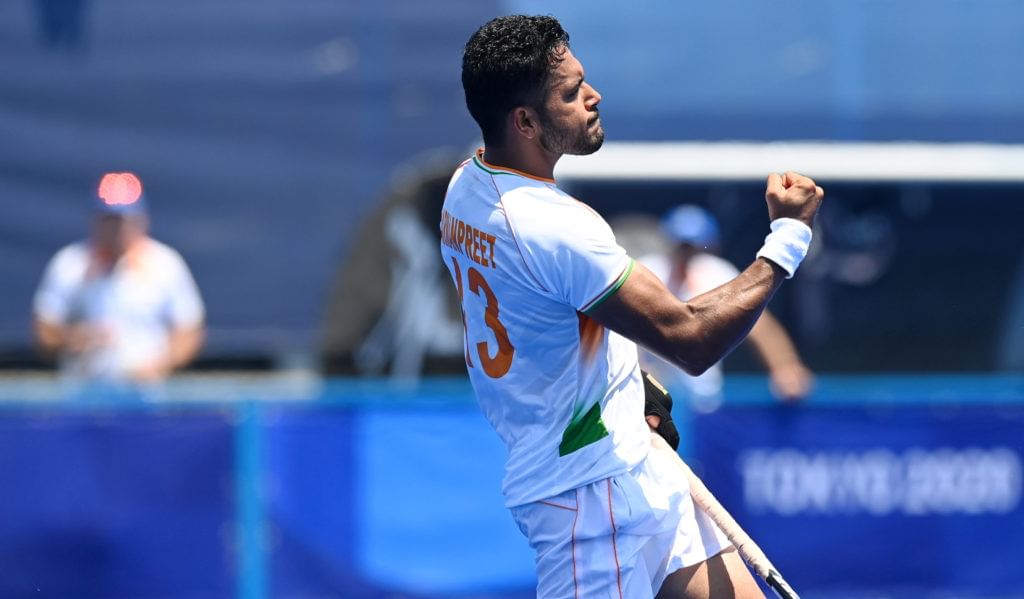 Harmanpreet Singh is the penalty-corner specialist of the India side participating in the Asian Champions Trophy. He was in terrific form when India won the bronze medal at the Tokyo Olympics. In this tournament too he has been one of, if not, the best player for India.
He remains one of the most crucial members of the squad. A penalty-corner specialist, he is one of the best drag-flickers in the world. His two goals against Japan in their last encounter will also be fresh on his mind. With seven goals, the drag-flicker is currently the second leading scorer in the tournament. In fact, all of these goals have come from penalty-corners.
Afraz Hakeem (Pakistan)
Pakistan have been lethal in attack this season, scoring six goals in a match on three seperate occasions. At the centre of their goal scoring spree has been an unknown quantity, rather than a big name player. Afraz Hakeem, in his debut multi-nation tournament, has scored three goals, thus becoming Pakistan's leading goalscorer of the Asian Champions Trophy.
India need to be wary of this Pakistan youngster, by putting up a tight defence to counter his threat.
India Squad
Krishan Bahadur Pathak (GK), Suraj Karkera (gk), Gurinder Singh, Jarmanpreet Singh, Varun Kumar, Nilam Sanjeep Xess, Mandeep Mor, Harmanpreet Singh, Dipsan Tirkey, Hardik Singh, Manpreet Singh (Captain), Sumit, Rajkumar Pal, Akashdeep Singh, Shamsher Singh, Jaskaran Singh, Lalit Kumar Upadhyay, Gursahibjit Singh, Shilanand Lakra, Dilpreet Singh.
Pakistan Squad
Amjad Ali (GK), Ali Mubashar, Muhammad Razzaq, Moin Shakeel, Abdul Rana, Ali Ghazanfar, Ali Shan, Mazhar Abbas, Muhammad Yaqoob, Umar Bhutta (Captain), Ammad Butt, Muhammad Hammadudin, Junaid Manzoor, Muhammad Abdullah, Afraz, Ahmed Nadeem, Ajaz Ahmad, Abu Mahmood.
Broadcast
The match will be shown Live on the Star Sports Network on December 21, 2021 at 3.00 pm IST. It will be also available to stream Live on Hotstar and Jio TV.
For more updates, follow Khel Now on Twitter, Instagram and join our community on Telegram.