The Indian team will try to continue their momentum in the tournament.
The Indian hockey team will be back in action in the FIH Pro League after their victory over Argentina in their last match. India won 4-3 against the Los Leones after losing their first match in a penalty shootout. They will face their English rivals at home this time around as well.
England are on a two-game losing streak. They lost both their games against Argentina and are currently in seventh position in the standings, with a total of six points.
India, however, are currently in second place and a victory will put them in the top spot. The Men in Blue will play the Three Lions in back-to-back games on the 3rd and 4th of April at the Kalinga Stadium in Odisha. So, the fans can definitely expect some fireworks, as both teams will try to win the games.
Here's a look at both teams before the all-important games on the weekend.
Team India
The Indian men have had a good run in the FIH Pro League so far. They have dismantled teams like France, South Africa and Spain in their last few matches. Moreover, their recent victory against Argentina will also give them that added confidence. India have played twice as many games as England. On top of that, playing on home turf will also motivate them and play to their advantage.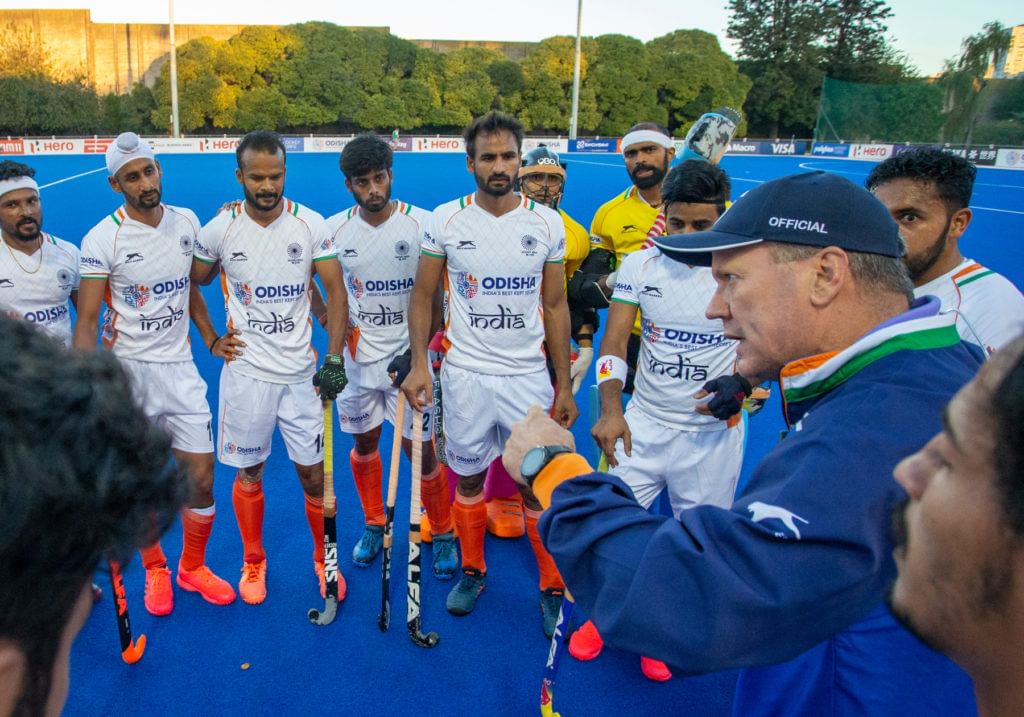 However, there have been setbacks too. India have also succumbed to defeats against France, Spain and Argentina. The victories were snatched from them in the last moments and that is something head coach Graham Reid has to be mindful of. He will bank on the right combination of young and experienced players in the team.
Team England
England started the tournament in sublime fashion, with back-to-back victories over Spain, that too away from home in Valencia. However, their games against Argentina in Buenos Aires were another story. The British lost both their games and as such will be desperate to get back to winning ways against India.
The visitors will be down on confidence after two losses, but will have to shake that off against India. England definitely have quality on their side and can pack a punch on any given day. India defeated England in their last encounter during the Tokyo Olympics and the visitors will also be looking to get their revenge in their opponents' backyard.
Key Players
Harmanpreet Singh (India)
Harmanpreet Singh will definitely be India's trump card against England. The defender and drag-flick specialist is the highest goalscorer in the FIH Pro League so far. He has scored 10 goals and will inevitably play a key factor in the upcoming games. Harmanpreet Singh has scored in literally every game for India in the FIH Pro League except for the last two matches against Argentina.
The English defence line will have to monitor him closely, especially during the penalty-corners, if they hope to win the match. Harmanpreet will also play a crucial part in India's defence, as he is now one of the senior members of the team.
David Goodfield ( England)
English midfielder David Goodfield has been in good form in the tournament. Goodfield is quite able with the stick and has the ability to not only create chances but also score goals. The Shrewsbury lad scored goals in both matches against Spain to help his side register crucial wins. David Goodfield also has the experience of playing in mega tournaments for his side.
The 28-year-old is a former bronze medalist at the European Championship and Commonwealth Games. Goodfield serves as a crucial link in the English middle line. The Indians will have to sever this link or keep it in check if they want to avoid an upset.
Squad
Team India
PR Sreejesh (GK), Krishan Bahadur Pathak (GK), Harmanpreet Singh, Jugraj Singh, Surender Kumar, Varun Kumar, Jarmanpreet Singh, Amit Rohidas, Manpreet Singh, Vivek Sagar Prasad, Hardik Singh, Sumit, Shamsher Singh, Nilakanta Sharma, Moirangthem Rabichandra Singh, Gurjant Singh, Mandeep Singh, Lalit Kumar Upadhyay, Shilanand Lakra, Sukhjeet Singh, Abhishek, Dilpreet Singh, Suraj Karkera, Mandeep Mor, Dipsan Tirkey, Nilam Sanjeep Xess, Sanjay, Jaskaran Singh, Akashdeep Singh, Ashis Kumar Topno, Gursahibjit Singh and Mohd Raheel.
Team England
Oliver Payne (GK), James Mazarelo (GK), Nicholas Park,Zachary Wallace, James Albary, Phil Roper, Stuart Rushmere, David Goodfield,Liam Ansell, David Condon, Nicholas Bandurak, James Oates, Duncan Scott, Thomas Sorsby, Rhys Smith, Peter Scott, Samuel Taylor, Zak Jones
Broadcast
The FIH Men's Pro League fixtures between India and England will be broadcast live on the Disney+ Hotstar app.
For more updates, follow Khel Now on Twitter, Instagram and Facebook.