The Tokyo Olympics turned out to be a milestone event for the Indian men's and women's teams.
Growing up, my grandfather used to tell me stories about Major Dhyan Chand. He'd often say, delving deep into nostalgia, "Dhyan Chand was a magician. They (hockey authorities) even broke his stick once to check if there was a magnet embedded; such was his control. We scored four-five goals at will, against any side! He was a wizard. Will we ever have those days back in hockey?" The soliloquy would always end on a pensive, despondent note.
Our generation is lucky; we've witnessed 'those days'. A 41-year old drought that felt like centuries for the game's aficionados seemed like it would never end, but they held on. Small victories were celebrated with outright joy, and a twig of hope was all they held onto. As the men's hockey team won the bronze medal in the Land of the Rising Sun, it was a dawn of a new era for these fans, and in a way for a nation that breathed hockey at one point in history.
The hard work that was started in 2011-12 reached a mini-culmination in 2016 as India won the Junior World Cup held in Lucknow. Eight players from that team, including captain Manpreet Singh, were part of the core that won the medal in Tokyo. Harmanpreet Singh, Varun Kumar, Nilakanta Sharma, Sumit, and Simranjeet Singh amongst others played key roles in both victories. This further proves the point that with the right regime and system in place, Indian hockey can hold onto its own at the global stage.
Domestic structure
Not too long ago, two distinct hockey federations (Indian Hockey Federation & Hockey India) were vying for bragging rights, creating huge turmoil in the sport. Two national championships were being conducted without any planning and only to rival the other, which took a huge toll on the growth of the sport. Players were suspended for playing in the 'rival' league, and left the roadmap for the future in jitters. It all subsided with the Sports Ministry's intervention in 2011, and the energy was now being reinvested in the sport yet again.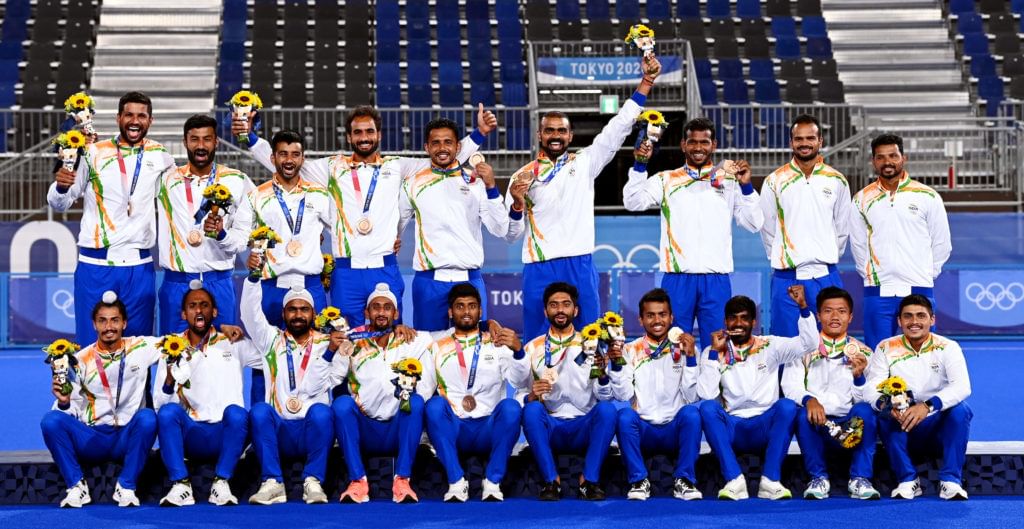 In a move that was expected to revolutionize the sport (and to some extent, it did) the Hockey India League was started in 2013. Players from all around the world were signed for the franchise-based league, which had attracted investment from several bigwigs such as the Jaypee Group, Coal India and Wave Group.
In 2017, fans witnessed the final edition of the league in play. Several experts believe that organizers were too keen to add the glitz and glamour usually associated with IPL (cricket) and thus, failed to create a sustainable model for the long-term. As groups such as Jaypee left the game, Odisha government and Cairn India (briefly) stepped up interest. The Premier Hockey League, too, ran from 2005-2008, but failed to leave a defining mark.
The league ceased to run, but helped reboot the sport in the country. Since then, slowly yet steadily, hockey has been supported by several fronts, especially Naveen Patnaik's government in Odisha.
Need of a hockey league
Fast forward to 2021, the Indian men's team has stood on the podium at the Olympics, and the women's team was just a mini-step beyond. They've ticked all the right boxes, and now the onus falls of the governing bodies of the sport to give them a platform to build on this.
A domestic league needed to start before, but it is better late than never. Every team that qualified for Tokyo has a domestic league in place – both for men and women. Or at least, its players play for clubs in domestic leagues in other countries. There's only one exception to this – India. Indian men's hockey players depend on Petroleum Sports Promotion Board and Railway Sports Promotion Board to stay fit and have a constant source of income when the national team is out of action.
A women's league, too, will not just keep these women in shape, help them practice and further ameliorate their muscle memory and skills, it will also give the inspired generation a stage to take a stick in their hands and run – a medium to show their abilities and thus create a pool of players for the future to take the baton when their turn arrives.
Performances of both teams are testaments to the hard work put in by their respective coaches – Graham Reid (Men's) and Sjoerd Marijne (Women's). They deserve immense respect and awards for the feats they've pulled off in remarkably short stints.
Conclusion
The league, if it resumes, must be designed in a way that it continues seamlessly for decades to ensure India never faces another decades-long lull at the quadrennial event. The abysmal amount of money that were paid to foreign players – Internationally experienced foreigners drew anything between $50,000-$100,000 for 60 days of action – must be reviewed and a lower bracket must be created. A distinct purse must be created for scouting, training of talented youngsters from a national pool and handholding them until they break onto the bigger stage.
All of this has to be done for not just the men's team, but women's as well. For a start, at least one girl needs to be scouted from the village of every member of this women's hockey team that made it to Tokyo. Scheduling of such trails six-nine months down the line will push the girls in the region to take up the sport and turn the bravehearts of Tokyo into teachers and inspirations. Several such steps and more can be taken to ensure the supply chain never ends.
Why is this important? It is of paramount importance because 40 years from now, I and my peers don't want to say this to our future generations, "Will we ever have those days back in hockey?" Our soliloquies must not end on a pensive, despondent note. To make this possible, the time to act is now. It's not just up to the government and the federation, you as a fan, I as a journalist and the entire nation needs to play a part to put Indian hockey back at the pedestal it once stood.
For more updates, follow Khel Now on Twitter, Instagram and join our community on Telegram.