Olympics
Imtiaz Anees feels Fouaad Mirza can do well at Tokyo Olympics
By

Shaunak Ghosh
(Courtesy : Imtiaz Anees)
India will have it's first representative in equestrian at the Olympics after a gap of 21 years.
Equestrian is not a very popular sport among Indians. Despite this, some of them have managed to represent the country on the world's grandest stage. At the Tokyo Olympics, India will have only its third-ever participant in equestrian sports. 29-year-old Fouaad Mirza is all set to end a 21-year drought. He will take part in individual eventing.
Mirza will follow the footsteps of Imtiaz Anees, who was the last Indian to compete at the Olympic Games in the 2000 Sydney edition. Anees is a pioneer in equestrian sports in India. At the turn of the century, he became the second-ever Indian and the first-ever Indian civilian to qualify for the quadrennial event.
In an exclusive conversation with Khel Now, Imtiaz Anees sheds light on his journey, Olympic experience, his upcoming memoir, chances of Fouaad Mirza and more.
The beginning
"I was very fortunate when I was at a very young age. I was only five-years-old and my mother and my grandfather, they used to ride. So, I was always taken to the riding club, but just for pleasure, not that they were competitive or anything like that. At a very young age, I was introduced to the horse . So that's how the whole love for riding began," stated Anees.
Anees also spoke about how his British coach and mentor, Diana Wilson, played a significant role in his career.
"I started riding when I was very young. I was very passionate about it and loved horses. But, I was very fortunate as most people are not very lucky to have a coach and a mentor. I was 11-years-old and there was a British lady called Diana Wilson, who was posted in India. She was the wife of an expat and had come to India. I started riding with her."
"She was a very accomplished rider and had ridden at the international level. An extremely accomplished horsewoman. I really looked up to her. So, can you imagine from the age of 11 till 30, till the Olympics, she trained me? I had one coach, one mentor. So, that really helped me throughout my career. As things grew up, I competed at the national level, in the junior category, internationally," he revealed.
Indrajit Lamba was the first-ever Indian rider to qualify for the Olympic Games in 1996. Imtiaz Anees was the next one who qualified four years later for the Sydney Games.
"I was the first civilian to represent India at the Asian Games as well. That was of the pioneer to make the sport possible for civilians to do it as well because it was an Army dominated sport. All the events were held in Army cantonment areas. So, civilians didn't have access to that. But, it was something that I wanted so bad. So I went out there, based myself in Delhi, in the cantonment area and went out to achieve this goal of actually winning a medal for India at the Asian Games."
"Then I decided that I want to go international and actually represent India at the Olympic Games. This is a big step because you know at the Asian Games level, it is only a one-star level and the Olympics is four stars above. Now, it's five stars. So, it's a vast difference. You have to train abroad, you have to qualify abroad. I decided to move base to Australia, leave my family, my friends. Leave things that are comfortable to me and make this happen. That's how the whole journey began and I started training in Australia and qualified and that was it. It was history," Anees said beaming with pride.
Once in a lifetime experience
Imtiaz Anees also spoke about his experience of participating in the Olympic Games. "It's surreal. It's just an amazing experience that people dream of. I was very fortunate to live it. It gives a bit of a special feeling that this is something that you have earned. Nobody else can take it away from you," he said.
"I think the second biggest thing is when you see the flag. I think for every sportsman, even now, talking about it I get goosebumps. You know, you enter that arena. It's all these country flags, India flag. It gives you a lot of pride. The flag is there because of you and that gives you a lot of pride. I was the only Indian from the equestrian. For me, I know that flag is flying only because I am here today. At least, I feel that India was represented," Anees continued.
Fouaad Mirza's chances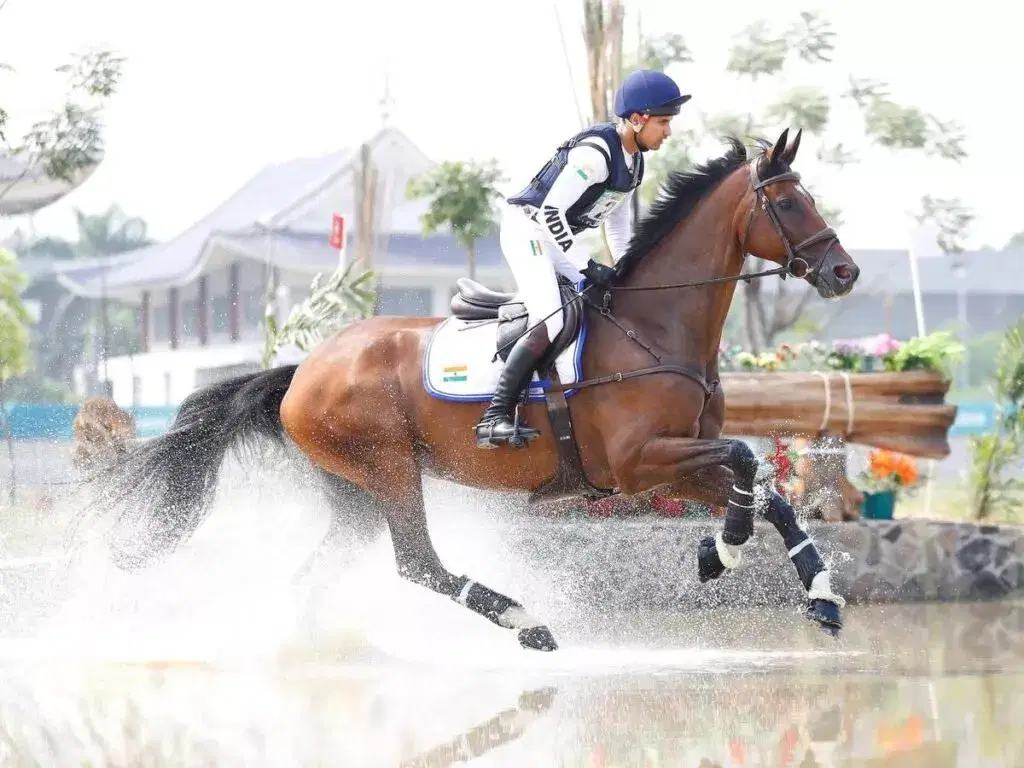 Indian equestrian Fouaad Mirza has not only qualified for the Tokyo Olympics but has also revived a sport in which India had been struggling for years. He sealed his ticket to Tokyo after a fantastic performance in Baborowko, Poland. The 29-year-old achieved the necessary Minimum Eligibility Requirement (MER) on both his horses Seigneur Medicott and Dajara.
"I think he's got a very good chance. He's a wonderful boy, excellent rider. He has great horses. So, he has done everything correctly. He has not short change his training. He has spent years in Germany; he's trained with really the best trainers. I really wish him all the best and it will be fantastic for India and for the sport," he opined.
"Irrelevant, if he gets the podium, that's the cherry on the ice cream. So, even if the fact that he actually qualified and he's there, that itself is huge for our sport," said Imtiaz Anees on Mirza's chances at the Tokyo Olympics.
"Today, we are having this conversation also because of that. You know it's really great that people understand about our sport and learn about it so that more people do the sport. When I started, I was the only civilian. Today we have lots of other riders in different centres like Bangalore, Chandigarh, Delhi, Calcutta, Jaipur. Even the two-tier cities have really grown because it's a wonderful sport for children to be associated with an animal. So, I really wish Fouaad all the best," stated Imtiaz Anees.
Future of the sport
Being a pioneer of equestrian in India, Imtiaz Anees is doing his bit to popularize the sport in his homeland. The 50-year-old has recently opened his own training school to nurture budding talents. However, the authorities need to do a lot more to popularize the sport amongst the masses.
"The main problem is exposure. It's hard, it's the unknown. So, a lot of parents and children that want to do it don't know how to do it. The pathways are not there. In equestrian, we don't have a system in place. So, it's a little bit of a go with your gut feeling. So, that risk factor is quite high for children to take and parents. We have to sacrifice a lot for our children to do this. But, now with this awareness and people understanding there's a pathway, a possibility. I hope there will be more people who will try this and get better." he stated.
"It would be helpful if we do it in two-tier cities. Actually, if we grow the sport in second-tier cities, it is much better because there is space, the infrastructure can be built in those areas. It will really help our sport in a very big way. Though it has changed dramatically since my time. Today, when there are competitions, there are 400-500 civilians competing at that level. So, they have trained a lot and people have understood the sport a lot. Lots of schools and riding places have opened up. It is growing and I think it will grow even more," said an optimistic-sounding Anees.
For more updates, follow Khel Now on Twitter, Instagram and join our community on Telegram.