Shooting
ISSF World Cup 2023 Bhopal: Rudrankksh continues to impress, wins bronze in 10m AR event
By
Shivam
Tokyo Olympics silver medalist Sheng Lihao stole the show with his record-breaking score of 634.5 in the qualification round.
Reigning world champion Rudrankksh Patil won bronze in the men's 10m Air Rifle, his second of the tournament, as China extended their golden run at the International Shooting Sport Federation ISSF World Cup Rifle/Pistol Bhopal, winning both gold medals on offer for the second consecutive day at the M.P. Shooting Academy range.
Tokyo Olympics silver medallist Sheng Lihao of China won gold in the men's 10m Air Rifle while compatriot Huang Yuting, a double gold medallist at the Cairo World Championships last year, won the women's event, as China maintained top position on the medal tally at the end of competition day three with five gold, one silver and two bronze medals in their kitty. India lies second with three bronze medals to go with a gold and silver each.
All finals are being streamed LIVE on the ISSF and NRAI YouTube channels.
Rudrankksh wins second medal in ISSF World Cup Bhopal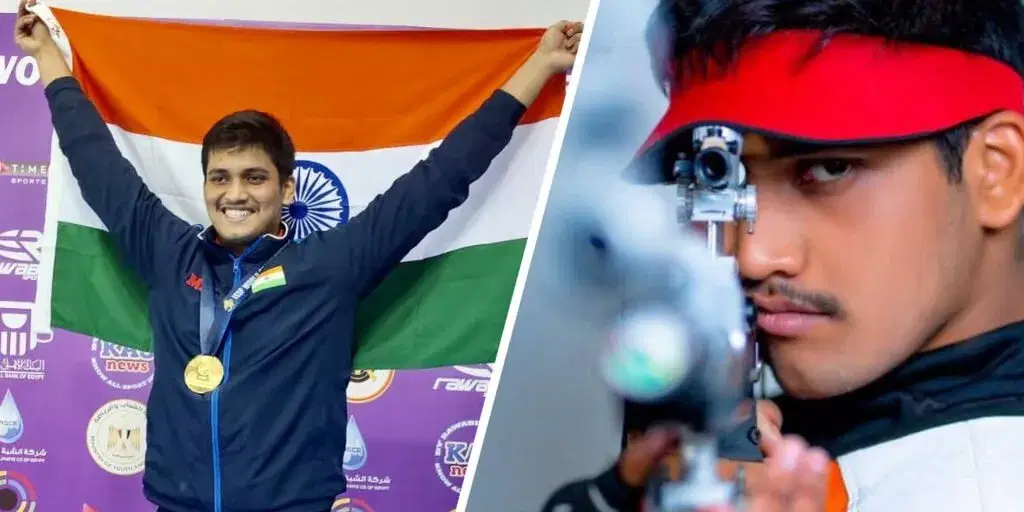 Playing back-to-back matches can never be easy, especially in your home world cup, but the champion shooter that he is, Rudrankksh delivered yet again, clinching bronze from what at one point seemed like a lost cause. He shot a solid 631.0 in qualification to finish fourth after leading in the initial stages. In the 25-shot top eight ranking round, he was well outside the medal positions till the third five-shot series, before a fantastic fourth series where he shot the highest score of 53.5, brought him back into contention.
Meanwhile the three Chinese qualifiers Sheng (who led throughout the ranking round), silver medallist Du Linshu and Yu Haonan, were on course to make it a Chinese 1-2-3 till the 20th shot. Rudrankksh went into the fifth series 0.8 behind Yu. He then shot a strong 52.6 in the series as Yu faltered, posting 51.5 to finish fourth, as the Indian confirmed his second medal in two days and his fourth ISSF World Cup medal overall. He finished with a score of 262.3 as Sheng and Du moved into the gold medal match with scores of 264.2 and 263.3 respectively.
The all-China gold medal encounter was also a close encounter with Sheng prevailing 17-13 in the end.
Indian Sports Live Coverage on Khel Now
Ramita finishes fourth
India had only one top eight finisher in Ramita in the women's 10m Air Rifle, when she shot 632.3 to finish second among medal contenders in the 52-strong field in ISSF World Cup. The top eight had two Chinese, two Americans and one shooter each from Romania, Israel and Kazakhstan, besides hosts India. China's Cairo Worlds champion in the Mixed Team Air Rifle, was in ominous form, topping the qualifications with a score of 632.8, while Tokyo Olympics silver medallist in the Mixed Team Air Rifle, Mary Tucker of USA, also made it through in seventh place.
In the top eights, Huang was a cut above the rest, finishing on top again with a score of 265.7 as Mary shot 261.2 for a shot at gold. Kazakhstan's Alexandra Le pipped India's Ramita to bronze, shooting 261.2 to the Indian's 260.5. Huang then maintained her form on the day to defeat Mary 16-4 for China's fifth gold of the competition.
Competition day four – ISSF World Cup
Two more finals come up on Saturday, competition day four of the ISSF World Cup, as the Men's 50m Rifle 3 Positions final begins at 11.45am, while the women's 25m Pistol final is slated for 3.00pm.
For more updates, follow Khel Now on Facebook, Twitter, and Instagram and join our community on Telegram.