Badminton
Kiran George stuns World No 9 Shi Yuqi in opening round of Thailand Open 2023
By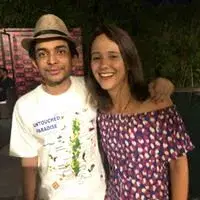 SouravGanguly
The 23-year-old will next face another Chinese opponent Weng Hong Yang, who reached the final of Malaysia Masters 2023 last week.
The first round of the Thailand Open 2023 saw a major upset as India's Kiran George beat World No. 9 Shi Yuqi of China in straight games. The match that went neck to neck till the last minute eventually saw the Indian prevail over his adversary.
George won with a scoreline of 21-18, 22-20 and progressed to the next round where he will again be pitted against a Chinese opponent in the form of Weng Hong Yang. However, that is for later as the Indian would now totally want to savour his well-earned victory.
The match which saw a lot of cross-court action came to an end as Yuqi's forehand smash hit the net. As soon as it happened the Indoor Stadium Huamark erupted in applause. "The idea was to hang in there, stick it out and force Shi Yuqi to make mistakes, make him work for the points," Kiran's coach Sagar Chopda said describing the upset.
Kiran was trailing in the earlier phase of the match and was down 11-6. However, the man from Kochi did not lose hope and would cut down the deficit with some intricate work of the racket. He went on to add 5 consecutive points to assert a dominating position with an 18-16 lead. Yuqi's desperation to bridge out that gap made him commit errors which George capitalized on.
Indian Sports Live Coverage on Khel Now
On the contrary, the second set saw the Indian make a jumpstart with a 6-0 lead. However, when you thought it was over Yuqi came back to even the odds. Finally, at an all-equal 15-15 scoreline, Kiran broke free to take a 20-17 lead. The 21-year-old's ability to prolong the match and allow his opponent to make errors proved fruitful in the end. Shi's smashes too weren't powerful but were precise and deep. Kiran, however, was already prepared for that.
"He's had a tough patch not winning anything since Orissa Open Super 100. He was low on confidence last 4-5 months. But yesterday after qualifying, he said kal ka match bas nikaalna hai. I told him to be ready for his deep smashes," Chopda added as he had already trained his pupil accordingly to beat his dangerous foe. George followed his coach's blueprint to a tee and executed it immaculately.
For more updates, follow Khel Now on Facebook, Twitter, and Instagram and join our community on Telegram.