IPL 2023
EXCLUSIVE: 'I want to bowl fast like Mitchell Starc', Rajan Kumar hopeful that RCB will give him a chance
By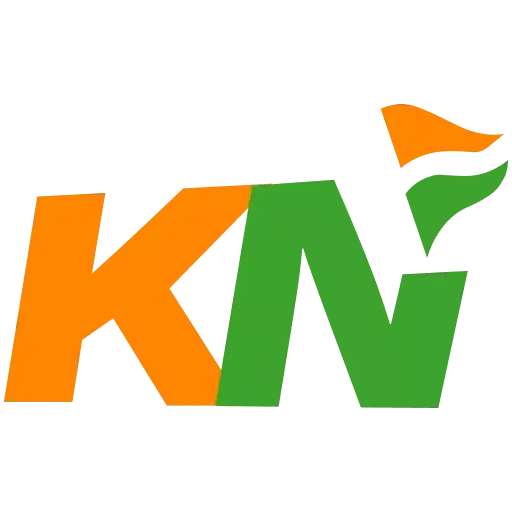 Khel Now
The RCB pacer from Haridwar, Rajan Kumar joined Khel Now for an exclusive conversation.
A 26 year old native of India's ancient city Haridwar, Rajan Kumar is eagerly waiting for his chances in the IPL 2023. Royal Challengers Bangalore spent 70 Lakhs on him in the IPL 2023 auction. Coming from a small city like Haridwar, it is a big opportunity for the youngster. Mitchell Starc fan, Rajan is in line to make his Indian Premier League debut. After a wonderful Syed Mushtaq Ali Trophy last season, he broke through the picture and attracted everyone toward himself in the IPL Auction. Rajan Kumar made his debut in the Indian Domestic circuit in the 2022-23 season. So far, he has played 5 List A and 7 T20 games for Uttarakhand and picked up 6 wickets in Vijay Hazare Trophy and 10 in Syed Mushtaq Ali Trophy. Rajan Kumar is a good addition to the RCB squad. The pacer joined Khel Now for an exclusive chat.
Here are the excerpts from Khel Now Exclusive chat with RCB bowler Rajan Kumar:
Question: What was your first reaction after being bought by Royal Challengers Bangalore in IPL 2023 auction?
Rajan Kumar: At first I could not even believe that I was picked by Royal Challengers Bangalore. When I got the first bid, I reacted aggressively at that moment and left the room. Then after the auction people told me that RCB had picked me, I could not believe this as RCB is my favorite team as well. I was very emotional at that moment. I could not sleep three nights after my selection in the IPL. Later we went to a highway and I came out of the car to shout out loud to celebrate my moment. It was like a dream coming true for me.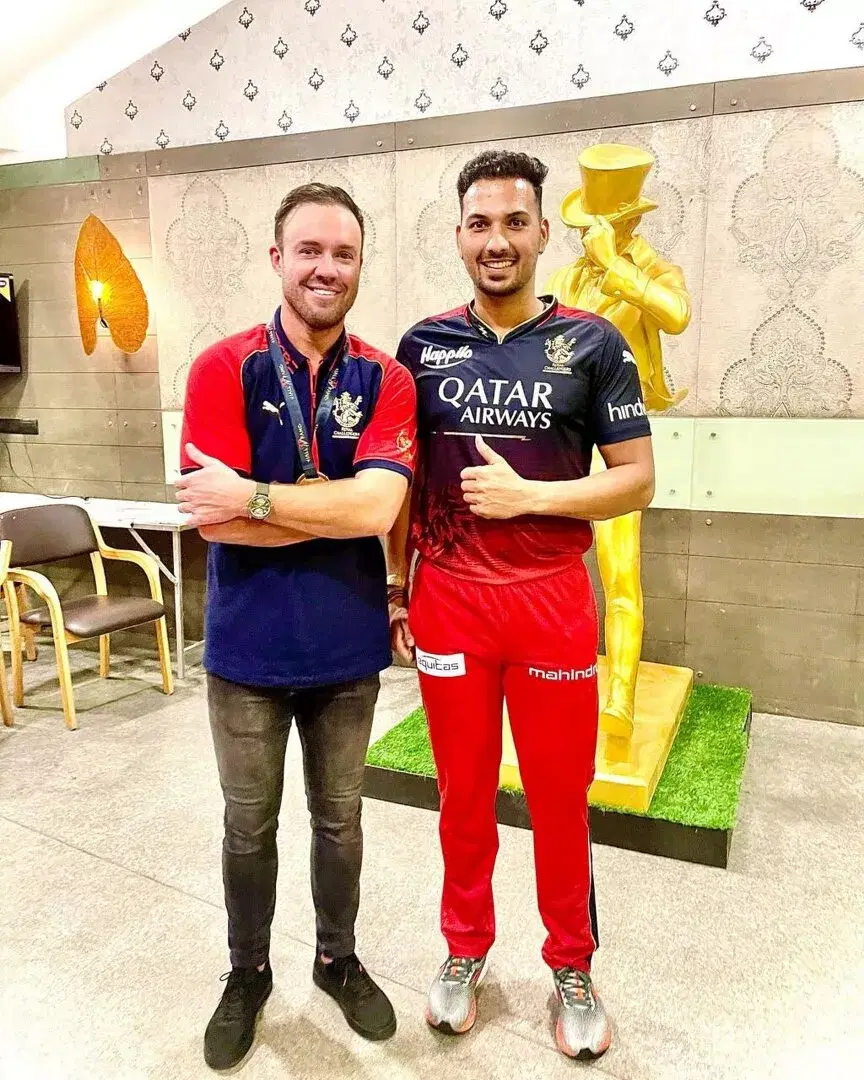 Question: What was your family's reaction when they came to know about it (Being bought by RCB..)?
Rajan Kumar: I called my brother after the auction and he reacted very coldly with just 'Hmm', I asked him to react yet he was unmoved. Later I called my brother's wife and she told me that my brother was crying. Then I had a chat with my mother and she gave me blessings for the future.
Question: How do you rate the experience of sharing the dressing room with legends like Virat Kohli, Faf du Plessis, and Glenn Maxwell?
Rajan: I had goosebumps when I saw them(Virat, Faf & Maxwell) closely. It was my dream to meet these legends and take selfies with them. When you play at the junior level you dream of meeting these stars and taking pictures with them, now in the dressing room when they comes in and give a hand on my shoulder and ask me what's up! Then I get chills around my body. I still pinch myself sometimes to check If all this is still a dream or a reality. There is a family like atmosphere in the RCB dressing room. I am enjoying my time here.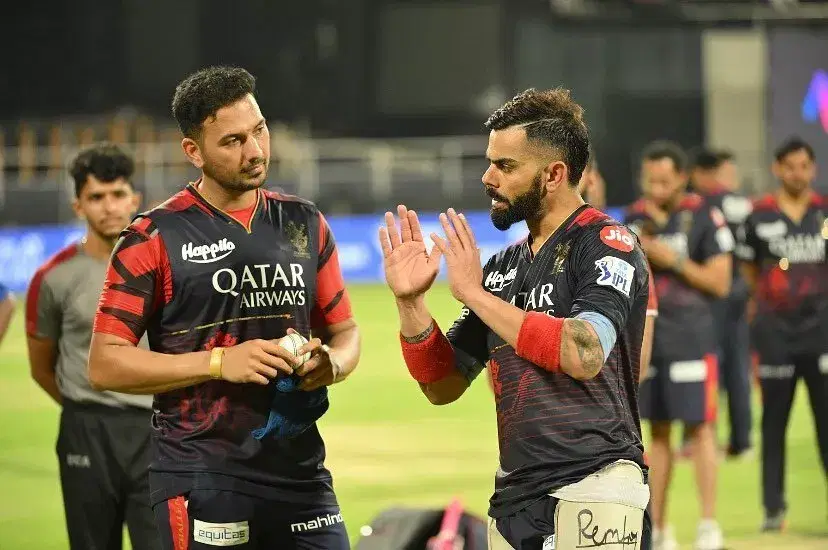 Question: When did you start preparing for the IPL 2023, and What kind of preparation did you have?
Rajan : I started preparing for the IPL during Ranji Trophy. I used to hit big shots whenever I got an opportunity to bat in the nets. In bowling, I started bowling cutters and Yorkers with the red ball rather than trying to swing. My coaches used to ask me on a lighter note if I am really playing in Ranji Trophy or just focusing on the IPL. My coaches helped me with my fielding skills as well.
Question: Who is your favorite bowler?
Rajan : Mitchell Starc, bowls fast, he terrifies the batters. He is also a left arm pace bowler and I try to copy his Bowling action as well. I love watching him bowl and I want to bowl fast like him and clock 160 KMPH in the future. I want to meet him as well.
Question: Who is your inspiration in your life?
Rajan : My Inspirations are my big brother and my father. We belong to a lower middle class family and these two have struggled a lot for the family. They used to work day and night and kept motivating me for my cricket. Earlier I used to chill with friends but later when I saw them work hard I became serious about my goal. I just want to give them a good quality of life with a great future ahead.
Question: With bowlers like Md. Siraj & Harshal Patel in the RCB setup, what are you learning from them?
Rajan : I am learning a lot, they are really down to earth and helpful. Siraj bhai has helped me with many nuances in bowling, I chat with Harshal bhai regularly. He is helping me with my variations and dealing with the nervousness around me. I am learning many things from them.
Question: Do you think you will get an opportunity to make your debut this season?
Rajan : "This is not on me, Coaches have to decide when they will feel I'm ready to give me the opportunity. I am trying my best and giving my 100% effort. I put some extra effort into my bowling as well. Whenever I get the opportunity, I will try to do my best and make my team win the game. Selection depends on the Team management, If they think I deserve the opportunity I will get it, If I don't we'll work together to better my efforts in the game.", Rajan Kumar signed off.
In the absence of Josh Hazlewood and Reece Topley, RCB might try some new faces in the upcoming games. Currently Md. Siraj and Harshal Patel are leading the charge in the pace attack. Being a Left arm pace bowler, Rajan Kumar can produce an extra advantage for RCB in trying out new things. RCB have lost two back to back games after winning their opening game against Mumbai Indians of the season. In their next game, they will be taking on Delhi Capitals on Saturday afternoon at M. Chinnaswamy Stadium.
For more updates, follow Khel Now Cricket on Facebook, Twitter, Instagram, Youtube and join our community on Telegram.
posted in :