The German centre-half recently returned to action
Timo Baumgartl returned to action on Matchday 7 after overcoming testicular cancer as Union Berlin beat VfL Wolfsburg to stay top of the Bundesliga. Now his life is all about football again – "the centre of my life", he emphasises. Far from revelling in his team's phenomenal success this season, he knows that major challenges lie ahead and remains focused on the job at hand.
Timo Baumgartl recent sat down with the Bundesliga media, discussing a variety of topics including playing in the Bundesliga and return to football. Finally, here is the full interview.
How are you, and is this question getting on your nerves after your long break due to cancer?
"No! It shows that people care about my life, so I will gladly answer it. Of course, you do wish that the questions will start to divert to more essential topics in the future. I am still a footballer; football is the centre of my life. It would be best if it started to be more about football again."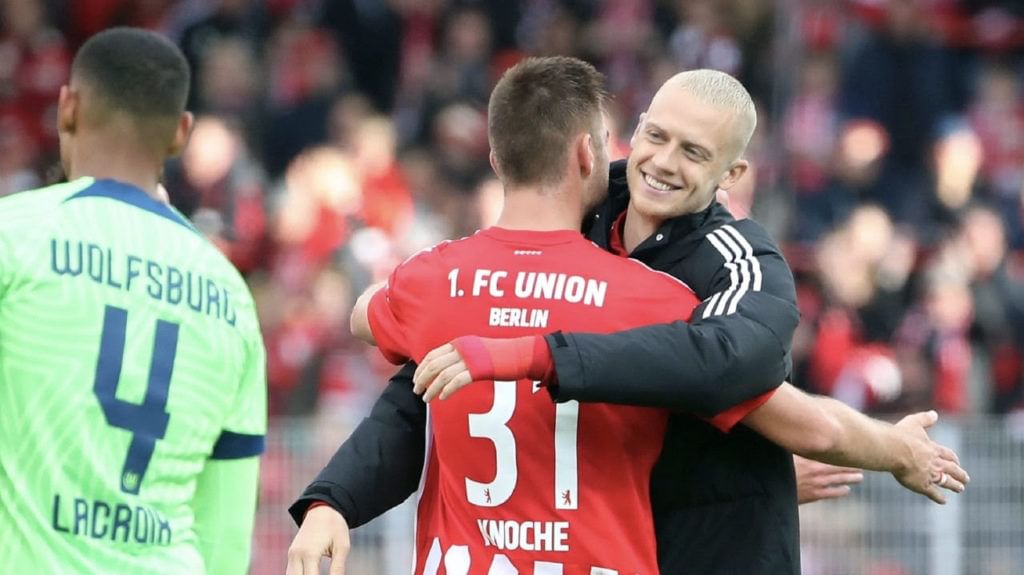 How is it for you to come back after the break, and suddenly you're playing for the Bundesliga leaders?
"I think we did not really expect this. We wanted to accumulate as many points as possible in the first games because we knew that a tougher fixture list would then follow; we have now managed to get a good head start. I do not think any team has ever had to play the number of games we now have in the next weeks. It is going really well for us. Bayern and Dortmund have been struggling a little bit. The fact that we are first is something no one would have expected before the start of the season."
Lage favourites like Bayern and Dortmund are the chasers at the moment. Wouldn't you like to be in a situation like that?
"I think every German football fan was hoping that Bayern would not be five points ahead of everyone after nine games; instead, they lie four points behind the first place. We know that Bayern and Dortmund have different ambitions and schedules compared to us but what we know is that if we win every game from now on, we will be champions!"
Trending World Football Articles:
How do you explain Union's current success?
"I think it is a team effort, everyone knows their role in the side. I think we are a very uncomfortable side to play against. We have quick players up front, and we know how to defend. Everyone in the team knows what needs to be done and how to execute it. We know that if we do not concede a goal, we will get a chance at the other end to nick it; from a set-piece for example. It is also important to note that we have the necessary bit of luck that we need at the moment. We are going
through a good phase, but a rougher patch of form is definitely on the horizon, where things will start to go against us. We are just enjoying it at the moment."
What role does your good defensive work play in your current success?
"I think it's a mix of both. We know how to defend. Know that we can sit deep without any problems and without getting nervous or flustered. We also know that if we win our duels, we have very fast players up front on transition. The opposition teams know this and find it hard to stop us. Against Cologne, we were lucky to score in the 1-0, which obviously changes the game for us. I do believe we have deserved a lot of the points we have collected so far and we do not have to feel guilty if other people claim we are a defensive side; you can compare it a little bit with Atletico Madrid. This is our particular style, but I also think we have improved on the ball.
We do not just play on the counter but we like to move the ball around as well. It is not always perfect, but we can rely on our defensive structure and our quick players up front, Sheraldo and Jordan. We also have players that can come in to support them and we are a relatively experienced side; you can see that on the pitch. We know how to break the rhythm of our opponents with clever fouls that result in yellow cards; these are some our secrets."
For more updates, follow Khel Now on Facebook, Twitter, and Instagram and join our community on Telegram.