The Gaurs will want to crush the Blues and keep up their impressive home record.
FC Goa will grapple with a sputtering Bengaluru FC side in the Indian Super League (ISL 2022-23) match at the Fatorda Stadium on Saturday. Carlos Pena's men have won four and lost two of their opening six matches, while Simon Grayson's side has only managed a win and a draw out of the same.
A win will be the only thing on the Gaurs' mind and the Blues can be relied on to do the same. Form favours the orange army of Goa more than the Bangalore-based outfit as they come into the match with a home advantage. Simon Grayson's men must pull up their socks and approach this game on a war footing if they are to get even a point. A change of approach from defensive to fast and direct counter-attacking football can be expected from the side and makes for an exciting watch.
Here is what we can look forward to in the upcoming clash between FC Goa and Bengaluru FC.
The Stakes
FC Goa
The Gaurs have newfound confidence especially since they'll be playing in front of fans at what has become a fortress for them this season. Goa have ensured a 3-0 victory in both games at the Fatorda so far and have a chance to make it three out of three. A win will help them go head-to-head with Odisha FC for third place and allow them to consolidate their place in the knockouts.
Bengaluru FC
After a successful pre-season wherein they won the prestigious Durand Cup, Bengaluru FC seem to have fallen from their summit. Their plummet began with a loss at the hands of champions Hyderabad FC. All of it went from bad to worse as Mumbai City routed them 4-0 last week and Grayson will be scratching his head in incredulity. The Blues will have to play for a win to turn things around as anything less than three points will make it harder for them to ascend from the pit of the league table.
Injury & Team News
FC Goa currently have no injury concerns on their hands as Fares Arnaout has returned from his short absence. Carlos Pena is free to choose from a fit roster that is raring to go and hungry to prove themselves.
Bengaluru FC are still without Prince Ibarra but have the likes of Roy Krishna and Sunil Chhetri to fill his boots. Simon Grayson must tweak his starting eleven cleverly if he is to limit FC Goa from taking undue advantage of the same.
Head-to-Head
The two sides have faced each other in 11 matches in the Indian Super League. Out of these 11 games, FC Goa have won three whereas Bengaluru have come out victorious on five occasions. The remaining three have ended in stalemates.
Played – 11
FC Goa – 3
Bengaluru FC – 5
Drawn – 3
Predicted Line-ups
FC Goa (4-2-3-1)
Dheeraj Singh (GK); Seriton Fernandes, Anwar Ali, Marc Valiente, Aiban Dohling; Edu Bedia, Ayush Dev Chhetri; Redeem Tlang, Iker Guarrotxena, Brandon Fernandes; Alvaro Vazquez.
Bengaluru FC (4-2-3-1)
Gurpreet Singh Sandhu (GK); Prabir Das, Sandesh Jhingan, Aleksandar Jovanovic, Naorem Roshan Singh; Bruno Ramires, Jayesh Rane; Leon Augustine, Sunil Chhetri, Sivasakthi Narayanan; Roy Krishna.
Indian Football Trending Articles:
Player to Watch
Iker Guarrotxena (FC Goa)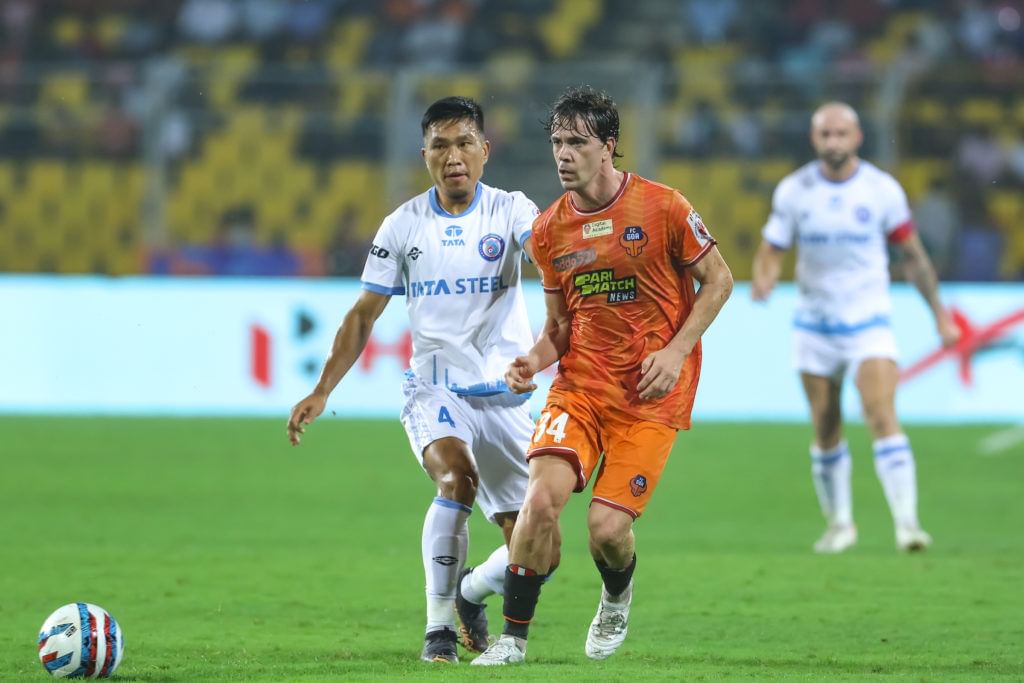 FC Goa have been reliant on the likes of Noah Sadaoui primarily for goals. However, a lot of goal-scorers have pitched in to allow the Gaurs become an all-round threat. One of these threats and goal-scorers is ISL debutant Iker Guarrotxena who has scored once already. The Spaniard is a false winger and attacking midfielder hybrid who can shift between central and wide areas seamlessly. His versatility and eye for passes are what make him a silent threat in this energetic FC Goa side.
Bengaluru FC have already conceded from the likes of Bipin Singh, Chhangte, and Pereyra Diaz in the last fixture. That itself amplified how deadly wingers can be against their setup. In Guarrtoxena's case, if Pena decides to combine him with either Noah or Redeem Tlang, he can wreak havoc in the Blues' ranks. His drifting in and out of the half-spaces within the low block that Grayson deploys will cause confusion and open up acres of space for his side to operate freely.
Roy Krishna (Bengaluru FC)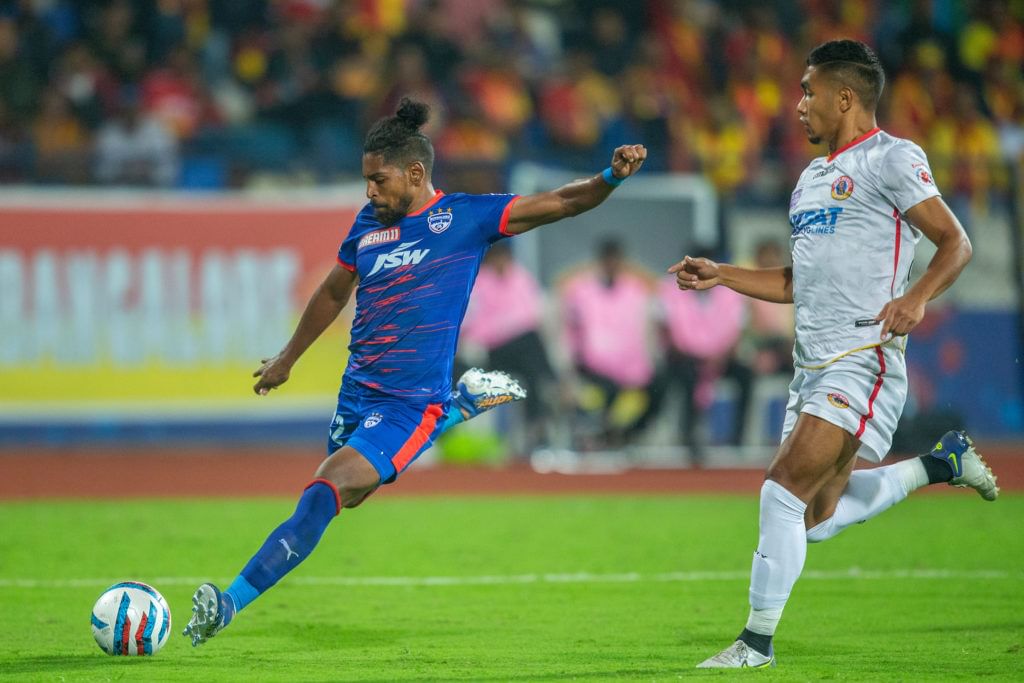 Bengaluru have only scored one goal so far in the league in what has been a dismal campaign for them. Unlike their pre-season, Sivasakthi, Roy Krishna, and Sunil Chhetri have not been able to turn up clutch in the league. The Fijian especially seems to have hit a rough, dry patch devoid of both goals and assists. Despite every negative, the former ATKMB man is a clinical striker on his day and has the potential to hit FC Goa where it'll hurt.
Goa can almost be relied on to hog the ball and look to push up high. In such conditions, Krishna's dangerous combination of off-the-shoulder running and frightening ball control can rip the Gaurs' defence to shreds. The likes of Anwar, Aiban, and Valiente have proved worthy enough to contain different types of attackers. However, in Krishna's case, they will face an intelligent jack-in-the-box who has the arsenal to spring a surprise on Pena's men.
Did You Know?
Bengaluru FC's Roy Krishna overtook Paul Ifill's record of 33 goals on December 2, 2018, to become Wellington Phoenix's leading scorer while still in the A-League. The Fijian striker created history the following month by becoming the first player in A-League history to score three consecutive braces.
FC Goa's Edu Bedia signed for them in the 2017-18 season and has since gone on to appear for the Gaurs a massive 108 times across all competitions.
Simon Grayson has managed the likes of the prestigious Leeds United and Sunderland AFC before moving to Bengaluru FC.
Telecast
The live telecast of the FC Goa vs Bengaluru FC match will be available on the Star Sports Network. The game will be streamed live on Disney+Hotstar and JioTV. Kick-off is at 5:30 PM on Saturday at the Fatorda Stadium.
For more updates, follow Khel Now on Facebook, Twitter, Instagram, Youtube and join our community on Telegram.