The singer took to social media to clear the air surrounding her performance at the ceremony.
Dua Lipa confirms that she will not be performing at the opening ceremony of the upcoming 2022 FIFA World Cup in Qatar. The singer and songwriter is an artist with a massive fan following across the globe. Recently, there were speculations that the Englishwoman will be part of the program that will kickstart the mega event. However, she took to social media to announce that such speculations are far from the truth.
"There is currently a lot of speculation that I will be performing at the opening ceremony of the world cup in Qatar. I will not be performing. And nor have I ever been involved in any negotiation to perform," she wrote on the popular social media platform Instagram.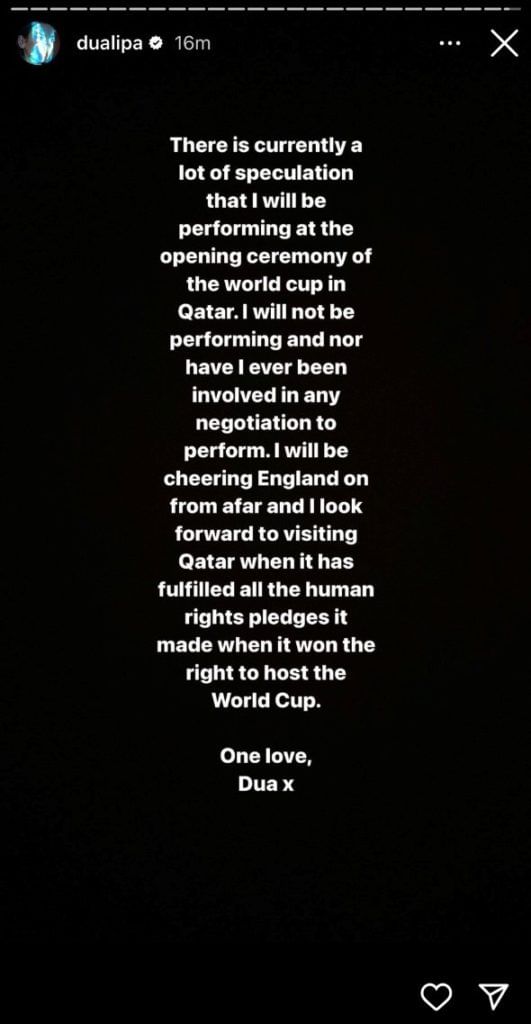 Backing England
Dual Lipa will be supporting England at the 2022 FIFA World Cup. The 27-year-old was born in London, England and has Albanian roots as well. The three-time Grammy award winner will be hoping that the Three Lions manage to secure their only second-ever world cup title. "I will be cheering England on from afar. And I look forward to visiting Qatar when it has fulfilled all the human rights pledges it made when it won the right to host the World Cup." she further said in her message on Instagram. Putting light once again on the reports of human rights violation in Qatar.
The host nation has come under a lot of fire from some sections of the media and popular figures. According to reports, the treatment of workers hired to build the infrastructure was poor. Human Rights Watch and International Trade Union Confederation flagged that migrant workers were struggling to survive and many of them lost their lives while building infrastructure for the 2022 FIFA World Cup.
Dua Lipa is the latest high-profile figure to shed light on this issue. As it stands, she will not be performing at the opening ceremony. The opening ceremony will take place at the Al Bayt Stadium in Doha on 20 November with popular South Korean pop group BTS's member Jung Kook set to participate.
For more updates, follow Khel Now on Facebook, Twitter, and Instagram and join our community on Telegram.