RoundGlass Punjab right now have a huge opportunity to move atop the Hero I-League 2022-23 points table when they take on bottom-placed Sudeva Delhi here at Tau Devi Lal Stadium on Sunday.
But the going has not been easy for the top teams of late. Defending champions Gokulam Kerala recently lost three matches in a row to fall ten points behind the top two, and Sreenidi Deccan have gone down to lowly Kenkre FC and Mohammedan Sporting, the latter by conceding half-a-dozen goals. RoundGlass themselves have not been in free-flowing form. They have won their last three matches by a one-goal margin and drew the two before that.
One of those was against Sankarlal Chakraborty's Sudeva, who have become dangerous opponents in the last few matches. February has been a superb month for them. Only Real Kashmir and Sreenidi have been able to beat them and even in those two matches, they scored three goals. Against RoundGlass, they had kept Luka Majcen & Co. at bay till the 79th minute, when a blunder by goalkeeper Priyant Singh allowed Majcen to score. Even then Chakraborty's boys managed to salvage a point through a stoppage-time goal by Sujit Sadhu. Since then their performance graph has only gone up, peaking in the emphatic 4-1 victory over Tiddim Road Athletic Union in the last match.
This is why RoundGlass coach Staikos Verghetis said on Saturday, "It is always difficult to play against a team that is fighting relegation. Those teams have their own targets, and they tend to fight tooth and nail to achieve that target. Nothing short of our best performance will do the job tomorrow."
Verghetis likes to err on the side of caution. So he refused to talk about the chance his team has been handed by table-topper Sreenidi's shocking loss on Friday. "We should only think about the things we can control. We can't control the results of other matches. That's why I always tell my players to concentrate on our own matches," he remarked.
His respect for the talent and exuberance of footballers like Seilenthang Lotjem and R Lalbiakliana was also evident. "Sudeva have a compact defence and they are very dangerous on counter-attacks. They have quality players who can make the offensive transition quickly. That is why we'll have to be careful about our defence while attacking," was his opinion.
The coach also brushed aside home advantage, perhaps wiser from the experience of playing Sudeva earlier this month. "Home advantage is obviously a factor but once the game starts, you forget if it's home or away," he insisted.
Sudeva coach Chakraborty has not much to lose. He knows this late surge may still not be enough to save relegation. Perhaps that is why he sounded more confident that Verghetis.
"RoundGlass Punjab are obviously a very solid team. One can see that from the league table but now even we are playing well. We want to maintain that form," he said. "We had been playing well for quite sometime now, but points were not coming. Now, the points have started to come. Naturally, our confidence is up."
However, he does not have illusions about the difficulty of the job at hand. "The team we are playing tomorrow has footballers of a different quality, so our job will be tougher this time."
"The fact that we held RoundGlass to a draw in our home match will definitely work in our favour because it is never easy holding a top team," added the coach who took up the reins midway through the season and has made Sudeva much more competitive.
The match will be telecast live on Eurosport, DD Sports and Discovery Plus OTT platform from 4.30 pm.
I-League 2022-23: We are unbeaten in four games and the boys are really confident, says Noel-Williams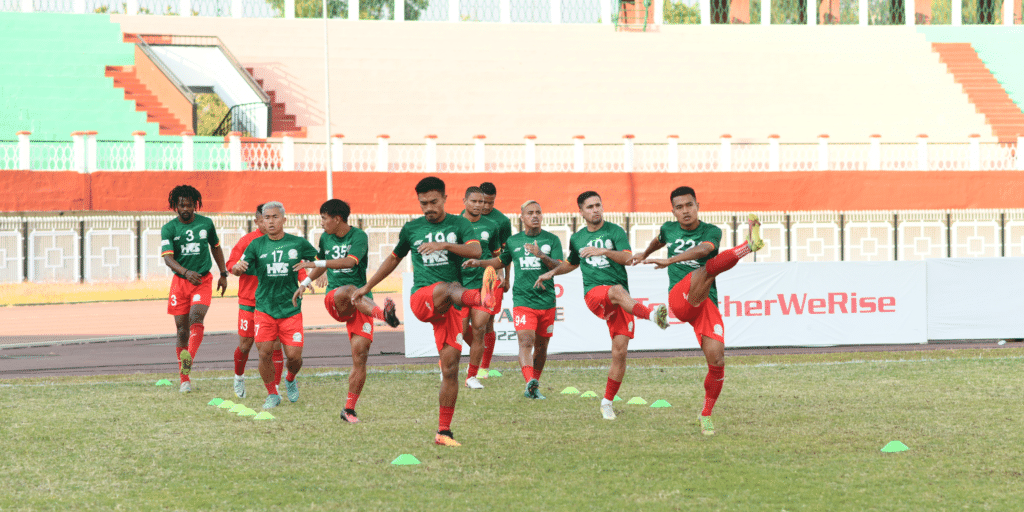 After a disastrous outing in Delhi, Tiddim Road Athletic Union (TRAU) have returned to the Khuman Lampak Stadium to host Real Kashmir in the Hero I-League 2022-23 match on Sunday, February 26, 2023. The kick-off is slated for 2 pm IST.
In their previous game against the bottom-placed Sudeva Delhi, the lack of performance in away matches continued for TRAU as they suffered a 1-4 defeat, bringing them down to fifth position on the points table. However, a win against Real Kashmir will take the Red Pythons back to third place.
Addressing the media at the pre-match press conference, TRAU head coach Leimapokpam Nandakumar Singh talked about the game against Sudeva. He said, "it was a disappointing result in the previous game. We have to make sure it is not repeated again." Nandakumar Singh believes his team have shaken off its recent defeat and are ready for tomorrow's game. "The preparations are going well, everything is good and the team is ready to face Real Kashmir," he said.
The TRAU midfielder Bikash Singh Sagolsem added to his coach's comments. "It's another game for us and we are mentally strong. We will maintain our style of play and we are ready for the game tomorrow," Bikash Singh said.
The Real Kashmir head coach Gifton Noel-Williams has managed to remain unbeaten in his first four games. However, this will be his first challenge away from home. Before the English Manager was given the charge of the Snow Leopards, they had a torrid time on the road. Out of eight outings away from home, Real Kashmir so far have managed to win just once. Interestingly, the only away win this season came at the same venue when Real Kashmir recorded a 1-0 victory against TRAU's city rivals NEROCA back in November.
"The atmosphere is good, we are unbeaten in four games and the boys are really confident. Everyone is excited about the game. Hopefully, they are ready to give their 100% tomorrow," Noel-Williams said.
On facing TRAU away from home, Noel-Williams believes it is just like any other challenge and he expects his players to give everything on the pitch. "I see it like any other game. Sometimes you win the game, sometimes you lose but I know for sure that all the players will give 100%," the English manager said.
The match between TRAU and Real Kashmir will be telecast live on Eurosport and Doordarshan Sports and streamed live on the Discovery Plus OTT platform at 2 PM IST.
For more updates, follow Khel Now on Facebook, Twitter, Instagram, Youtube and join our community on Telegram.