The tactician also reflected on how the team can use this moment to build for future success.
Juan Ferrando's ATK Mohun Bagan lifted the 2022-23 Indian Super League (ISL) playoffs title after winning the final against Bengaluru FC 2-2 (4-3). The Mariners had to undergo lots of ups and downs in a thrilling finale at the Fatorda Stadium, Goa.
Dimitri Petratos gave his side the lead through a composed penalty in the 14th minute, before Sunil Chhetri equalized through a penalty late in the first half. Roy Krishna scored a brilliant header to make it 2-2 in the 78th minute and it looked like the game was won.
But Petratos scored another penalty seven minutes later to force extra time. With nobody able to score in extra time, a penalty shootout took place – with Vishal Kaith making a key save to help them to the ISL title.
Ferrando hails ATKMB's character in final win
Juan Ferrando was delighted for his players to win the trophy and hailed their show of strong character in the game, saying: "The team had one plan, which was tactical, but in difficult moments the players often had big problems – so we tried to change the plan all the time."
Pritam, for example, had to play centre-back and even move to left-back at times. In the end, the players decided to fight – through the season – not just today. Be it against Bengaluru away, Jamshedpur away. They showed great character and good motivation to improve. Of course, we need to improve but you need this character to excel."
What he thought after Krishna's goal and combating Bengaluru system tweaks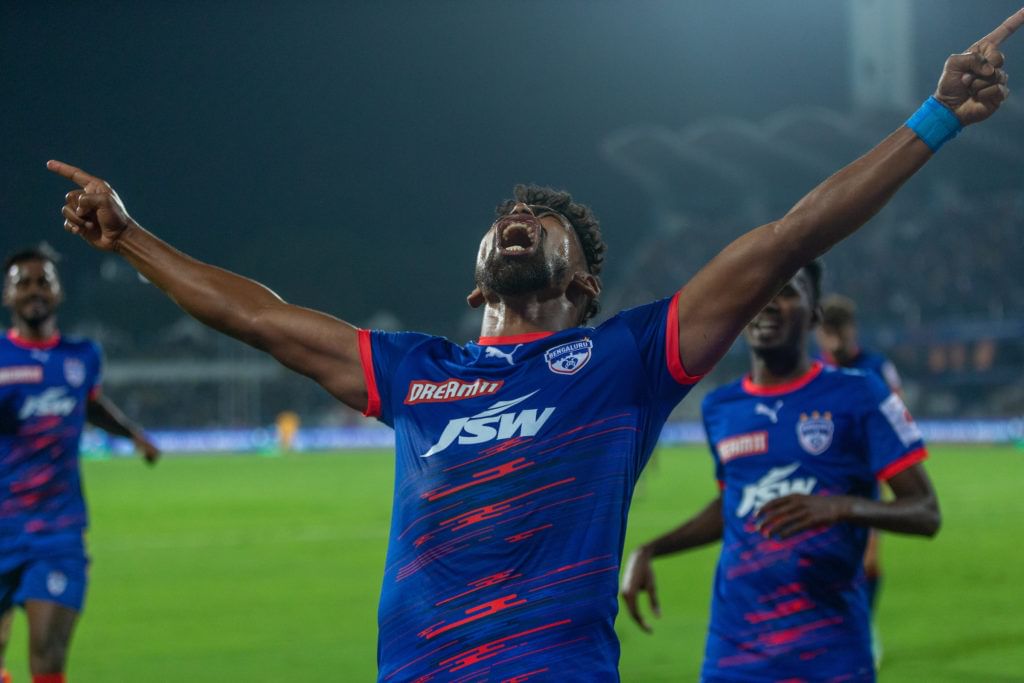 When asked about what went through his head after Krishna's goal and how he changed things up to avoid disaster, the Spaniard explained: "We thought that we had 10 minutes in front of us and we needed to change the system. We made substitutions to change the plans. We got the second penalty, but we worked to change the match.
Today we played against a team with a lot of experience, Chhetri being one. They won the Durand Cup, they won the second leg against us. They won a lot of matches. So for us, it was a very difficult match, because for us it was a case of going up and down. But we controlled the plan, we tried to change plans and today the most important thing is that players trusted in my process. I'm happy for the character of the team."
Speaking about how he changed his system to combat Bengaluru's switch in formation to a 4-3-3 in the second half, the ATKMB gaffer Juan Ferrando explained: "The most important thing for me when playing against Bengaluru is to win the second ball. Sometimes when they try to find Roy or Javi, it's a danger. But if you can win the second ball, then it gets easier. If you see their chances, it's because we couldn't win the second ball.
"We kept the ball and found spaces a lot of times. It's not about who is better. In their second league game against us, they played the second ball and Javi played at an incredible level. It's difficult because when you play against these teams, you need to practice. Our last match was Monday, so we only practised for three games for this. But we are happy because we are the champions," Juan Ferrando further stated.
Juan Ferrando's rant on his critics
Juan Ferrando gave a lengthy rant when questioned on this win being the ultimate way to shut up his critics and doubters. He stated: "I never waste energy on them. The people don't know what happened in the dressing room, what happened in training, what happened with injuries and the emotions of the players. Here some people lost their father, they had their wives in the hospital, and they lost grandfathers but their motivation to perform was never hindered. Sometimes they got tired and received a lot of stupid hate, but for me, it was always to forget about losing energy.
"The people who criticize are the ones who watch TV and write about it. They know nothing about the day-by-day operation of a club. I'm scared because this squad have players with great future, but some people don't know about that sometimes. It's not good to attack them, if you like it or not, it's to respect the process.
Everyone wants to win trophies but believes in the process. Tomorrow we'll have the same mentality, about some critics demanding changes, but for me that isn't important. What is important for me is the dressing room and using my energy to improve them," he also added.
Plans for Super Cup and winning ISL in Goa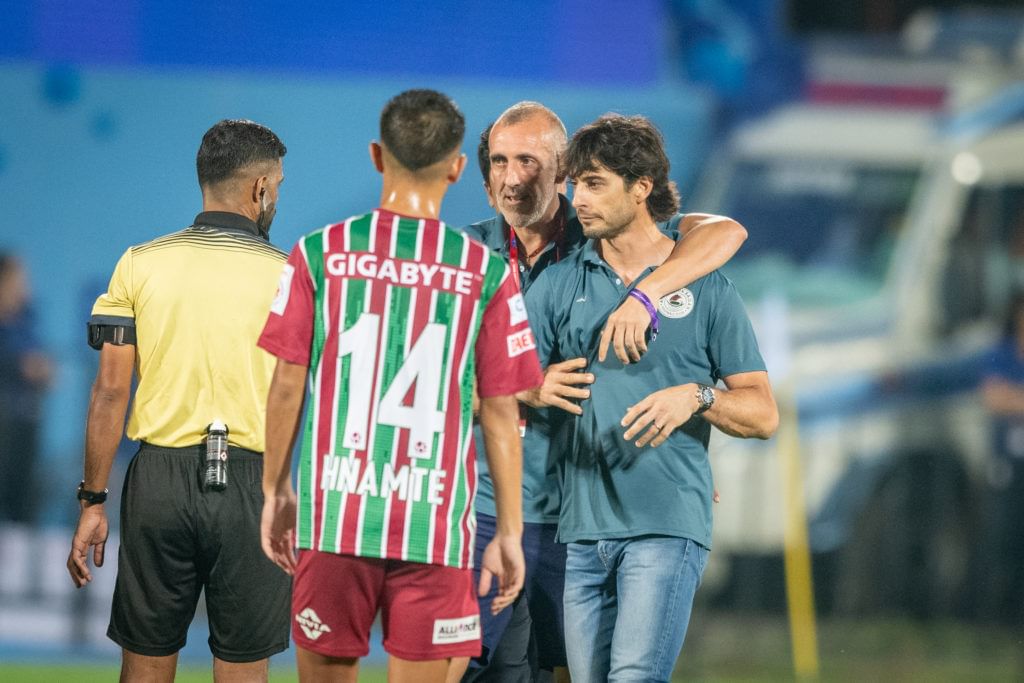 The Spaniard also revealed plans for ATKMB to prepare for the Super Cup, saying: "Everyone right now is happy. But the players know that we'll need to talk about winning the Super Cup from Monday onwards. This is the reason why I'm here. We'll try to do our best and win the Super Cup. We're here for this reason, which is to win trophies. But we'll discuss that on Monday, they can have fun before that."
Juan Ferrando is also very happy to win his first ISL trophy in Goa, where he started his career in the division. He quipped: "I have very good friends here in Goa. I worked happily here for a year and was very happy, I only had problems with two people. I know the media and some fans talked bad about me, but I forget all that. I'm happy because this club trusted my process, so I'm working to improve them. In Goa, there are very good people and I'm happy to win here. A lot of people came to my hotel or here to say messages, so I'm happy for this reason.
How Ferrando plans to celebrate this win and deal with incoming pressure
When asked about how he plans to celebrate this win, the Spaniard simply revealed: "The plan is to take a shower, eat something and go back to Kolkata. We don't know how we'll celebrate. I just want to rest. I think it's possible to reach Kolkata and sleep more than five hours. That is my dream."
Juan Ferrando isn't afraid of pressure on him increasing after this success, as he said after the game: "It's part of football, pressure. For me, pressure is when the players aren't improving or don't understand my concepts. That is all in my hands. It's very important for me to control things, be it tactical stuff, or training about the emotions of my players, these are something I can control. I can't control how some people write in social media against me. It's impossible to reply to 1000 people."
Do Spanish coaches have special touch for wining ISL titles?
Finally, Juan Ferrando shushed aside claims that Spanish coaches have a special link to the ISL – as he becomes the latest one to guide his side to a title. He explained: "I never talk with Spanish people about this. I'm here to support my players, and prepare the process and the methodology. I'm happy because the people close to the club trusted me in difficult moments. The players worked to do their best. I'm happy with that. It's good that we won the final.
"We can now take a breather and then also look to improve on a lot of things from tomorrow. I never think about two Spanish coaches winning this trophy and I need to win it. I never think like this. I only think about how we can improve things day by day because the players need to improve, the support staff needs to improve and of course, me, as the head coach, need to improve," the Spaniard finished off with.
For more updates, follow Khel Now on Facebook, Twitter, Instagram, Youtube and join our community on Telegram.