These three duels will ensure who will come out as the winners.
Bengaluru FC aims to book a place in their third Indian Super League (ISL) final when they host Mumbai City FC at the Sree Kanteerava Stadium on Sunday. The Blues withstood a storm to come out with a precious 1-0 win from the first leg. However, that does not mean the job is over.
If the Islanders' dominance in the league stages proved anything, it's that they can be at their devastating best in any stadium. They are not daunted by the task of playing away games and actually thrive under pressure. That is why the Blues have to be even better to survive another onslaught and fight their way to the final.
Like the first game, this one is also expected to be a competitive affair. Bengaluru performed as a solid unit in that one, but a few individuals played a big role in their win. Similarly, some of their biggest stars will need to thrive again.
With both teams boasting quality players all over, this second leg will also be all about the battles on the pitch. There are some game-changers in both Bengaluru FC and Mumbai City. That said, let's look at the three key battles for the game.
3. Lallianzuala Chhangte vs Naorem Roshan Singh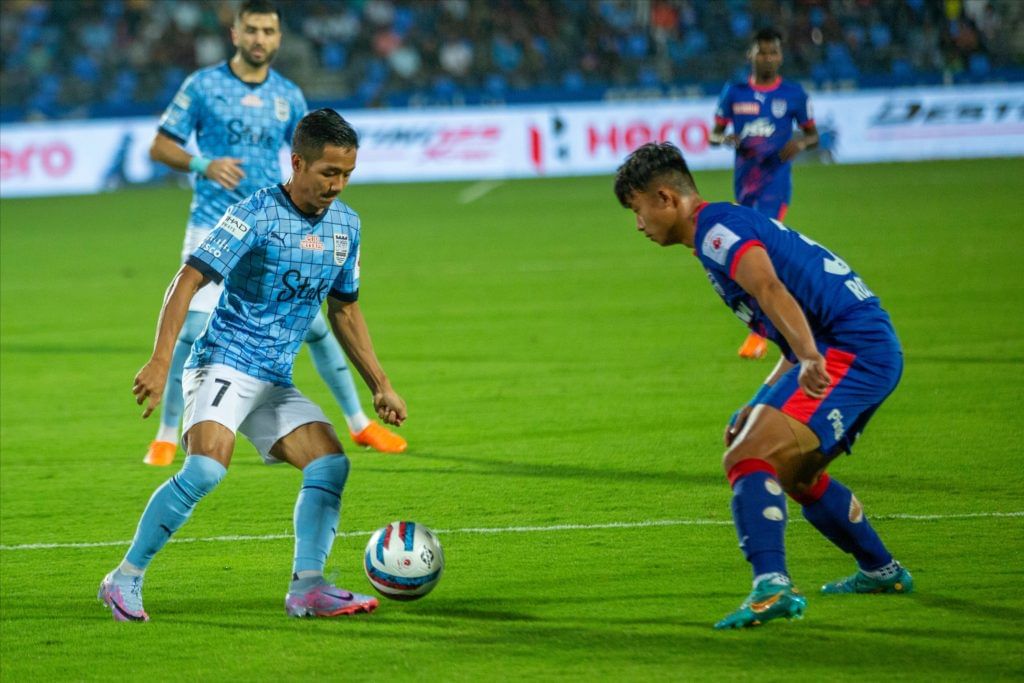 Lallianzuala Chhangte has arguably been the most prolific Indian player in the ISL this season. However, he was frustrated by a sturdy Bengaluru FC side in the first leg. Chhangte wasn't able to test Gurpreet Singh Sandhu and got very little space to create chances. Naorem Roshan Singh kept his national teammate tightly locked and was extremely proactive. However, one bad game won't put down Chhangte.
With 10 goals so far, he's proven himself as an attacker this season. He isn't one to be pegged down by adversity and must've learnt from his mistakes in the last game. The winger will aim to torment Roshan with his movement and outwit him by changing up his maneuvers for this. Singh can't expect this to be easy sailing and will expect a different challenge.
While he'll need to defend strongly, Roshan will also be expected to assist in attack and torment with his set-pieces. Similarly, Chhangte must track back and fulfil his defensive duties – while also looking to cause chaos with his pace and final product. This battle between two of Indian football's most exciting talents is set to be thrilling for all fans.
2. Roy Krishna vs Mourtada Fall
Roy Krishna has locked horns with Mourtada Fall several times in the ISL and their battles often tend to be really fiery. The two somewhat cancelled each other out in the first leg, with Fall arguably getting the better of Krishna. But Krishna has that bulldog-like mentality that keeps him going and gunning for better things with each game. He's formed an impressive partnership with Sivasakhti Narayanan and brought a lot of energy to Bengaluru's attack. Krishna's experience has served him well over the years and he'll aim to use that to his advantage on Sunday.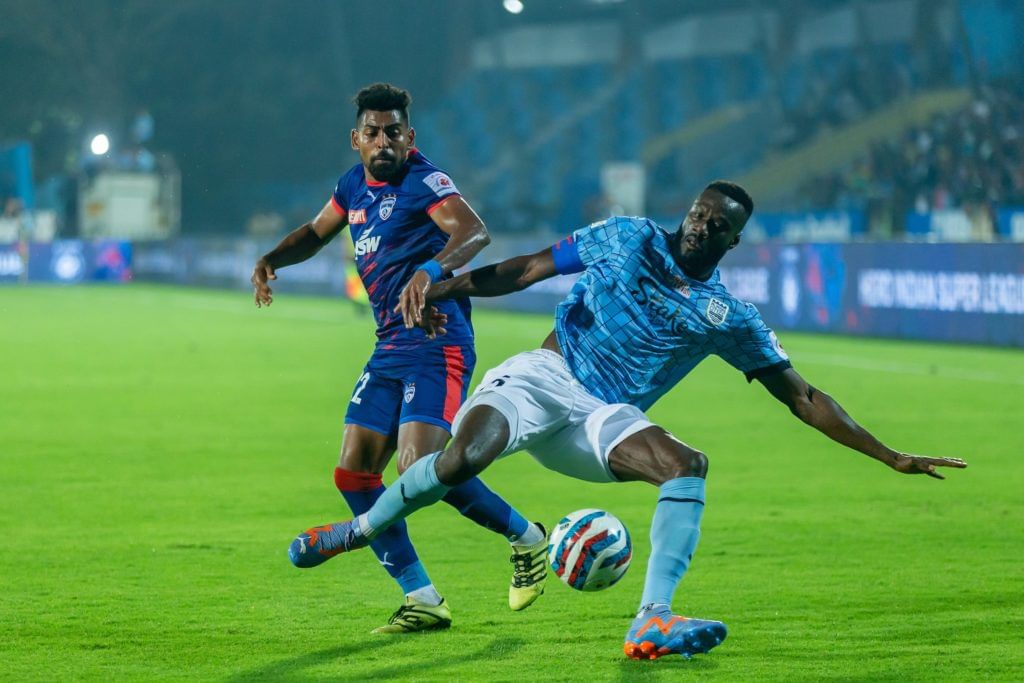 The Fijian striker's clever off-the-ball movement and impressive link-up can trouble anyone, as he looks to use that to unnerve Fall. He'll also aim to beat his marker better to get into key scoring areas and get more shots on goal. Mourtada, however, seems to like playing against Roy.
He'll want to continue his work from the last game and neutralize Krishna's threat with his aggressive style. This cat and mouse chase between the two can often lead to entertaining football. It'll be thrilling to see how these two experienced ISL stars try to get on top of each other in the upcoming game.
1. Jorge Pereyra Diaz vs Sandesh Jhingan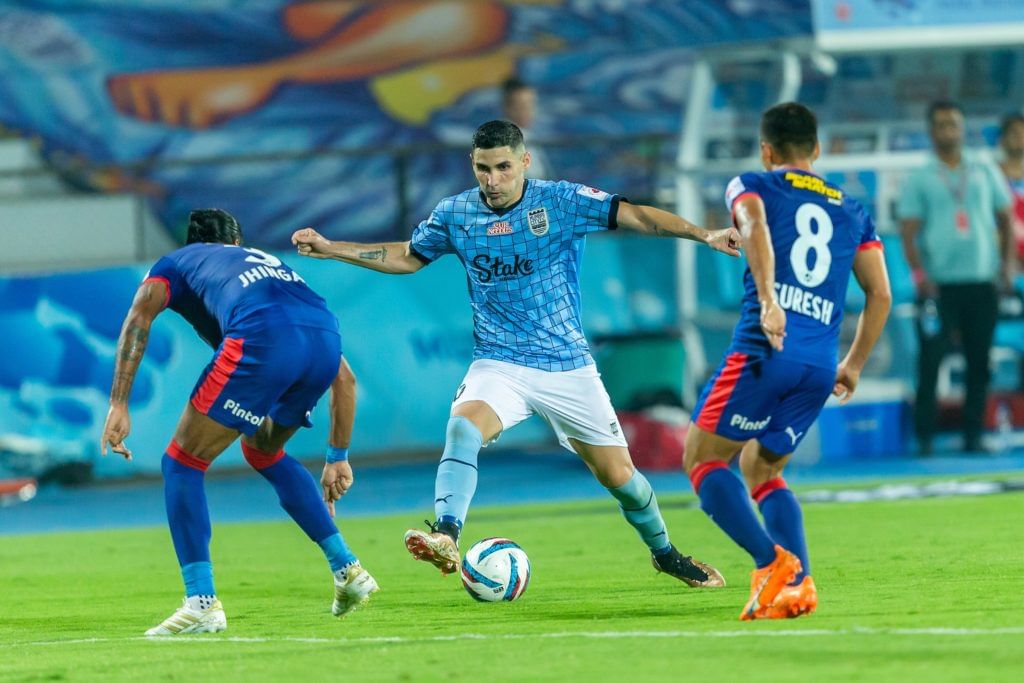 Jorge Pereyra Diaz has proven himself as the all-around ideal striker for Mumbai City FC. However, he was frustrated in the last game. While his build-up play was really good, with the Argentine creating three chances, he hardly had a go at Bengaluru FC's goal. Sandesh Jhingan put in a memorable shift at the back, impressively neutralizing the goal-scoring threat. Round Two should be a decisive one between these two.
With 11 goals this season, Diaz has been among the ISL's most prolific players. But Jhingan is among the cream of the crop in the league. The Mumbai City forward will probably need to tweak his style a little to drag Jhingan away from his comfort zone. That could mean moving around in a variety of areas and being extremely alert to potential opportunities in the final third.
Jhingan is a vastly experienced figure who knows how to thrive under the pressure of such major ISL playoff games. He's well aware that letting Diaz off the hook could unleash a nightmare on his side. Jhingan will need to be at his most focused and sturdiest form to keep Diaz from threatening his goal and shut down a major goal outlet for the visitors.
For more updates, follow Khel Now on Facebook, Twitter, Instagram, Youtube and join our community on Telegram.