Indian Football Team
Manvir Singh: AIFF should organize friendly matches in many other states
By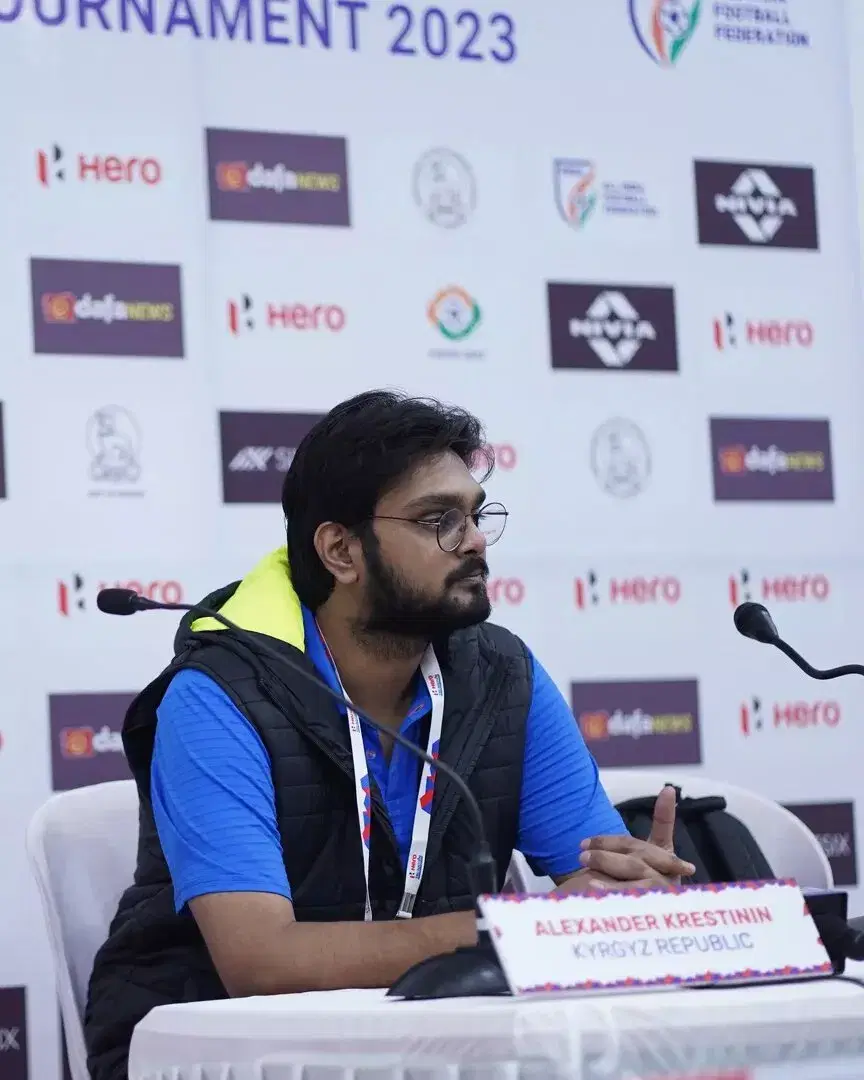 Sattyik Sarkar
The player spoke about his learnings from Igor Stimac, more venues for national team games and his recovery from injury.
The Tri-Nation tournament was an unlucky stint for Manvir Singh in national colours. Currently down with an ankle injury, he won't be able to play in the last game of the Tri-Nation Friendly Tournament. Moreover, a day prior to the fixture, he was sitting on the sidelines and didn't train with the squad too!
Khel Now had the opportunity to have an exclusive chat with the stalwart. Excerpts are below.
Differences between Stephen Constantine and Igor Stimac
Ever since his international debut in 2017, Manvir Singh has played under coaches like Stephen Constantine and now Igor Stimac. When asked about the differences between the style of both coaches, Manvir Singh said, "Every coach has his own style. Stephen had a different style, Igor has a different one. I'm happy with both coaches. They preferred hard work. Whoever works hard, will get a chance to play. That's the main thing for me; to do more hard work."
Learning from Igor Stimac
Igor Stimac joined India back in 2019 and has remained as the head coach since then. The right winger shared with Khel Now, what he has learned from the Croatian maestro, "Stimac has taught us to play more with the ball. To have more ball possession and go for attack."
Impression of the debutants
In the first game against Myanmar, three newcomers took the pitch. Mehtab Singh started in defence, and in the second half, Naorem Mahesh Singh and Ritwik Das joined the action.
Manvir Singh spoke about the debutants, "The new players played well in the ISL, so they got a chance to don the national colours. They have come in and trained hard and earned their spot in the team."
National team games in other states
This was the first time Manipur hosted international games despite being a breeding ground for numerous top-notch footballers. But, should AIFF consider organizing games in other states, where football is not that popular?
Manvir Singh agreed, "Of course, AIFF should organize these matches in many other states. Fans will come to the stands when they have something to see. It was jam-packed here in Manipur. Locals love the game. It's good for us because it motivates us. AIFF should consider organizing more such games so that people come and watch us."
Sleeping crowd in Manipur?
After the Myanmar game, Igor Stimac stated that the crowd was sleeping. This statement from the boss welcomed criticism from the Indian football pundits and fans. The 27-year-old shared his view, "If we perform well, fans will cheer. If they are impressed by our style of play, they will cheer us. We'll try to do our best in the next match and hopefully they'll fill the stands again and cheer us."
Motivation during the rehab period
As mentioned earlier Manvir is currently injured and won't be featuring against Kyrgyz Republic. During such injuries or rather the rehabilitation period, how does he keep himself motivated?
"Injuries are part of life. I was injured during the ISL as well and couldn't feature in eight games. But I am training off the pitch, hitting the gym, with the support of the medical team. Currently, I am working for them. Hopefully, I'll recover soon and be back on the pitch," he concluded.
For more updates, follow Khel Now on Facebook, Twitter, Instagram, Youtube; download the Khel Now Android App or IOS App and join our community on Whatsapp & Telegram.
posted in :