The French tactician has had a history of failed transfers from his time at Arsenal.
As far as Premier League greats go, it does not get much bigger than Arsene Wenger. The former Arsenal manager shaped some of the most attractive teams to play the English game since the turn of the century. Over his 22 year-long spell at the club, he oversaw a number of quite revolutionary transfers. The likes of Thierry Henry, Robert Pires, Patrick Vieira and so many more have gone on to become gunner legends. 
However, it is very well documented that Arsene Wenger had often missed out on a number of targets who then went on to become true global superstars. We bring you a line up of those players who Arsene Wenger 'Almost Signed.' 
GK – Gianluigi Buffon
The evergreen Juventus shot-stopper has truly been one of the best players in his position for over two decades. With a mammoth 10 Serie A titles, a French league title and even a World Cup, Buffon will go down as a true legend of the game. 
The Italian began his career at Parma, before making the move to Juventus in 2001. It was later revealed that Arsene Wenger had tried to sign the keeper in 1998, even going so far as to have a meal with him. However, it was not to be and Buffon went on to make history in Italy.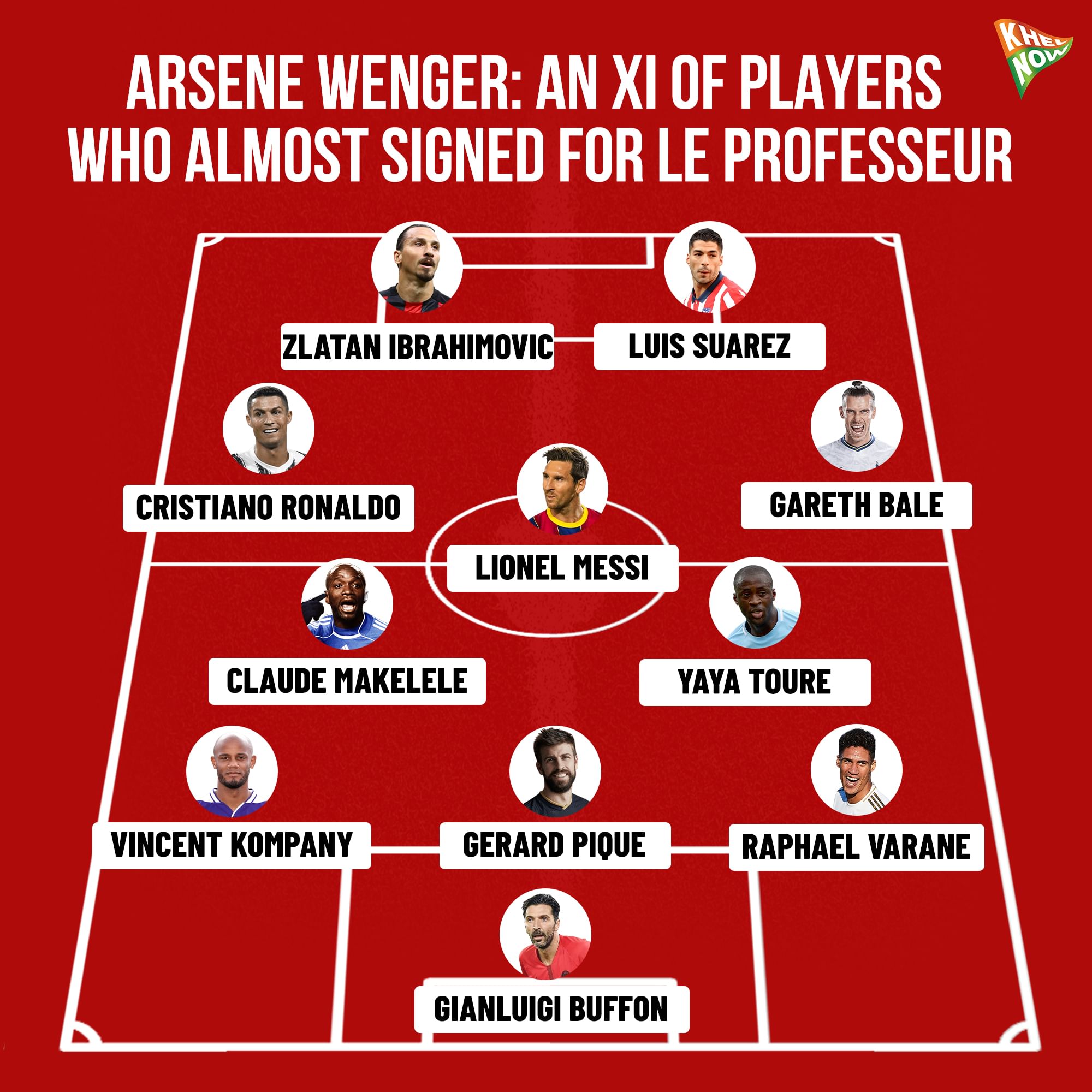 CB – Raphael Varane
Over the Wenger's years in charge of Arsenal, the gunners brought in a glut of French talent. With his connections in France, Wenger had a knack of picking up the best of the best from the French leagues and turning them into superstars in London. One such talent that the Frenchman could never quite get hold of was Raphael Varane. The defender has gone on to establish himself as one of the best defenders in world football, with a massive four champions league titles to his name.
Wenger has come out and expressed his regret at not being able to get ahold of the defender, during his time at Lens, despite his best efforts.
CB – Gerard Pique
In the summer of 2003, Arsene Wenger pulled off one of his most famed transfers, in bringing a 16-year-old Cesc Fabregas to Arsenal from Barcelona. As a part of this deal, Wenger also tried to include Gerard Pique, an erstwhile Manchester United target. However, it was not to be. The Spaniard chose Old Trafford where he spent four seasons before returning to Barcelona where he won a massive seven league titles in addition to three Champions Leagues. 
CB – Vincent Kompany
Before the Manchester City legend made his historic move to the Etihad Stadium in 2008, the defender was in huge demand around Europe. The likes of Real Madrid, Barcelona and Arsenal were vying for the youngster's signature.
However, despite meeting with Arsene Wenger at the Arsenal training ground, Kompany decided that he did not want to be a squad rotation player. His quest for first-team football took him to Manchester City and the rest is history.
CM – Yaya Toure
Yaya Toure, the brother of Kolo, an integral part of several Arsenal sides, underwent a trial at Arsenal in 2003. The Ivorian midfielder even went so far as to play a pre-season friendly for the Gunners. 
Wenger believed that he had an agreement with the youngster. However, the deal fell through in the final stages due to issues with a work permit. Toure would then move on to Metalurh Donetsk in Ukraine before moving to Barcelona and then finally to the Premier League with Manchester City, where he won three Premier League titles. 
CM – Claude Makelele
The LaLiga, Premier League and UEFA Champions League winner Claude Makelele takes his place in midfield amongst our XI of players that Arsene Wenger 'Almost Signed.' In 1996, Wenger had just completed the singing of Patrick Vieira and not longer was offered the services of Ligue 1 winner, Claude Makelele. Wenger opted against signing the diminutive Frenchman who would go on to have a glittering career, in order to afford Vieira more playing time. 
Arsene Wenger himself admitted to having missed out on Makelele in 2006. 
CAM – Lionel Messi
In the summer of 2003, when Wenger managed to prise Cesc Fabregas from Barcelona's clutches, he tried to do the same with a certain diminutive Argentinean named Lionel Messi. However, unlike Fabregas, Messi never pushed for the move, opting to stay at Barcelona. He went on to become arguably the greatest player of his generation. He takes his place as the number 10 of our side. 
RW – Gareth Bale
Before Gareth Bale's move from Southampton to Arsenal's North London rivals, Tottenham, the erstwhile left-back was extensively scouted by Arsene Wenger.
However, the Frenchman decided against going for the Welshman as Arsenal was stacked in the left-back position. Little did he know that Bale would soon grow out of his left-back role and into one of the most devastating forwards in recent memory. Wenger admitted to having made a mistake years later, claiming that Arsenal had no need for another left-back, with Gael Clichy and Ashley Cole already at the club. 
LW – Cristiano Ronaldo
If Arsene Wenger ever had a one that got away, it would be Cristiano Ronaldo. At 35, Ronaldo still takes the world by storm every time he steps onto a pitch and will go down in history as one of the best players to grace the beautiful game, if not the greatest ever. During the winger's early days at Sporting Lisbon, he almost signed for Arsenal, before his Sporting side played a pre-season friendly against Alex Ferguson's Manchester United. Not long after, United hijacked Arsenal's deal and signed the player who would propel them to their third Champions League triumph years later.
Ronaldo himself confirmed that he was close to signing for the gunners, in an interview with Piers Morgan, in 2019. 
ST – Luis Suarez
One of the most bizarre transfer stories in English Premier League history is that of Luis Suarez and Arsenal. The Uruguayan striker was pulling up trees at Liverpool, almost scoring at will. Unbeknownst to most, Suarez had a release clause of £40m in his contract. On hearing of this clause, Arsenal did not waste time in bidding £40m + £1, in a move that was audacious and comical in equal parts. Liverpool's owner laughed off their approaches with the now-classic line, "What do you think they're smoking over there at Emirates?". 
Suarez eventually moved to FC Barcelona where he won numerous personal and team accolades. 
ST – Zlatan Ibrahimovic:
Rounding off our team is the Swedish legend, Zlatan Ibrahimovic. At 16, Wenger asked the striker to trial with the club. However, as we all know, "Zlatan doesn't do auditions." The headstrong Swede moved from Malmo to Ajax and then to several clubs in Italy and Spain before finding his way to England with Manchester United. 
Zlatan will go down as one of the biggest players that Wenger has missed out on and takes his place as the eleventh and final member of our squad. 
For more updates, follow Khel Now on Twitter and join our community on Telegram.