The midfielder impressed in his first national team start at a major tournament.
With a 0-1 win over the Czech Republic, Gareth Southgate's England topped their group to qualify for the UEFA Euro 2020 knockout rounds. Raheem Sterling's second goal of the tournament from a Jack Grealish cross was enough for the Three Lions to seal things off at Wembley.
England, unlike the game against Scotland, were on the front foot from the initial minutes. Bukayo Saka and Jack Grealish, starting for the first time in this tournament, were pivotal to England's improved tempo. Grealish, in particular, set Sterling up for a header to finish a move that Saka started from midfield.
Southgate will be cautious about his team selection in the knockout rounds with plenty of talent in his deposition. Jack Grealish, in particular, will be attracting all the attention (alongside Jadon Sancho) in this regard for England.
Jack Grealish – impressive as ever
After coming on as a substitute against Scotland, Grealish was given a start against the Czech Republic. Given a chance after Mason Mount's exclusion, Grealish impressed with his performance yet again.
The midfielder played the biggest role in England's fluid and penetrative gameplay in the first half. Operating as a No. 10, he made runs and created space for Raheem Sterling to run into on the left flank. Grealish caused havoc in the opening minutes and drew two quick fouls, which were indicative of the Czech defence's struggles in dealing with him.
The midfielder's abilities were on display as he assisted the only goal of the match. Grealish's movement in the box and the lofted pass to Sterling added the much-needed finishing touches to the sequence that led to the goal. Despite going out in the 67th minute, Grealish was one of the most influential players for England.
What Grealish brings to Southgate's system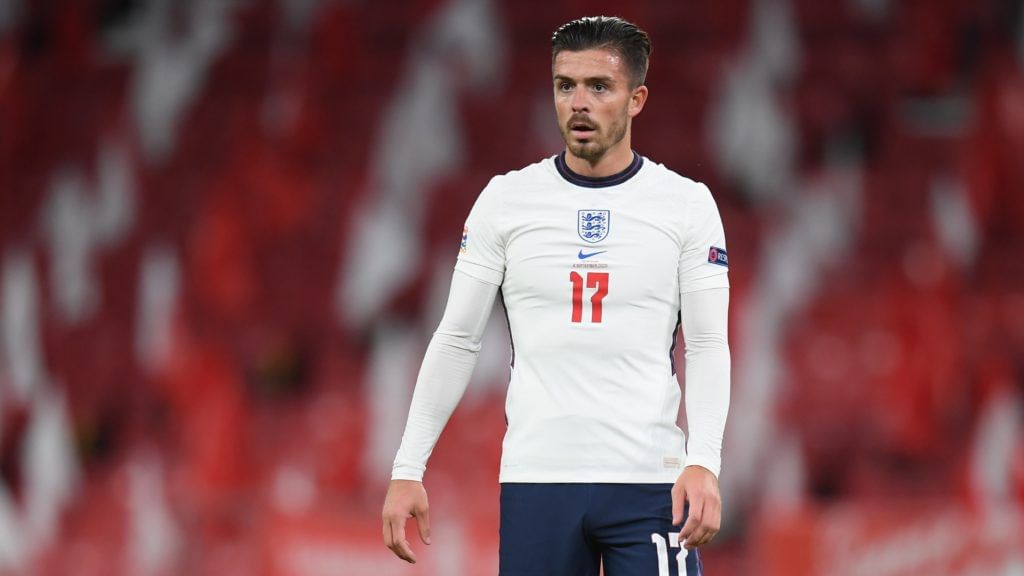 From England's three matches in the group stage, it is clear that both Declan Rice and Kalvin Phillips are starters in this system. Although Phillips adopts a relatively advanced position, the No. 10 role is vital for creating chances. Gareth Southgate has used Mason Mount and Jack Grealish in this position so far.
Grealish's capability to dribble, create chances and make progressive runs ticks every box to thrive in this position. In particular, the Aston Villa playmaker is exceptionally good at carrying the ball forward. He averaged 12.02 carries per 90 minutes for Villa last season, better than 98% of attacking midfielders and wingers in the top five European leagues.
If we scrutinize it further, Grealish averages 3.75 carries into the final third and 2.79 carries into the penalty area per 90, ahead of 99% of the above-mentioned category of players. In a side that has a finisher like Harry Kane, Grealish stands out to be the provider for Kane's finishes.
In addition, Grealish's ability to make runs contributes to the overall fluidity and tempo of England's play. His ability to progress the ball and play in pockets can be vital to bypassing multiple lines and drawing out players to create space.
Why Grealish will be vital in the long run?
As mentioned above, Southgate's rigid contenders for the No. 10 position have been Mount and Grealish thus far. Although these two players bring much-needed creativity to the side, their profile varies distinctively.
On one hand, Mason Mount is a natural midfielder, who likes to create via passes. Mount's prowess lies in splitting defenses with his passes as well as moving to receive passes in space. On the other, Grealish is more of an attacking midfielder who likes to run and dribble with the ball.
Grealish offers vertical passing and quickness in this regard. Gareth Southgate can divide the minutes between these two, to make sure England can create consistently in the upcoming matches.
In addition, England's tendency to defend their lead by retaining the ball in the second half suits Grealish. He is more press-resistant, contributing to the ball retention that Southgate demands. The ability to pass under pressure, in addition to not being dispossessed, is always a plus for Grealish.
As seen in the Czech Republic match, Grealish can offer a goalscoring threat regardless of the situation of the match. The midfielder typically averages more than five shot-creating actions per 90, making him a serious contender to start, or to at least come off the bench for a good chunk of the second half.
For more updates, follow Khel Now on Twitter, Instagram and Facebook.