Quick Reads
Is Fernando Santos holding the Portugal national team back?
By

Kaushik
(Courtesy : Bleacher Report/ESPN)
The Navegadores failed to gain direct entry into the 2022 FIFA World Cup.
International football still remains a cut-throat business despite a dip in its popularity. In that regard, although the head coach's job remains relatively more secure than those of their club counterparts, it doesn't come without its challenges.
This is the situation that currently faces Fernando Santos and his tenure with the Portugal national team. Without a doubt, the 67-year old is one of the most successful coaches in International football and the most successful with the Selecao. The UEFA Euro 2016 title and the inaugural UEFA Nations League title in 2018 add gloss to his resume. He also helped them finish third in the 2017 Confederations Cup marking a golden era in Portuguese football.
But the challenges facing him and the team currently are huge. The Cristiano Ronaldo-led side faces the potential ignominy of failing to qualify for the 2022 FIFA World Cup. They lost to Serbia in their final World Cup Qualifiers group game. Therefore, Portugal can now qualify only through a playoff tie, set to be played in March. This comes just months after they bowed out in the Round of 16 stage at the Euro 2020.
But there is a bigger picture in this situation. Portugal has arguably its best squad in years but have been rather underperforming. Therefore, people are raising questions about the ability of Fernando Santos to get the best out of this squad. We try to analyze whether he is doing the same or is he falling short of getting this squad to reach the pinnacle of their potential.
Santos' tactical preference
Fernando Santos typically employs a 4-3-3 or a 4-2-3-1 formation. The former Porto manager employs his 4-2-3-1 formation while keeping a defensive setup.
This has typically been the case when Portugal play against big teams like Germany, France and Belgium in the Euro 2020. In the game against Germany, Portugal started in their usual 4-3-3 formation. But they quickly converted into a counter-attacking 4-1-4-1 formation once they took the lead. The defensive approach allowed Germany to attack and eventually run away with a 4-2 win.
A similar event occurred in their Round of 16 tie against Belgium. They started with a 4-3-3 formation once again but changed into a 4-2-3-1 to thwart the Belgian attacks. However, the plan failed as they ended up conceding and despite their best attempts, Portugal couldn't equalize.
It is evident that the 4-3-3 formation with a diamond midfield brings out the best of Portugal as a team. But Fernando Santos does go into a safety-first mode when playing against the big teams, a plan that has curtailed the attacking instincts of his team. Therefore, players have often felt disappointed with the defensive tactics employed by the tactician. It is also the case why they ended up losing to Serbia in the final World Cup Qualifiers group game, eventually failing to seal a direct spot at the World Cup.
Squad usage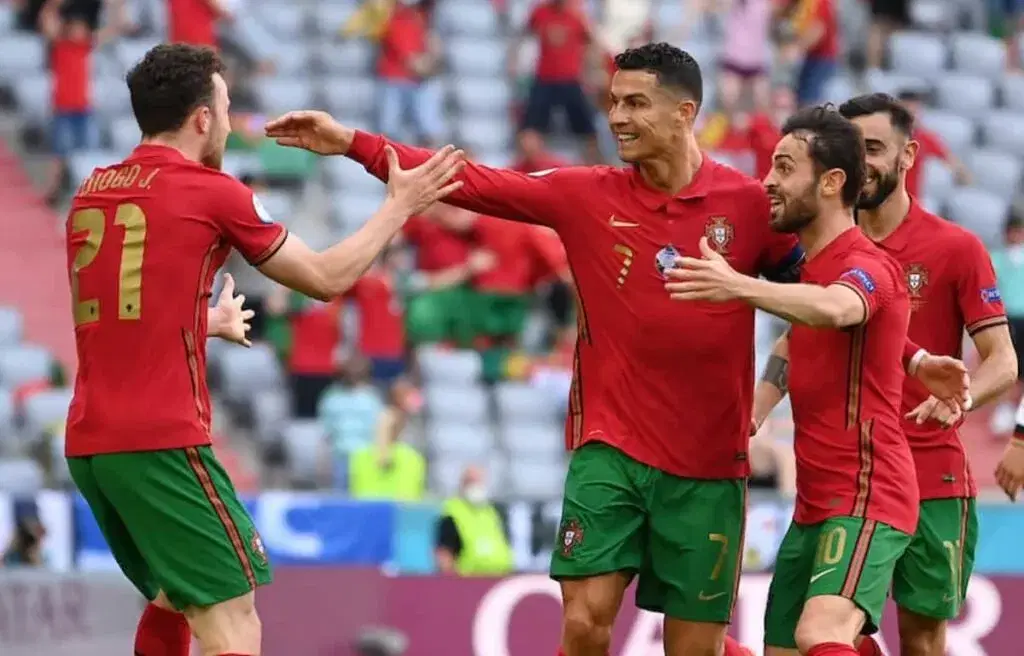 Managing the plethora of talent in the Portugal squad can be a challenge for any manager. But Fernando Santos has managed his players rather admirably.
He has handed out debuts to a many promising players and has developed an exciting and young core of stars. Add in the experience of Cristiano Ronaldo, Pepe and Joao Moutinho among others. The fact that today Portugal have such a strong lineup is down to how well Fernando Santos has ingrained his players into the team and helped them gel in with the other players. Raphael Guerreiro, Joao Felix, Ruben Dias, Diogo Jota, and Andre Silva are good examples in this case.
But on the other hand, Santos hasn't been able to create a settled lineup. While he has rotated around players well, he has made very few players immovable in his squad. This has, at times, hampered the flow of Portugal's gameplay especially in major tournaments and against big teams.
The frequent changes in his formations have also seen constant variations in Portugal's setup. Therefore, there is not much of a settled look to the squad. This could be another reason why Portugal struggle to keep their momentum going at times.
Are Santos' methods holding Portugal back?
It is rather unfair to lay all the blame on Fernando Santos for the recent results of Portugal. But the manager does deserve some claim for his team's performances. While Portugal haven't been overtly disappointing, their performance in the biggest stages have often left people wanting more from the 2016 European champions.
A squad brimming with talent and led by a player considered by many to be the greatest of all-time will definitely look to display a better account of themselves. It can be said that Portugal's performances in the last few years under Santos have been a bit below the radar. They are also flirting with danger with regards to the World Cup coming up next year. However, fans still expect Santos' side to qualify.
Portugal have to be aware of the dangers of missing out on the 2022 FIFA World Cup. It could very well tarnish and bring a sad end to the golden era in Portuguese football that Fernando Santos and this Portugal side under him have established since the former's appointment in 2014.
For more updates, follow Khel Now on Twitter, Instagram and Facebook.