The Blue Tigers face stiff competition with two tricky away trips to Afghanistan and Oman.
The club football phase of the season has come to a break for a couple of weeks. Various international teams will compete each other either in friendly encounters or in qualifiers of other major tournaments. The teams would play against each other in the FIFA WC Asian Qualifiers through which they could proceed to the AFC Asian Cup 2023 and the FIFA World Cup 2022 too.
Without further ado, we look at the five most gripping fixtures to look forward to over the next fortnight:
5. Afghanistan Vs India
Currently, Afghanistan are better placed than India on the points table, as they have secured three points from three matches. They were defeated by Qatar by a margin of 6-0 and then by Oman by 3-0. However, they managed to sneak in a victory against Bangladesh by a single goal. It ensured them three crucial points from that game.
India, on the other hand, began their campaign with a crushing late defeat against Oman. But, they managed to draw their next two games in the qualifiers. One can argue that after the morale-boosting result away from home against Qatar, the Indian side disappointed with their performance at the Salk Lake Stadium against Bangladesh. Igor Stimac would be eyeing three points from this match, nevertheless. Anything less than that would be considered as a damp squib for the Indian team.
The match would be played at the Pamir Stadium in Tajikistan, which is also known as the Central Republican Stadium.
4. Jordan Vs Australia
Australia and Jordan are pitted in Group B of the FIFA WC Asian Qualifiers. Both of them have been in an imperious run of form thus far. They are respectively placed in the top two spots on the table, with the Aussies having won all three of their matches. Jordan, on the other hand, have won twice, but had also engaged in a goalless draw against Kuwait and hence are two points behind the table-toppers.
The Australians have been bagging goals for fun instead, as they have already notched a mammoth total of 15 of them in their three encounters so far. Most recently, they rolled over Chinese Taipei 7-1, after just having gotten the three points over Nepal with a 5-0 win. Given the run of form they are in, Graham Arnold's side could be banked upon to secure three points in this game too.
King Abdullah International Stadium in Saudi Arabia would host this match on the 14th of November.
3. Syria Vs China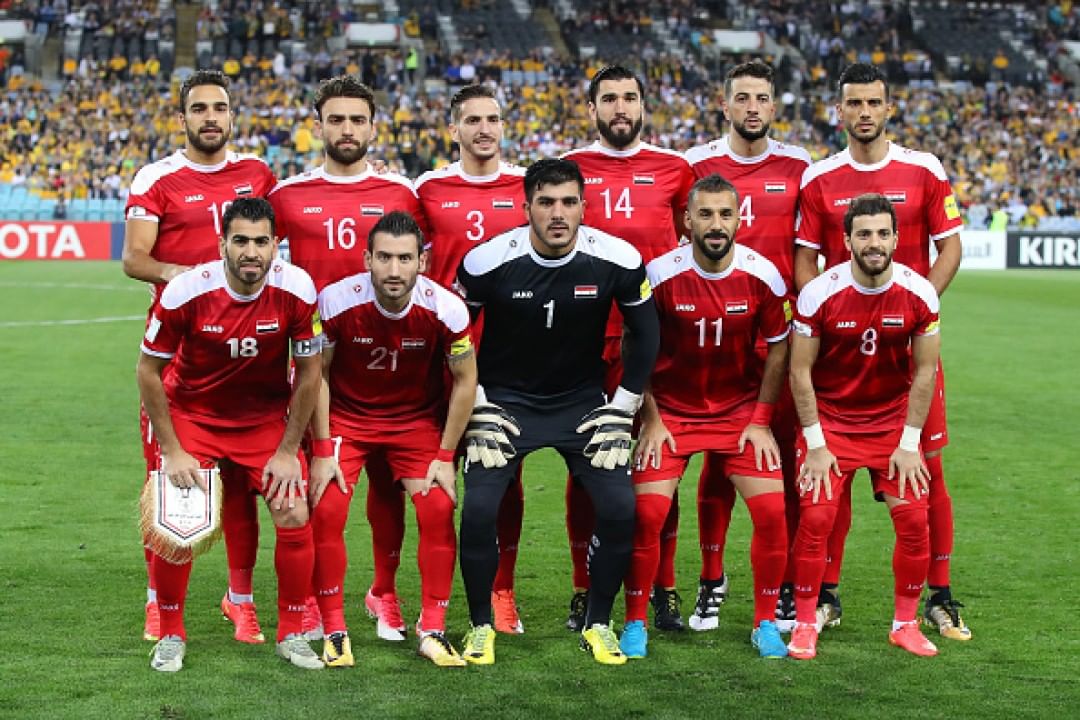 Syria have been flawless so far having won all three matches in the FIFA World Cup Asian Qualifiers
China have been nicking goals for fun so far, as they have racked up 12 in three matches, but one of those games ended in a goalless draw too. That was against Philippines, in their last international encounter before the club football season commenced. The most thumping of China's victories came against Guam, as they emerged from the  contest with seven goals to their name. Maldives fell prey to China's splendid form too, as the latter scored five goals in that game.
Syria have been flawless so far, with them having won all three matches in the Qualifiers, the latest of these coming against Guam by a margin of 4-0. Philippines and Maldives have borne the brunt of Syria too. Both teams have been on an impressive goalscoring run at present. Thus, it would be interesting to witness how they tackle each other.
Syria and China will play against each other at the Maktoum bin Rashid Al Maktoum Stadium, which is situated in Dubai.
2. Iran Vs Iraq
Iran were involved in one crazy encounter against Cambodia in one of their recent Qualifiers, as they actually piled up 14 goals in that one single match! Karim Ansarifard scored four goals and all the other players joined in to eventually leave the Cambodians in a shambolic state at the end of the game. Their other two results were rather forlorn though. Iran won against Hong Kong 2-0, but just after their magnificent victory over Cambodia, they were subjected to a 1-0 defeat by Bahrain.
Hence, they dropped down to the third spot in the points table, whilst Iraq are at the top, with two wins and a draw in their three matches. Iraq started their qualifying campaign with a 1-1 draw against Bahrain. But, they defeated Hong Kong and Cambodia by margins of 2-0 and 4-0 respectively. It is difficult to determine who could be relied upon as the favourites to win this match. Hence, one can expect an even encounter.
Basra Sports City in South Iraq would be the place where this encounter will be played out.
1. Oman Vs India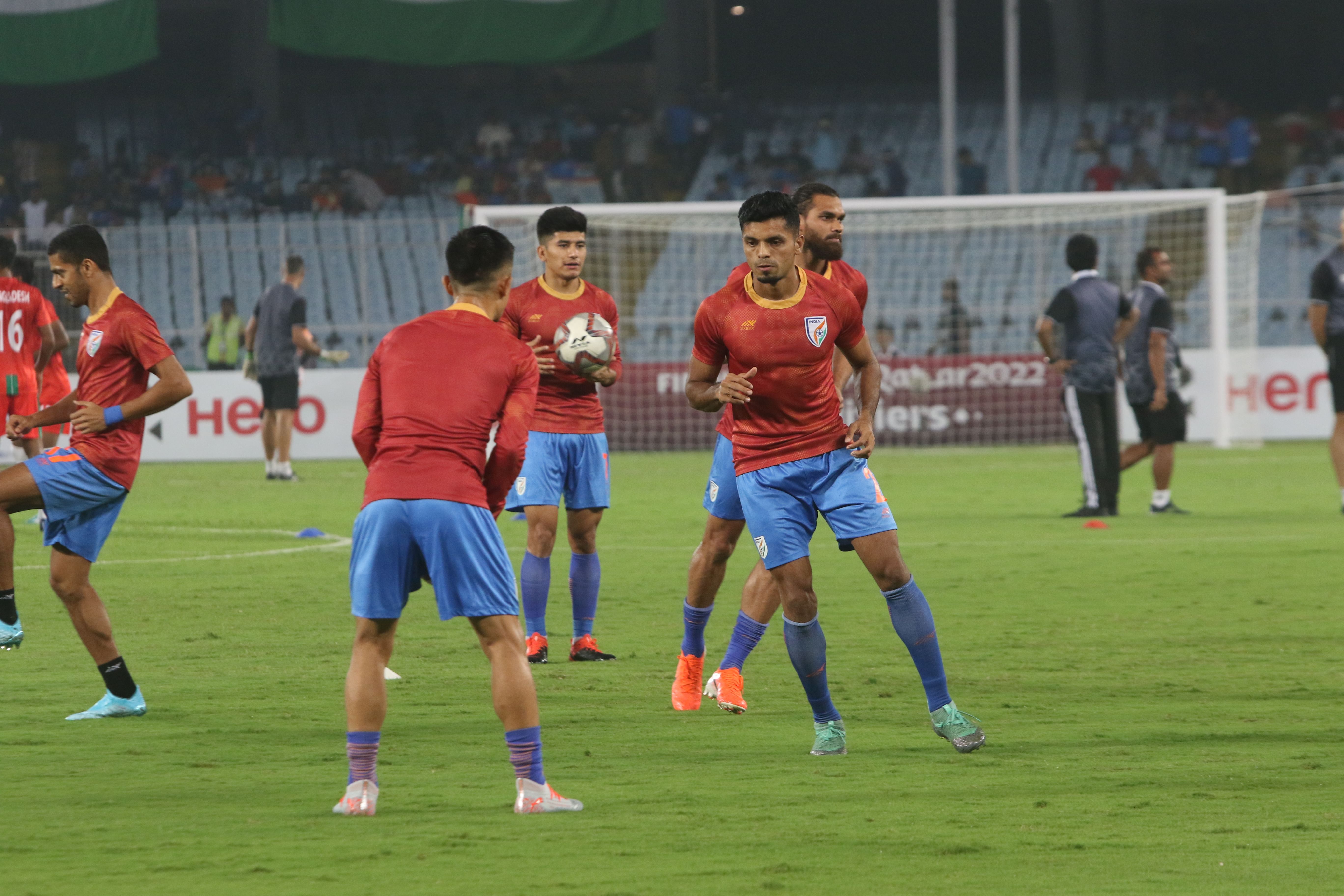 The Blue Tigers aim to attain the cherished three points in this particular match
India and Oman met once before in these FIFA WC Asian Qualifiers, in their very first game of this journey. In an extremely exciting fixture, skipper Sunil Chhetri had given a superb lead to the hosts.
However, the Indian shoulders had dropped by the fag end of the match, the energy levels and intensity declined. The Omanis made the home team pay for this through Al Mandhar Al Alawi in the 90th minute. That was a very dismaying defeat for Stimac's side. The Blue Tigers very nearly had the tempting three points in their sight against a quite difficult opposition.
Oman would start as the more favoured to win this match, especially considering that they have the home advantage. After the game against India, Oman won 3-0 against Afghanistan, but had to face defeat against Qatar too. Sitting second in the table, they are well in reach to qualify for the next stage. It wouldn't be an overstatement to say that the Indian team might just have to play out of their skins. After all they aim to attain the cherished three points in this particular match!
India and Oman would contest this match at the Al-Seeb Stadium.