The match of the week is at the Emirates where Arsenal take on Premier League champions Liverpool.
Fantasy Premier League: It was a week of surprising results as the battle for top four and relegation tightened with three matches left to play. Chelsea succumbed to Sheffield United while Leicester City got thrashed by AFC Bournemouth by a scoreline of 4-1. Manchester United had to settle for a point after Southampton's late-game heroics saw the match end in a stalemate while Tottenham came from behind to beat Arsenal. Liverpool's perfect record at home suffered a hit when they dropped points at Burnley while Manchester City made short work of Brighton and Hove Albion, scoring five unanswered goals.
Gameweek 35+ Review – 32 points
A very bad gameweek for the squad. Caglar Soyuncu's red card gave him negative three points while Lucas Digne had zero points. Harry Maguire and Adama Traore had a point each and Sadio Mane and Allain Saint-Maximin had two points each. Kevin De Bruyne had three and newboy captain Mason Greenwood had four points. Rui Patricio had six points, Jamie Vardy had seven and the top scorer in the squad was Andrew Robertson with nine points.
The average for the gameweek was 42 points.
Gameweek 36+ Transfers
Caglar Soyuncu's red card against Bournemouth has given him a three-match suspension. The Leicester defender will not feature again this season in the Premier League and is replaced by Manchester City's Kyle Walker.
Gameweek 36+ Line-up
The team goes back to a 3-4-3. Rui Patricio remains as the starting goalkeeper with Matt Ryan moving to the bench. The three starting defenders are Kyle Walker, Lucas Digne, and Harry Maguire. James Tarkowski and Andrew Robertson move to the bench. Sadio Mane and Kevin de Bruyne populate the midfield alongside the solid James Ward-Prowse and the versatile Allain Saint-Maximin who is picked ahead of Adama Traore, who is usually used from the bench.
Mason Greenwood and Jamie Vardy are the starting strikers along with Danny Ings. Danny Ings is the captain while Kevin de Bruyne is the vice-captain.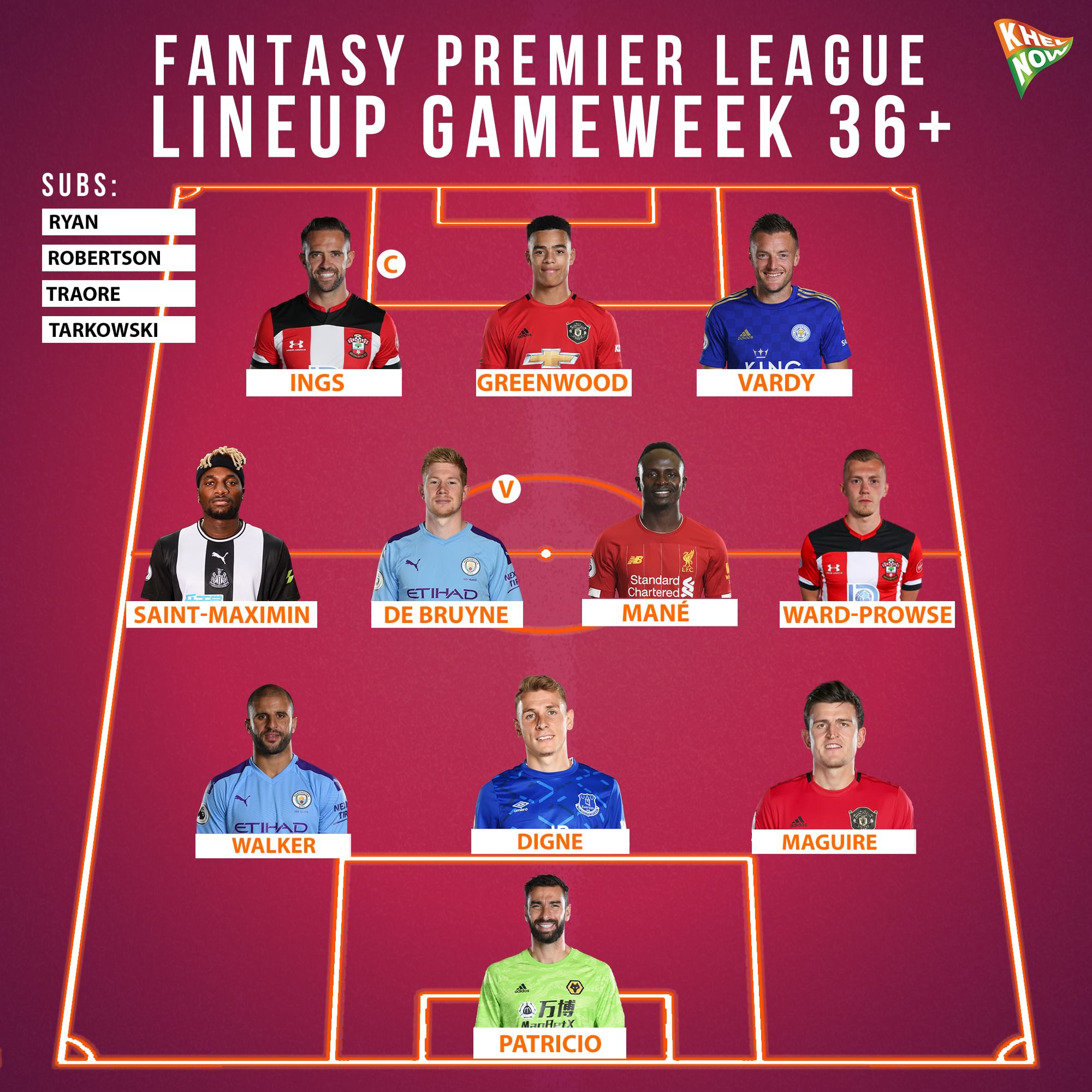 Tips and Tricks
Team Choices – Southampton is the team of the week, with the Saints playing Graham Potter's Brighton at the St. Mary's. Their fine form and startling personnel can create several problems for a Brighton side, reeling from a rout at the hands of Manchester City.
Captain – Danny Ings is a strong choice for captain. Another impressive player with an easy fixture is Gabriel Jesus. Jesus had a stellar outing against Brighton and although Bournemouth recently put forth a mesmerizing performance against Leicester, Manchester City is a different animal.
Top four battle is tighter than ever. Chelsea are at home to Norwich while Manchester United travel to Selhurst Park to face Crystal Palace. Leicester take on Sheffield United while Manchester City are at home to Bournemouth. Newcastle face Spurs at St. James Park. The match of the week is at the Emirates where Arsenal take on Liverpool.
For more updates, follow Khel Now on Twitter and join our community on Telegram.