The Blaugrana have had a massive decline in recent years.
One of the greatest football clubs in history, FC Barcelona are now on the verge of financial disaster amid crisis, that needs through analysing.
An institution which took pride in developing the best footballing talent in the world can now be likened to a transformer with ammunition, but no wheels. There's no hiding FC Barcelona's economic troubles. Their issues have amplified to such an extent, that they had to sell parts of their great club to activate financial "levers".
These levers helped them complete their transfers this summer and register them in accordance with La Liga. Despite that, they are desperate to let go of top talent in order to trim an already bloating squad.  The current scenario just goes to show a trailer of the scary future that awaits this once great club.
A club built on the ideation of the famous tiki-taka style of football, that same FC Barcelona is now a club reportedly £1.1 billion in debt! How did this happen?
We take you through FC Barcelona's financial disaster analysis by laying out a timeline of everything that led to what the club is today:
2017-18 – Building a dream squad
Barcelona began their so-called "revolution" back in 2017. They splashed an outrageous amount of money on transfer fees for new players, as well as huge contracts for existing ones. They brought in Ousmane Dembele and Philippe Coutinho from Borussia Dortmund and Liverpool respectively. This happened in the same window after selling Neymar to Paris Saint-Germain for £199.8 million.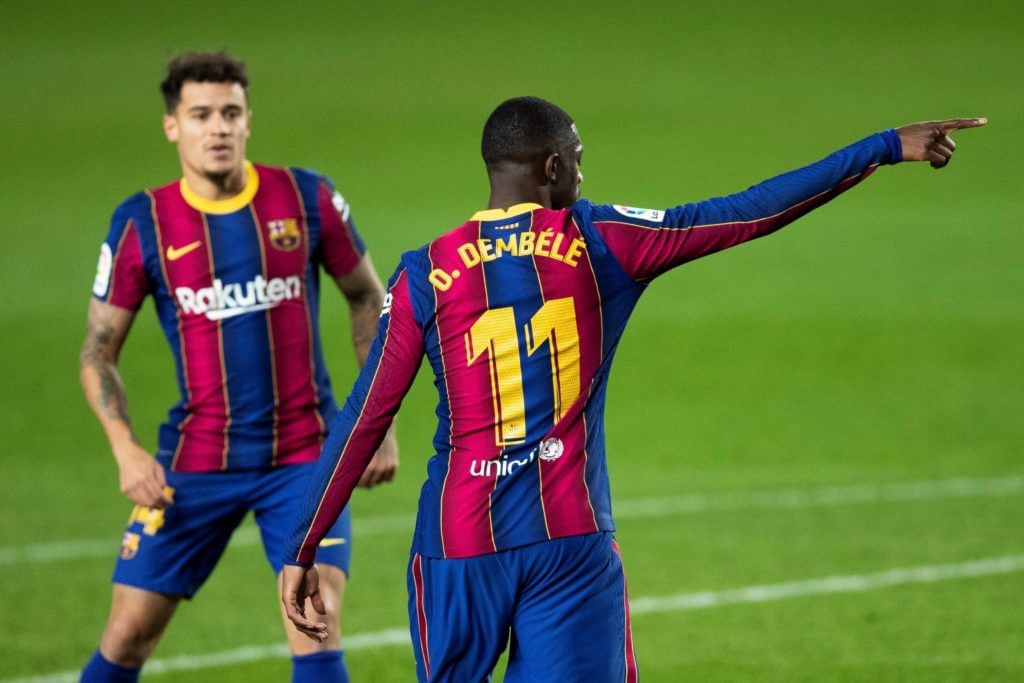 Dembele cost the club upwards of £112.5 million whereas Coutinho came in for £121.5 million. The Catalan giants spent £328.59 million in 2017-18 with the above mentioned duo. They also signed Paulinho, Nelson Semedo, Yerry Mina, Gerard Deulofeu and Marlon.
Their net-spend for the season wasn't that huge in modern football context (£119.34 million). However, the humongous contracts that Barcelona handed out to some of the new players and also to stalwarts like Lionel Messi, Jordi Alba, Sergio Busquets and others disastrously damaged their finances.
2018-19 – Beginning of an era of bad recruitment and mismanagement
Coutinho and Dembele faced difficulty in finding their feet in their first season at the club despite being two of the main reasons for the club's financial condition. Paulinho was bought from GZ Evergrande from China for £36m in 2017-18.
He was sent back on loan to them during the second half of the same season. He was then permanently sold for £37.80 million.This followed the departures of Yerry Mina and Lucas Digne to Everton for a combined £45.41 million.
Gerard Deulofeu left for Watford for a poultry £11.70 million. Barcelona also sold Marlon, Emerson Royal and Aleix Vidal for a low fee. Legendary Andres Iniesta joined Vissel Kobe on a free transfer.
The Catalan giants sold players worth £131.45 million during the 2018/19 season. They then brought in Malcom, Clement Lenglet, Arthur, Arturo Vidal, Emerson Royal, Jeison Murillo (loan) and Jean-Clair Todibo for a combined £126.99 million.
2019-20 – The window that officially started Barcelona's financial disaster
Barcelona back to back La Liga titles in 2017-18 and 2018-19 before coming up with yet another big window in the 2019-20 season. They spent as much as £268.65 million on signing players, with a net-spend of £131.04 million that season.The Catalans sold the likes of Malcom, Cillesssen, Andre Gomes, Paco Alcacer, Denis Suarez, Marc Cardona, Sergi Palencia and Marc Cucurella.
They also earned a loan fee of £7.65 million from Bayern Munich for Philippe Coutinho, which was part of the £137.61 million that they earned from all departures that season. In 2019-20, another financial disaster in the transfer window saw the Catalan giants sign Antoine Griezmann from Atletico Madrid for a humongous £108 million. The then Josep Maria Bartomeu led club swooped for Frenkie de Jong from Ajax for an eye-watering £77.4 million.
2020-21 – Wage cuts, strange transfer window and the infamous "Barcagate" conspiracy
After surrendering the La Liga title to Real Madrid in the 2019-20 season, Barcelona hadn't seen a single league title in the two disastrous campaigns that followed. The 2020-21 season was the beginning of a fire that would engulf the Camp Nou in flames.
Barcelona tried reducing salaries of players last season so they firstly found other ways of reducing their wage bill. They offloaded Nelson Semedo, Rafinha and Ivan Rakitic along with Luis Suarez. But, the most controversial deal involved the swap deal with Juventus for Arthur Melo and Miralem Pjanic. Barcelona signed Pjanic from Juventus for £54m and sold Arthur to Juventus for £68.4m.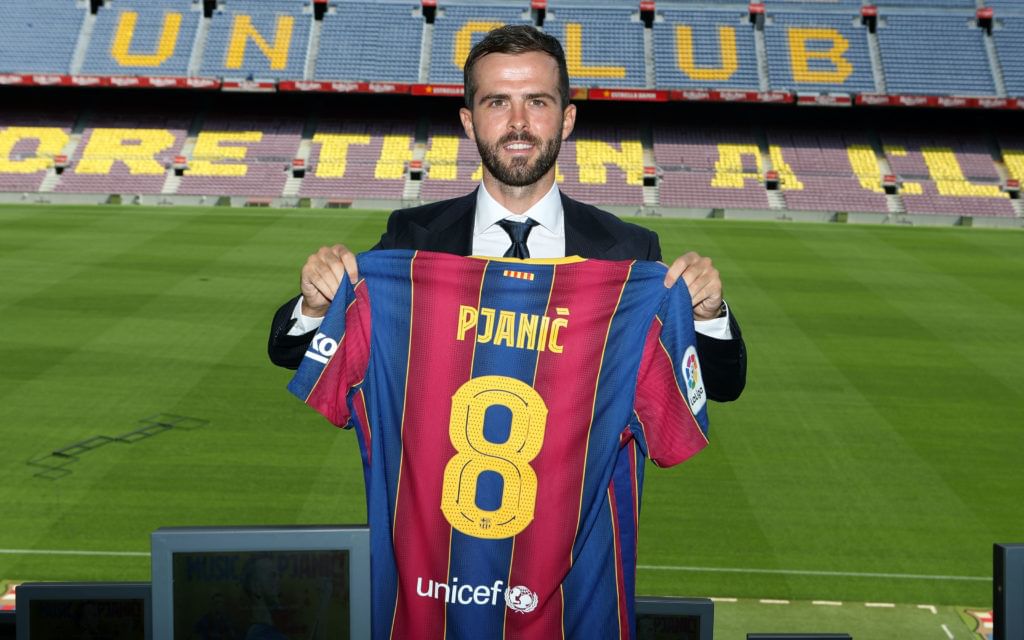 The inside details of this deal are mind-boggling. It would need another article specifically for that. But, just so you know, the sole reason why this deal happened is to hide both clubs' financial problems for one more year. Now, as the 2020-21 season began, a majority of Barcelona's players refused to take a pay cut. However, Frenkie de Jong, Clement Lenglet, Marc-Andre ter Stegen and Gerard Pique signed wage-reduction deals.
This incident set to unrest among the squad that set the club's dressing room ablaze. Once, Josep Maria Bartomeu realised that other players won't agree to similar wage-reduction deals to their bloated wage budget and financial fair play, he resigned from his position.
Post Bartomeu era:
By October 2020, there were reports that Barcelona faced the ultimate financial crisis, bankruptcy, meaning nothing but divine intervention can save them. Imagine, this was the scenario after huge wage cuts.
Fast forward to March 2021, Bartomeu was arrested by the police on accusations that he paid a PR company to tarnish the reputation of some big Barcelona players on social media.While that was going on, Joan Laporta was instated as Barcelona's president in March 2021 by beating Victor Font in elections.
Just a month into his new role, Laporta was one of three club presidents/owners who chalked out the infamous European Super League plan in April 2021. 12 top European clubs announced they were forming a new competition that would have been disastrous and ruined football forever. Barcelona and Laporta saw this as the only way to save themselves from their financial instability. It ended up being a total media nightmare for all three clubs, tarnishing their reputation in world football forever.
2021-22 – Lionel Messi's departure, wage cuts and Joan Laporta's confession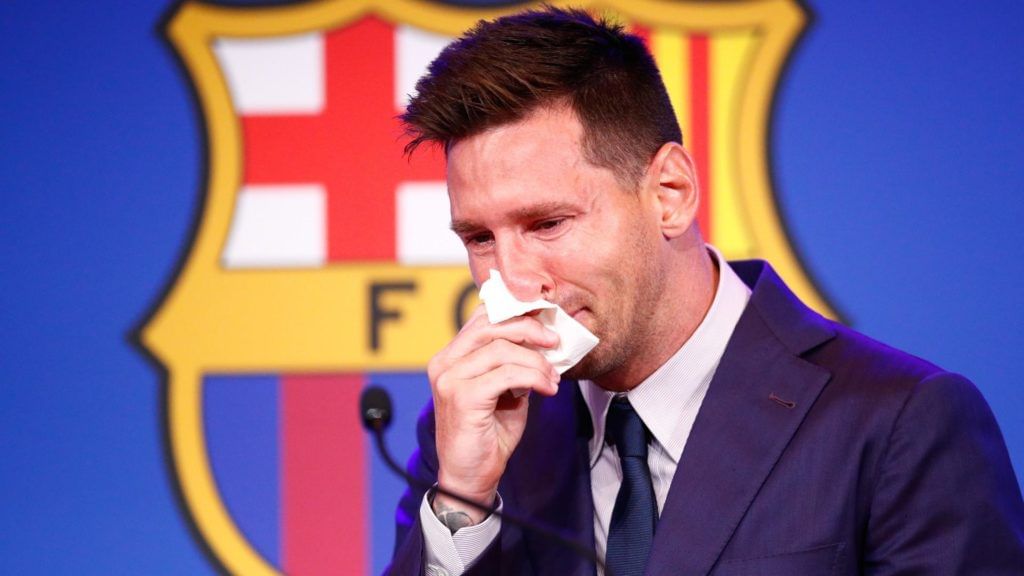 Barcelona were almost unofficially confirming that Messi will sign a new deal after his contract expired at the end of the 2020-21 season. Well, they lied when they couldn't hide the financial disaster they were becoming. But in August 2021, Barcelona announced that it wasn't possible for them to offer a new contract to the Argentine. Messi left and joined PSG as a free agent.
The reaction to Messi's departure was started by former club president Bartomeu. He wrote a letter in an attempt to state he is not to blame for the club's situation. Despite Messi's departure, Barcelona were a financial disaster, which was so bad that Gerard Pique had to take a pay-cut in order for the club to add Memphis Depay and Eric Garcia to their squad.
Mind you, they still didn't manage to register Sergio Agüero by then. In August of 2021, Laporta held a press conference. He openly confessed that Barcelona are in €1.35 billion debt and have a net worth of a negative €451 million, a major financial disaster.
The club signed Ferran Torres and Emerson Royal worth £62.1 million in the same summer.They then sold Emerson to Tottenham in the same season for £22.5 million, an almost £10 million profit. Overall, Barcelona managed quite an incredible transfer window.In terms of arrivals, Pierre-Emerick Aubameyang, Memphis Depay, Sergio Aguero and Eric Garcia, all joined them on a free transfer.
2022-Present – A dream transfer window that screams "soul selling"
Amid the financial disaster they are going through, Barcelona have managed to rattle fan-bases around the world. Fans can't wrap their head around the fact that how can a club €1.35 billion in debt, sign all the above-mentioned players.
Long story short, they can't!
LaLiga's financial fair play rules state the exact amount a club is allowed to spend on transfers. This amount is inclusive of transfer fees, amortisation and wages. If a club does not meet these rules, they will not be able to sign or play.
Registration of new players are done through an app available to clubs. This app will automatically not allow a club to sign a player beyond the financial controls set by the league.FC Barcelona's financial disaster, a -£144 million figure means they have to achieve breakeven first.
Once they do that, they can have a budget to spend on new players in January. This also applies to the next summer transfer window.Basically, it's all a hell-hole on loop, an impending financial disaster which implies that FC Barcelona need to cut their expenses and make money at a rapid pace.
Conclusion
In essence, Barcelona need to sell players either for a lot of money, or let go of their highest earners at the club in order to raise cash. Once these alarm bells started ringing, Barcelona came up with what they term "economic levers".Barcelona intend to use these levers in two ways. First, by selling up to 25% of their LaLiga TV money for up to 25 years for €207.5 million.
The second way was by selling up to 49.9% of BLM. BLM is the company that they started for their marketing and licensing.This once great club of culture and academic excellence in football, has reached a stage where they are ready to sell their soul to stay relevant.
Barcelona now intend to sell another 15% of the club's assets for around the €400 million figure mark. Despite this, they still wouldn't be safe. La Liga president Javier Tebas has said that €500 million would be enough for Barcelona to achieve financial parity.
For more updates, follow Khel Now on Facebook, Twitter, and Instagram and join our community on Telegram.