This week's lineup contains players from several teams showcasing the competitiveness of the league.
The highly-anticipated Kolkata Derby headlined the last game-week in the I-League, with Mohun Bagan coming out victorious and gaining further leverage at the top of the table. East Bengal had a week to forget, but impressive results for Punjab FC & TRAU FC led them closer to the top half of the table.
In an entertaining week of action, certain players buoyed fans with their performances and were detrimental for helping their teams coming out on the winning side. So let's take a look at the I-League game-week 6 team of the week.
Goalkeeper: Marvin Phillip (NEROCA FC)
NEROCA FC only picked up their second win of the season against Real Kashmir, but had to fight tooth and nail to do so. The main reason for their success were the heroics of their goalkeeper Marvin Phillip, who's finally proving his reputation on the main stage. Phillip was unbeatable in goal, pulling off a few instinctive stops to thwart whatever the Snow Leopards threw at him. He received a booking, but his clutch saves earned himself a rare clean sheet and more importantly the three points for the Orange Army.
Right-Back: Ashutosh Mehta (Mohun Bagan)
Ashutosh Mehta continued his formidable run of form, playing a big role in thwarting Punjab FC's danger and then putting in a strong performance in the Kolkata Derby. He did a very good job in keeping the dangerous Juan Mera Gonzalez quiet, while also tracking the overlapping runs of Abhishek Ambekar. Mehta was ever-bearing in throttling forward with intent, but his important challenges avoided much danger for the Mariners. Despite being subbed at the hour-mark, his performance was quintessential for sealing the victory for his side.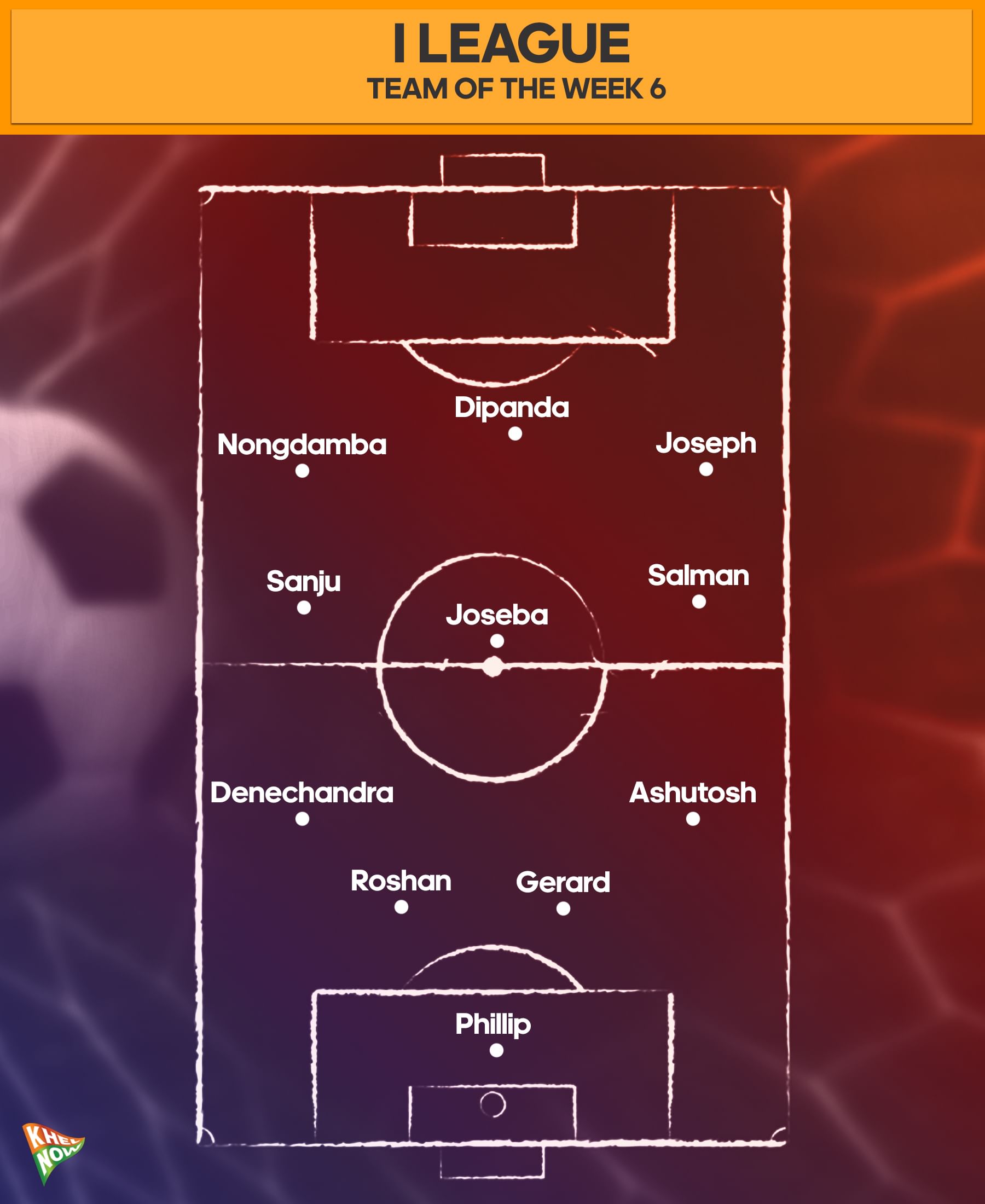 I-League 2019-20: Team of the Week 6
Centre-Back: Gerard Williams (TRAU FC)
Gerard Williams starred in TRAU FC's stunning win over Churchill Brothers at their own ground, hampering their title chase at the same time. The St Kitts and Nevis player scored the opener with a brilliant diving header to set up the game for TRAU. After that, he helped them absorb the pressure from the hosts, putting in an industrious shift defensively to mellow down their effectiveness. Williams' crucial challenges helped avoid problems for TRAU, as he played an influential role in seeing them off to victory and continuing their rich vein of form.
Centre-Back: Chingakham Roshan Singh (NEROCA FC)
Chingakham Roshan Singh had the daunting job of keeping track of Gnohere Krizo in their game, but actually managed to thrive under the pressure. He refused to be bullied by Real Kashmir's physicality, countering their chances with his important clearances and not allowing the in-form striker from finding much space in the final third. While well aided by his goalkeeper's brilliance, Roshan's sturdy defensive work helped limit Real Kashmir's lethality and gain a strong win for NEROCA.
Left-Back: Denechandra Meitei (TRAU FC)
Despite coming up against one of the best attacking sides in I-League, Denechandra Meitei wasn't fazed by the occasion at all. Not only did he put in a strong performance keeping the promising Vinil Poojary at bay, making timely challenges to nullify his presence, but he was at his best when contributing at the other end as well. Meitei assisted the opening goal with a sublime cross which bypassed every defender into Williams. He also caused the second goal, with his inviting corner forcing the own-goal and eventually turning up the match-winner for TRAU.
Right Centre-Midfield: Salman Kalliyath (Gokulam Kerala)
Salman Kalliyath was handed his first start of the season against East Bengal due to Gokulam Kerala missing multiple players through suspension, but he took his opportunity perfectly. The centre-midfielder was a persistent thorn at the Red & Gold Brigaders side, with his feisty movement causing all sorts of problems. He drove the Malabarians forward with intent, creating a plethora of chances to help them towards a resounding win. He also boosted their energy levels against Punjab FC, proving himself worthy of being a regular for Gokulam.
Centre-Midfield: Joseba Beitia (Mohun Bagan)
Joseba Beitia proved himself a big-game player by putting in a stunning performance against rivals East Bengal, especially coming out of a difficult game against Punjab FC who kept his threat contained. The Spaniard was handed a free role in the middle, as he orchestrated all his attacks. With his sweet dribbles, incisive passes and unpredictable movement, Beitia ran rings around East Bengal's defenders. He managed to score the opener with an uncharacteristic header, before assisting Papa Diawara's goal with a sweet corner. His heroics won him the Man of the Man award and placed him in the Kolkata Derby history books as well.
Left-Midfield: Sanju Pradhan (Punjab FC)
Sanju Pradhan is in a resurgent form after moving to Punjab FC, as he continues his impressive work in the big games. Pradhan ran the show against Mohun Bagan, making clever forward passes and showcasing utmost energy to drive the Warriors forward. He continued his good work against Gokulam, breaking their lines by being a persistent thorn in midfield. Pradhan's work-rate inspired his team to continue their impressive form and retain their place among the top places in the I-League.
Right-Wing: Marcus Joseph (Gokulam Kerala)
Marcus Joseph is trying to fuel Gokulam Kerala's prospective title challenge and he fired up the Malabarians once again in a crucial game against East Bengal. The captain led from the front, taking the game to the hosts with his bursting forward runs and trickery bamboozling their defence. Joseph ended up causing chaos, scoring a fortunate goal which went through the goalkeeper's hands to seal the win for his side. While he was unlucky not to score against Punjab FC, his constant swipes at goal prove he's only getting better- a good sign for the Malabarians.
Left-Wing: Nongdamba Naorem (Mohun Bagan)
Nongdamba Naorem is having his breakthrough season at senior level, as he proved how good he can be on the biggest occasions by firing up the Kolkata Derby. After having a quiet game against Punjab FC, Naorem sizzled with intent to run through at East Bengal's defence from the get-go. He made things extremely difficult for Kamalpreet Singh, surging past him on multiple occasions. Naorem also assisted the opener in clever fashion, making a promising run before laying up the perfect cross for Beitia to score. He worked hard after that to drive the Mariners forward, earning high praise from the coach for his memorable showing.
Centre-Forward: Aser Pierrick Dipanda Dicka (Punjab FC)
Dipanda Dicka has finally hit his stride at Punjab FC and rewarding their faith in them by being the goal-machine he's known to be. The former Mohun Bagan striker put in a clinical performance against his former side, tormenting them with his clever movement and foxy presence inside the area. He scored a stunning volley to grant a point for his side, but made sure to get all three when facing Gokulam Kerala. Dicka scored a sweet free-kick before capitalizing on a goalkeeping error to complete a brace against the Malabarians. With goals in back-to-back games, Dicka is showing his hunger for the I-League Golden Boot again.