India's Future Stars
Scouting Report: Who is I-League Golden Boot winner Bidyashagar Singh
The attacker scored 12 goals for TRAU FC in the I-League campaign and is the first Indian to win he prize outright.
Life always gives you a second chance, a shot at redemption no matter what. That has been the case for young Bidyashagar Singh, the Manipuri forward who was associated with many firsts in this season's I-League. From being neglected by East Bengal's former coach Alejandro Menendez to emerging as the outright top goalscorer in the I-League, life has come a full circle for the youngster. He started his journey from a farmer's household in Samaram Mayai Leikai, a village in Manipur.
Early Beginnings
The 23-year-old came from a very humble background and did not think of becoming a professional footballer during his childhood. But, his father backed him, as he wanted to live his dream through his son.
"My father is a farmer and my mother is a housewife. During my initial years, it was very difficult financially to buy football boots. Sometimes, I even used to go to the paddy field to support my family," the youngster revealed in a recent interview with AIFF.
"My father wanted to be a footballer, but my grandfather was against it as at that time. There were very few players around. He always wanted to play and when I said that I was keen on football, he supported me. It has been his dream to see me play."
Career
Bidyashagar Singh started learning the nitty-gritty of the game from famous women's footballer Prameshwori Devi and gradually took his first steps towards local football leagues in Manipur. Then also it was TRAU backing the 16-year old Bidyashagar and spotting his talent.
His talent saw him move out of Manipur, as he joined the fabled East Bengal academy to continue honing his skills. At the Red and Gold camp as well, there were no questions about the youngster's talent, but people questioned his consistency. However, the youngster did put all those questions to bed when he scored six goals in the 2016-17 U-18 I-league, to propel East Bengal to the final.
Time in Kolkata football
His exploits in the junior I-League earned him a call-up to the Bengal Santosh Trophy team and there again he starting proving his mettle. He combined with the likes of Jiten Murmu and Tirthankar Sarkar in attack, being a nightmare for opposition defenders, mainly because of his blistering speed and knack for scoring long-range goals. He took another step in the right direction and inspired Bengal to reach the Santosh Trophy final in 2018, which they eventually lost on penalties to Kerala.
"I gained a lot of experience during my time with East Bengal. They are one of the biggest clubs in India and I can never forget the goal I scored against Shillong Lajong. It was my debut goal in the I-League and it will always be close to my heart," he said regarding his four-year stint at East Bengal.
While the youngster searched for his breakthrough season in the I-League at the Red and Gold, he was mostly an unused substitute for then East Bengal head coach Alejandro Menendez Garcia. East Bengal did not have a great season and Bidyashagar decided to move on. He came back to Manipur and returned to TRAU where it all started.
Turnaround at TRAU FC
Here he formed a deadly attacking partnership with the likes of Komron Tursunov and Joseph Olaleye. However, TRAU did not have a great start to the season, as they could only manage three draws in the first three fixtures. The Red Pythons bagged their first win against Chennai City, where Bidyashagar opened his account with a fine strike and never looked back.
While a lot of people were surprised with TRAU qualifying for the playoffs phase of this season's I-League, hardly anyone thought that they will have a shot at the title till the final day of the league. However, the 23-year old ensured that people take notice. He scored a hat-trick against Mohammedan SC, as TRAU defeated the Black Panthers 4-0. The youngster followed it up with another hat-trick against Real Kashmir in the next game to help his team win 3-1. He became the first Indian to score consecutive hat-tricks and there was absolutely no doubt about his talent.
Bidyashagar did score against Gokulam Kerala on the final day of the league, but it was not enough for TRAU to win the title. However, he ended up as the top goalscorer with 12 goals, beating foreign imports like Luka Majcen and Dennis Antwi. He also bagged the I-League Best Player award.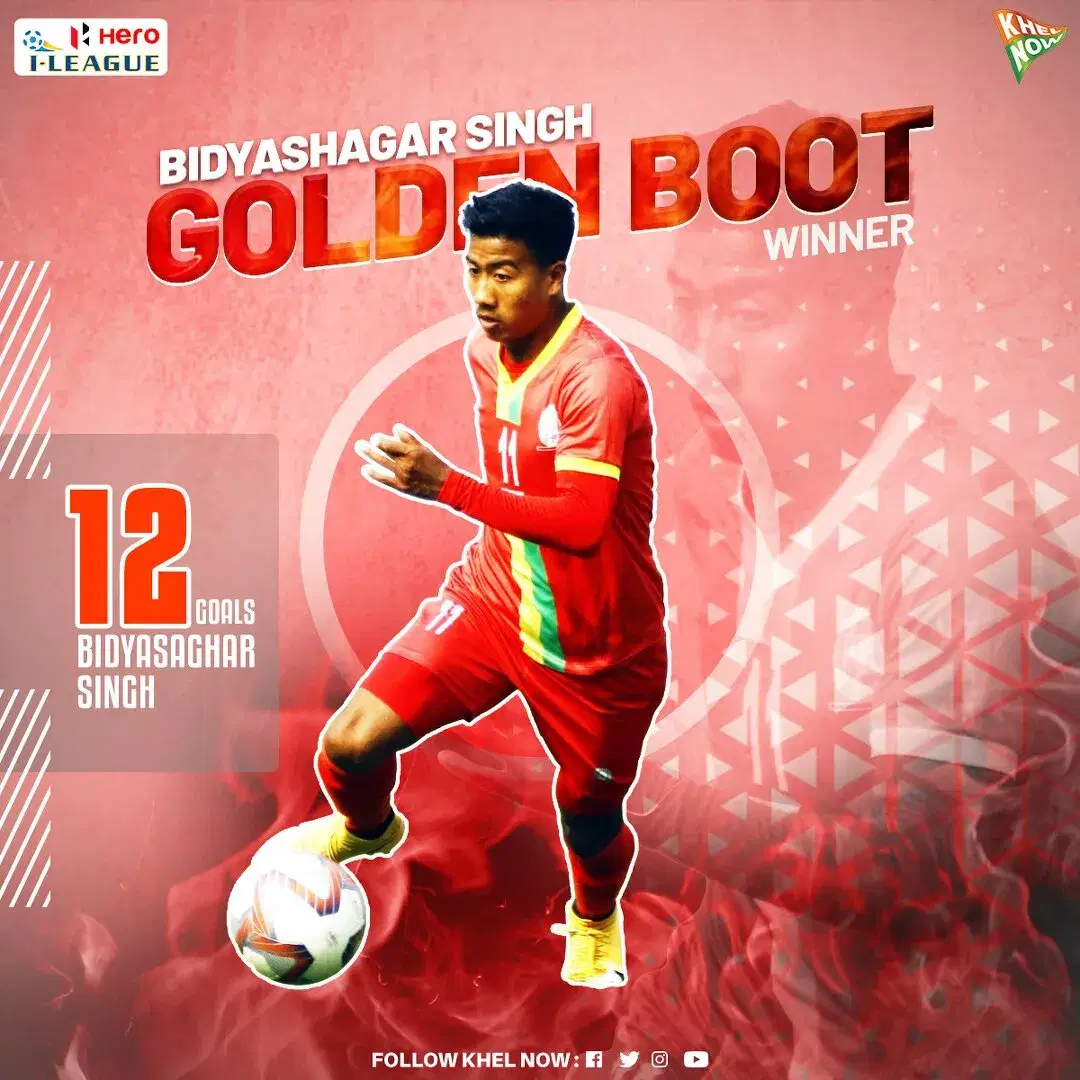 Style of Play
The Manipuri youngster can be a nightmare for the opposition defenders, especially due to his blistering pace. In this I-League season, he has often left defenders high and dry. Although, he can play on either flank, his best version comes out when he is playing centrally and is allowed to roam freely. He was a perfect fit for a team like TRAU, as they looked to absorb pressure, defend resolutely and hit the opposition with counter-attacks.
Strengths
Bidyashagar's main weapon has to be his lightning speed and to that he has honed his shooting skills this season. which saw him score 12 goals. The 23-year-old has a hunger for scoring goals and when on song knows how to leave a goalkeeper stranded.
His creativity has also increased this season, as he enjoyed his time partnering Tursunov. He already looks like a mature player, who relishes the pressure of a big game.
Weaknesses
He has worked a lot on several areas and that is the reason why he received the Best Player award this season in the I-League. But, still, his indecisive nature in the final third remains a concern.
He often tries too many things and blows up the chance. He needs a calmer head on his shoulders and that will only come with experience.
Areas to improve
Bidyashagar Singh should only get better from here. Therefore, he needs to calm down and be more decisive with his passing in the final third. His decision-making stills needs a lot of improvement. Also, he needs to keep working on his physical attributes, as he looks to take the next step in the ISL.
What to Except
A youngster who was neglected and discarded by East Bengal last season showed his true potential by becoming the first Indian to win the I-League Golden Boot outright since the league's inception. He now has his sights set on the glittery Indian Super League, as teams will come in numbers to secure his services for next season. However, his journey has just started and who knows maybe a good season in the ISL could even land him a national team call-up.
"Every footballer wants to be a part of the national team and so do I. I have full faith in head coach Igor Stimac and also in my abilities and performance. I want to keep doing better and keep moving forward," the youngster stated regarding his national team dreams.
Although he did not win the I-League which he wanted to dedicate to the football-crazy state of Manipur, a lot of bigger and better things await for the 23-year old.
For more updates, follow Khel Now on Twitter, Instagram and join our community on Telegram.