Had it not been for the 36-year-old, the Blue Tigers could have had another disappointing result against Bangladesh.
It is a well-known fact that Sunil Chhetri has an incredible goalscoring record for the Indian football team. With 74 goals in 116 games for the Indian national team, Chhetri holds the dual distinction of being India's most-capped player and leading goalscorer. He is also behind only Cristiano Ronaldo, as the second-highest active international goalscorer. But, the thing is – India's 'Captain Fantastic' is getting old and even at 36, he remains India's key attacking weapon.
One can look at it in two ways. It is a testament to the player that he is still able to perform at this level at his age. It says a lot about his quality. However, on the other hand, it also creates an impression that India does not have enough talent in attacking positions. Admittedly, both of the aforementioned points are valid to an extent.
India's lack of alternatives
When one digs in and looks closely at plain goalscoring stats, it becomes clear that the Indian football team does not have a proper alternative to Sunil Chhetri. Ever since Stephen Constantine took over the national team for a second stint in February 2015, India have relied on Chhetri for goals. He has scored 30 goals in 41 games for the country in this period. Overall, the Indian team scored a combined total of 82 goals in 56 games during this time. 30 of the 82 goals have come in the 41 games played by the Bengaluru FC skipper.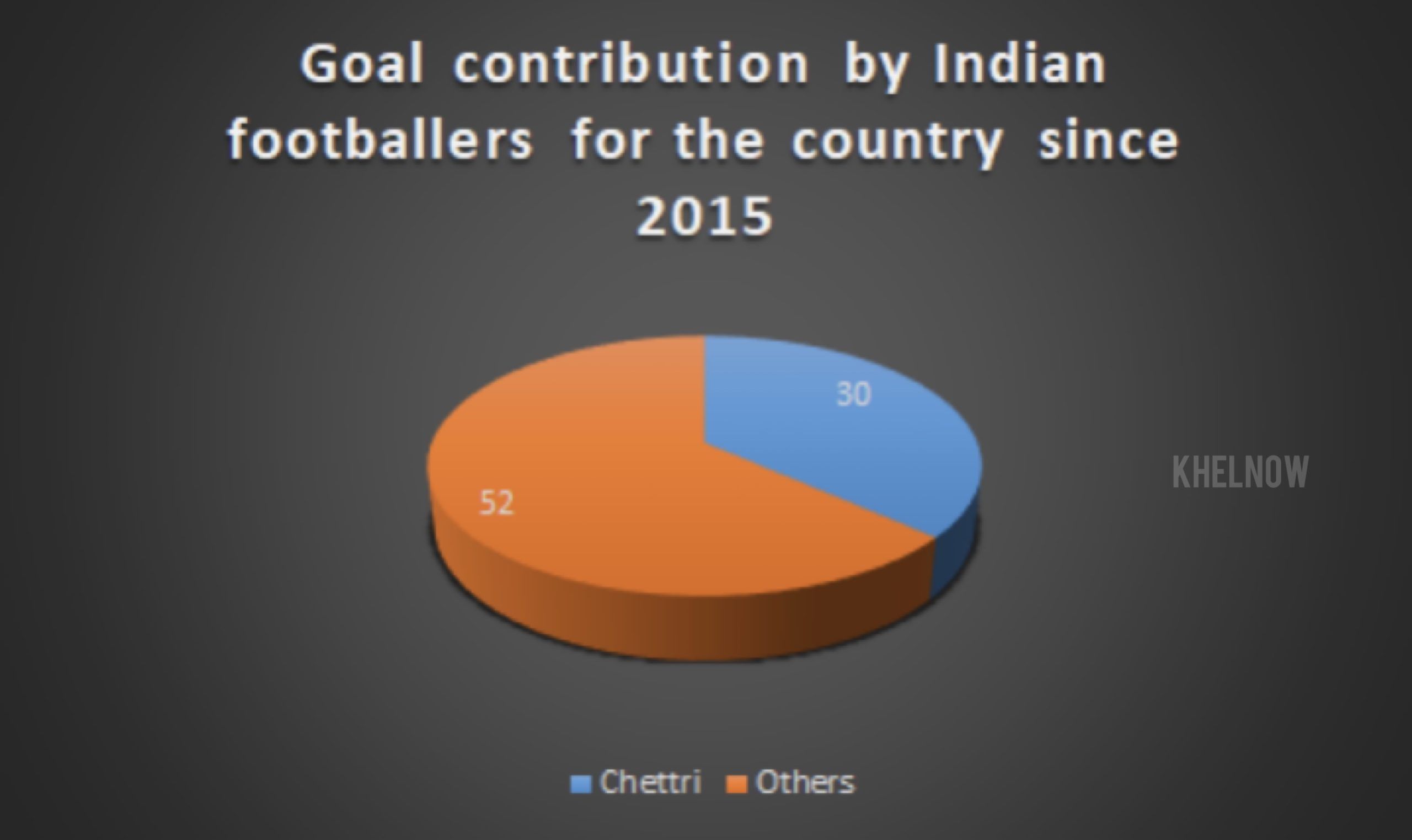 To put things into perspective, only one other player has scored more than five times for the country in this period and that is Jeje Lalpekhlua. Jeje has scored 14 goals in 34 games since 2015 and has not represented India since 2019.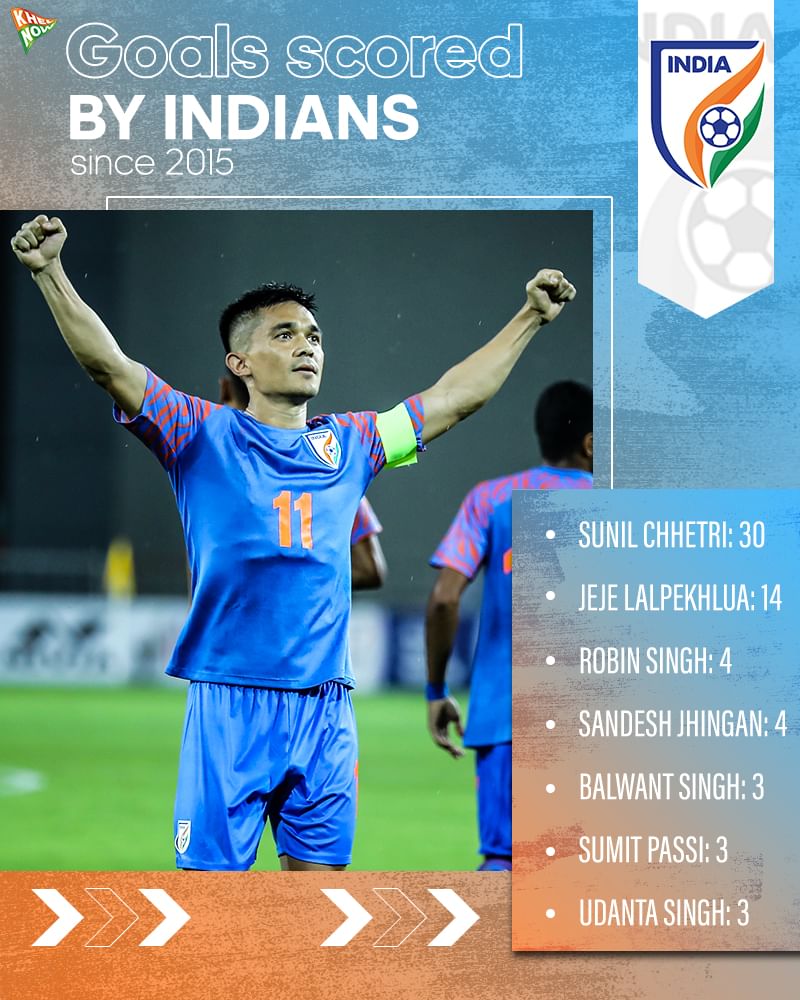 Additionally, the Indian football team have won 25 out of their 56 games during this period. Only in 11 of them did Sunil Chhetri fail to score. In five of those wins, Chhetri was the only goalscorer in the match. He also missed a fair chunk of the remaining 14 games due to injuries.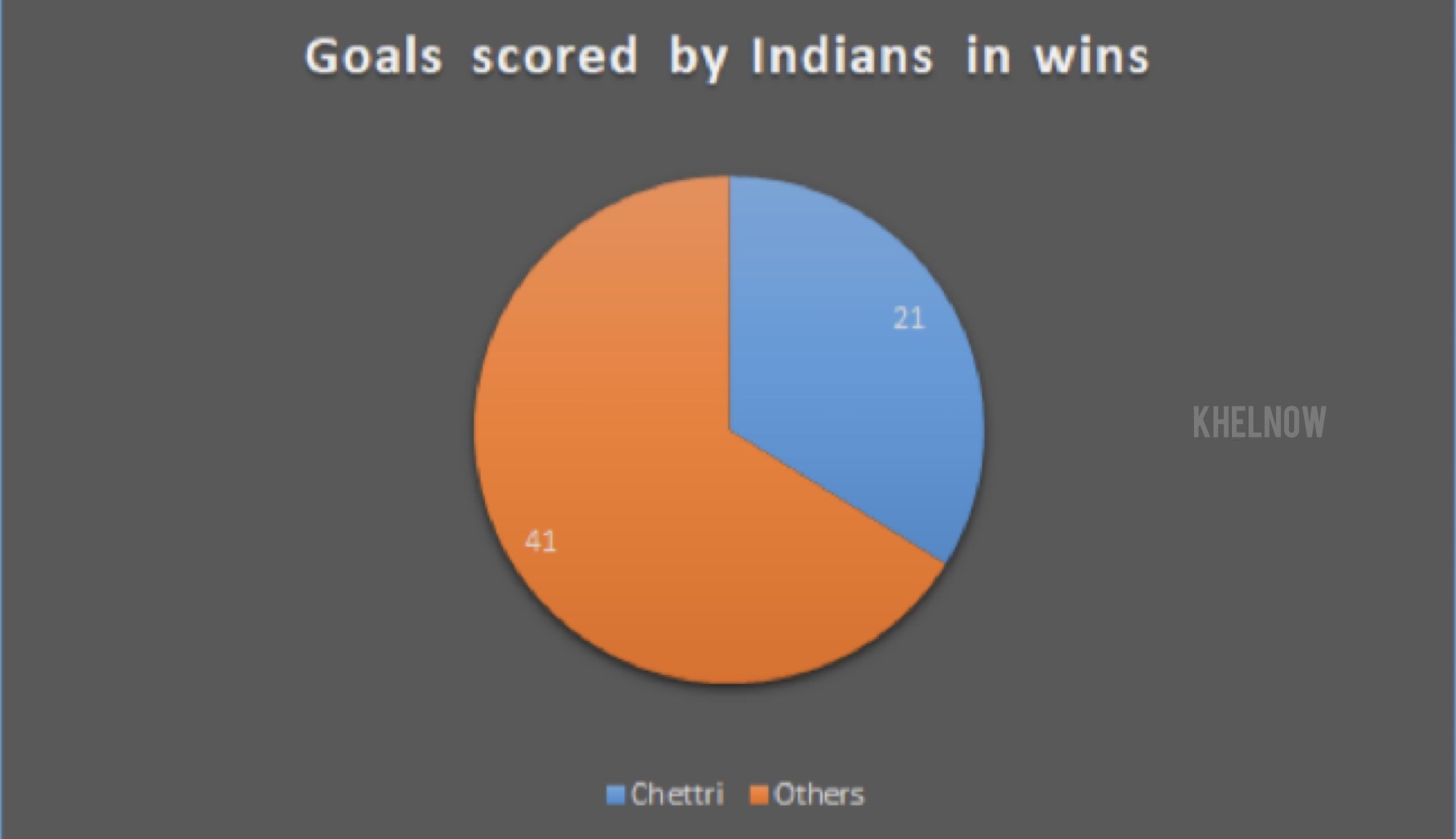 In this period, India lost 20 out of a possible 56 games. In just five of those 20 matches did India have a goalscorer who was not Sunil Chhetri. The stats are even more damning under current coach Igor Stimac. No one other than Chhetri scored a goal when India lost and the team have struggled for goals in general.
All these facts point to the lack of support Chhetri gets, especially under Igor Stimac. To be fair, India's performances under Stimac have been far from convincing and there are glaring flaws that need to be rectified.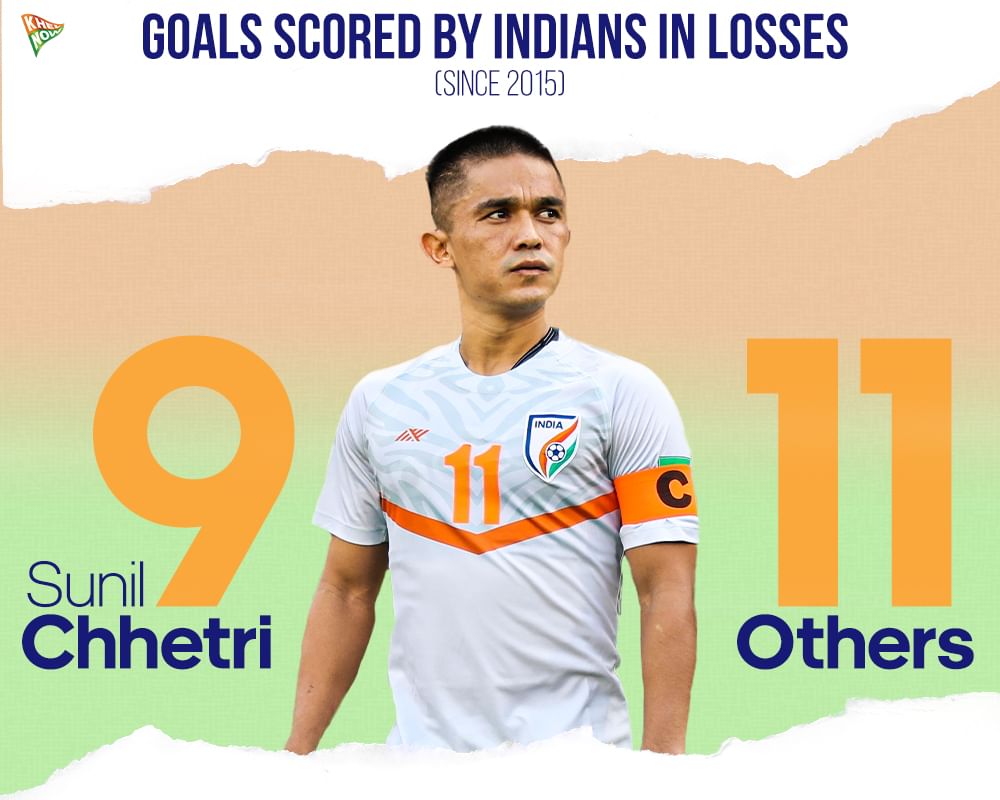 Reasons
Now, let's look at the factors behind the numbers. One major reason why there is a lack of goalscorers in the Indian football team is the constant chopping and changing that occurs to the starting XI. No-one apart from Sunil Chhetri has been a regular fixture in attack over the last five years. There also seems to be a lack of consistency in who plays where and what role he peforms. This holds true for Chhetri himself.
The 36-year-old has played as a lone center-forward, as a part of a strike duo, as a left-sided wide player or as a second striker in this period. In the same way, other players have played in multiple positions in attack. This has led to a lack of consistency and clarity in what others can expect from these players and what their roles are. Apart from Jeje and Sunil Chhetri, players like Balwant Singh, Jackichand Singh, Robin Singh, Lallianzuala Chhangte and Udanta Singh have performed in different roles and positions over the last five years, but not to much success. Even Anirudh Thapa, a central midfielder by trade, was tested out as a false nine in some games.
So, why is this happening? ISL clubs' attacks are generally spearheaded by foreign players. Apart from Sunil Chettri, who has done it in each of the last six seasons (four in the ISL), only a handful of Indian players have scored more than five goals a season. Jeje's done it twice. Jackichand, CK Vineeth, Arata Izumi, Chhangte, Udanta and Bipin Singh have scored five or more goals in a season once. ISL clubs' centre-forwards and centre-backs are generally foreigners. This, in a way is a reason why India are short on numbers in both these positions.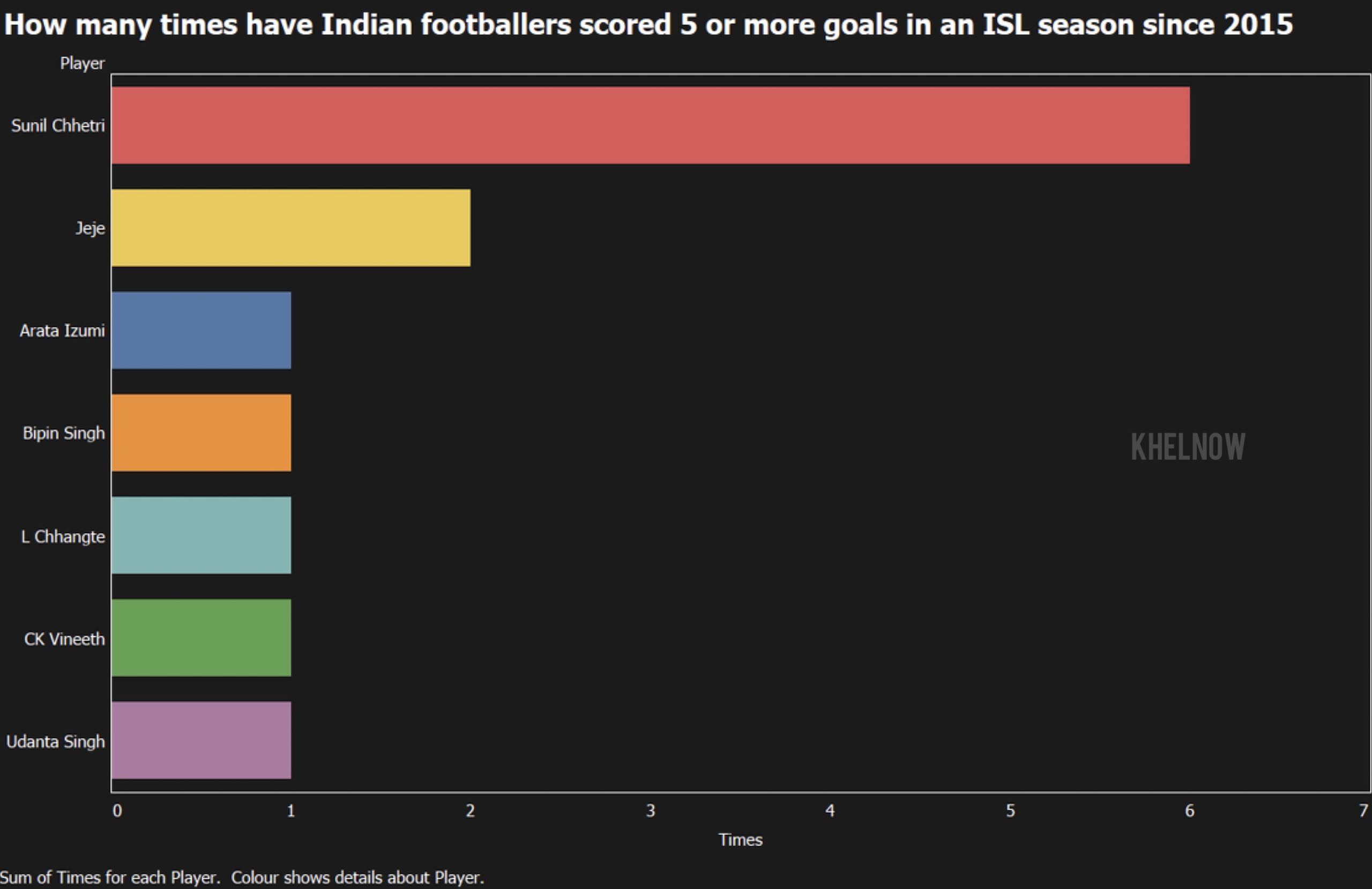 This is not to say that Indian attackers are not of the required quality, but it appears more like a lack of trust. Manvir Singh and Bidyashagar Singh look like the next big things among Indian attackers, but they need more chances to prove their quality.
Conclusion
All the aforementioned reasons have manifested to Sunil Chhetri not having enough support from his attacking partners. The Indian football team do have a lot of players with potential. But, they need to be trusted more, given more chances and responsibility both for club and country. For starters, Bidyashagar looks like the brightest prospect among Indian attackerss and the upcoming ISL season could be his first time in the league, having previously played for TRAU FC.
It is not solely on the players for failing to match the levels of their captain. The management of the clubs, the Indian national setup and the Indian domestic system are all at fault here. This is not something that cannot be changed, but at the end of the day it needs to be changed. India are incredibly lucky to have Chhetri through this period and it is on the system to mould a suitable replacement for him.
For more updates, follow Khel Now on Twitter, Instagram and join our community on Telegram.