Khel Now/AIFF/FC Nasaf Media
She is one of very few Indian players to play in the top division in a foreign league.
December 2nd, 2021. The Indian women's team were preparing for the AFC Women's Asia Cup, scheduled to be held in India in January of 2022. The Blue Tigresses were touring Brazil as part of the four-nation tournament. Having lost the first two games against Brazil and Chile 1-6 and 1-3 respectively, India needed hope – a thread to hang on to, an adhesive to bind the team to fight for something.
It came in the 18th minute. Ritu Rani's deep cross was met with fierce power by Dangmei Grace, who ran to her teammates, jubilantly celebrating. The jump was everything Dangmei's career has been like – against towering odds, against fiercer opponents, and guided well in a scenario that had very little margin for error.
The entire team joined in and pounced on her – you could clearly see what it meant to the team. The Indian women played brilliantly for the rest of the half, but the latter 45 saw Venezuela make a comeback. However, these women were ready, and so was Dangmei.
Months later, Dangmei Grace is now grouped with just a handful of women who have left Indian shores to ply their trade elsewhere. Dangmei signed a deal and now features for FC Nasaf, a top-tier club in Uzbekistan. Grace had said it was a dream-come-true for her, before she left for her new sojourn.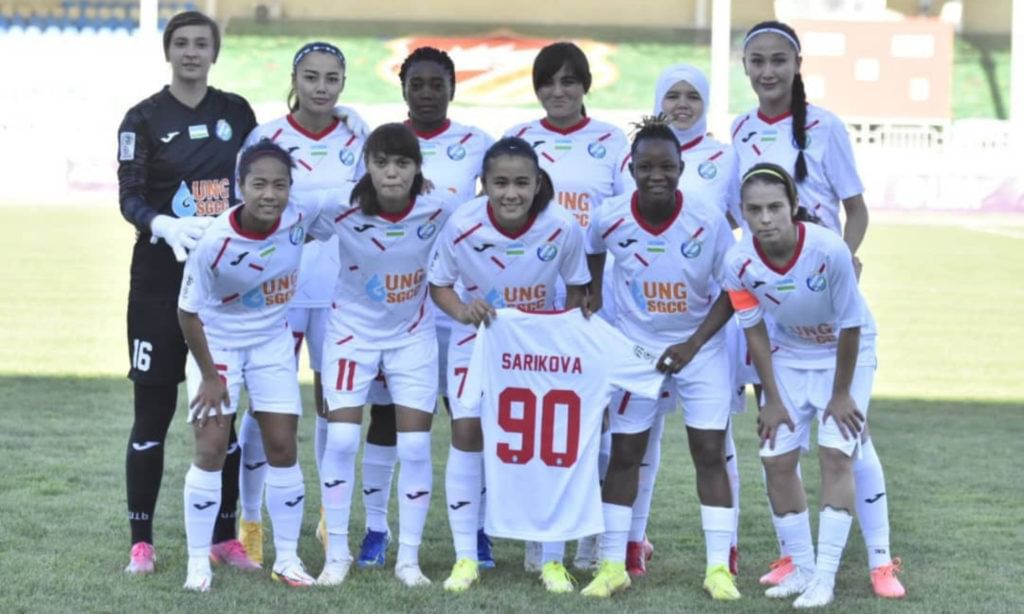 A serial winner in the Indian domestic circuit, Dangmei started her Indian Women's League journey with Manipuri club KRYPHSA FC. She met Chaoba Devi there, who styled her game and helped her develop versatility. Dangmei dreams to play for a European club – a feat very few Indians have achieved so far, and thus, Nasaf is more like a stepping stone for her.
Khel Now spoke to Vladislav Khan, the head coach of FC Nasaf Sevinch Qarshi, to understand how the Indian forward is faring. He has kind words to say.
"Grace has a great desire to learn new things and performance. Because of her actions in the training process and dedication, an automatic thought arises whether all the players in India do their job this way. If so, then India has a great future. Grace, with her game at least, makes one wonder if there are many such professionals in India."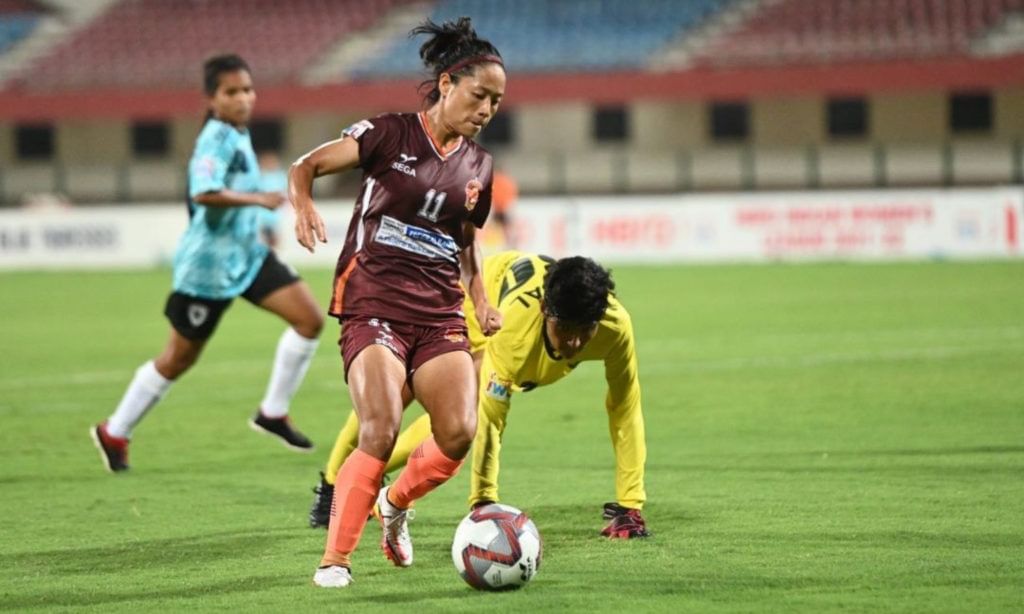 The forward was used at several positions in the attacking half of the pitch – as No. 8, No. 10, No. 11, No. 7 and No. 9 – at Gokulam Kerala, where she won an Indian Women's League title. She also led her team from the front during the AFC Women's Club Championship, finishing third in the 2021 edition.
On 5th February, 1996, Dangmei was born in a family of farmers in the Rongmei tribe – an ethnic group that resides predominantly in Churachandpur district in Manipur. From that to become the trailblazer that she has become has not been easy. On her first foray into the national team, she says, "Thoda darr darr ke khela tha seniors ke saath, pehli baar jab khela tha…"
That has changed, and how. Dangmei now holds her own on the pitch and is one of the first names on the team sheet. Dangmei is the glue that keeps the team together, and has always been a prankster. Her good friend, Ratanbala Devi once said, "We've been friends since we were six years old.
"Grace used to give me boots and socks and I played with that. I used to manage, tears and everything, and kept playing. She plays with me here and for the national team also. She's my closest friend here. Grace was a big support and all the while she was playing she supported me."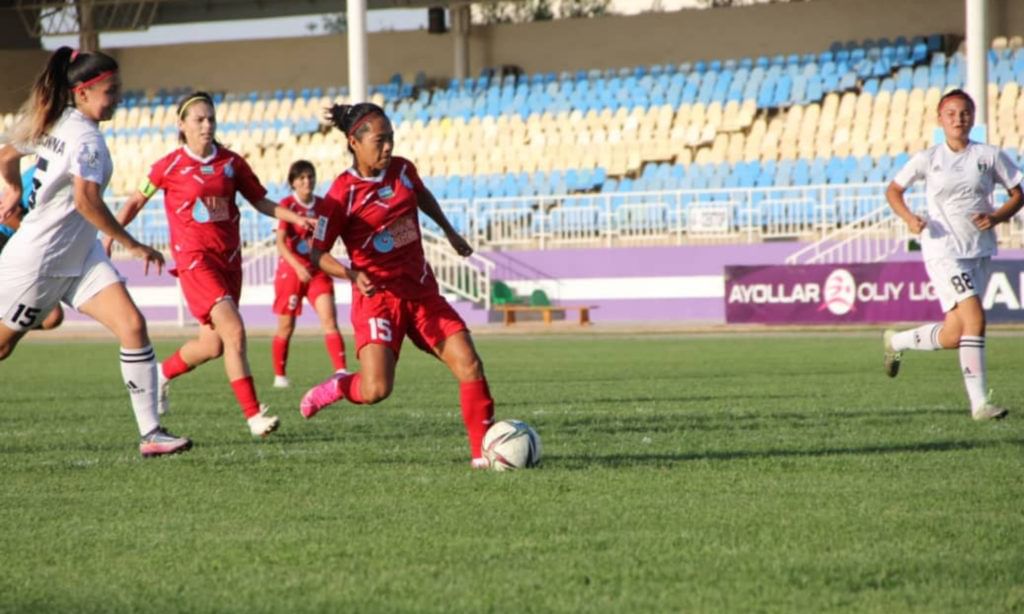 That speaks volumes about the kind of character Dangmei is. Her coach Vladislav adds to that, "She is a sociable and friendly person; she immediately found a common language with new teammates. The team has a very good atmosphere and the girls quickly accepted her into our football family."
Just being nice and friendly has never been good enough, and definitely not in a cut-throat sport like football. Dangmei has her own set of strengths. She can find space easily, has a good header, is brave on the ball and is not afraid of taking gilt-edged chances for her team. With the Indian national team, she won the SAFF Championships in 2016 and 2019. In the same years, she also won the South Asian Games gold medals.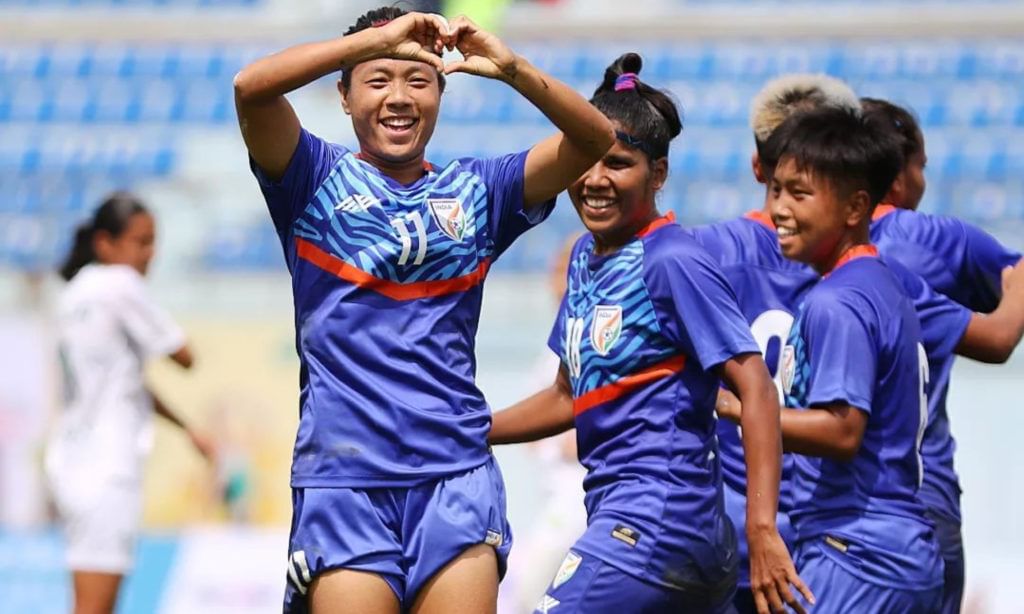 We've seen Grace do her thing both on and off the ball, but let's hear it from her coach on what she's good at. "It is difficult to compare her technical skills with the players of the top teams in Asia. But, her jerks with the ball and ball control at speed is very good. Not all good players can control the ball at speed – that says a lot about her professional abilities," says Vladislav.
Vladislav also opened up to us on how Grace can further better her game. He said, "In professional sports, you need to constantly develop and not stop there, always learn new things and improve. In order for Grace to become even better, she needs to improve her understanding of the game, quick thinking, and correct decision making."
At 26, Dangmei is gradually approaching her peak. Her game will get more refined, playing with and against some of the best in Asia. However, the limelight will be on the ever-so-smiling girl to continue to rule the scoring charts.
She has so far played nearly 40 times for the national team, scoring 17 goals. Not a bad outcome for a player who does all the hard work and plays in different positions regularly to allow her team an added layer of flexibility.
In short, Dangmei is a coach's delight. Strong, brave, versatile and hungry to get better, Grace's graph is set to go north. There's no other route for her, is there?
For more updates, follow Khel Now on Facebook, Twitter, Instagram, Youtube and join our community on Telegram.