The Gaurs have retained majority of their players from last season and with some impressive new signings, they can pose a serious challenge for the title.
FC Goa delivered a fantastic season last time around, as their pleasing style of football caught the attention of the masses whilst they steamrolled to the final, only to be stopped by Bengaluru FC. Though, they eventually finished as the runners-up in the competition, for many, Goa were possibly the best side of the tournament.
In this preview, we will discuss in detail about various factors that would help us attain a broader perspective regarding their upcoming campaign.
Last Season's Performance: Runners-Up
FC Goa had finished their league campaign with the same number of points as BFC, but Sunil Chhetri's side edged them ahead to finish atop the table. Goa had emerged victorious in ten matches, whilst they drew and lost four each. Later on, in their traditionally ruthless goalscoring rout, they tormented Mumbai City FC, with an eventual score of 5-1 in the first leg of the semi-final.
They proceeded to the showpiece with an aggregate of 5-2 win over the two legs of against MCFC and were thus by and large the favourites to clinch the title. However, despite a close contest, a late winner from Rahul Bheke ensured that Goa had to conclude the season as the defeated finalists.
Pre-Season
As expected, FC Goa prepped up for the coming season in a comprehensive way, with numerous practice matches to train out their various options before the big stage. In totality, they played seven pre-season encounters and won six of them quite comfortably. Having faced defeat in one of the games, FC Goa racked up 28 goals in those seven matches and conceded only four in return.
Their last pre-season match was against Minerva Punjab at the Bambolim Stadium on 15th October. Goa won that game 3-1, with the likes of Ferran Corominas, Jackichand Singh and Seminlen Doungel notching up goals. Overall, it can be deciphered that they have had a very good build-up to the season.
Coaching Staff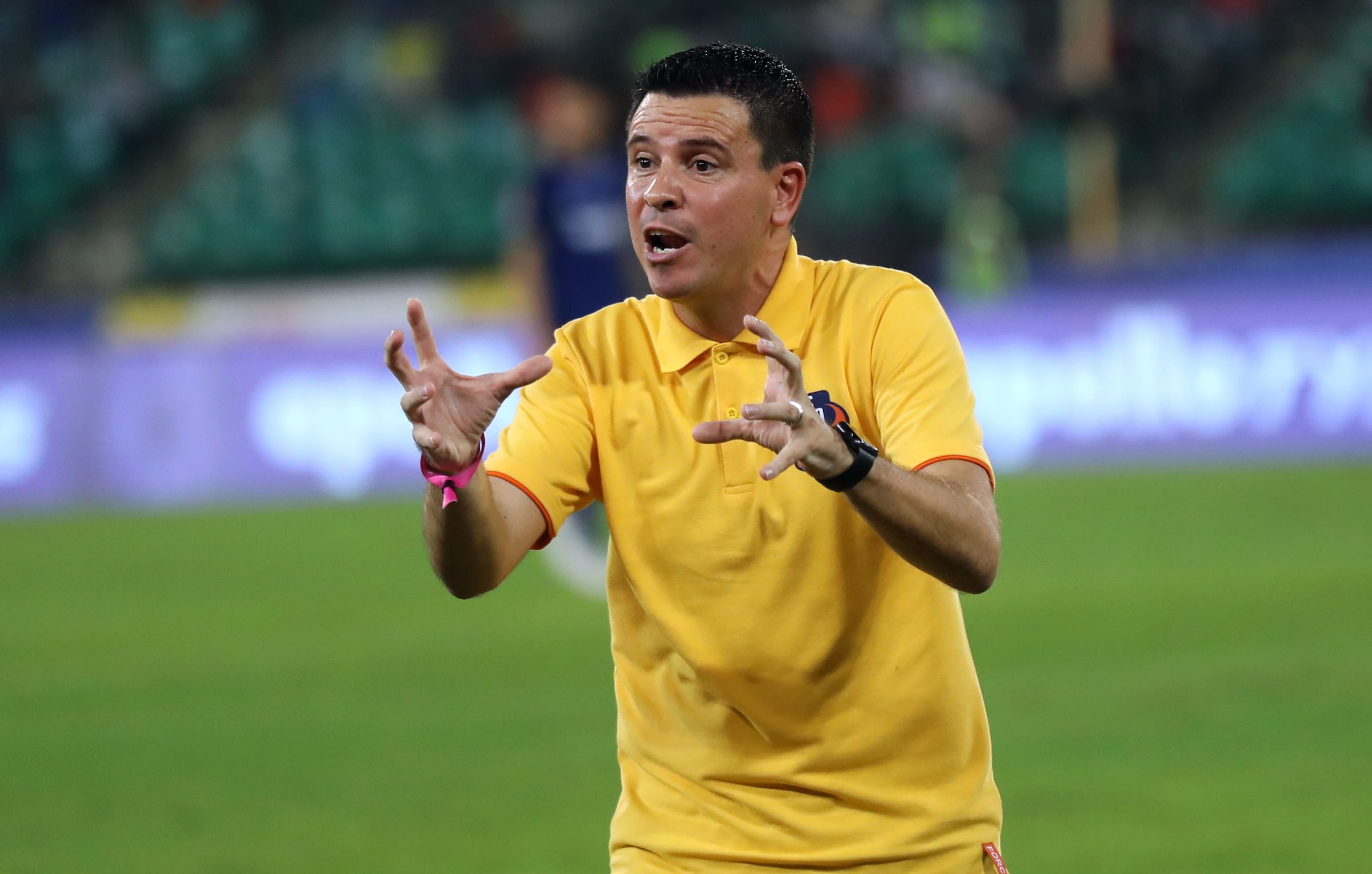 Under Lobera's system, the Gaurs have flourished, finishing as runners-up in the league last season
Sergio Lobera will continue as the manager of FC Goa in the 2019/20 season. Though, Lobera would understandably be disappointed at having failed to notch victory in the final of the ISL last campaign, he must surely have salvaged some pride with victory in the Super Cup later on.
As a coach whose brand of football not only entertains the masses but also produces positive results in abundance, a major trophy like the ISL is of utmost necessity for Lobera. He would try his level best to go one step further this time around.
Lobera will be assisted by the 36-year-old former journeyman player Jesus Tato. Manuel Sayabera Iñarrea and Virender Singh (goalkeeping coach) constitute the coaching staff of the main squad.
Transfer Dealings
Ins
Seiminlen Doungel is the most notable incoming transfer for FC Goa, as the left winger has joined them from Kerala Blasters and even bagged a goal in their last pre-season game.
Naveen Kumar has been roped in as a backup custodian, whilst Amey Ranawade has been added for further solidity at the heart of the backline. Lalawmpuia would provide some quality in the forward department, as he has made the move up from FC Goa Reserves.
Aiban Dohling is yet another centre-back who would be banked upon to accumulate further depth in the defensive department.
Outs
Zaid Krouch has left the club for RS Berkane, whilst Alexander Jesuraj has departed for Mohun Bagan on a loan deal as well. Jesuraj had signed for the club from Chennai City and was immediately released on a loan move. Laxmikant Kattimani has joined Hyderabad FC, whilst Nirmal Chettri is yet to find a destination for himself. Overall, the club did not see many notable departures.
Squad
Goalkeepers
Mohammed Nawaz, Naveen Kumar, Shubham Dhas.
Defenders
Aiban Dohling, Amey Ranawade, Carlos , Chinglensana Singh, Mohamed Ali, Savior Gama, Mourtada Fall, Seriton Fernandes.
Midfielders
Ahmed Jahouh, Brandon Fernandes, Edu Bedia, Hugo Boumous, Kingsley Fernandes, Lenny Rodrigues, Mandar Rao Dessai, Princeton Rebello, Seiminlen Doungel, Jackichand Singh.
Forwards
Ferran Corominas, Lalawmpuia, Liston Colaco, Manvir Singh.
Formation & Tactics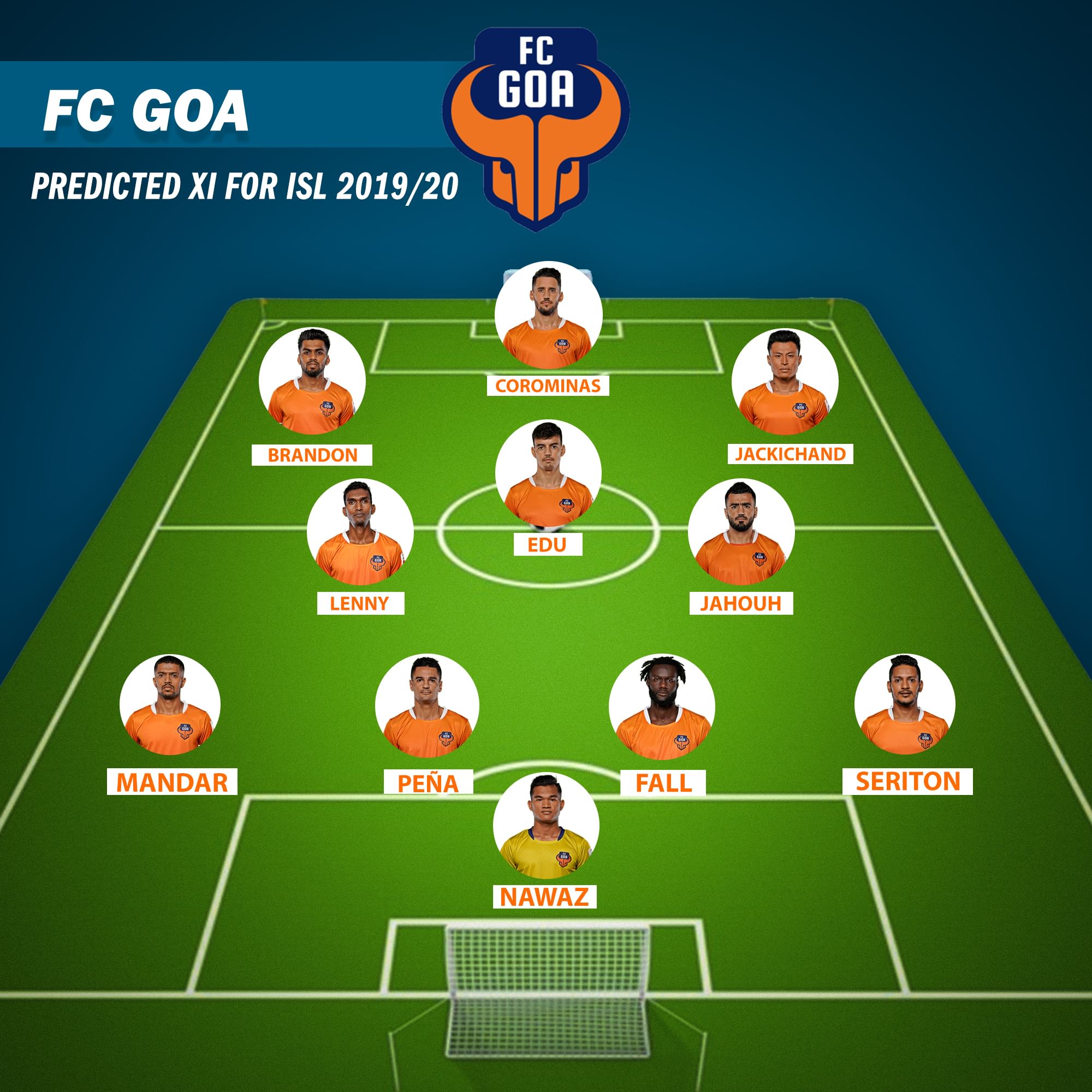 ISL 2019-20: FC Goa Predicted Lineup
Here, we are assessing the team based on the prediction that they would lineup in the usual 4-2-3-1 (4-3-3) interchangeable formation.
Corominas finished the previous season as the league's top scorer with 16 goals to his name and hence, would continue to lead the frontline in the three-man attack. He would be flanked by the pacy duo of Brandon Fernandes and Jackichand Singh, both of whom could look to interchange positions whenever required.
However, they would be responsible for stringing passes and creating goalscoring opportunities, through some slick rotation of the ball in the final third.
Brandon might also be banked upon to stretch the game to the byline and pool in some crosses for Corominas to capitalize on. Jackichand could be relied upon to drift inwards at times and pounce on the loose deliveries in goalscoring positions. The duo of Ahmed Jahouh and Lenny Rodrigues would play at the base of Goa's gameplay, in order to connect the midfield to the forward line.
They would have to develop quick interlinking cohesion as well, in order to perfectly carbon print the team's excellent style of play, that includes a string of varied sort of passes, the extensive use of the flanks and often the interchange of positions between two tactically intelligent and flexible players.
Edu Bedia would slot in the central midfield role between Jahouh and Lenny Rodrigues at times. But, his natural tendency is to slot in that No. 10 role behind Corominas and hence, he could often look to switch from advanced to slightly more defensive central midfield positions.
Mandar Rao Dessai and Seriton Fernandes would have to be at their level best on the offensive front, whilst the centre-back duo of Carlos Peña and Mourtada Fall would have to be comfortable with playing expansively and building the play from the back with confidence and assurance.
Strengths
The core of FC Goa's strength lies in the attacking department. The presence of such an instinctively threatening goalscorer in Corominas is a major boost in itself, whilst the duo of Brandon and Jackichand also add ample quality and versatility on the offensive front.
The trio combined with Bedia's playmaking skills make for a very potent attacking brand of play, resulting in numerous goals. Bedia, who often played as the attacking midfielder last season finished with seven goals to his name. More of the same from the last season could be on the cards this time around as well.
Weaknesses
Corominas is definitely an irreplaceable figure of sorts in Goa's lineup, but it could be argued that they do not have similarly productive backups for him in case the Spaniard breaks down at some point in the season. Manvir Singh is still learning how to ply his trade, whilst the likes of Lalawmpuia and Liston Colaco are still very much in the developing stage of their careers.
Players To Watch
Ferran Corominas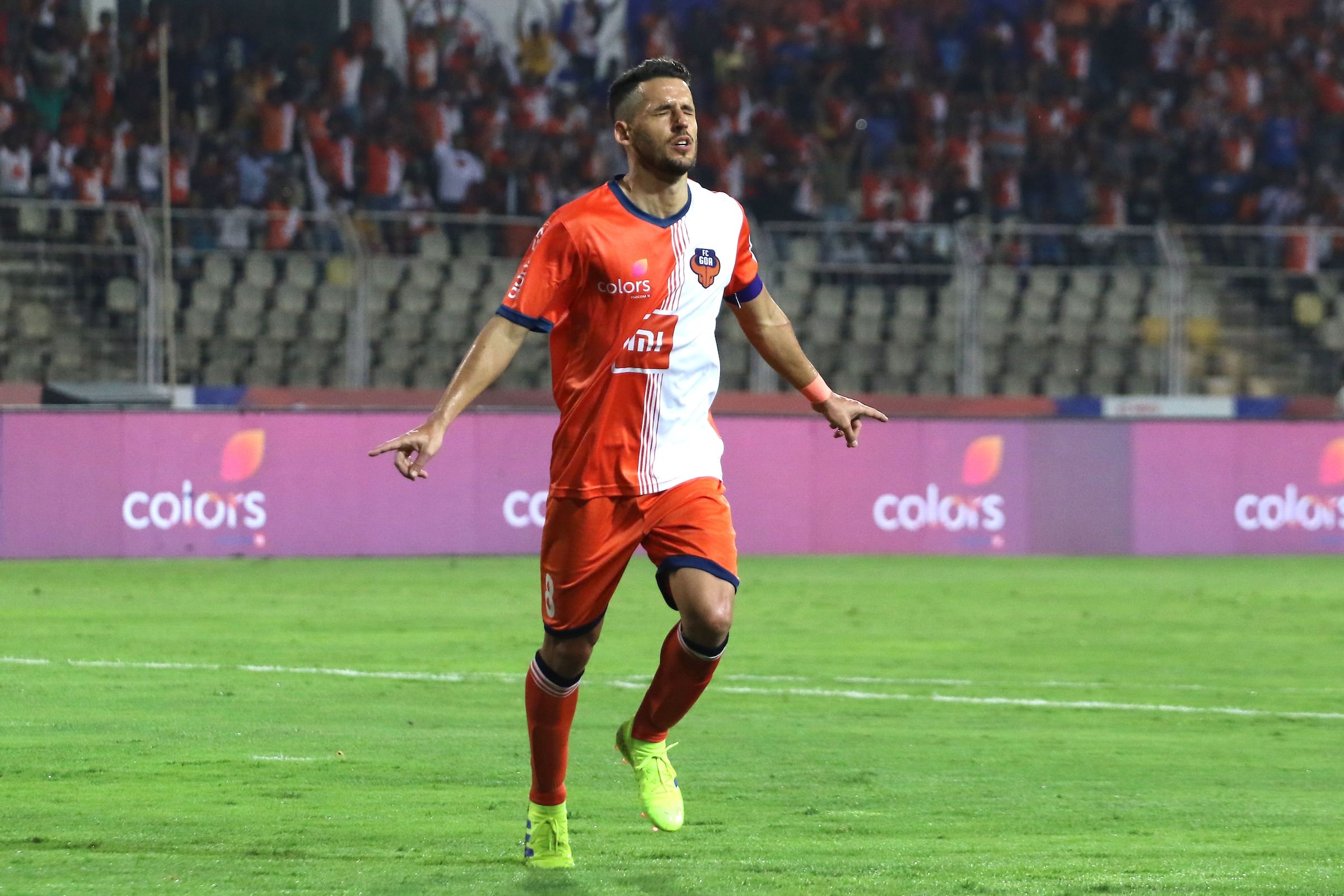 Corominas has scored a mammoth 41 goals in 47 appearances for the Gaurs
Plenty of glares will surround the Spaniard and rightly so, after his stupendous performances from the previous season. Whether or not the 36-year-old replicates those sort of outings this time around as well will have a major say in FC Goa's eventual results in the campaign, as the forward department is heavily dependent on his shoulders as of now.
Corominas has impressively scored 41 goals in 47 matches in all competitions for Goa since joining them in 2017. If he continues to perform in that rich vein of form, once can bank on the heydays to arrive at the club.
Edu Bedia
Edu Bedia is a key, versatile figure in Goa's midfield, as his ability to transition between the central and advanced midfield roles so seamlessly, enables the team to switch between the defensive and attacking phases of the game. He can form passing triangles brilliantly near the opposition's box, drawing members from the adversary's back line out of their positions and then releasing the ball at the apt time for his teammates.
He is a handy goalscorer too, but can restrict himself to a more reserved role if asked to do so by his manager in certain game situations. Then he tends to peg back and absorb the waves of pressure exerted by the opposition.
Mandar Rao Dessai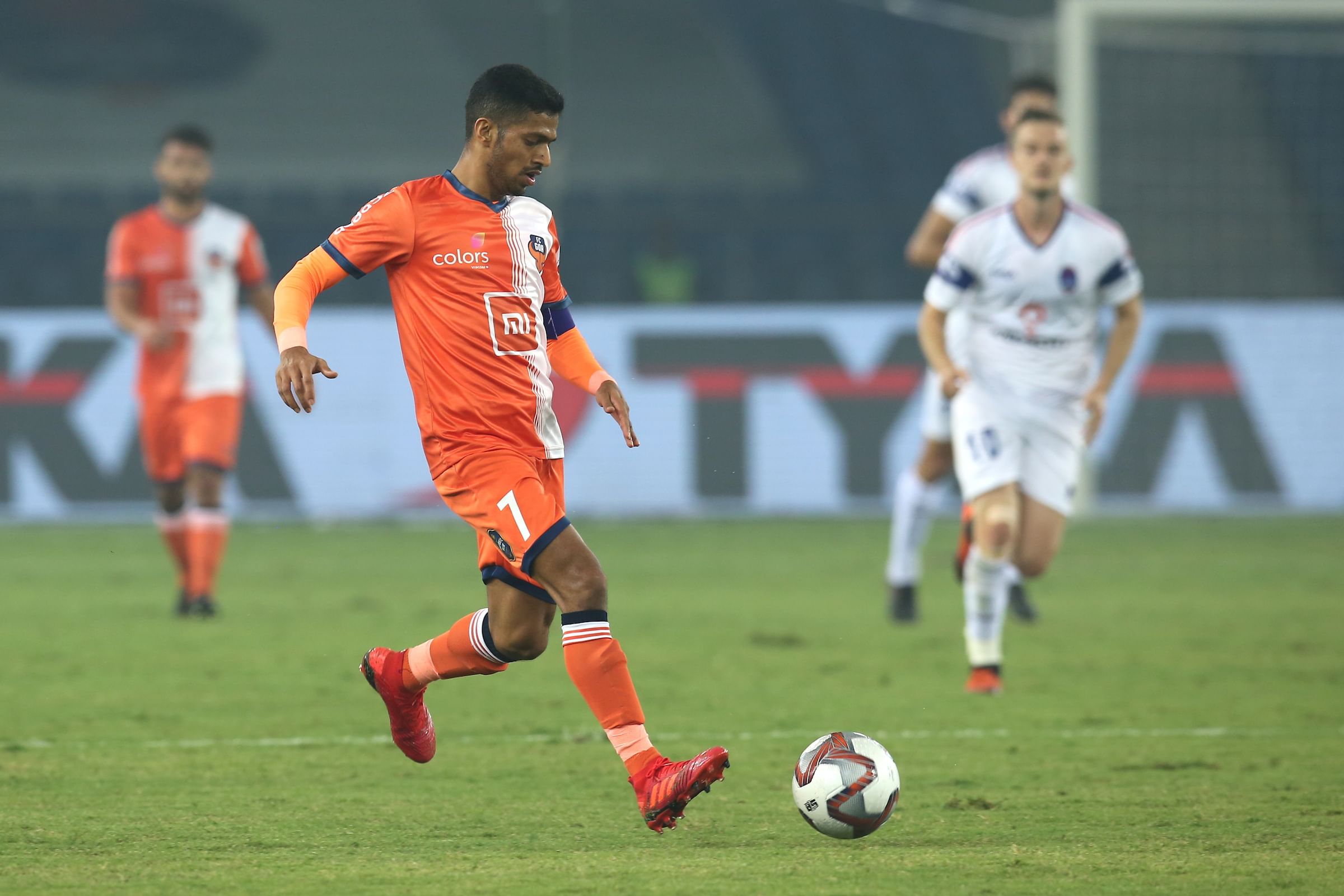 Mandar's impressive performances for the Gaurs last season earned him a call-up to the national team under Igor Stimac
With Dessai attaining further prominence and importance in the national team's lineup as well, it is natural that he would have to assume greater responsibility and display better consistency in terms of his performances at the left-back or the occasional midfield position for FC Goa.
As the side's most reliable national team player, he would be relied upon to keep up with the expectations and most importantly, his performances would be under the scanner during the phases when he returns from international breaks, as many players tend to lose some intensity due to the rigors of the national team's demands.
Fixtures & Tickets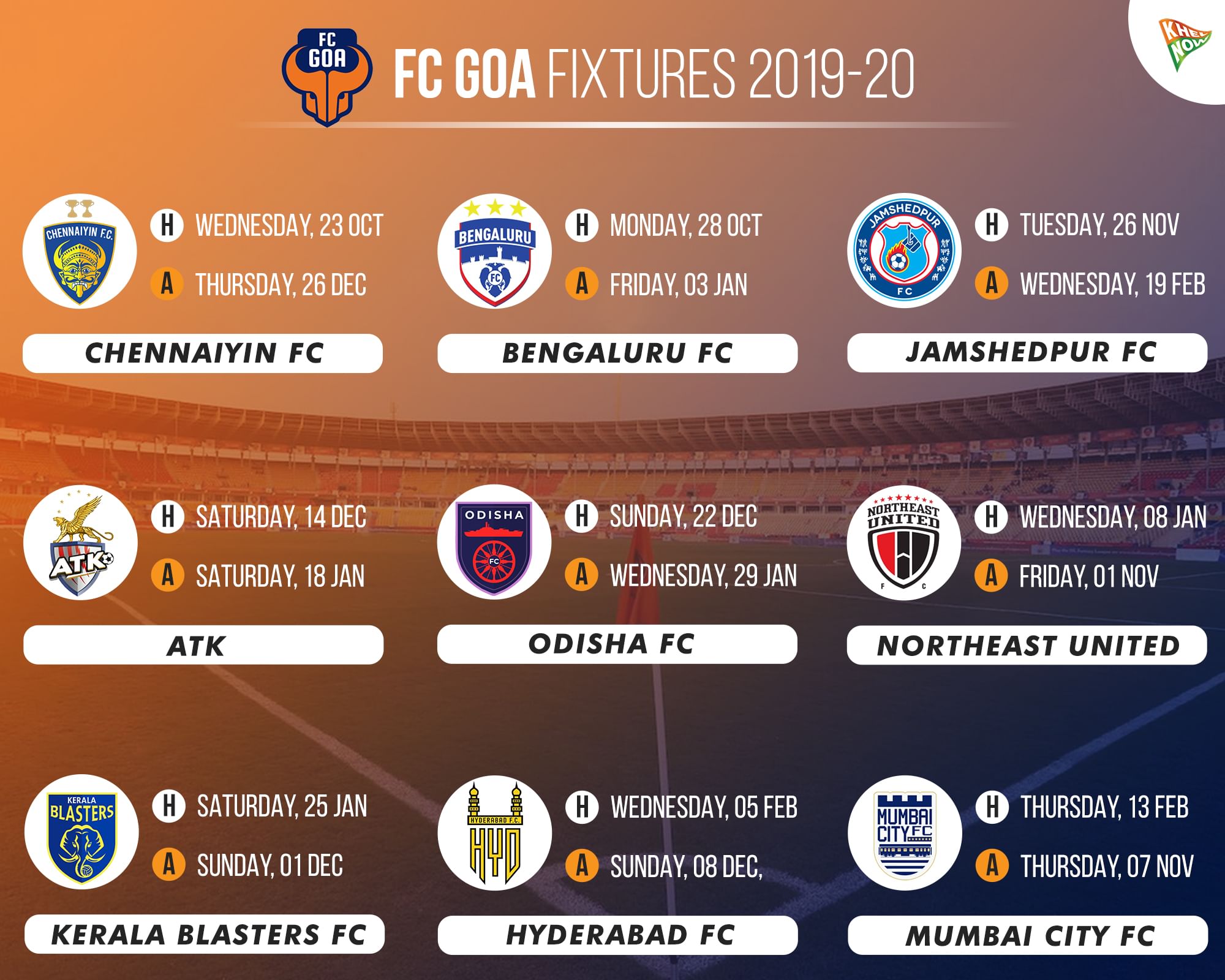 ISL 2019-20: FC Goa Fixtures
Tickets for FC Goa's matches are available at bit.ly/33GCFZB while for all their home games are also available at http://fcgoa.in/tickets.
What To Expect
It is worth noting that FC Goa have kept the core of their squad intact, which means that the sort of performances and outings that they had last season could yet be expected this time around. They boast of some incredible quality and an exciting bunch of young talents.
After winning the Hero Super Cup and finishing as runners-up in the league, the Gaurs will definitely be aiming to clinch the title this season.