The Mariners were handed a shambolic defeat in Asia by FC Nasaf.
The last time FC Nasaf played in the AFC Cup before their 6-0 rout of ATK Mohun Bagan, they trounced Dempo SC 13-0 (on aggregate) en route to the title in 2011. Indian clubs' winning percentage against Central Asian clubs – of which FC Nasaf are a part – is approximately 12.5%, with only two wins in 17 meetings. At the point of this meeting, FC Nasaf, 18 games into the season, were fourth in the Uzbekistan Super League, which is ranked sixth by the AFC in the club competition rankings. ATKMB, who play in the Indian Super League – ranked 17th – had finished their season in March and were out of action for five months, before playing the South Zone AFC Cup group stage in August.
Yet Antonio Habas' side went into this crucial fixture on the back of a six-day camp in Dubai, after Habas had declined to play in the Calcutta Football League (CFL) and the Durand Cup. Neither were there any friendlies arranged. Instead, ATK Mohun Bagan sent their players on a short vacation once the group stage concluded on August 24. And so the price was paid. ATKMB conceded in the fourth minute and went 5-0 down at half-time. The result was only toned down to 6-0 because Nasaf took their foot off the gas in the second half. Oybek Bozorov squandered a penalty and the Uzbek side missed three sitters.
To their credit, Habas' ATK Mohun Bagan were the first ISL side to reach the AFC Cup knockout rounds. But, the performance belied their achievements in the ISL. It leads us to some decisive questions. Did ATK Mohun Bagan take this fixture with the earnestness it warranted? Has Antonio Habas reached his ceiling in Indian football?
Under-prepared in biggest game
That Habas hates friendlies was apparent last season, when ATK Mohun Bagan went into the ISL campaign without one. They are likely to repeat it this term. But, sending players into a break after the season had already kicked-off is rare in football. With the AFC Cup 2021 group stage done after three games, ATKMB – who had advanced to the inter-zone semis– were offered the chance to play the CFL and Durand Cup. But, Habas chose otherwise. The CFL, West Bengal's premier football tournament, was delayed to accommodate ATK Mohun Bagan and SC East Bengal. However, both opted against participating – the latter mainly due to the lack of a team.
For Habas though, playing in the CFL and Durand Cup meant playing against 'non-professional teams.' It meant chances of injuries to his players were greater. So, the players stayed home. And after a two-week break, assembled in Dubai for a six-day camp before travelling to Uzbekistan.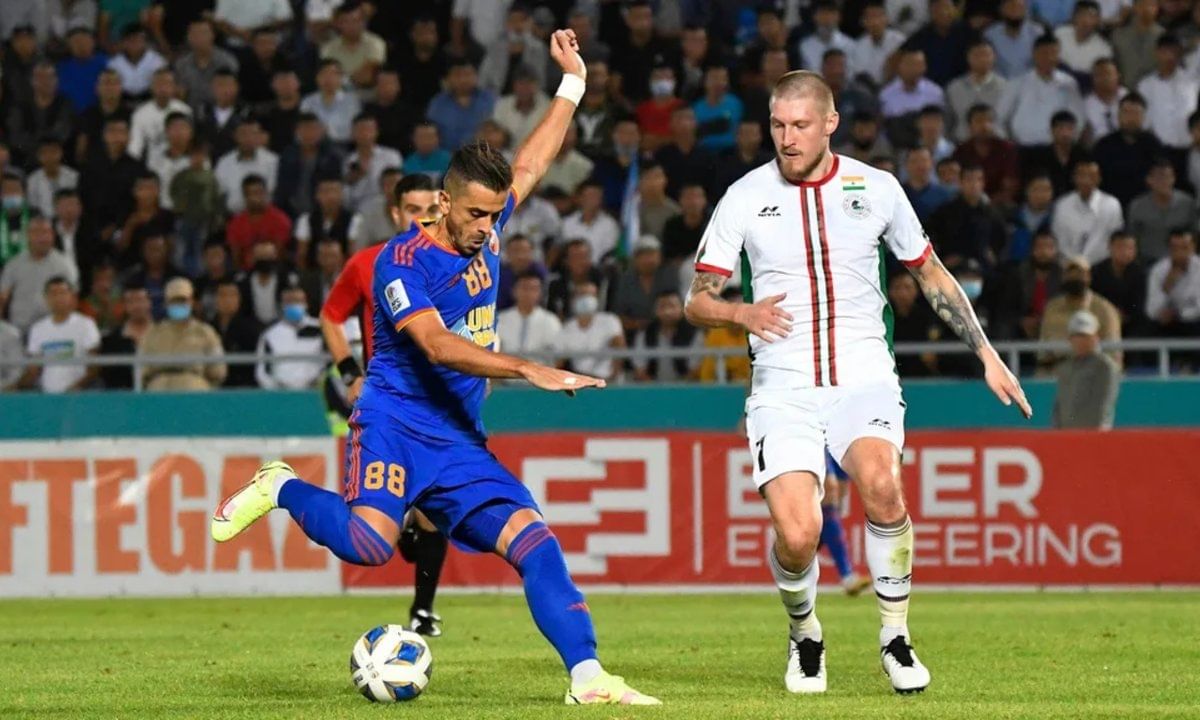 It also meant that perhaps for their biggest game since the merger, ATK Mohun Bagan turned up under-prepared. While FC Nasaf looked fit, had pace and pressed aggressively, Habas' side looked out of sorts and were left to chase shadows. Their full-backs Subhasish Bose and Ashutosh Mehta failed to match Nasaf's Dilshod Saitov and Sherzod Nasrullayev, who controlled the flanks and returned with an assist each. Centre-back Pritam Kotal earned a booking in the second minute after failing to keep up with 19-year-old Khusain Norchayev, who scored a hat-trick. Kotal also scored an own-goal and gave away a penalty. SK Sahil, making his first-ever start, looked out of place. While Joni Kauko, who played at Euro 2020, lacked the defensive rigidity Habas demands from his midfielders.
The lack of cohesiveness and supply from midfield also meant ATK Mohun Bagan's strike-force of Roy Krishna and David Williams was chasing lost balls and found no rhythm in the attacking third.
Confused squad selection
One of the key features to Antonio Habas' success in the ISL has been an impenetrable defence. The Spaniard relies on solid and physically robust centre-backs, aided by a stubborn holding midfielder to suck the juice out of any attacks. Arnab Mondal and Josemi with Borja Fernandez in 2014. Add Tiri to the mix a year later. Anas Edathodika, John Johnson and Agus Garcia with Carl McHugh in 2019-20 and Tiri, Sandesh Jhingan with McHugh last season.
Yet ATK Mohun Bagan went into the AFC Cup without a registered centre-back. Tiri, who was the only recognized centre-back in the squad following Jhingan's departure, wasn't registered, as Habas opted for a more attacking quartet for the group stages. Then Kauko replaced the injured Hugo Boumous for the inter-zonal semi-final.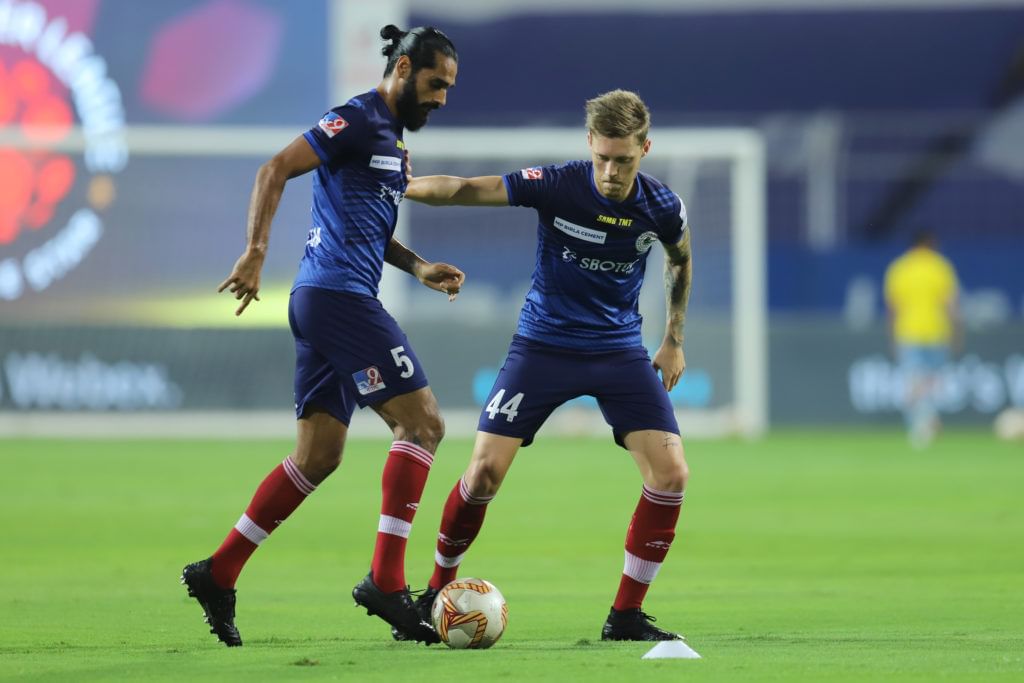 The lack of central defenders cost them, as Habas' side were thrashed 6-0 with Kotal culpable for two of those goals. McHugh, who generally operates as a defensive midfielder, successfully moved in as a makeshift centre-back in the group stages. But, the move backfired against Nasaf, who overloaded the box, leaving the pair of McHugh and Kotal unguarded. Their lack of understanding was apparent.
Habas' playing XI for the Nasaf clash was also questionable, with the Spanish tactician opting for a 4-4-2 against the more favoured 3-5-2 formation that has fetched him immense success in the ISL. It meant ATK Mohun Bagan's strike pair, who are usually the first line of defence, played a notch higher on the shoulders of the centre-backs.
ATKMB did shift back to 3-5-2 after conceding the second goal. But, by then, Nasaf had run riot and added two more within the next 13 minutes. The blunder of picking the wrong formation in such a big game was telling. It has raised questions about whether Habas is the ideal man to lead ATK Mohun Bagan going forward.
Playing Style Elements
Jhingan's departure to Croatian club Sibenik has certainly left a gaping hole in the ATK Mohun Bagan defence. It has also somewhat derailed Habas' playing style. With the club failing to sign an Indian centre-back and with only four foreigners allowed in the upcoming ISL season, Habas might have to rethink his playing style. Playing with a 3-5-2 formation would mean, one of either Kotal (right-sided) or Sumit Rathi (left-sided) would have to pair up with Tiri at the heart of the defence. Bose and Ashutosh Mehta have already shown their vulnerabilities.
McHugh is another option for slotting in as a makeshift centre-back. But, pairing him with Tiri at the back would mean ATKMB would be devoid of adequate foreign presence in attack. With Boumous and Krishna automatic picks for the other two overseas slots, the midfield will then have to be all-Indian, with Lenny Rodrigues and Deepak Tangri the ideal choices. But, can Habas trust Lenny and Deepak with the enforcer roles?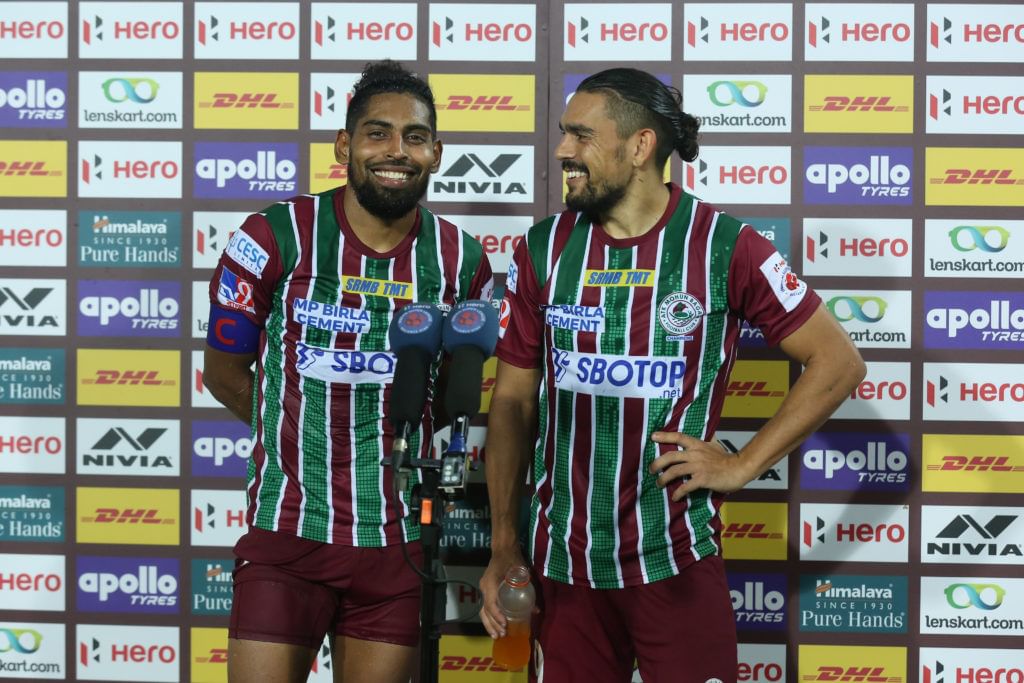 If McHugh plays in midfield, one of Kotal or Rathi would need to play as a centre-back. But Rathi saw only 255 minutes of action last ISL and was an unused substitute against Bashundhara Kings and FC Nasaf. Pritam's best usually comes as a right-back as seen in the recent SAFF Championship win.
Four foreigners also mean Williams and Krishna, who enjoy a telepathic understanding with each other, can no longer fit into a playing XI together. Krishna is likely to start with Williams operating from the bench and playing in situations. Can Manvir Singh then shift in as a second striker in Habas' formation?
It comes down to whether Antonio Habas is ready to change his tactics or should ATK Mohun Bagan look elsewhere?
Indian Players
On-paper, ATK Mohun Bagan have one of the strongest Indian contingents. They would make a decent playing XI too. But, can Habas bring the best out of them? Does he trust them enough? Pritam, Subhasish, Manvir and Liston Colaco are regulars in Igor Stimac's Indian team. Prabir Das, Lenny, Deepak, Sahil, Sumit and Michael Soosairaj are counted among India's recent best. A handful of them are also on long-term contracts at the club. But, lack of game-time remains the biggest concern.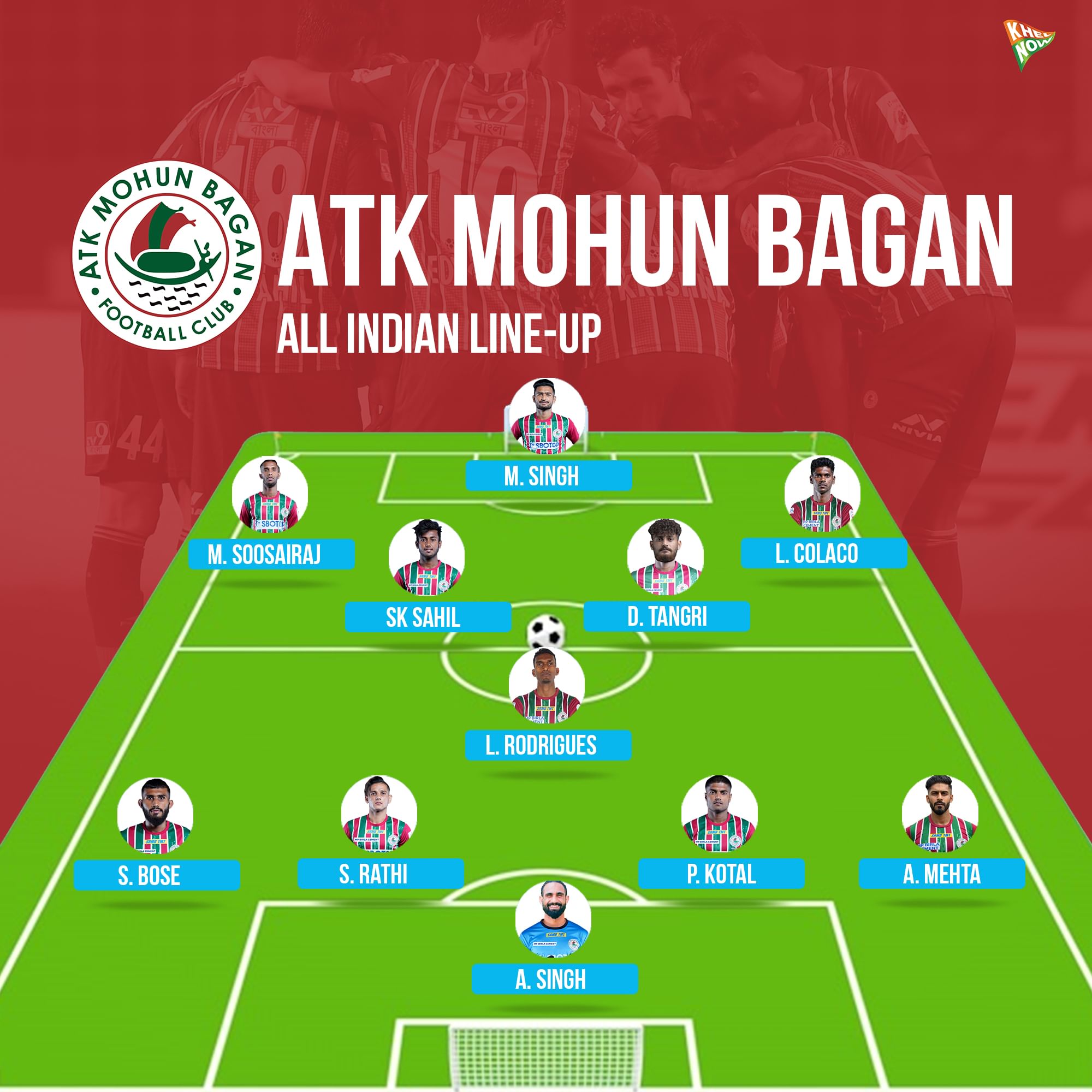 Dheeraj Singh and Jobby Justin left for greener pastures after long spells on the bench. Dheeraj is now India's third-choice goalkeeper, No. 1 at FC Goa and a SAFF Championship winner. Justin will represent Chennaiyin FC this season.
Sahil, who was a regular in Mohun Bagan's title-winning I-League campaign, managed only 285 minutes of action last season – mostly to kill time as a substitute. His first start for the club came in the thrashing by FC Nasaf.
With the ISL switching to the four foreigners rule, game-time is bound to increase for Indian players. But, is the coach good enough to bring the best out of his domestic stars?
Has Habas been exposed?
A point in case would be the face-off between Antonio Habas and Sergio Lobera last term. It ended 3-0 to Lobera, who beat Habas in all three meetings by a 5-1 margin. When they first met in January, Lobera's use of Hernan Santana took Roy Krishna out of the game and ATK Mohun Bagan were hardly seen. Then in a virtual final, Lobera beat and exposed the Spaniard in his own way – defend deep and use set-pieces efficiently. The playoffs final was an amalgamation of the first two.
Even with Jhingan and Tiri, Antonio Habas' side were vulnerable during set-pieces. Long crosses into the box troubled both defenders last season. Now with only Tiri as the recognized centre-back, ATK Mohun Bagan's set-piece issues are likely to accentuate.
FC Nasaf then completely trampled Habas' tactics with aggressive movement and direct play. Overloading the wings, pressing high and outnumbering the ATK Mohun Bagan defence inside their own box, Nasaf tore Habas' gameplan to shreds. Each of the six goals the ISL finalists conceded, came from inside their own box. Three were from crosses through the flanks. defensive solidity?
No side before this game had scored a hat-trick against Habas' side in the time he has been in Indian football. No team had put six past a side managed by the Spaniard, before FC Nasaf did both. ATK Mohun Bagan ended the match with zero shots on target.
The Future
The manner of the defeat has raised doubts over Habas as a tactician. Can he only field teams that defend deep with a low block, rely on counter-attacking and the striker's efficiency to find the net – Roy Krishna in this case. Or can Habas move away from his pragmatic nature and has the acumen to change games?
Time will tell. For now, as Antonio Habas and ATK Mohun Bagan prepare for another season of the ISL with high hopes and expectations, FC Nasaf will play for the Asian crown. Asia, For Habas, was a disaster.
For more football updates, follow Khel Now on Twitter, Instagram and join our community on Telegram.