The 22-year-old winger joined the Kolkata-based club after a spectacular season with Hyderabad FC.
Earlier this summer, ATK Mohun Bagan made their star domestic signing in budding youngster Liston Colaco. After excelling for Hyderabad FC last season, the 22-year-old was signed by ATKMB for a transfer fee of almost ₹1 crore.
Infact, ATKMB broke their own transfer record to sign Colaco, surpassing the ₹80 lacs paid for Manvir Singh. Colaco will certainly strengthen the depth of wide forwards in the squad. The club are aiming to build a strong squad well capable of competing in AFC competitions.
The 22-year-old winger is yet to hit his peak, but is among the most exciting youngsters in Indian football. Having signed him for big money, ATK Mohun Bagan will hope Colaco can unleash his potential at the club. But, despite his huge transfer fee, Liston Colaco isn't guaranteed an automatic spot in the starting XI. Khel Now takes a look at five reasons why signing the forward makes sense for ATK Mohun Bagan.
5. History of FC Goa stars at ATKMB
In recent years, ATK Mohun Bagan have maintained a strong relationship with FC Goa. Last year, they signed Manvir Singh from them. Then in the winter transfer window earlier this year, they swapped Glan Martins for Lenny Rodrigues.
Fortunately for Liston Colaco, those Goa stars have excelled in Habas' system. Manvir was one of their star players from last season, scoring six goals and registering three assists. Lenny also excelled in the second half of ATKMB's season. Infact, in the six appearances he made, ATKMB won four and lost just one game.
Rodrigues helped ATKMB take a more attacking stance in games because of his defensive work. Singh's key goals helped them stay in the title race until the very end. The former Goa stars excelled in their debut season at ATKMB. That definitely serves as a promising sign for Colaco.
4. Competitiveness within squad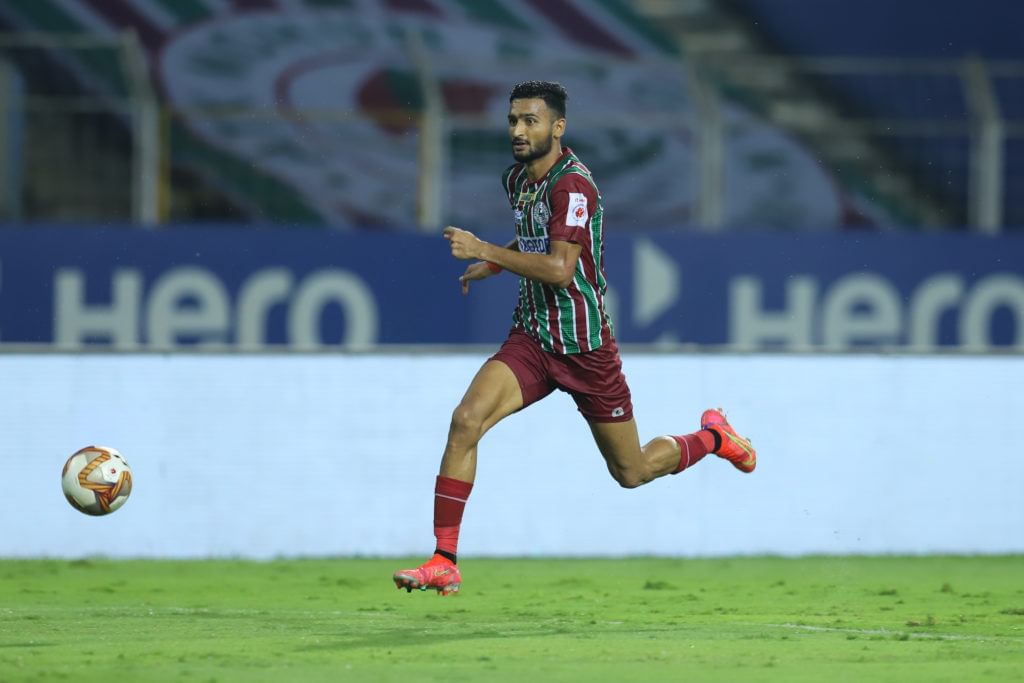 Colaco might get some initial special treatment by Habas at ATKMB, but that won't last for long. The Mariners are putting together an incredibly stacked squad with multiple players vying for every position. In his preferred right wing role itself, Colaco will have to fight with Manvir, who excelled in that position last season.
If that's not enough, there are the likes of Michael Soosairaj and even Prabir Das, who fit in brilliantly as wingers in Habas' system. ATKMB will sign more prominent foreign stars as well, which will further increase the competition.
Colaco has to perform at his highest level to get ahead of the curve. Unless he produces the big performances expected, the youngster could find himself at the back of the line very soon.
3. Sustained development
Liston is perhaps the prime example of the growth of a grassroots-level footballer in India. He started making an impression at Goan side Salgaocar FC, being the top scorer for his side in the 2016/17 U18 I-League season.
Colaco was the side's top scorer in the 2016/17 Goa Professional League campaign, before also excelling in the Santosh Trophy that year. He helped the Goa side reach the final with multiple goals in the tournament. In 2017, he joined FC Goa and initially played for their reserves side, who participated in the Second Division League.
After impressing with eight goals in 12 appearances for FC Goa Reserves, Colaco was called up to the first-team squad. At Goa, he was mostly used as a substitute in the ISL before surprisingly being sold to Hyderabad FC last year. Last season for HFC, he scored two goals and registered three assists in 19 appearances – among the best numbers for Indian stars in the ISL.
2. Pressure of the price tag
Colaco became one of the most expensive signings in ISL history when ATKMB shelled out ₹1 crore for him. Often big transfer fees take a toll on the players and affect their performances on the field.
In the past, many players have buckled under the pressure of the price tag. Manvir, admirably, stood strong and met almost every expectation last season. Colaco will have to work really hard to fulfill his own expectations. That means being involved in goals consistently and getting better at the club.
However, he can't let the pressure buckle him down and affect his performances. Colaco shouldn't try to change his style because of all the expectations on his shoulders. As long as he continues his development as an exciting winger, the 22-year-old should prove to be worth the money.
1. The super-sub role
Because of the sheer competitiveness at ATKMB, Colaco probably won't get a start every game. However, he's actually proven himself capable of being an impact substitute. The 22-year-old's pace, directness and trickery can torment tired defenders.
Antonio Habas' side lacked proper impact substitutes last season, thereby limiting his options. However, he now has a fearless attacker, who can take the fight to the opponent as a substitute. Last season, Colaco scored two goals and registered as many assists as a substitute. He helped turn games around for Hyderabad FC, which he'll now aim to replicate at ATKMB.
It's quite obvious that ATKMB have signed Liston Colaco for long-term rewards. Of course, there will be expectations on him to make some kind of an impact in his debut season. As long as he can improve upon his numbers from the last campaign, the 22-year-old winger should succeed at the Mariners.
He also has time on his side. Colaco is likely to hit his prime in a couple of years – when he can carry ATKMB to a lot of success. As long as he can improve his decision-making in the final third, be more clinical with his finishing and disciplined on the ball, the young winger should turn out a superb long-term signing for the Mariners.
For more football updates, follow Khel Now on Twitter, Instagram and join our community on Telegram.