The Nizams' superlative striker has been breaking records left and right ever since his debut.
Bartholomew Ogbeche recently became a history-maker in the Indian Super League (ISL) – becoming the competition's highest-ever goalscorer. The 37-year-old has had a really eventful career, that stretches for over two decades.
A product of Paris Saint-Germain's acclaimed academy, he even played for the French giants. Well before they were blessed by Qatari royalty, Ogbeche made over 50 appearances for them. Since leaving them, he has played in many countries – England, Spain, the UAE, North Macedonia, and even the Netherlands.
It was in 2018 that the Nigerian journeyman stepped foot in the ISL. He liked it here in India and decided to try and conquer the league. Over the last few years, Ogbeche played for four ISL sides and dominates the all-time scoring charts with 52 goals.
When talking about the elite foreign strikers in ISL history, Bartholomew Ogbeche is among the cream of the crop. However, his competition has been fierce. From FC Goa legend Ferran Corominas and ATK Mohun Bagan starlet Roy Krishna to Mumbai City FC hitman Igor Angulo and Ian Hume – one of the biggest stars of ISL's developing years.
So, how exactly does the Nigerian goal-machine compare with some of the ISL's best foreign striking imports? Let's have a look.
Comparing the records
Ogbeche, of course, is the ISL's highest-scoring player ever with 52 goals. He has outscored Krishna (33), Angulo (24) and Hume (25), but only managed a few more than Corominas (48). Another important highlight is that he has made 74 appearances more than Angulo (37, Krishna (56), Coromins (57) and Hume (61).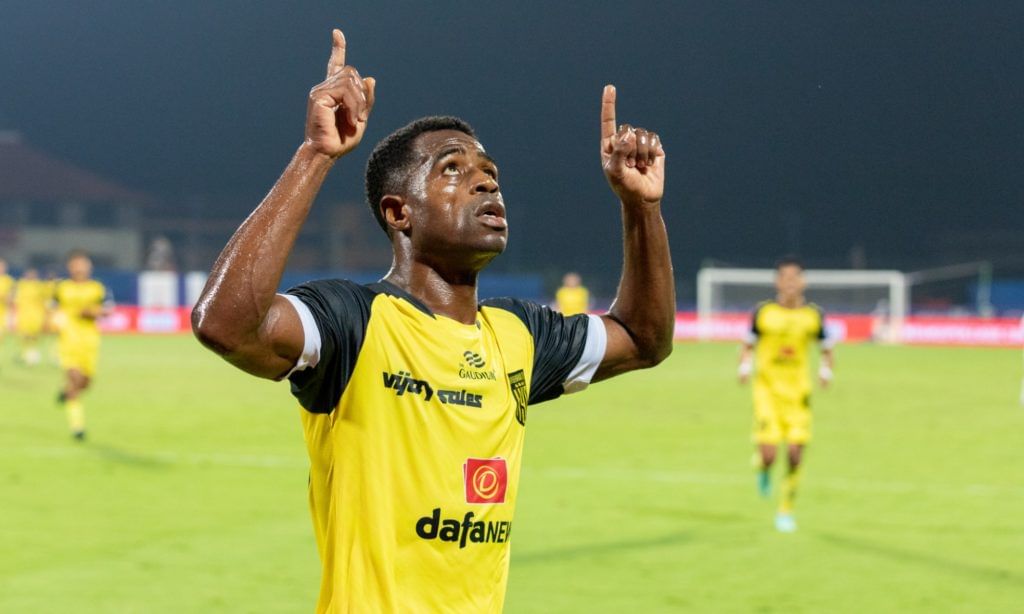 The 37-year-old has been playing in India since the 2018/19 season. Despite making more appearances than the three, Bartholomew Ogbeche boasts a better goal-to-game ratio than the others. He averages a 0.7 goal/game ratio, more than the ATK Mohun Bagan star (0.58) and just better than Angulo (0.65). However, Corominas' 0.84 goal/game ratio even blows his out of the water.
This perhaps indicates that Bart's surely been a very clinical goalscorer in terms of consistency across four seasons. But perhaps not as much as Corominas. However, the chance conversion ratio tells another story. Ogbeche has a solid 22% chance conversion rate, but it falls short of Angulo's (25%) and Krishna's (23%). Ferran's 35% conversation ratio towers over all of them.
Bart has averaged 20.16 passes per game, which is more than Angulo (12.38), but fewer than Roy (21.46) and Corominas (33.98). This shows he loves getting involved in building attacks, but lacks the creativity of Krishna or Corominas.
Krishna (18) and Corominas (16) have more than double the assists than Ogbeche (7), who has more than Hume (6) and Angulo (2) have managed. Bartholomew Ogbeche's playing style revolves around him trying to maintain dominance in the final third, bullying defenders with his change of pace and physicality – making him a unique threat as compared to the other strikers.
Adapting to different teams
Out of these five elite foreign strikers, Krishna and Corominas are the only players not to have switched teams. Angulo has played for FC Goa and Mumbai City, Hume for the former Atletico de Kolkata, FC Pune City, and Kerala Blasters.
Bartholomew Ogbeche, of course, started his ISL career with NorthEast United. He then moved to Kerala Blasters, before joining Mumbai City and winning the shield and league double with them last season. Ogbeche shifted to Hyderabad FC ahead of the start of the 2021/22 season.
Of course, while he has played in the same league, Ogbeche has played with two teams with different philosophies. At NorthEast United, he played with the perennial underdogs. Getting rotated and playing in a more possession-hungry system in his stint as an Islander further helped him hone his skills.
At Hyderabad FC, Bartholomew Ogbeche has played as a leader around a young core. Despite the changing systems, he has adapted everywhere he has gone perfectly. He maintained his reputation as a cunning goalscorer but modeled his style to sync in with whatever different coaches have demanded from him.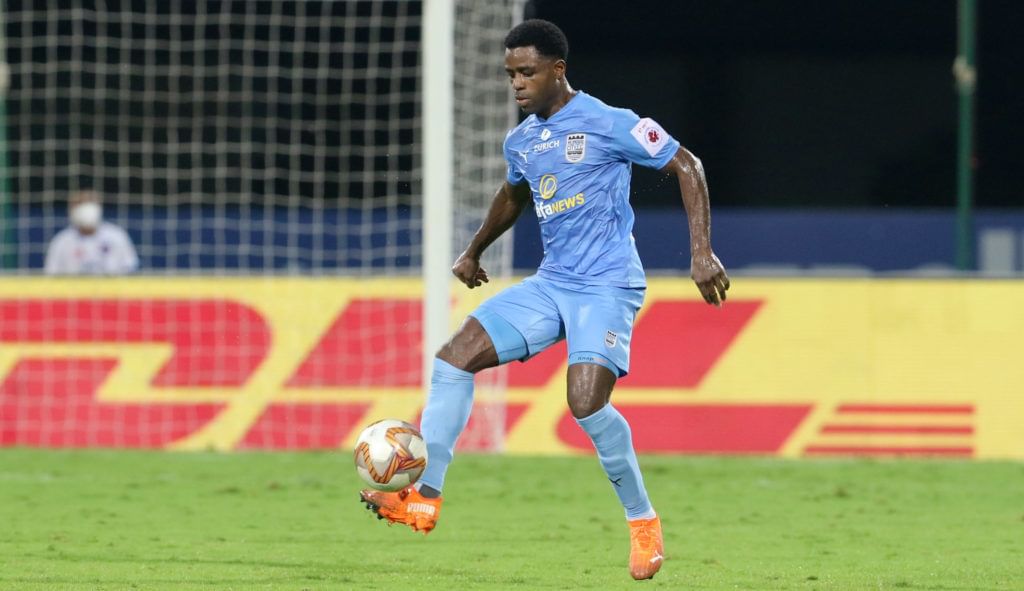 Angulo, for one, has played for two possession-based sides and been the focal point of their attacks. His hold-up play, link-up style, and deft finishing have seen him excel in the ISL in recent seasons.
Hume played for a few counter-attacking sides and ones which emphasized defensive football. The Canadian star often had to carry the ball forward in counter-attacks and move through the spaces, with his clever style bringing many goals.
Krishna, having played with the erstwhile ATK and ATK Mohun Bagan, has also been the front warrior of a team focused on counter-attacks and defensive football. Only with Juan Ferrando's arrival have things changed, but the Fijian has struggled due to fitness issues this season.
Corominas was extremely loyal to FC Goa and became the club's hero soon after arriving. In his three seasons with the outfit, he perfectly blended his style with their possession-based approach and thrived in it. It's up for debate whether or not the Spaniard could've adapted to different systems as well as Bartholomew Ogbeche has done.
Ogbeche has probably had to tweak his style the most among ISL exports in terms of adapting himself to match a team's strengths. With certain tweaks and changing details, the Nigerian maintained his dominance in the ISL to top the scoring charts.
Conclusion
Bartholomew Ogbeche stands tall among all the foreign players to have ever graced the league. What is more surprising is that the ISL has surely been blessed with some amazing foreign talents since its inception. His contribution to every team the 37-year-old played for has been valuable. Additionally, the Nigerian's impressive ability to maintain consistency is why he sits atop the scoring charts.
Ogbeche has entertained fans, scoring some stunners and been a persistent thorn for defenders – like some of the other elite foreign strikers to have come in the league.
The Nigerian striker has scripted a place for himself in the ISL history books. Whether he is the greatest foreign striking threat the league has witnessed is a debate guaranteed to draw far-ranging opinions.
For more football updates, follow Khel Now on Twitter, Instagram and join our community on Telegram.