Estimated reading time: 8 minutes
The Hyderabad FC youngster spoke about his aspirations for the future with both club and country.
Asish Rai has put in the hard yards in Indian football. From his early days in Odisha to becoming a key member of Hyderabad FC, he has come a long way and intends to go many more miles in his journey.
Since Manolo Marquez took over the helm at Hyderabad FC, Rai's rise to fame has been meteoric. An impressive 2020-21 season saw him excelling at his role, earning plaudits from fans and pundits alike. Such was his effectiveness that the club's CEO, Varun Tripuraneni went onto claim that he would have received a national team call-up, had he not picked up an injury.
In a reflective chat with Khel Now on his journey and aspirations for the future, Asish Rai elaborated on several lesser known aspects of his career.
Humble Beginnings
Starting out in his village, where he cultivated his desire to play professionally, Rai's first big break came when he became part of the Pune City Academy.
"The academy made a lot of difference. The facilities were better and for each age group, there was a separate coach. That really helped us," he remarked.
"There were players like Sahil Panwar, who played with me in the academy and is now at the highest level. The academy instilled everything in me right from the basics and gave me a lot of confidence," he reminisced.
Indian Arrows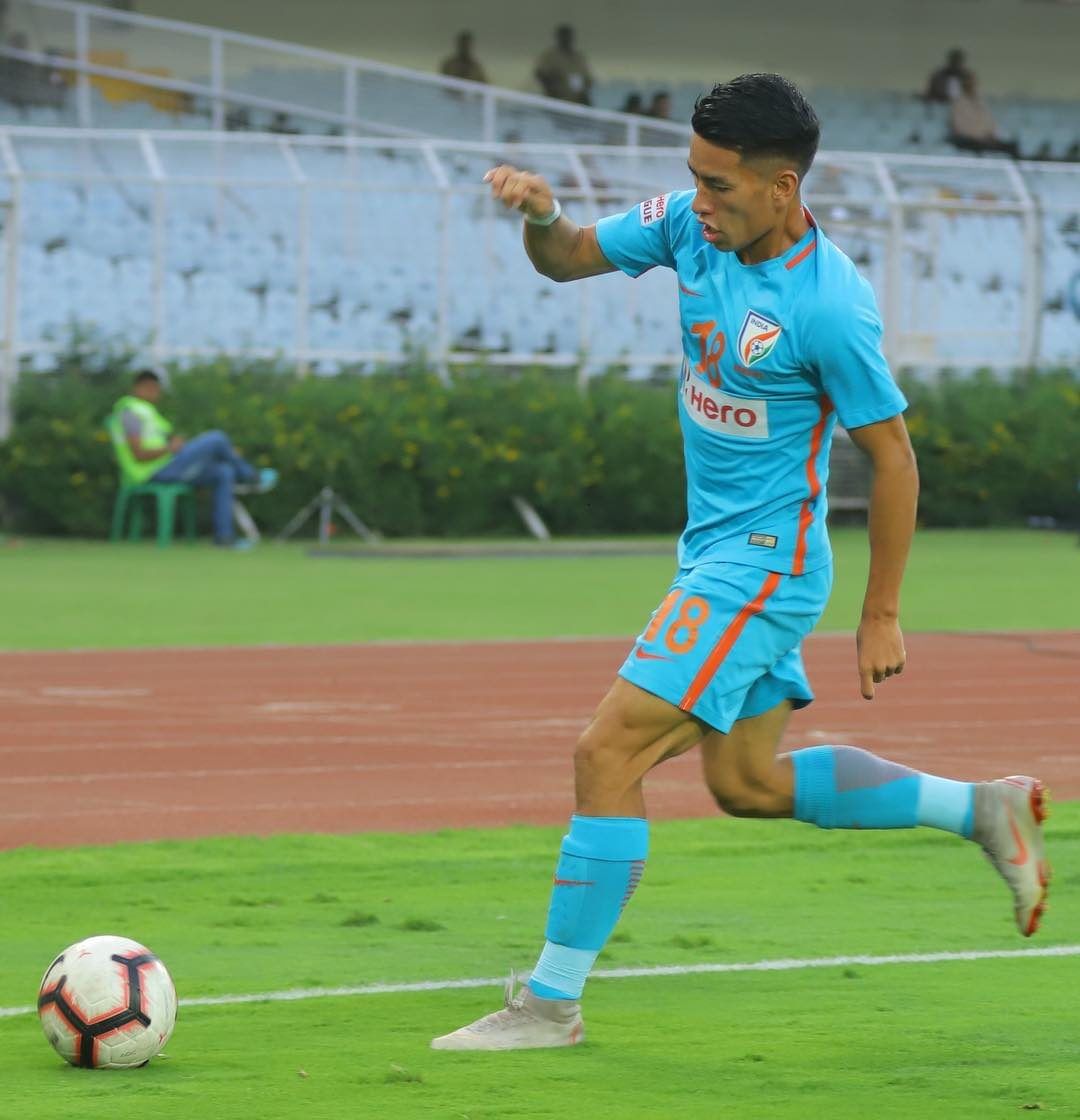 Asish Rai was later inducted to Indian Arrows in 2017 and swiftly made his chances count, featuring in every game for the developmental side in the 2018-19 season.
The move turned out to be a a brilliant decision for him as his talents led him to his current ISL employers, Hyderabad FC. The defender credited his improvement owing to his time in the Arrows setup.
"It was a very professional setup over there (at Arrows). The approach was very streamlined towards development. The exposure trips and the game time that I got with the Arrows was a great learning experience for me," he quipped.
"I learnt a lot playing against bigger oppositions. I learnt a lot of new things related to my game on the side and it has helped a lot for me in my career going forward from there."
ISL debut with Hyderabad FC
Asish Rai finally made his big cut when he signed for Hyderabad FC ahead of the 2019-20 season and there was no looking back from that point onward.
"I was excited. I came into the season having played every game in the I-League in the previous season. There was a sense of excitement and the desire to prove myself and to show my game. I was confident of making it to the playing XI," he revealed.
However, his first season with the Nizams turned out to be disappointing for the club. Rai, on the other hand, played over 1000 minutes and contributed a single assist with an average of 31 passes per match, with 60% accuracy. He also completed an impressive 2.7 crosses per game.
Despite a poor season for the club, Rai sees his first season with the Nizams as the perfect learning curve and used it as inspiration for his performances in the previous season. "The rhythm was not there in our game. But, I learnt how to prepare and face big teams. I didn't believe that I would get a lot of games in the previous season but I was confident that I can play well if I am in the playing XI," he expressed.
The individual and collective resurgence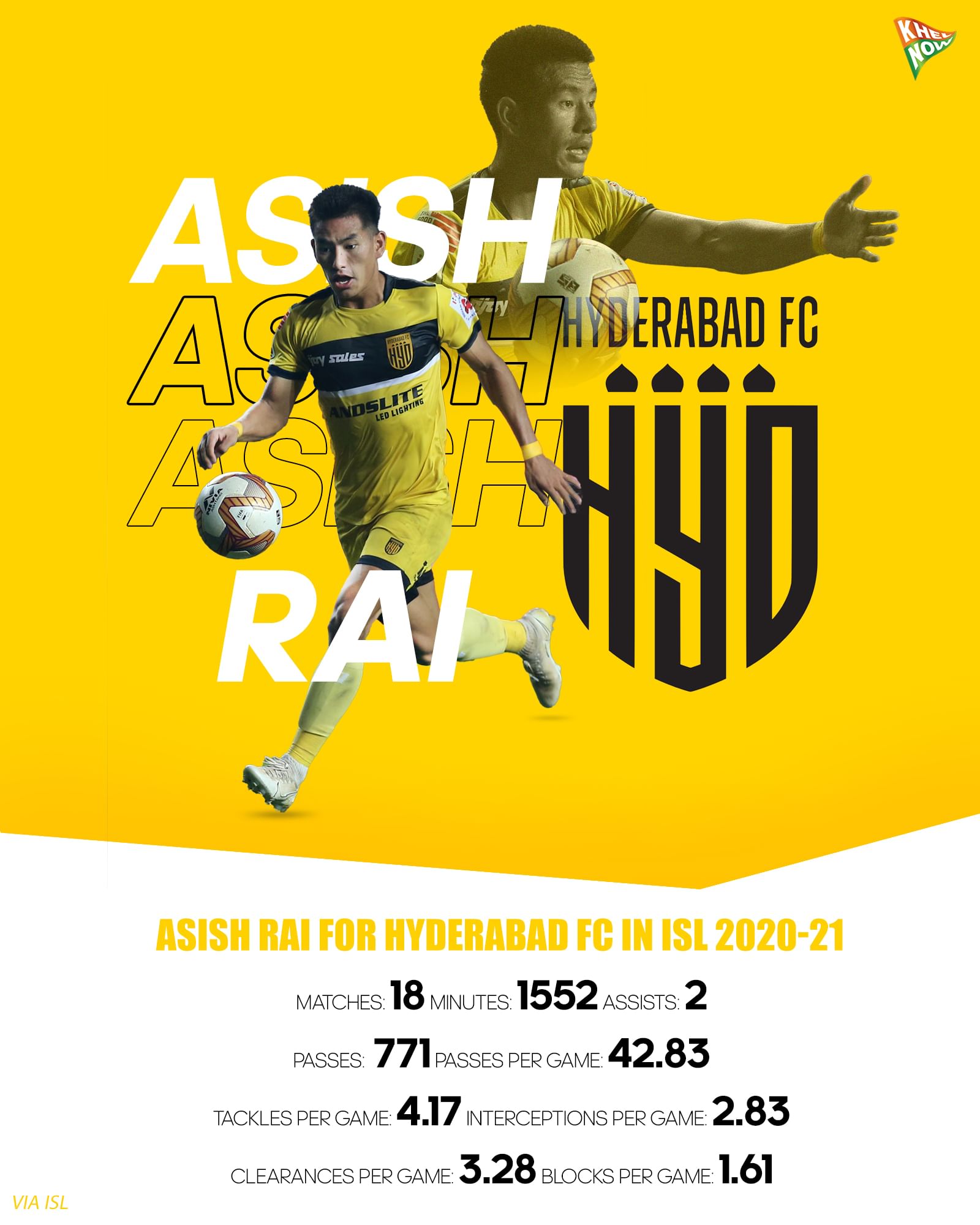 After a heartbreak in their debut season, Hyderabad FC appointed Manolo Marquez as the head coach ahead of the 2020-21 season. The Spaniard replaced compatriot Albert Roca, who had taken over the helm of the club only a short time back, however, left for FC Barcelona ahead of the new campaign.
Under Marquez, Asish Rai played all but 248 minutes for Hyderabad FC, turning out to be one of the best youngsters in the league. His numbers also soared with uninterrupted game time as he registered two assists, 58% passing accuracy, 2.7 crosses and 43 passes per game. His defensive numbers also developed, as he registered nine tackles and interceptions in every match.
Hyderabad FC missed the playoffs by a whisker in the 2020-21 season and the optimist in Asish looked at the positives from a promising campaign.
"The last season was my best one so far," he said, before continuing, "We were one of the best teams in the league. What was great was the way we bonded, not just on the pitch but off it as well."
"There was a feeling of family in the team. It really helped my performances as well. The way the players treated me, be it Indians or foreigners, youngster or senior – everyone was treated very well and we all enjoyed playing with each other," he divulged.
The team man
Asish Rai was full of praises for his teammates, especially on compatriot Akash Mishra. The duo were among the best full-back partnerships in the league and were two of the most integral parts of Hyderabad's gameplay.
"I know Akash (Mishra) since my time at Indian Arrows. We were there in the same team but didn't use to speak a lot with each other," he recalled.
"But here, we got to know each other well. I see how I can perform better than him by learning from his game and he does similarly. We always look to push each other to improve ourselves and the team."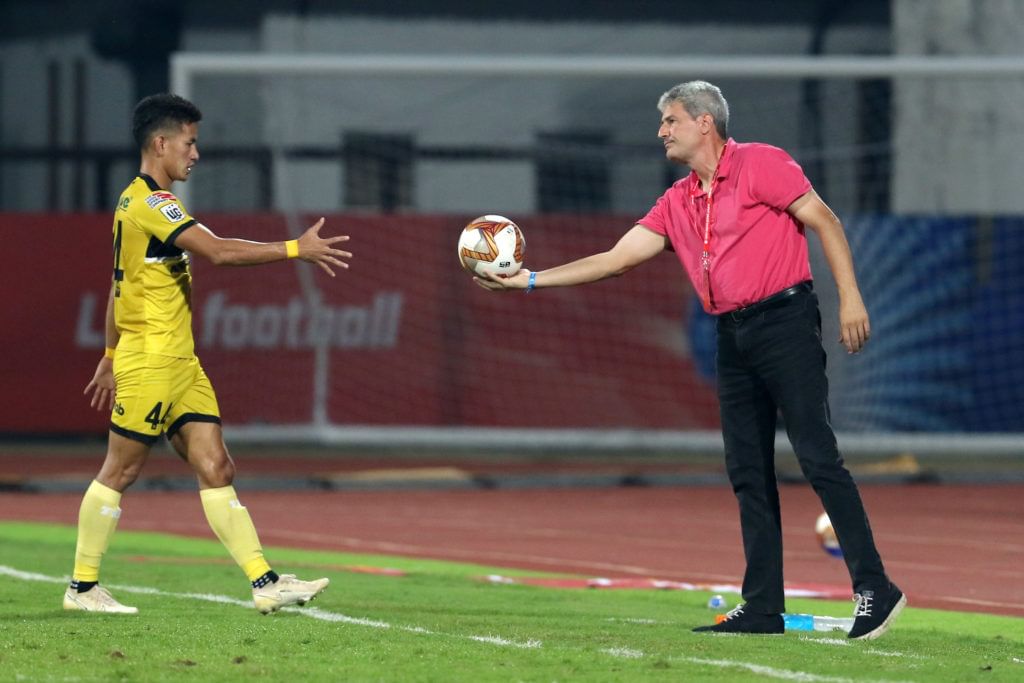 Speaking about head coach Manolo Marquez, under whom he broke under the limelight, Rai felt the Spaniard has the ability to improve any footballer he works with.
"I really enjoy working with him. He always teaches you new things and understands the players inside out. He knows how to develop and improve any player. His decision making is also spot-on," the youngster opined.
Asish Rai also highlighted teammates Rohit Danu and Abhishek Halder as the most talented young players in the squad.
"Rohit (Danu) has great positional awareness and is very aware of what he does and what is needed. Abhishek (Halder) has a lot of maturity in his position and when he is on the ball, he knows when to speed up or slow down the game and his awareness of the game is spot-on," he felt.
The defender also had king words for former Hyderabad team-mate Liston Colaco. "He (Colaco) is a hard worker. He is always looking for new things to learn and always want to be on the ball. I wish him all the best in his new team, he knows what he needs and I'm sure he will do well."
Challenges of being a right back
Asish's role as Hyderabad's first-choice right back has seen him contribute at either end of the pitch. His role demands a high work rate and energy and he feels communication is the key to excel in the job.
"As a right-back, you need to understand the game and understand what the coach requires from you. Whatever the coach desires, you have to play according to it.
"You need to have a good understanding with your winger and the centre back. It requires communication and the better you communicate, the better the advantage for you at either end."
The Upcoming Season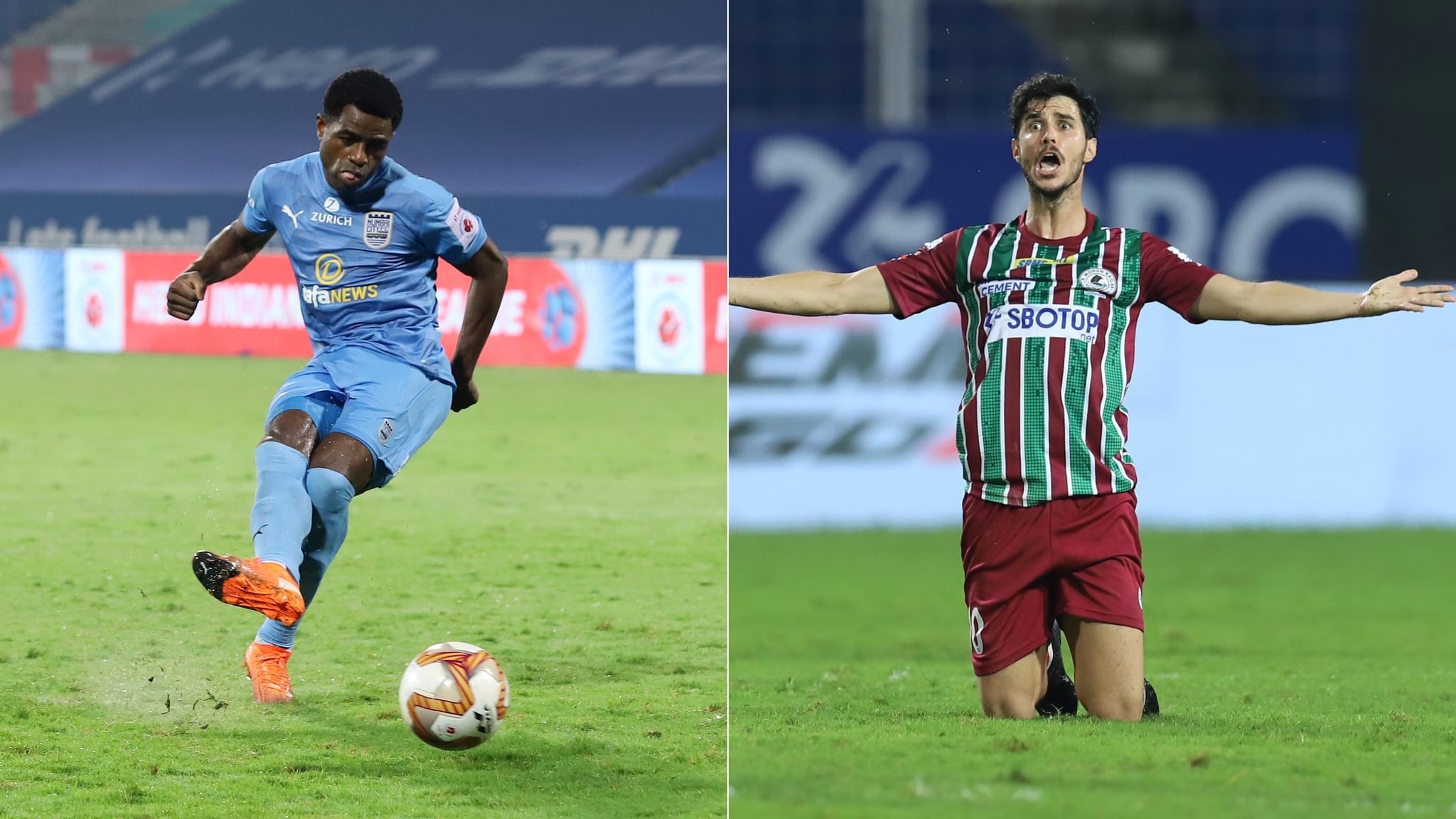 Currently preparing for the ISL 2021-22 season, Rai will be part of a strengthened Hyderabad FC squad. The Nizams have made a few impressive signings in the summer and Rai felt they will fit right in with the Nizams' gameplay.
"They (Edu Garcia and Ogbeche) are very good and experienced players. Of course, they've been here for a few years and understand the nature of the game here. I think they will fit in very easily with our gameplay and therefore the team will become stronger moving ahead," he opined.
"We have a really good team that is well-settled now and we will be looking to first make it to the playoffs this season. We want to play the big teams and make it to the playoffs this season and that is the first aim for us."
Knocking on the doors of the National Team
Asish's talent and an impending run of solid performances could land him on the door of the national team. Although harbouring it as his ultimate dream, Asish continues to dwell in the present.
"It is my dream to represent the national team. Any player who plays professionally wants to represent their country at the highest level. But, I'm focusing only on playing well this season," he said.
"I want to be deserved of the chance I get when I make it to the national team. My performances should be good enough to deserve the national team spot and I will be working hard towards it," he signed off.
For more football updates, follow Khel Now on Twitter, Instagram and join our community on Telegram.