The Islanders edged out Chennaiyin FC 1-0 to continue their winning run.
Mumbai City maintained their excellent form, as they clinched their fourth successive win in ISL 2021-22, following a 1-0 victory over Chennaiyin FC. The game went right down to the wire, before Rahul Bheke scored to clinch all three points for Des Buckingham's side. Mumbai shouldn't have waited that long, but had to, after wasting plenty of goalscoring chances. Chennaiyin, on the other hand, couldn't capitalize on their own chances and faced their first defeat.
Cassinho had Mumbai's first chance of the evening. However, he shot wide after creating space for himself following a good link-up play with Igor Angulo. The Spaniard soon followed suit and smashed the bar when the Chennaiyin FC goal was at his mercy. Angulo came close on a number of other occasions too, but failed to take them.
Chennaiyin FC, whose only real opportunity in the first half came from a Lallianzuala Chhangte cross that amounted to nothing, came out strong in the second half. Vladimir Koman and Anirudh Thapa tried teeing up Lukasz Gikiewicz. However, they soon fell behind the reigning champions, who scored from another set-piece. Bheke headed home a floated ball from Ahmed Jahouh to give Mumbai City FC the lead. Kaith's evening went from bad to worse, as he could not estimate the flight of the ball. Bheke capitalized and headed the ball past him into an empty goal.
Des Buckingham was delighted with his side's victory. He shared his thoughts at the post-match conference:
On whether it was refreshing to see a well fought victory
Mumbai City started the game with a great deal of possession. However, it took them quite some time to break down Chennaiyin's well-drilled defensive unit. The Islanders left it late, as they scored the only goal of the match in the 86th minute. Buckingham replied that it was a deserved win after a different type of challenge.
"It's important that we play well and I think that we've played very well tonight. It was a different challenge that we knew we would face as the season goes on. We needed to keep knocking on their door to score that goal. The way that (we) stuck true to our style, kept moving the ball, we were convinced at half-time that if we continue to play that way, we would get chances. It took till the 86th minute. Then again, it was something that I think we deserved in the game," explained the coach.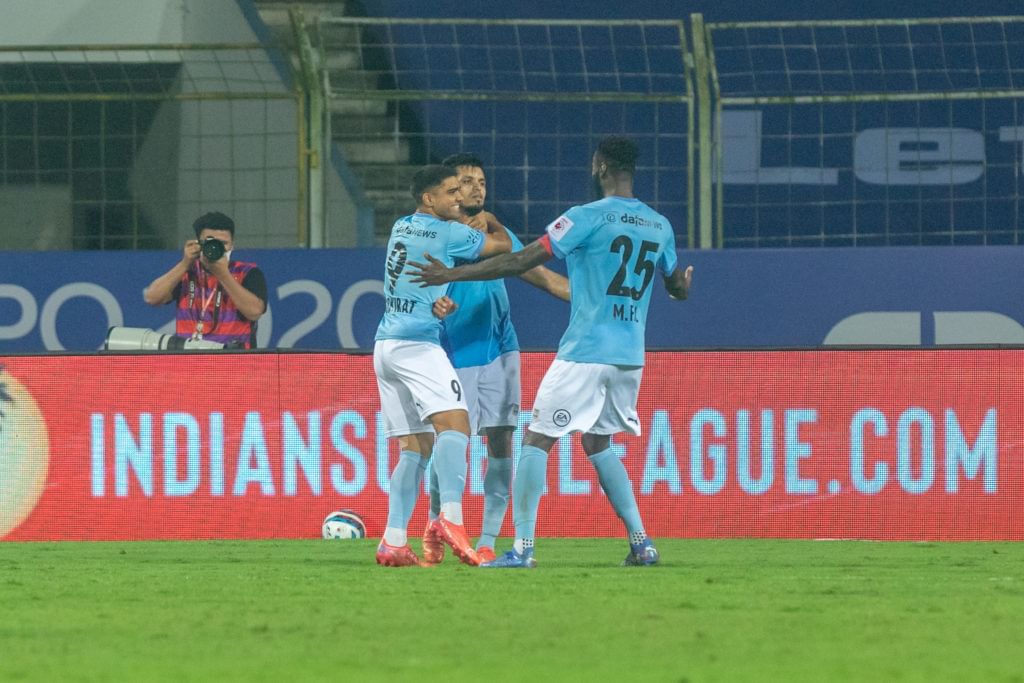 Why Mumbai's set-piece routine is proving to be lethal for other teams
Mumbai City scored the only goal of the game from a routine set-piece delivery. Quite a few goals came in from the usual sight of Jahouh swiveling a cross to the likes of Mourtada Fall and Rahul Bheke. Des Buckingham explained what exactly gives them the upper hand in such situations.
"I've got to give credit to the delivery of Jahouh and of course the runs made. This time it's Rahul rather than Fall. But, there's also credit to be given to Hiroshi Miyazawa, who's the assistant coach. Hiroshi works extremely hard on set-plays, on the field and we spend a lot of time on them. Nearly as much as we do for in possession as out of possession. It is so important in games like this, where it is so tight. If that makes a difference between coming away with one point or three, then we have different ways of scoring. That's proved to be the case this evening," elaborated the English head coach.
How difficult it was to end Chennaiyin FC's unbeaten run
Chennaiyin FC has conceded the lowest number of goals (three) this season. But, their four-match unbeaten streak was broken as Mumbai City FC defeated them 1-0. Buckingham commented on how difficult a victory it was for his team.
"It was a different type of game for us. They sat in quite deep, made it very compact and hard for us to create chances in the way that we have in the previous games. But, what it did do is it gives us a lot of the ball. I think we've come away with nearly 70% possession and nearly 500 passes. So, that was good as it allowed us to test our structure and our style," asserted Buckingham.
"We still created chances within that. So, we will come up against different teams that will try and stop us scoring. It's important, as I said before the game, that we continue to evolve ourselves and our style and try and find different ways to win games. That's what we've done tonight."
Whether he prefers a goalfest or clean-sheet
The Islanders have scored 17 goals so far in ISL 2021-22, with massive wins over FC Goa, ATK Mohun Bagan and Jamshedpur. Asked whether he prefers a flurry of goals or a tight one-goal clean-sheet, Des Buckingham laughed and provided his thoughts.
"I always prefer a goalfeast. Want us to play attacking football, one that excites me from the sideline. I'd rather win a game 5-4 than 1-0, but the most important thing is that we come away with a win. Tonight it was only the one. However, it was an important goal for us and like I said, Chennai setup very well and they've played very well in the game. So, to come away with the goal and the three points, I'm hugely proud of the players," said the Mumbai City boss in a light tone.   
Whether finishing first will be the last thing on his mind
Mumbai City lead the table with 15 points from six games and have carried out their title defence successfully so far. But, Buckingham is wary of the long road to come and the hurdles to go past, if they are to carry out the first-ever title defence in the history of the Indian Super League.
"There's a long way to go yet. We've got another 14 games, we've only played six and all I've asked the players is that we try and get better," said Beckingham. "The way they have applied themselves both in training on and off the field. We've started to see different challenges for us, but those challenges are setting good standards for the rest of the games," he concluded.
For more football updates, follow Khel Now on Twitter, Instagram and join our community on Telegram.