The Islanders move back to the top in the standings while the Red & Gold Brigade remain at the bottom.
Renedy Singh's men continued with their impressive defensive display as SC East Bengal held the defending champions Mumbai City FC to a goalless draw. The result meant, the Islanders have now gone four games without a win. But it was enough to take them back to the summit of the standings. SC East Bengal are 10 games without a victory this season and the overall number now stretches to 14.
As expected, Mumbai City dominated the possession, created better chances and fired more shots on goal. However, the Islanders failed to change the scoreline as SC East Bengal dished out another defensive show at the Tilak Maidan on Friday night. Renedy Singh's men mostly relied on counter-attacks, but Daniel Chima up front was often left lonely.
There were many refereeing errors all through the match, including some penalty shouts, but the performance by the bottom dwellers certainly outshone the table toppers. Let's find out how did both sets of players performed on Friday night.
SC East Bengal (by Rajdeep Saha)
Arindam Bhattacharya (GK) – 7.5
This was the custodian's first clean-sheet of the season, and a well-deserved one too. He made two important saves and was able to punch the ball away twice. The goalkeeper also cleared the ball a couple of times and made an impressive tackle towards the end of the match.
Amarjit Singh Kiyam – 7.0
An impressive performance from the youngster, who was slotted in at right-back role due to injuries in the squad. Before going off with an injury himself, he cleared the ball twice and won all of his ground duels (4).
Adil Khan – 7.5
The centre-back added another resounding performance to his name. Khan had a massive 10 clearances and won four out of five aerial duels he attempted.
Joyner Lourenco – N/A
The defender was forced to go off the pitch, owing to an injury just after 20 minutes. He could only register one clearance during that period.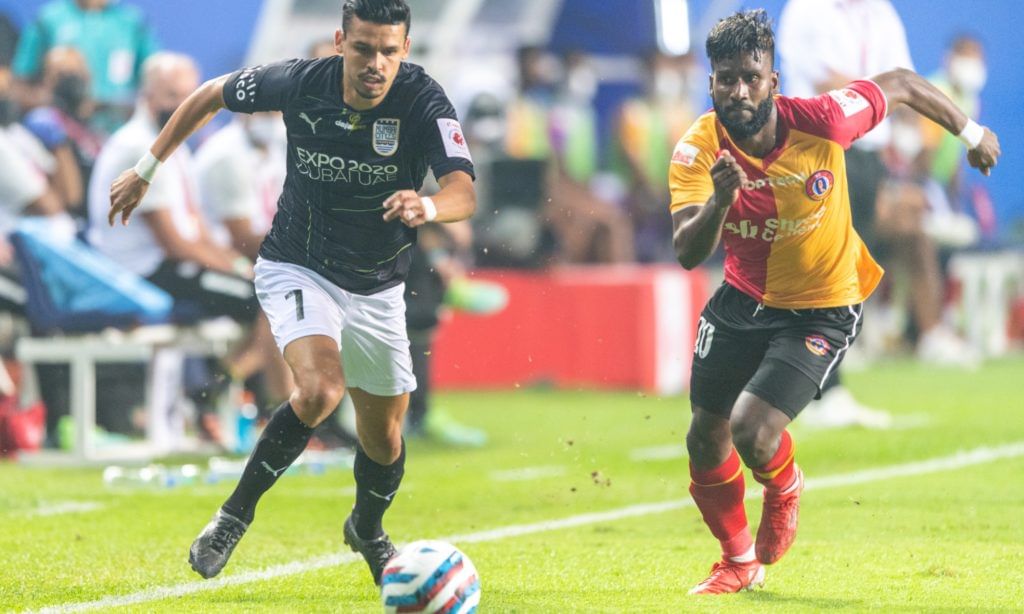 Hira Mondal – 7.5
The left-back continued to shine for SC East Bengal and on the night, he made five crucial interceptions and was brilliant in staying close to the Mumbai City wingers. Mondal even registered two crunching tackles.
Sourav Das – 6.0
The midfielder had a decent performance with two interceptions. He was also successful in completing three of his six long balls.
Lalrinliana Hnamte – 6.0
The midfielder put in a good shift and was able to complete three of four crosses. Despite committing two fouls, he had one clearance and a tackle under his belt.
Wahengbam Angousana – 6.5
He had a good outing on Friday night with four of his six duels successful. Moreover, he registered two tackles and two interceptions.
Semboi Haokip – 6.0
He couldn't recreate his goalscoring performance as the last match, but was instrumental in defending as a team. He won three of his aerial duels and had a good passing accuracy of 71%.
Bikash Jairu – 5.5
Brought back into the fold once again, the midfielder failed to impress on the night. Jairu was unsuccessful in his crosses and gave the ball away eight times.
Daniel Chima – 6.0
The striker couldn't contribute in terms of goals, but helped the team to defend well. He made six clearances and two tackles throughout the match. This was his last game in SC East Bengal colours as he will return home due to family reasons.
Substitutes:
Ankit Mukherjee – 7.5
He came on early in the game and defended well throughout. Mukherjee made nine clearances, two interceptions and won eight out of 11 duels. It was a strong performance from the substitute.
Mohammed Rafique – 6.0
He came on at the start of the second half and helped the team see off the rampant Islanders. He made two key passes and won all of his aerial duels. Rafique's passing, on the other hand, was poor due to a 44% accuracy.
Darren Sidoel – N/A
The Dutchman made a comeback from injury and played for 15 minutes. He couldn't make any difference to the game.
Jackichand Singh – N/A
The experienced winger was brought on in the last few moments, but couldn't impact the result.
Balwant Singh – N/A
It was the same story for the forward who came on with Jackichand, as he didn't have any effect on the match.
Mumbai City FC (By Sabin Castelino)
Phurba Lachenpa (GK) – 6.0
Had very little to do due to SC East Bengal not being on target much, but he had to be constantly vigilant as his own team's defence was not anywhere near perfect! Phurba might even make the spot his own to replace Mohammad Nawaz.
Amey Ranawade – 7.0
Ranawade did not let his spirit or feet stop at any obstacle he faced throughout the night. His continuous marking of Semboi was a task he seemed to relish. He even managed an 88% passing accuracy.
Rahul Bheke – 5.0
Bheke was missing his usual commanding present in the box. He had a forgettable match and relied too much on Vignesh to cover for him.
Mourtada Fall – 5.5
This was not such a dominant display from the captain, as he won only one of his ground duels and lost possession nine times. His otherwise authority and command was not on display against a not so formidable SC East Bengal side.
Vignesh Dakshinamurthy – 7.0
Vignesh owned the left-hand side of the pitch and his tall frame made it difficult for the opposition side to get past him.
Apuia – 7.0
Apuia is a great player in the making and performed admirably alongside Raynier and Jahouh. His presence was instrumental in Mumbai's continuous movement forward.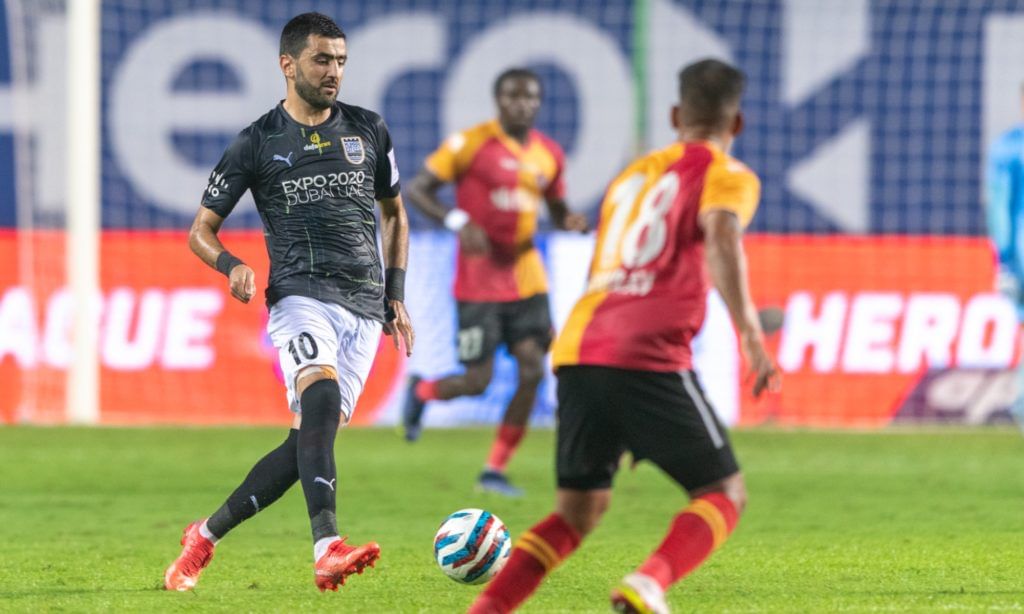 Ahmed Jahouh – 8.0
Jahouh performed a crucial and pivotal role in the centre of the park, but was burdened by defensive responsibilities covering for the errors of his defenders. His set-piece delivery was good, but still left a lot to be desired for as his teammates did not seem up to the task of converting them. His high-footed tackle led to a yellow card, which means he will miss the next game.
Raynier Fernandes – 7.0
A quick-footed and sprightful midfielder, Raynier's never-say-die attitude pushed the team forward as they tried to score and disturb the defence. If the whole team had his tempo, SC East Bengal would have bled a few goals.
Cassinho- 4.5
The Brazilian tried his best, but could not link up well with the striker, Igor Angulo. A little more support to Igor and the scoreboard would have told a different tale. He only managed to register two shots, out of which only one landed on target.
Bipin Singh – 7.0
Bipin running down the right wing was a sight to behold as he was consistently the best player Mumbai City had on Friday night. He provided the team with two effective crosses with a 77% passing accuracy and created a chance that was not capitalized upon.
Igor Angulo – 6.5
Igor tried, but luck and teammates were not on his side. His personal performance was lovely, but sadly it was not enough.
Substitutes
Ygor Catatau – 6.0
Got involved into the match from the get-go and did not slow down until the last minute. His hard work was noticeable, but bore little fruit.
Vinit Rai – 5.5
Making his debut for Mumbai City, Vinit tried to get himself into the game but maybe he needs a training session or two to get there.
Bradden Inman – N/A
Had quite an impact as he took charge of the left-wing. His crosses created a few dangerous situations for the opposition. He could easily do more if given more time.
For more football updates, follow Khel Now on Twitter, Instagram and join our community on Telegram.