These players put in an excellent shift to declare themselves as genuine contenders for this week's XI.
Mumbai City's slender 1-0 victory over SC East Bengal on Tuesday concluded yet another spellbinding gameweek of the Indian Super League (ISL) 2021-22. The proceedings began with a nerve-racking 2-2 draw between ATK Mohun Bagan and Kerala Blasters, as Adrian Luna stole the spotlight with two astonishing strikes. Next up was a well-fought battle between Hyderabad FC and FC Goa that saw the Nizams walk away with all three points in a 3-2 victory. Jamshedpur FC retained their red-hot form with a 4-1 thrashing of Chennaiyin FC as they moved up to the second spot on the table. Bengaluru FC then erased their two-game losing streak with a consolidated 2-1 victory against Odisha FC.
The Islanders hosted the Red and Gold Brigade for the week's finale, as they protected a 1-0 lead for 94 minutes and kept their playoff hopes alive. While most of this week's matches oversaw some close games, a handful of players made their mark with some outstanding performances. Some of these players' outings helped their team etch out a much-needed draw, while some were crucial for victory. Let's take a peek at the stand-out performers in the ISL 2021-22 Team of the Week.
Note: The team was picked based on games between Feb 19 and Feb 22.
Goalkeeper: Mohammad Nawaz (Mumbai City FC)
Mumbai City FC's young custodian was at his best for their 1-0 win against East Bengal. Des Buckingham's side started the match on the back foot as Mario Rivera's boys unleashed a series of onslaughts in the first half. Nawaz was called into action as early as the third minute when Haokip latched onto a pass but he excelled in rushing out and claiming the final ball.
Mahesh Singh tested him next with a stinging shot but he was positioned well once again, to pummel the ball out of play. Nawaz's miraculous save at point-blank range from Fran Sota's well-executed overhead volley in the second half was arguably his best contribution of the match. Overall, his performance elevated his save percentage for the season as it went up to 60%. Great communication with his defenders also saw him gain his fourth clean sheet of ISL 2021-22.
Right-Back: Pritam Kotal (ATK Mohun Bagan FC)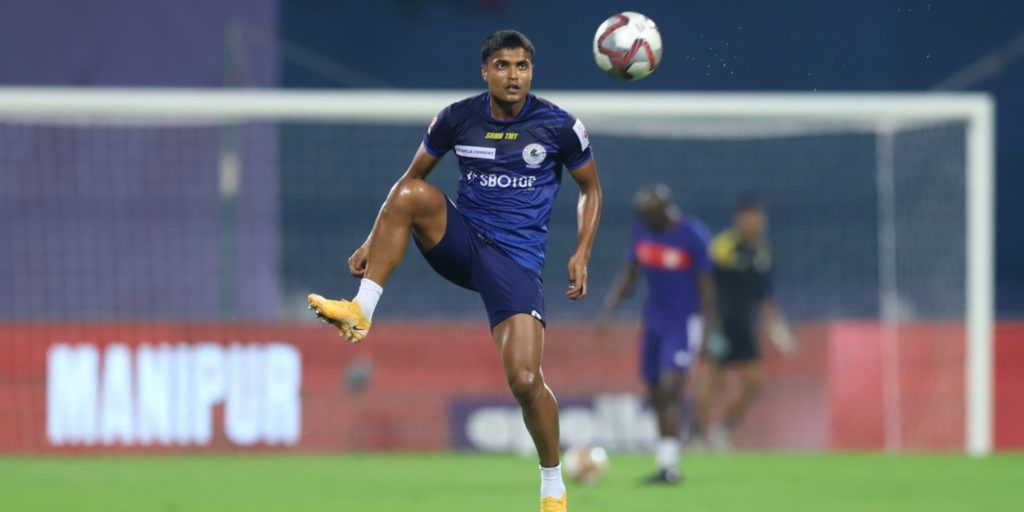 The ATK Mohun Bagan captain tweeted after their match that they played with their "hearts on their sleeves". True to his own words, he led his team to a crucial 2-2 draw as they did not back down till the last breath. His undying spirit was on display as early as the eighth minute as he darted down the flank to assist David Wiliams, moments after Adrian Luna's free-kick goal.
After his contribution saw the Mariners get on level terms with the blasters, he retreated into more of a full-back role. Pritam amassed 52 touches on the ball and had an 82% passing accuracy to conduct the buildup play. In defence, he won three of his five ground duels, blocked a shot, and made an interception to cap off a notable outing for the night.
Centre-Back: Mehtab Singh (Mumbai City FC)
Mehtab continued his breakthrough form for the Islanders as he played a vital role in keeping Mumbai City's clean sheet intact. Mourtada Fall's tendency to go for aerial duels meant that he was in charge of covering spaces for the loose balls as well as marking third-man runners. The Indian centre-back fulfilled those duties effortlessly with his intelligent decision-making and prompt running.
He found himself in the heat of action quite early on and had to face a barrage of attacks from the likes of Haokip, Hnamte, and Fran Sota. But he held his ground as he won two ground duels and three aerial duels. Mehtab was also designated last man duties for set-pieces and was wary of East Bengal's counter-attacking threat as he made two clearances. 69 touches on the ball and an 85% pass completion rate meant that he was as comfortable on the ball as he was off it.
Centre-Back: Joao Victor (Hyderabad FC)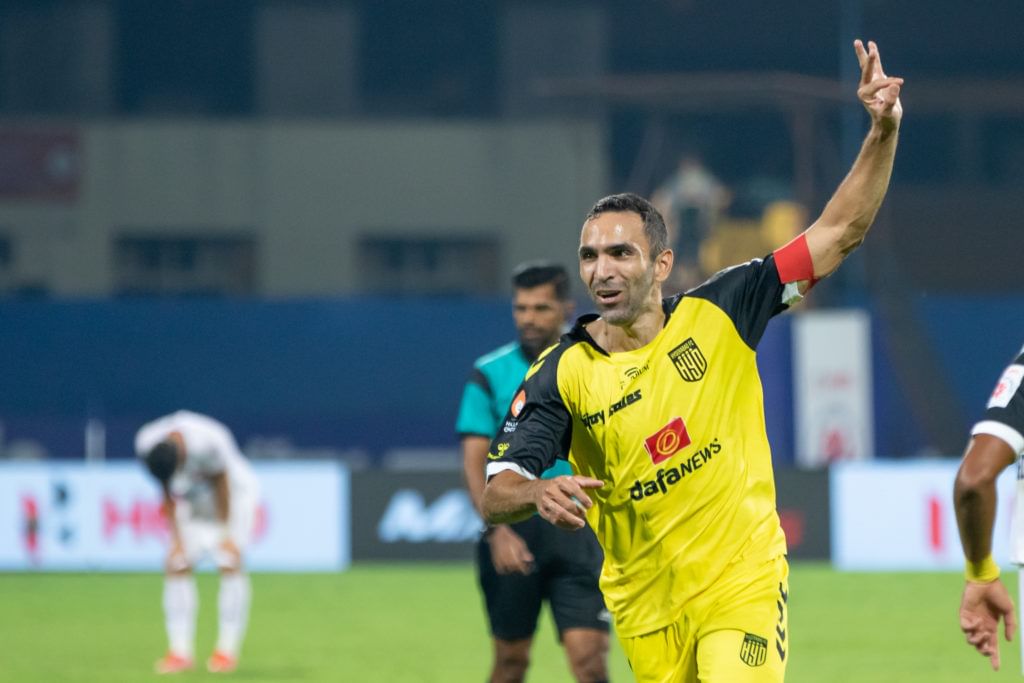 Hyderabad FC's captain started in the heart of midfield but shifted his position to centre-back as he fulfilled a deep-lying playmaker role. Manolo Marquez has often deployed the Brazilian in such a role akin to Fernandinho under Guardiola. In doing so, not only has he achieved more defensive stability but also a faster and more penetrative style of buildup play.
Joao Victor was also extremely reliant going forward as he collected a lay-off from Ogbeche and his shot was deflected into the goal to extend Hyderabad's lead. His completed take-on and 38 touches on the ball were indicative of his participation in attack. The Nizams' captain now has five goals from all 17 matches he has played this season. Interestingly, he also leads Hyderabad FC's charts for most passes this season with a mind-boggling 677 passes to his name. His defensive contributions have also been optimal as he added to his season's tally of 29 interceptions and 51 tackles.
Left-Back: Roshan Singh (Bengaluru FC)
Roshan Singh displayed his versatility this week as he put in another match-winning performance from left-back. One could almost compare him to the likes of Chelsea captain, Cesar Azpilicueta as switching flanks week-in week-out seems to be a breeze for him. The fullback displayed his set-piece expertise once again as he floated the ball towards Danish Farooq at the far post to equalise for the Blues.
Apart from that, Roshan won three out of his five ground duels to repel Odisha FC's attackers. He was all over the field as his 62 touches and two key passes would suggest. Dribbling in tight spaces also seems to be an asset for the young defender as he completed his only take-on of the match. Bengaluru FC have been quite dependent on their fullbacks this season and Roshan Singh has adequately risen to the occasion.
Central Midfielder: Ajay Chhetri (Bengaluru FC)
Marco Pezzaiuoli assigned Ajay Chhetri a more advanced role alongside Danish Farooq and Bruno Ramires to balance things for the Blues. Chhetri repaid his manager's faith with a solid show in the middle of the park as he got on the ball 62 times. Though he could not convert his contributions into goals or assists, he made one key pass and completed four out of his six long passes.
As the match progressed, Chhetri was summoned to pitch in his defensive duties as well and accordingly made one interception and two tackles. He also won three out of his five ground duels and two of his three aerial duels. Additionally, he only committed two fouls and displayed a composed style of play for the entirety of the match.
Central Midfielder: Danish Farooq (Bengaluru FC)
A yellow card, a goal, and a Cristiano Ronaldo celebration; all in a night's outing for Indian midfielder Danish Farooq. The performance against Odisha FC meant that he now has three goals and two assists for Bengaluru FC this season. Though his efforts have not exactly had the results he would've hoped for, this outing was among the best of the lot.
Farooq went into the book only for time-wasting, and was quite effective otherwise. 37 touches on the ball helped him complete 54% of his passes and a take-on. The Indian midfielder lost possession 16 times but made some fantastic recoveries as he won five out of his eight ground duels. All-in-all a solid show from the player as he participated for the whole match and helped his team to a win.
Right Winger: Bipin Singh (Mumbai City FC)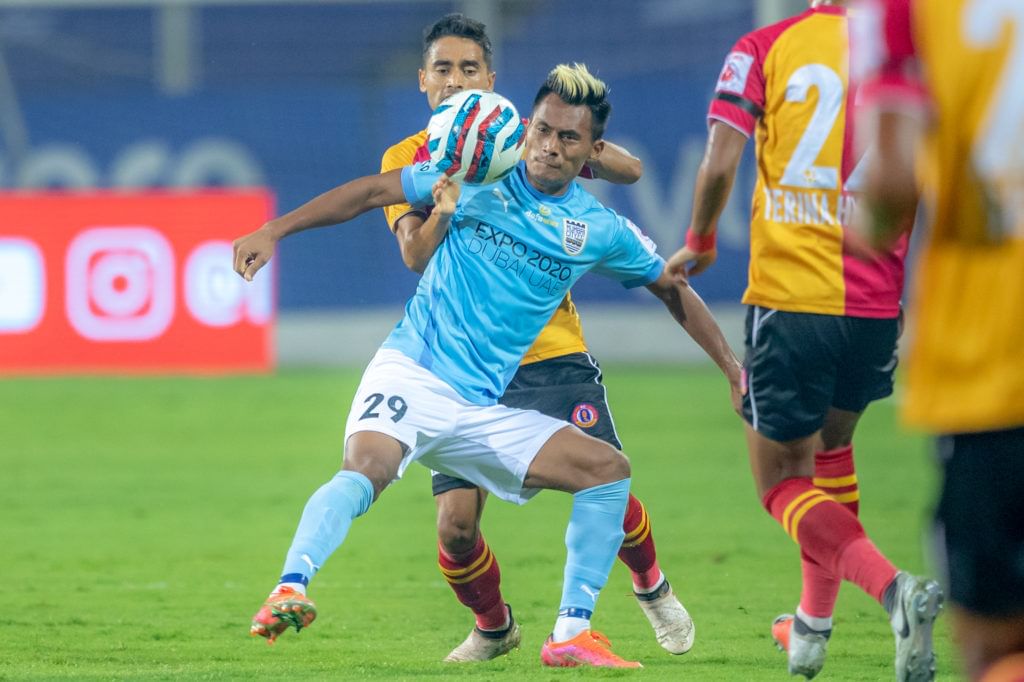 Mumbai City played some aggressive football in stretches against East Bengal and Bipin was at the forefront of the benefits. The Indian winger was started in a right-wing role for the first time in ISL 2021-22, but looked to be more than comfortable for 90 minutes. He habitually drops back to help out the defence and did so once again as his deeper runs troubled the Red and Gold Brigade.
The highlight of his night came when he picked up Brad Inman's ball before drifting inside and finishing into the near-post with a sublime low drive. Note that he did all of this in one go and that too with his weaker left foot. Though his only take-on was unsuccessful he completed 79% of his passes and got 42 touches on the ball. His goal also ensured that he is the second-highest scoring Indian in the league after Liston Colaco this season, as well as the highest-scoring Indian for the Islanders.
Left Winger: Adrian Luna (Kerala Blasters FC)
Adrian Luna's strikes against ATK Mohun Bagan oozed class as they summed up his season perfectly. The silky-skilled Uruguayan has been on the scoresheet only four times for the Blasters this season but all of his contributions have been the cream of the crop. He has also benefitted massively after being given the license to free-roam rather than sticking to his position. Ivan Vukomanovic's tactful use of Luna has seen him get six assists this season; the most for any Kerala Blasters player.
Luna started the proceedings with his wondrous dipping strike from a free-kick to give the Tuskers the lead. After the Mariners' lightning-quick response, he brought out his shooting boots once again in the second half. This time he picked up Puitea's long ball on the edge of the box as he masterfully thundered in another shot underneath the crossbar. He went into the book late on as a result of arguing with the referee but had a flawless outing otherwise.
Second Striker: Greg Stewart (Jamshedpur FC)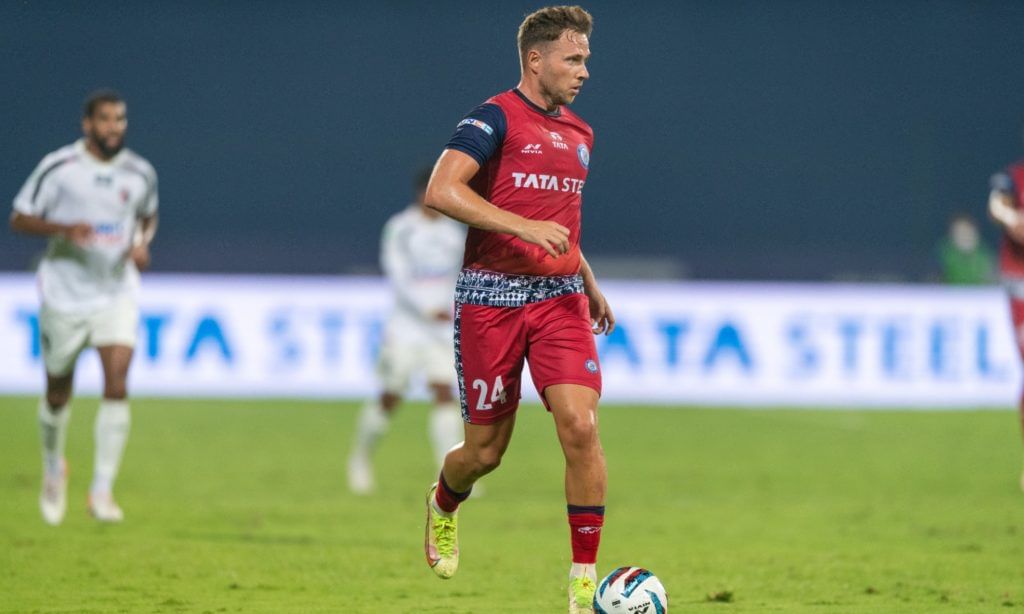 At this point, searching for Greg Stewart is most likely to yield either "man of the match" or "team of the week" results as well. Such has been the Scottish player's performance this season. He has been ahead of the pack by miles as his average 8.52 rating on the ISL website declares blatantly.
Stewart managed to get two-goal contributions in their 4-1 win against Chennaiyin FC as he scored one and assisted one. The assist came first as he finished off one of his trademark mazy runs into the box by setting up Boris Singh for Jamshedpur's second goal. His goal was not the neatiest as it picked up a deflection and wrong-footed Debjit, but it added to Jamshedpur's comprehensive victory regardless. Surprisingly, he played only 64 minutes and managed to complete 90% of his passes out of which six were key passes!
Striker: Bartholomew Ogbeche (Hyderabad FC)
24 minutes was all it took for "Big Bart" to open the floodgates for Hyderabad FC against FC Goa. The stellar striker further cemented his spot at the top of the Golden Boot charts as he took his tally to 16 for the season. Ogbeche's clinical finishing has seen him become the main man for Manolo Marquez's side as he has enjoyed playing in a target man-false nine hybrid role.
He scored his first with a thumping header from Ashish rai's swerving cross to give the Nizams the lead. The second goal was not as neat a finish but was surely a work of art. Ogbeche flicked the ball over an onrushing defender and cushioned it into his stride as he blasted it past the hapless Dheeraj Singh with his left foot. He also laid it on a plate for Joao Victor in the 70th minute as he finished the match with two goals and one assist.
For more football updates, follow Khel Now on Twitter, Instagram and join our community on Telegram.